Nokia CEO discusses the Lumia 900 and more...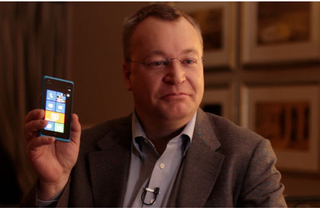 Nokia CEO Stephen Elop sat down on the eve of the 2012 Consumer Electronics Show with Nokia Conversations to discuss the Lumia 900 and the other Lumia Windows Phones. He made no bones that Nokia is eager to become a presence in the U.S. Market.
Elop also noted the presence of the newly released Nokia Lumia 710 that is designed for the consumers who have yet to make the transition to a smartphone. He feels the entry level Windows Phone is the perfect combination of operator and device.
There was also mention of the Lumia 710 and 800 coming to Canadian Markets and the Lumia 800 becoming available through Microsoft stores.
Elop continues to use battle front analogies with their approach to regaining North American market shares. So far the first three installments in Nokia's battle plan have been impressive and there's no telling what we'll see once that beachhead is established.
source: Conversations by Nokia
George is the Reviews Editor at Windows Central, concentrating on Windows 10 PC and Mobile apps. He's been a supporter of the platform since the days of Windows CE and uses his current Windows 10 Mobile phone daily to keep up with life and enjoy a game during down time.
I apprecaite that he said "North American" consumer, and not "American". It gives me hope that we might see it north of the 49th some time soon.

sure.... and all americans are on the At&t largest network!!!!! too bad. :(

zOMG! The 900's sideboob... =P~

Yea so long as you use AT&T..nope not for me. Oh but if your on T-MO you can have our low-end job. all other's sorry.

Yes, I cried a little when he spoke about the Lumia 710 coming to T-Mobile. Also, ATT gets the HTC Titan 2.:( This is really disappointing.

Wah Wah Wah dont blame Nokia or ATT The 900 was by most accounts offered to VZN they wiffed, Tmo does not have the 900 because Nokia chose ATT's offer on the phone and ATTs conditions. Money talks and hot air walks

i guess t-mo is so proud of the low end phone!

Telus Lumia 800 and Roger Lumia 710, that it for canada....mayby one day

better than sprint not getting anything.. =( im done


The fact that Sprin'ts not involved at this popint is nobody's fault but SPRINT!

Kinda hard to judge the true color of the phone from this vid. I really want a colorful phone but the black looked so much better as the display practically disappears into the body.

Will this Unlocked Lumia 800 support T-Mobile 1700/2100 or just be an import of the EU version with the charger changed out?
Anybody care to ask Nokia staff at CES?

This is unacceptable BS if Canada is not getting the 900! It`s bad enough that we don`t have any 2nd gen Windows Phones here months after the US and UK got them, and now the only new phones are mid range!!
I serously feel like switching back to the iPhone. At least there`s no market favortism or restrictions as to who can get their new phones.

Do you even remember how long it took for RoBellUs to get the iPhone? We shouldn't be surprised at the Canadian Big Three dropping the ball on the Lumia 900. I'm just glad to see some 2nd gen devices on any network up here. If the 900 comes I will cheer but will be in line for a Lumia 800 on Telus in the meantime.

i agree, i kind of wish there is some sort of regulation from the gov't to stop the carriers from being a dick or at least give us a place to order these phone off contract

What, neither the 900 or 800 are coming to Bell?! *crosses fingers*

I don't think I've seen it posted here, but Thurrott is claiming a non-LTE Lumia 710 will come to Verizon in April. Maybe I missed it; it's hard to keep all this straight.

So the 900 is not coming to Canada?
I find it nearly impossible to buy the 800, now that 900 is coming out so soon.
Please bring 900 to Canada (preferbly Rogers even though I hate it), Nokia!

WP is virtually unknown in Canada..
to give you an idea, here are the main carriers here:

Rogers: 1 device - Samsung Focus, and it's hidden under "Windows Mobile"!!! WTF!
http://www.rogers.com/web/link/wirelessBuyFlow?forwardTo=PhoneThenPlan&p...

Bell: nothing

Telus: LG Optimus 7 - and "Lumia 800 coming soon"!! I was surprised to see this.
http://www.telusmobility.com/en/ON/smartphones/index.shtml

Fido: nothing

Videotron: nothing

Mobilicity (Toronto): nothing

Virgin Mobile: nothing

Wind: nothing

Koodo: nothing

Public Mobile: nothing

PS. all the carriers have Android phones. Most have iPhone and Blackberry.. and people still wonder why Windows Phone is not selling well!! lol

If nothing's going to work with the carriers, at least give us a couple of unlocked multi-band phones (like Nokia 900 / 800) that we could buy online (for a reasonable price)!

Windows Central Newsletter
Get the best of Windows Central in in your inbox, every day!
Thank you for signing up to Windows Central. You will receive a verification email shortly.
There was a problem. Please refresh the page and try again.