Windows Phone App Review: RT News, the official Russia News app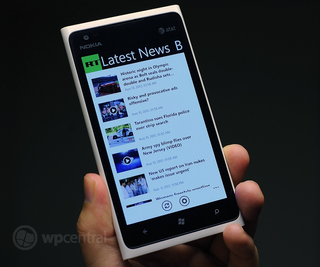 Russia Today, the state-sponsored news network, is basically Russia's answer to the BBC. The Russia Today TV channel is the second-most watched foreign news channel in the US, and the Russia Today website RT.com (which makes me think of Retweeting) is available in English and several other languages.
In April, an indie developer named Jampot published an RSS reader for Windows Phone named Russia Today. That app leaves much to be desired since the links simply open up in the phone's web browser. Now the real Russia Today team has released an official app entitled RT News. Why they didn't ask for the previous app to be removed so they could use its name I don't know – perhaps it seemed like too much trouble. At any rate, it's great that we have an official app now, but it still has plenty of room for improvement.
Bunches of news
RT News allows readers to browse and read current stories from RT.com. Each category gets its own page, which you can change by swiping left or right, Metro, I mean, 'Windows 8 style.' Categories include: Latest News, Sport, Business, USA, Politics, Art and Culture, Sci-Tech, News, and Favorites (where user Favorites are displayed). Any category can be disabled in the Settings menu, making it easy to browse only topics of interest.
On the downside, the actual page switching is a bit rough compared to other apps I've used. When you first launch the app, switching between pages is slow, as each page appears blank until its headlines load up. The headlines should really load in the background rather than waiting until the user swipes to that page, which makes for a more interrupted experience. There is also a minor but visible white seem between the black areas at the top of each page. Less minor: the Art and Culture headline I wider than the page itself, so the letter 'e' on Culture gets cut off. That's what the ampersand is for, folks!
Reading rainbow
RT News' story-reading experience has its ups and downs. The text can be toggled between two different sizes, both of which are easier to read on my Samsung Focus. Compared to reading them in the Windows Phone web browser, the app winds hands-down thanks to text size, column width, and the lack of ads.
Many other aspects of the reading experience could use some work though. In the 'sometimes a problem' category, the app only displays the header image of each story, excluding any subsequent images. That's a nuisance in photo-oriented stories like this one, but for many others it wouldn't be an issue. Similarly, stories with videos come out a bit odd. A single video gets embedded at the top of the story. Tap it to play, but there's no way to view the video in fullscreen.
Text formatting is worse than usual as well. Now, Windows Phone 7 does not make it easy to display a variety of formatted text (our own app doesn't show italics, for instance), so I'm not calling RT News out for that. But things like quotation marks and apostrophes in the first paragraph of each article just show up as little boxes. Oddly enough, those same important punctuation marks display within the bodies of some stories after the second paragraph, but fail to show up in others. The lack of punctuation made an article composed mostly of quotes much harder to follow than it should be. The devs need to work on those punctuation issues, as they drive someone like me crazy.
One missing feature I'd like to see is a way to search for individual stories. Articles old enough not to show up in a category's list that also haven't been saved to the user's Favorites list simply can't be viewed. Also, adding more languages beyond English would be good.
Overall Impression
I'm not going to judge whether people living outside of Russia should be relying on a state-sponsored media outlet for news. Hopefully readers are aware of that country's political goings-on and know when to take Russia news' stories with a grain of salt. Russia Today certainly does provide a lot of news from within that country's borders as well as a Russian perspective on world news, facilitating better understanding for us non-Russians.
RT News is a good initial release, allowing regular readers to catch up with the latest stories on their phones. The developers just need to take care of issues like the woeful punctuation rendering, small video size, and slow loading of headline categories in future updates. As long as they do that, RT News will be an invaluable app for fans of the Russia Today news service.
RT News is a free app that clocks in under one megabyte. Get it here on the Marketplace.
Get the Windows Central Newsletter
All the latest news, reviews, and guides for Windows and Xbox diehards.
Paul Acevedo is the Games Editor at Windows Central. A lifelong gamer, he has written about videogames for over 15 years and reviewed over 350 games for our site. Follow him on Twitter @PaulRAcevedo. Don't hate. Appreciate!