Windows Phone considered by 44% of current and potential smartphone owners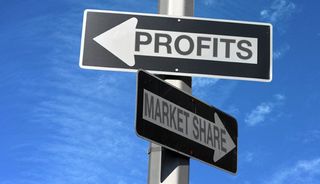 This is an interesting report about the continuing rise of interest in Windows Phone. It's amusing to remember the skepticism earlier this year before and after the release of NoDo (opens in new tab), yet the platform is still growing at a steady pace and Microsoft has big plans to include the platform with Windows 8 and Xbox to create a unified ecosystem.
Connected Intelligence has reported that Android is the most preferred OS among current smartphone owners and those who intend to purchase a new handset within the next 6 months. 44% of these owners and potential smartphone owners are considering Windows Phone as a credible option.
Check out the press release after the break.
via: wmpu
Press Release: According to Connected Intelligence, a service from The NPD Group that analyses the confluence of connected devices, access, and content, Android is the preferred operating system (OS) among current smartphone owners and those who intend to buy a new smartphone in the next six months. Android not only generates more interest than any other OS (63 percent), but it is also the platform consumers were "most interested in" (36 percent).
"The Android juggernaut continues, and that's not great news for some of their OS competitors," said Linda Barrabee, research director for Connected Intelligence. "For example, one-third of BlackBerry smartphone owners are most interested in Android for their next smartphone purchase. That said, Android is also experiencing continued competition from Apple's popular iPhone, as well as some nascent competition from Windows Phone 7."
According to Connected Intelligence's "Android: Variation and Value-Add" report, Android market momentum is unquestionable — comprising at least half of all smartphone purchases for the past three quarters; however, Android's continued market dominance is in no way guaranteed. In fact, 44 percent of smartphone owners, and those who intend to buy one, are considering purchasing a Windows Phone 7 (WP7) device.
Even so, there are a number of hurdles. For example, 45 percent of consumers are still not aware of Windows Phone 7. Furthermore among the 50 percent of consumers who plan to purchase a smartphone in the next six months, but who are not interested in Windows Phone 7, the most popular reason given also centered on lack of awareness (i.e., 46 percent felt they "don't know enough about it"). The second most offered reason was OS ecosystem lock-in (i.e., 21 percent said they have "too much time or money invested in another smartphone OS.")
"Windows Phone 7 has a way to go before consumers really understand what it is," Barrabee said. "But with the right marketing mojo, apps portfolio, and feature-rich hardware, Microsoft could certainly improve its standing and chip away at Android's dominant market position."
About Connected Intelligence
Connected Intelligence provides competitive intelligence and insight on the rapidly evolving consumer's connected world. The service focuses on the three core components of the connected market: the device, the broadband access that provides the connectivity, and the content that drives consumer behavior. These three pillars of the connected world are analyzed through a comprehensive review of what is available, adopted, and consumed by the customer, as well as reviewing how the market will evolve over time and what the various vendors can do to best position themselves in this evolving market. For more information:http://www.connected-intelligence.com.
About The NPD Group, Inc.
The NPD Group is the leading provider of reliable and comprehensive consumer and retail information for a wide range of industries. Today, more than 1,800 manufacturers, retailers, and service companies rely on NPD to help them drive critical business decisions at the global, national, and local market levels. NPD helps our clients to identify new business opportunities and guide product development, marketing, sales, merchandising, and other functions. Information is available for the following industry sectors: automotive, beauty, entertainment, fashion, food, home and office, sports, technology, toys, video games, and wireless. For more information, contact us, visit https://www.npdgroup.ca/wps/portal/npd/ca/home/, or follow us Twitter at https://twitter.com/npdgroup.
Rich Edmonds is Senior Editor of PC hardware at Windows Central, covering everything related to PC components and NAS. He's been involved in technology for more than a decade and knows a thing or two about the magic inside a PC chassis. You can follow him over on Twitter at @RichEdmonds.
There is no excuse for a company as big as and with as much money as Microsoft to have 45 percent of consumers saying they are not aware of Windows Phone 7. Really? You want to be successful? Could have fooled me. Microsoft should be pushing propoganda on every cell store and have agreements for instore reps at places like Best Buy. Whose gonna buy a phone with an OS they don't know anything about?

I think Microsoft is waiting for Mango to come out before they will really invest any more money into pushing Windows Phone like crazy.

Agreed. Many of the "essential" apps people rely on require deeper integration into the OS. Mango should solve that.

Is this North American only, or worldwide?I wonder what portion of the 44% like WP7 but are turned off by the hardware. There are 150 million CDMA customers in the US that have endless Android options - and super **** options at that - but just two middling WP7 devices to choose from. I guess this is just another "CDMA user feels left out" rant, since AT&T has the Focus and HD7S, with the Focus S and HTC Titan coming soon. I'm really considering jumping back over to Android until Windows 8 comes along. I deserve a device like the Epic 4G Touch running WP7, dammit!

WP doesn't need those high end specs to run great like android does. that's ALL android has to offer, specs while WP is providing REAL functionality. how many times do I have to explain this? dont be a dbag.

No, WP doesn't need the high end processor. But the 3.6" Arrive and the 3.8" Trophy sitting next to the Epic 4G touch and the Bionic respectfully just do not compete. The Titan and the Focus S will compete with the Android offerings on AT&T. Those of us who are up on the tech know WP is great without the specs, but the average customer doesn't. Truthfully, if I move off of AT&T to Sprint, I may look at the Arrive since it has a physical keyboard to make up for the small screen and since I love WP7. However, if I go to Verizon, there is no way I can settle for the Trophy based on my personal preferences. That is the point Philr8 was making: Even us fans need great hardware. And , really- the personal shot at the end of your comment was uncalled for. Go to the Android site if you want to start slamming people.

won't compete, how big are the screens on the LG optimus, EVO shift,and iPhone? those phones seem to sell fine regardless of their screen sizes.

AND ANDROID GIVES THEM THOSE CHOICES!! That is the point. Yes, if you like the EVO Shift, than the Arrive is also going to appeal to you. But, if you are like the majority of device shoppers these days, the larger screens are in demand due to the multimedia functions. If you are in the market for the Photon, new Epic 4G, or the EVO 3D, which will be Sprints best sellers, you will not look even for a second at the Arrive. (Blackberry has yet to learn that lesson, either.) There is no choice for WP7 with a larger screen on the old Now Network. They are losing those sales. I think it is even worse for the Trophy on Verizon. At least Sprint advertised the Arrive when it first came out. It is OK to be a fan of Windows but still look at the marketplace objectively.

And do not bother bringing the iPhone into any comparison. Apple fans are a world of their own, and everyone knows it. They do not care what else any OS brings to the table. They just want their iPhone.

I keep hearing that, and yet my GF's brand new Epic 4G Touch runs circles around my Arrive... and my Arrive has Mango. Not that my Arrive is unbearably slow, but Android devices are pretty impressive nowadays.

and she'll also gave malware to contend with. this isn't a phone comparison article/site so GTFO with that.

I will agree with that. Every expert will tell you Android users will have to contend with more virus and malware threats than any other OS, and it is not even close. WP7 is much more structured to security concerns.

Couldn't the same be said for Windows vs OSX?

This article was about OS comparisons, and device comparisons are appropriate when discussing OS desirability. Your attitude stinks.

I'm waiting for nokia hardware offerings... WP7.5 or better

So of the 45% of the survey respondents who had never even heard of WP7, 44% of them said they might give it a try. I'd really like to see the way the questions were phrased.
Windows Central Newsletter
Thank you for signing up to Windows Central. You will receive a verification email shortly.
There was a problem. Please refresh the page and try again.