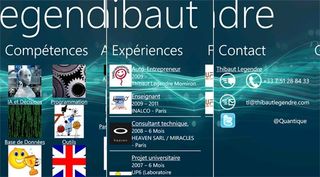 In the world of job hunting, producing an effective curriculum vitae (CV) aka resume for you yanks, is your best chance to differentiate yourself from other applicants. Uploading the finished document to job sites, attaching it to cover letters and more are just a number of ways to branch out and increase reach for yourself. We've now come across a different approach to publishing your CV to the mass. MonWindowsPhone has found a French CV for Thibaut Legendre in the Marketplace, which is reportedly the second app of its kind internationally.
While it may be different, original, available to thousands as a download and stand out, is the Marketplace really the place for CVs to be published? I'm not sure, probably not. It's the same principle as spam and useless apps. Even though this kind of app is genuine, there's little to no functionality and purpose for the average user. Should a trend kick off where we end up with thousands of CVs on the Marketplace, would we all be smiling?
I pass the question onto you, would you like to see a number of CV apps on the Marketplace? I'm thinking of charging £1.99 to download mine, should I develop one.
Source: MonWindowsPhone (opens in new tab)
Rich Edmonds is Senior Editor of PC hardware at Windows Central, covering everything related to PC components and NAS. He's been involved in technology for more than a decade and knows a thing or two about the magic inside a PC chassis. You can follow him over on Twitter at @RichEdmonds.
Looks like the app approver was asleep at the wheel when this got submitted. The marketplace should not be clutter with quasi-functional ads and brochures. Wouldn't be surprised to see this pulled or an updated policy to discourage these "apps".

Ridiculous!If he's a developer - he should side-load his CV app on his unlocked developer phone and spare the rest of us from encountering it in Marketplace.

I agree what is going on - there are tons of sites out there allowing you to upload your CV or create a new CV or even create an online HTML / Flash CV just by clicking a few buttons and selecting a CV Template. This article is pretty pointless and just seems like a marketing ploy which has gone horribly wrong .... not all publicity is good publicity - for the life of me I can't see the use of it unless in the future we only browse the web using phones but can't we simply send our CV using on the phone anyway !

if it helped me CREAT a CV , then upload them to online JOB search sites, that be AWSOME!! looking for JOB on the go or people without PCs.....my brother in law has a company that makes professional CV for job ranging from McDonald to CEO of some MAJOUR company...and let me tell you he make NICE cash charging people for makign CV or simply advice on CV/cover letters....dont think you gusy relise the % of people looking for jobs.. this app ahs great potential....and How is this Productive APP spam??? not like having 100diffrent version of HANG MAN made by the same DEV.

Are you the developer of this CV app?Seems fishy...

no , im not a DEV , i respect the Business and Idea. im just realistic , this article calling it spam .... bashing a great app for productivity....>i use to hire sell`s man for a store... you can't IMMAGINE how many CV i don't even read and just throw in the garbage cause its **** And honestly. I showed up at my lattes Job interview (tog et promoted) with my CV on my WP7.. LMAO!! my boss actually thought it was COOL ( considering i got hired in cells) if i had my CV in a HUB format it would of been even cooler :)

This app does not create a CV - it IS a CV. For one person.

i know , but if it creat an CV for you like that it be freakign awsome.

Would be cool if it did create a CV - there are applications on the web that let you write a CV - the one, I work on one at http://www.cv-genie.co.uk- it's pretty easy to use and let's you create a Flash version too - sorry for the plug ! It's an interesting concept and in the future this is exactly what you might want to do but you'd hope your standard Word CV would be viewable on a mobile device and would automatically render appropriately removing the need for an explicit version ( at the moment this doesn't happen). Currenlty a HTML CV would most likely render well on most devices - I'm not too sure about the Flash compatibility so a Flash CV may not do so well. Looking forward HTML5 is round the corner so Flash CV will most likely become redundant and HTML5 support will almost certainly be available on mobile devices allowing more advance features.... typically you'd want to use CV templates because designing one from scratch is way too much effort -...

U mean something like this ? but for a phone
http://apps.microsoft.com/windows/en-US/app/a857b76a-7bb4-4ec9-afae-c73bfec7493f

If you we're going to do this surely you would want to make such an app perfect. Maybe they're a good developer, this doesn't show us, but as I can see at least a dozen issues with the design and layout of the app, just from these screenshots, their design experience with Windows Phone and Metro is certainly lacking.

Yeah, it is a rather **** app - looks like a very quick (5-10 minutes) edit of one of the template apps.

I also vote for side-loading with a deeplink.

Excuse my ignorance:I don't consider myself an amateur at applying for jobs, but I have never heard of a "CV". Applications, cover letters, resumes, letters of recommendation, acreditations: all these I am familiar with. What the heck is a "CV"?!

A CV is what you gave to your boss at your last job interview ;) normally on paper explain your skills and experience

Was it that difficult to Google two bloody letters??CV is the same thing as resume (actual meaning of those two words might differ in different countries).

I call it a resume but my wife, who has a doctorate, calls it a CV. I guess the PHD behind her names elevates it to the fancier title. Curriculum Vitae...Latin, loosely translated, meaning the course of my life.

well a CV is SUPPOSE to have more information on it then a * Resume* but in reality most of us give CV ,,,resumes are only accepted for like McDonald jobs , basic info . your name , address ,you where a babysitter for 1 summer… that its pretty much it.CV have school experience , life experience , skills , interest , Job Experience .. resume normally use up 1 -2 pages .. CV can be 4-6 Pages depending on the job. Also resume doesn't require a cover letter.Honestly in the end its the same.... its like comparign Englisht o BAD english. LOLhttp://jobsearch.about.com/cs/curriculumvitae/f/cvresume.htm

If you hand over a CV that is 4-6 pages long - be sure NO ONE will even try to read it...speaking as an employer, so take it as a hint mate ;-)

you have obviously never aplyed to be a CEO of a comopannyIve seen cover letter go for 2-3 pages. anything less and they dont even look at it.try appliying for a 500,000$ a year salary job with a 2 pages CV, they basicly laught at you.sure 1-3 pages is perfect for a MANAGER or a TL in a call center , or a JOB at the Honda dealership. LOLbut you want to apply as a scientis , in research deppartments ect , CEO , ect..... you have to blow their minds with your Experiance in does aspect of the job... and Normaly does people have 30-40years of experiance hence why it take 5-7 pages to explainw hat they have done.... that mgiht not even be alot.

The people I have hired would not have been if they had a resume more than 2 pages long.However, for the past decade, I have compiled a "job seeker" packet that usually consists of a cover letter, resume, letters of recommendation, and list of contact information for myself, references, and recommendeers.Kinda sounds like a "CV" to me...

I agree with BurnEthanol. I had no idea what a CV was and the article didn't tell me anywhere... I think it could have been better written... or maybe it's a more common term outside the US?

First of all - this CV looks terribly cluttered...whoever the dev is - he may be able to code, but design is not his feat. But what is more important - putting your CV in a marketplace ? Silly, just silly...

It is spam, plain and simple, and it does not belong on the marketplace. Microsoft needs to go back and start cleaning up some of the obvious spam apps.

Another good way to branch out and increase reach for yourself.Look at the online CVs on this pagehttp://www.cv-service.org/schedule.htmMike's customers seem to be top ranking on Google with aconnection from their LinkedIn Profiles

I noticed this whilst browsing around and actually came across a decent CV Writing app last week whilst job searching. It doesn't publish your CV to the Marketplace but assists you in creating a well-laid out, professional, 2-page document.There are phrases you can drag and drop and then edit. There is an automatic spell/grammar checker and the app will also format the content for you. I've found it quite handy for applying for specific jobs whilst being out and about, as you can email your CV once created. You can also download it from your PC.If anyone's interested: http://itunes.apple.com/gb/app/cv-writer/id463799373?at=10l3VyObviously the CVs are not as modern as this French guy's, but just thought I'd pass on the info...it's helped me secure a couple of interviews so far!

I was using CV Sampler - Windows Store app for creating my CV. It also available for winphone and have OneDrive upload function what is rly cool. My employer said that my CV was unusual and cool and it allocated me from others. Maybe it would be helpful for someone: https://www.microsoft.com/en-us/store/p/cv-sampler/9nblggh51hzv
Windows Central Newsletter
Thank you for signing up to Windows Central. You will receive a verification email shortly.
There was a problem. Please refresh the page and try again.