Windows Phone Dashboard Beta [Developers]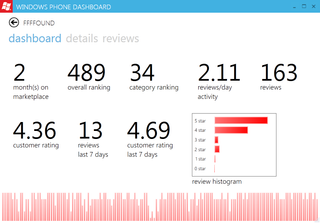 As a developer I value feedback very highly. Every morning I habitually check for new reviews on my apps to see if there are any suggestions or complaints. I have a big whiteboard with a list of to-do's for each of my apps, and I add their feedback onto that. If you have anything in the Windows Phone Marketplace, I suggest you do the same, or find something similar that works for you - because there is no better way to not make money than to ignore the very people that should be paying you.
The problem is that there hasn't been a particularly easy way to view all the reviews in one place because Microsoft segregates them geographically. For the most part I used to use WP7applist, that is until this little gem came along.
A developer by the name of Rudi Grobler has been developing a Windows application called Windows Phone Dashboard which summarizes all the information for all of your apps in one nice, pretty package.
Once you have it downloaded all you need to do is type in your developer name to get started:
Then it will sync all your Marketplace apps, and grab the latest reviews (presumably ones since you last opened the application):
You can then drill down into the details of any of the apps. It will give you a bunch of stats, along with quite a cool visualization along the bottom of the reviews over the life of your app:
Finally, clicking on Reviews will show all the reviews for your app, from every different market (geographically speaking). The list can be sorted by latest, best and worst reviews:
Over the last week or so I have been conversing with Rudi about WPD and reporting bugs and feature requests. And almost every morning when I open it I see a new update coming down with shiny new features. So if you are in need of an application like this I highly recommend giving it a go, and give Rudi your thoughts and complaints.
Keep in mind that this is a beta, so is bound to have a few quirks and crashes. Hit the source below to get his contact details, and to download Windows Phone Dashboard.
Source: WPD (opens in new tab)
Love the idea, but when I entered by publisher name the app crashed. Now it crashes on each startup. Hopes that it comes an update soon :)

Also, tried the app and it crashes after entering my publisher name. App not working now.

Hi Falk, sorry about the crash... plz try version 0.1.0.6 (the new one)... it should fix all the common crashes I have received!

Cool tool. Please add option to add (or at least change) multiple publishers.

Tried it shortly after the article was posted, and it crashed after I entered Published Name.

Downloaded again now, uninstalled old version, and installed the new version, but same problem it seems. Crashed after entering Publisher Name.

I cant see version number anywhere, since it crashes on startup, but properties on the setupfile returns:
File version 10.0.30319.1
Product version: 10.0.30319.1

[EDIT] I have version 0.1.0.6, can see it in "Add or remove programs", it still crashes for me though.


This was crashing for me, but Rudi responded to my email almost immediately and it is now working. If anyone else had any issues with the app crashing, I would try it again. It is a very nice way to monitor your apps. Thank you, Rudi for taking the time to develop this.

Version 0.1.0.8 is now live, should fix the remaining issues, please email me if you have any more issues!!!

Version 0.1.0.8 solved it for me, thanks Rudi :)
Great to have this info easily available on the PC, very usefull!


If you want some of this functionality in a WP7 app, theres an nice free app called AppTracker, which I have used a lot. Keeps tracks of reviews in all Marketplaces, but on the phone as an app.
http://www.windowsphone.com/en-us/apps/ceb1e261-9909-e011-9264-00237de2db9e

There is also AppFlow. Really slick program: http://www.windowsphone.com/en-us/apps/578ef361-c265-46b7-b6f4-63cbd7fbefe0

I also use AppTracker... I also like AppFlow, althou it doesn't "track" your applications, the one thing missing from AppTracker is your ranking... AppFlow shows a graph of your ranking (overall and in category)... Keep an eye also does the ranking but isn't as "good looking" as AppTracker/AppFlow
The one thing the desktop WPD app does is analyze my applications, ie... movement last 2 weels, etc and I can add any indicator I want to the dashboard... future plans include making this configurable!

Regards
Rudi

Latest version works now. Great program. Some features that would be nice:
- Scroll the details about an app, currently it just cuts the text.
- Able to open zune and send a message to the ones that left a review.

Thank you for the feedback, will update

version 0.1.0.9 should now allow you to send messages to users that left comments

Great app! Beautiful layout.
My suggestion: Would you consider releasing it as a Silverlight OOB app?
It would resolve a lot of work around installing and keeping it up to date.
And it will be easy to run it from any computer (without needing to install it).
Windows Central Newsletter
Get the best of Windows Central in in your inbox, every day!
Thank you for signing up to Windows Central. You will receive a verification email shortly.
There was a problem. Please refresh the page and try again.