Windows Phone Internals root access tool updated for compatibility and audio fixes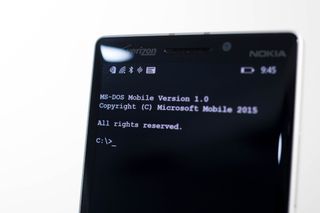 Windows Phone and Windows 10 Mobile device owners who feel comfortable with unlocking the hardware should check out the new 1.1 version of the third-party Windows Phone Internals tools. The update comes about a month after the tools, from XDA hacker Heathcliff were first released. which allows experienced users to enable Root Access on their phone or create and flash Custom ROMs.
In his release notes, Heathcliff states:
Small warning: We want to emphasize again that these tools should only be used by people who already understand the underlying architecture of Windows Phone and Windows 10 Mobile. Using them unsupervised could result in your phone becoming damaged or bricked.
Download Windows Phone Internals 1.1
Source: Windows Phone Internals
Have there been any really interesting or exciting roms from this yet ? Posted via the Windows Central App for Android

Microsoft hasn't been able to make one yet so I doubt any one else did so early. Posted via the Windows Central App for Android

This is a hacking tool. Why would Microsoft want people to hack their phones?

They may actually want people to "hack" their phone. Afterall, it's the custom Android ROMs communities & iOS Jailbreak communities are what make the other platforms "interesting".

WP 8.1 rom for the 950 till Microsoft finishes the job!!!

not recommended, as you will lose 4 column tiles, 5 action center button, continuum, and more...

Hehehe.... Warning... Hehehe how many bricks for the Christmas tree... Hehehe... Well happy holidays and watch out for the crazies.

Great news , been waiting on this since windows phone 7 Heathcliff is the man over at XDA

Yeah, following Heathcliff since Windows phone 7 registery editer days.

He was pretty great. The interop unlock and full unlocks on WP7. Then Microsoft would block it with a firmware update. :P Let's see what their policy is, this time. A part of me wishes they keep blocking it. It's kinda fun to see the 1-up-ing game between jailbreakers and Apple/Microsoft.

That strategy won't work for Microsoft in the US. The 950 is an AT&T phone ;-)

I'm missing the point; how does that affect anything? (Unless, of course, you were saying that AT&T would be extremely slow to push updates and hence defeat the purpose, in which case I ruined the joke.)

They've already addressed how they plan to bypass carriers for a majority or updates. Whether this type of fix would effect the radio code that would require them to actually test it, I don't know... Posted via the Note 4/Nexus 7 (2013)/Lumia 1020/Lumia 2520

Gonna go on a bricking frenzy.

What can we do with these custom ROMs?

Customize in ways the original OS doesn't support or adding new features that Microsoft is too lazy to add, etc

Like glance on lumia 520?

Nopes..Glance needs "Display Memory"..520 doesn't have it..

So what can be customize with a ROM on windows phone?

We don't know yet. This tool lays the foundation for supporting custom ROMs. On Android, you could replace the homescreen with 3rd party launchers. For Windows Phone, this could mean that an app effectively replaces the Start Screen if you like. You could have changed icons for system apps (but since most are Store apps now, it's hard to keep it that way). You could add or remove rows from the Action Center and keep it that way. Add custom gestures or a swipe-from-left/right action. And probably much more. I, personally, wouldn't do any of it, but the possibilities are endless.

ok, thanks for the explanation.

It means we can finally get the old HTC Flip Clock back on the home screen (we've missed you so!)

Could this allow to bypass the tethering restriction if you don't have a tether plan?

Nah bug fixes that Microsoft wont do....

Does that mean someone could fix the display calibration for the Lumia Icon's oled?

Color calibration? That would be cool, actually. Posted via the Note 4/Nexus 7 (2013)/Lumia 1020/Lumia 2520

Im waiting to get my 520 back from a friend that's borrowing it, since I just have an M8 that isn't supported

Support for the Lumia 950 (XL) yet or nah? Article doesn't say. Also curious: Does unlocking root access also give access to the hosts file? I'd really love some hosts based ad-block on mobile.

I believe this only works on x2x generation devices such as the 920.

Bootloader unlock is only available on *2* devices, as already commented on. You can root unlock any device depending on the software it uses, but it'***** and miss whether there'll be SBL3's available for your particular handset. Unlocking root enables access to the HOSTS file, yes. But, as above, it's dependant on the availability of handset-specific SBL3's or engineering roms.

So I'll ask this much more simply, since my wants are focused and simple (I currently don't have any interest in flashing custom ROMs. Yet, anyways). Using this tool to enable access to hosts files: Yay or nay? Currently possible, not yet, not ever? Thanks! Nevermind, just read it. Requires unlocking the bootloader first, which is only possible on *2* device. Oh well, that's a shame. I'll just suffer with ads for now.

I wouldn't be surprised if they soon come up with a file system access unlock (didn't they already? I haven't been following this) that doesn't require the bootloader to be unlocked. In that case, you could simply replace the hosts file.

Maybe hack it to work on Verizon.

I don't think the problem is with the phone. The problem is with Verizon. Unless, of course, you want to change the phone's identity and trick the phone AND Verizon into thinking it is actually an iPhone.

THAT is the only reason I would even consider rooting Windows 10 mobile. I love Edge. It's going to be a great browser. But you need a host file for using it as your go-to right now. Awesome on the desktop.

I've wondered about doing the same. Anyone been able to get a remote powershell session or anything like that? I should probably hope the answer is no, but it would open some things up if it could be done securely.

Yay Posted via the Windows Central App for Android

Root access !! Great.. Also using this many developers can get the features working on windows 10 mobile which Microsoft couldn't provide us and custom roms are the future also...
This brings android level customization in windows 10 and not only that, windows kernel is more powerful than of android Linux...so we are in a world where we can get full access on our phones like our pc's with the power of Windows!!

Can I "reset" a bricked phone with the Windows Software Recovery Tool?

Het zijn toch stiekem wel weer die hollanders .....

Woah i actually understood 2 words

If we could replace the people app in WP10 with the one from WP8.1 I would be thrilled. Then I'd probably buy a 950XL.

Does anyone know where I can download the w10mobile firmware files? Or are already available via windows recovery tool?

Can this root a htc one m8 running android

Does this mean RSAP for VW cars could be possible?

Would be great to enable WiFi calling on 640 from att....
Windows Central Newsletter
Thank you for signing up to Windows Central. You will receive a verification email shortly.
There was a problem. Please refresh the page and try again.