Windows Phone Marketplace expands to 5 more countries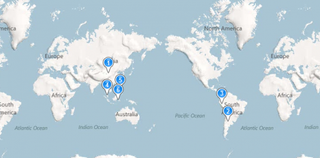 The Windows Phone Marketplace, which has been expanding at a relatively mediocre pace, now covers five more territories. Argentina, Indonesia, Malaysia, Peru and the Philippines now join the 36 other countries that have access to games and apps for their handsets. Todd Brix recently published an article on the official team blog detailing plans for an upcoming expansion, urging developers of those countries to start submitting apps and games.
China is not open to Windows Phone owners just yet, but developers are able to submit content. If you're a developer with global reach, be sure to read up on Brix's latest post walking through this expansion.
Source: Windows Phone Team Blog
Windows Central Newsletter
Get the best of Windows Central in your inbox, every day!
Rich Edmonds was formerly a Senior Editor of PC hardware at Windows Central, covering everything related to PC components and NAS. He's been involved in technology for more than a decade and knows a thing or two about the magic inside a PC chassis. You can follow him on Twitter at @RichEdmonds.
Now go to the Blog and read my posting about what just happened at Tmobile!

To be honest mate, everyone knows that it still happens like that.

Still can't submit my work from Slovenia. Any plans for my country?

I'm not a developer, but I would sure like to buy some quality apps and games without making a fake US account. I can't wait for Slovenia to be supported. I suggest you send an email to the slowp7apps team and ask them how they submited the apps they created (slovenian). Cheers!

slowp7apps are published by Microsoft. All those apps are resoults of compatitions of app development in Slovenia. They are kind and offer to publish any apps but only free apps. Even free would have been fine but i do need control over my app while its on the marketplace and I can not have it with no direct access to an account. There are other solutions like appamundi. Companies that take their cut of your app sales and publish your apps for you. Again the same problem is the control. For a serius development daily control and reports are a must!
We made a test app and pushed it out with appamundi and it took a month for them to reply our email with a report on how the app is doing.

Still waiting...

It'll take time for the marketing push to soak through to everyone. MS is fighting an uphill battle because they took too long to get to Mango. If they continue pushing WP hard it will succeed eventually.

took to long to get to mango??? LMAO! ... yeah your right 6months for 500features was WAAY to short... yeah thats right .. they rushed out mango faster then any otehr OS updates....

I meant too long from when iPhone and Android took over mobile. If they had released Mango even two years after iPhone today's market would be different. It took them 4 years, so now they have an uphill battle. WP7 before Mango was a joke that only the MS faithful could have bought into.

Also, it took 1 year (not 6 months) between WP7 and WP7.5 and there is no way there are 500 features. That number went directly from Ballmer's ass to your mouth.

When will it become possible to change marketplace? In the beginning of WP7 the marketplace wasnät available in my country, Finland. Like many others I registered a live-account in US to get access to US marketplace. Now when marketplace has become available here I can't change my country eithout starting a new live-account. That's just too much work...


What happens to the apps you purchased? I imagine you lose all of them when you change the live account :/

Well, I haven't been able to buy any apps. US marketplace only accepts US credit cards, and my Visa card i Finnish of course. And even if was able to buy apps I would lose them if and when I get the chance to change location of my account. I can't understand why Microsoft doesn't fix this. It's a lose-lose-lose situation (for Microsoft, users and app developers)

Finally! Zune Marketplace Philippines! :D

unfortunately, no Zune, no Xbox Live... but this is a step in the right direction..

Its getting better and better...

Any plans to add Paraguay to the list?


Why I can't still purchase apps here in the Philippines?

I was able to purchase apps, be sure when creating a new philippine account, you register your credit card..

Just tried it today. I still can't select Philippines in Zune Marketplace. Bummer.