Top Windows Phone Travel Planning Apps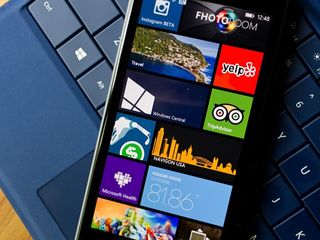 For many of us, summer is quickly approaching and that often means it is time for a family holiday. If you are planning a vacation getaway to the beach, the mountains, across the ocean blue or simply planning a business trip, the Windows Phone Store has a nice selection of apps to help you with your travel planning.
There are Windows Phone apps to help you plot your route, find the best hotels, find the best gas prices and discover the local eateries and attractions. This week's Windows Central roundup will pull together a small collection of these apps you may find useful as you plan your summer holiday but also for planning any of your trips abroad.
As always, if your favorite Windows Phone app isn't mentioned, feel free to toss out your travel planning app recommendation in the comments below.
TripAdvisor
TripAdvisor is a handy Windows Phone app that offers up mobile access to the online TripAdvisor (opens in new tab) services.
The TripAdvisor app is designed to help you find hotels, restaurants, and attractions for your destination. The app does lack the ability to search and book flights or rental cars but does a nice job of providing you dining and entertainment information.
The main pages for TripAdvisor includes an Explore page where you can search for hotels, attractions and restaurants; a page listing hotels, attractions and dining options near your location; and a My Saves page that will list any places you tag as favorites.
Hotel information will provide you with the customary details on that particular establishment that includes location details, reviews, photos, amenities, etc. You can also have TripAdvisor search for the lowest prices from partner sites.
While Trip Advisor lacks the ability to book or check in on airline flights, it does a nice job of helping you set up accommodations and locate attractions for your vacation.
Navigon
Getting from Point A to Point B can be challenging. To help you in planning a driving route, there are plenty of navigation apps in the Windows Phone Store. The obvious choice might be HERE Drive , which is free but if you are looking for an alternative with a little more punch, Navigon is worth the price of admission.
The app is developed by Garmin Wurzburg and basically turns your Windows Phone into a complete mobile navigation system. Some of the key features include:
Downloadable maps
Saved destinations
Points of Interest searches
Live weather
Live traffic
2D and 3D map views
People Hub integration to create routes to their address
Red Light camera warnings
Auto, Bicycle and Walking route generation
Take me Home feature for one-touch routing to get you to your home address
Audio and text announcements
Compatible with the Garmin HUD device
Navigon is offered in three versions (U.S., Europe and Australia) with the ability to download just the maps you need to use. This may help save a little storage space on your Windows Phone.
There are a few in-app purchases available with Navigon such as FreshMaps that will update your maps to the most current version every three months for a two year period and a panoramic 3D map view.
If you are looking for a navigation solution for your Windows Phone that has a little more bite than the average bear, check out Navigon.
GasBuddy
One detail of traveling that many overlook is the cost of gas. I imagine most accept the fact that if you drive while on vacation, you need gas so the cost is unavoidable. GasBuddy is a Windows Phone app designed to help take a little bit of the sting out of gas prices. It may also help you plan ahead financially for how much you need to save or budget for a particular trip.
GasBuddy provides you with real-time gas prices provided by other GasBuddy users. You can search out prices by City/State or Zip Code, as well as finding gas prices based on your current location.
Gas prices include the grades of gasoline, location information about the service station and a list of the top spotters reporting on the location. Driving directions can be generation from the GasBuddy app using HERE Drive and a map view is available charting all the gas stations in the area.
GasBuddy comes across as a handy Windows Phone app to shop around for the best gas price. In just searching locations, it appears GasBuddy is for U.S. and Canada prices only.
Yelp
Okay. So Yelp may not be the highest rated app in this week's roundup but I wanted to toss this one in based on personal experience. Yelp is a location based search engine for locating restaurants, pubs, service stations, drugstores and other locations that you may need to find while traveling. There is an online portal for Yelp and the Windows Phone app is designed to bring most of the online services to your phone.
The service also has user feedback and reviews on these businesses that I have found to be useful not only while traveling but also in searching for a local business.
Additional features with the Yelp app include integration with OpenTable for making reservations, check-in and share your location with your Yelp friends and support for augmented reality with Monocle. You'll need to create a Yelp account to access some of these features but an account is not needed to tap into the core feature set.
In using Yelp, I have not experienced the performance issues some have noted in the Windows Phone Store reviews and have found it to be a useful Windows Phone app for pointing me in the right direction and avoiding crummy restaurants. It does bear noting that it only scores a 2.5 star rating and while I like Yelp, your experiences may differ.
Yelp is a free Windows Phone app so trying it won't break the bank. If you do try Yelp, let us know if it was a hit or miss in the comments below.
Download Yelp for Windows Phone (Free)
MSN Travel
Travel is one of the many MSN apps floating around the Windows Phone and Windows Store that delivers a host of travel information to your devices.
For the most part, the app is a shell for the MSN Travel website but does offer a decent amount of information to help you plan your trip. Travel features include the ability to search for flights and hotels, check flight status and arrival/departure times and check out trip ideas from various news sources.
Travel does have support to synchronize your saved hotels, destinations and articles between devices when you log into the app using your Microsoft Live ID.
The Travel app is a nice resource to have installed on your Windows Phone. However, in revisiting the app for this roundup I couldn't help but think the earlier version, which was more of a native app, had more appeal. If you haven't checked out Travel, it is a free app for both Windows Phone and Windows 8 devices. Let us know what you think of the app in the comments if you give Travel a spin.
Windows Central Newsletter
Get the best of Windows Central in in your inbox, every day!
George is the Reviews Editor at Windows Central, concentrating on Windows 10 PC and Mobile apps. He's been a supporter of the platform since the days of Windows CE and uses his current Windows 10 Mobile phone daily to keep up with life and enjoy a game during down time.
Isn't yelp also integrated into Cortana?

Trip advisor is one of those 'forgotten' apps on Windows phone. Great on other platforms but hasn't been updated for WP for a long time. I hope this changes soon.

I think Trip Wolf deserves a spot here!

Nice article. I'd add Skyscanner for flights, and HappyTrips Travel Guide.
Oh, and I agree with the previous comment on TripAdvisor being a forgotten app. Lacking in comparison to iOS and Android counterparts, but it still provides some core benefits IMO.

Tripadvisor doesn't deserve to be here. It's an abandoned app from 2012.

I dont know why popular apps r never updated on windows while they r on android,ios! another such app is espn cricinfo, it has not bn updated in 2yrs!! While it is getting constant updates on android! The list continues! Why is this happening??

Trip Advisor has almost all Indian tourist related informations.... And I love it

And its best in all wp platform. Becouse there are no more apps that kind of. Was yes, msn travel was too but ms destroyed app absolutly

For train travel in Europe I'd recommend DB Navigator. Used it recently when traveling all over Europe and it was very useful.

Db good but only for trains. Even weather cant show in the city

Love the ability to pin Flight Status to my Start screen from the MSN Travel app.

Trip advisor :angry: Very bad support are their developers sleeping... The app last updated is 3 years ago..: Thumbs down :

Support 0 from self company to that app but very helpful is comments of travelers.

Expedia is worth to be mentioned. I used it for quick hotel booking a lot.

My favorite trip, app is 'MyTrips' for viewing TripIt information on my phone.

There is one app call 穷游锦囊 from Microsoft Mobile, which is very good. Too bad only chinese language supported. :(

Expedia definitely has to feature here. Its been relaunched on Windows Phone and is an absolute beauty

Expedia and the Marriott apps are beautiful.

If you're travelling overseas, make sure to check which apps are most-used in that nation. Last year we went to South Africa and found that Zomato was the drop-in replacement for Yelp. Helped us find lots of great restaurants, with reviews, in Johannesburg & Capetown & smaller towns along the road. TripAdvisor was used extensively for housing, and was extremely reliable. Also, always always make sure we remember to download our offline maps *before* we arrive at our destination. That way we use our fast/cheap home data rather than trying to find wifi or wait for possibly sketchy cellular data.

For me main app was msn travel. I had ability to pin in app cities. In pined city to see weather on now. To see currency that country. Ok hotel and flight is standard abilities. And with here maps collection and trip advisor I had all posibilies what can offer WP platform!! Ok train app db there was toooooo)))

Travel budget I'm planning in OneNote

Because all budget travel apps are awful limited. Even in state of currency is awful.

Skyscanner is essential for air travel anywhere.

I lost appeal to the msn travel app after the last update. It has literally degraded to a shell. Not the faintest idea why. But not a top app anymore. Even pinned tiles of favorite places don't work anymore. Probably beacuase pulling supported sources have been pulled out of the native support of the app. I wouldn't consider msn app top anymore. You're better off with tripadvisor. Sad really. MSN travel was a great resource. Another app for the history books.

Tripadvisor for Windows Phone is not having full features of the Android version which includes writing my own reviews of places I have visited. I would request the Tripadvisor team to update the Windows Phone version at the earliest.

Three of those apps mentioned haven't been updated for years. At least they still work to an extent.

I recently traveled to the UK and there were two apps that I loved and relied on heavily. #1) UK Trains. I am inexperienced with rail travel and we were set to travel all through England, Scotland, and Wales by train. Which I highly recommend. Trains were awesome! Brit rail pass was the best purchase we made. So UK Trains made it very easy for us to figure out how to get where we wanted to go. We did not make one false move thanks to that app. #2) Tube Map. Again being inexperienced with subway systems and having been extremely lucky when we traveled to NY, we needed an app to help us navigate the Tube. It was also brilliant. We traveled all over London for four days like we actually knew what we were doing. I travel the US and now Canada as part of my job and am a loyal Marriott customer (Lifetime Platinum) and their app came out partway through our trip. So I look forward to using that app next week. I tried using it a bit in the UK and it was a huge improvement over there weak previous attempt, but I couldn't get the hotel directions to work. I have always used HERE for navigation and it didn't let me down.

+1 for Tubemap. Used it on 2 trips to London and found it very useful.

Travel app in now just a web wrapper and now crap. It was great......before.

Recently, my daughter and I took a road trip up the California and Oregon coasts, with a 4-day stay in Portland (2625 miles / 4224 km round trip). Despite dropping and cracking my 920 screen on Day 1 (a quick trip into a FedEx store for a piece of shipping tape kept it going), my must-have apps included Yelp, Gas Buddy, Here Drive+, Hilton Honors, and Hertz Car Rentals (so glad I had the Hertz app - I had their support phone number handy when I locked keys in the car). I also loved the Trip Advisor website (on my Asus ultrabook), but didn't use the app. After choosing one restaurant very poorly, my daughter wouldn't let me make that mistake twice. Yelp was indispensable in that regard and for helping us find shops that weren't there for tourists (and didn't have tourist prices), including a combination 2nd-hand store/cat shelter that was the highlight of the trip for my 18-yr-old.

Have you guys used Kayak? I can't log in.

Another useful travel app is Picturex (www.picturexapp.com). Assume you are on a trip with friends and everybody is taking photos. Picturex let's you easily create a shared photo album and exchange all those photos taken - to never forget the best moments of your holidays!
I like the app, and it's free :)

Kayak is my GoTo Travel App. Works great and quickly on my Lumia 1020 and is clean and beautiful. The ability to send your confirmation emails from flight, lodging, and rental car reservations to Trips@Kayak.com and then have it automatically lay out your itinerary and neatly organize it is a key feature. Am going to take a look at Expedia as well after seeing the recent commercials.
Windows Central Newsletter
Thank you for signing up to Windows Central. You will receive a verification email shortly.
There was a problem. Please refresh the page and try again.