Wire launches Windows desktop app, universal app could be released later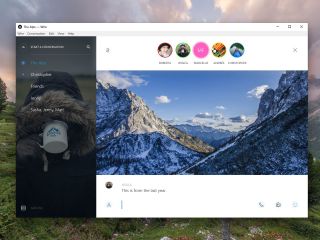 Wire, the text, audio and video communication app that first launched in late 2014, has now released a dedicated app for Windows desktop owners. Wire, which is backed by Skype co-founder Janus Friis, was previously released for Android, iOS and OS X, and is also available via web browsers.
Wire says that the new app works with Windows 7, 8 and 10. All chats made with the Windows desktop version are synced up with all the other versions of the app. Here are just some of its features:
End-to-end encrypted HD calls – in stereo with groups
Beautiful conversations with high resolution photos and GIFs
YouTube, Spotify, SoundCloud and Vimeo content right inside the chats
Group chats with up to 128 people
Windows Central asked the company if Wire is also planning to develop a universal Windows 10 version of the app. Here is the company's response via a spokesperson:
Download Wire for Windows 7, 8 and 10 - (Free)
Source: Wire
And meanwhile Skype sits in the corner, unloved.

Without a mobile app I can't really see how or why folks would use this. Who would want to use different messaging/calls services on different devices? Skype being back in the messaging hub has made me love using Skype again. (Though I wish the new insider build wasn't so bad. That messaging app was good too. Back to Skype for desktop for now) (side note - that build was not ready for slow ring)

The reality is the only people on mobile affected are the tiny subset of the miniscule sub 3% of WP/W10M users. So negligible detrimental effect overall not releasing a mobile Windows app and major positive benefit releasing an app that reaches the huge number of desktop Windows users.

Well, iOS and Android have the app...

Stunned a desktop app is released, and not an UWP app. Missed opportunity IMHO

Lol, you're serious here, do you know how many persons are on windows 7,8,8.1,Vista vs Windows 10?
Even you use more often win32/wind64 app on your desktop /laptop than Winrt apps

Vista is irrelevant, both because it's mostly gone from the market and because this app works with 7, 8 and 10, not Vista.

Yeah but I was talking about the number of users on 7,8,and vista not only vista only

•HD Calles in Stereo
•High resolution photos and GIFs
These what I want Skype to have. MS PLZ

Ironic that a few of their execs were formerly at Skype and are able to do add such functionality while Skype the billion dollar backed company seems incapable of doing the same....

Skype didn't want Microsoft to own them. The have dragged their feet getting new features out and better services. They may finally be stepping up their game a bit now...

No not really Skype was allowed to keep their original roadmap hence why they're barely picking up the pace

Oh I'm sure Skype will have that. In android and ios lol.

How do you expect a UWP.. They didnt even create a store app yet but a normal Win32 application

They bothered to release a app for OSx and not for windows first. Unbelievable

Lol. That's insane. I bet nobody uses it. But gotta love that UI though.

They use it. A lot of the reason why mac apps exist is because devs use Macs so they'll make apps for themselves lol

Why bother to release. The Wire maker should please go back to Android, Iphony, and eat apple. No love for you here.

Making a choice between Cordova and PhoneGap may seem to be difficult, but it is indeed very simple. Adobe owns PhoneGap which is accompanied with additional built-up service. One more element associated with PhoneGap is the fact that eventually additional service may or may not be offered and there may be charges associated for future use. Apache is the owner of Cordova and it will always be maintained as the open source project. Both PhoneGap and Cordova have similar API and it is better to choose Cordova, until you want to utilize the additional features of PhoneGap. Hire a professional cross platform app development company to develop app for you.
http://www.mobileapptelligence.com/cross-platform-appdevelopment.html
Windows Central Newsletter
Get the best of Windows Central in in your inbox, every day!
Thank you for signing up to Windows Central. You will receive a verification email shortly.
There was a problem. Please refresh the page and try again.