Fast pacing makes Wordfix a word scramble race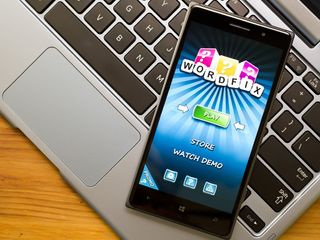 Wordfix is a relatively new game in the Windows Store where you are given a collection of letters and have to unscramble them to rebuild the word. Each game consists of five stages where you have to rebuild three words per stage. You only have a few seconds to solve each word puzzle and you might be surprised how hard it is to recognize a four-letter word all scrambled up.
Available for Windows 10 Mobile, Wordfix has modest and simple graphics and while gameplay starts out easy, it builds up in difficulty nicely as you begin rebuilding words. The game does a good job of balancing gaming difficulty with a zippy pace to offer a challenging way to spend a little down time.
The primary menu for Wordfix offers you the option to jump into gameplay, access the game's settings, view a help screen and report a technical problem to the developer. There are also options to access the game's store and watch a gameplay demo. The gaming store provides you the option to buy gaming coins through in-app purchases that range in price from $1.29 to $9.99. Coins that are otherwise earned through gameplay and can be used to buy gaming hints.
Settings with Wordfix include your usual suspects (volume/music levels, etc.) but also the option to automatically place your letters or manually drag them into place. If you choose the automatic option, tapping a letter sends it to the first open slot in your answer box. Manually requires you to tap/drag a letter into place, which can take a little more time. Personally, I'm a little slow on the drag, so the automatic option works best.
When you tap the Play Button, Wordfix wastes no time in jumping into things. Gameplay consists of five stages where you rebuild three words per stage. Each of the three words in a stage will be of the same length and does not include plurals, names of places or people, academic or obscure words, past tense, present continuous or third person verbs.
You have thirty seconds to solve or rebuild each word. You do so by tapping on one of the letters that are scrambled at the bottom of the screen. After solving the first three words, you transition to the next stage and so on. Words not only increase in difficulty as you advance through the game stages, but they also grow in length.
Should you hit a brick wall and completely draw a blank on where to start building the correct word, Wordfix has three styles of hints available. You can choose to reveal a consonant, vowel or the first letter of the word. Hints will cost you twenty gold coins — these coins are earned as you solve puzzle stages or pick up through in-app purchase.
Gameplay with Wordfix does start out somewhat easy with words like glue, menu and tusk. However, the game does increase in difficulty nicely and the timer can feel more like 10 seconds than 30. Overall, I can see the free Windows 10 Mobile title to choose when you need a little help passing the time.
Download Wordfix from the Windows Store (opens in new tab)
Windows Central Newsletter
Get the best of Windows Central in your inbox, every day!
George is the Reviews Editor at Windows Central, concentrating on Windows 10 PC and Mobile apps. He's been a supporter of the platform since the days of Windows CE and uses his current Windows 10 Mobile phone daily to keep up with life and enjoy a game during down time.
There are two versions of this game in the store... One free and one for .99 cents with trial option. Which of these are the original app?

My apologies.. Looked up "Wordflix" instead of "Wordfix"... Guess I do need glasses. But now that I've found the actual game... It tells me my device doesn't have the hardware to run it and I have a 950xl

Same issue on 950 (non xl). Store will not allow download. System requirement section shows that the 950 does not support required resolution.

Hi everyone - we are in the process of rolling out the latest version of WORDFIX (v1.4) which should resolve the issues experienced by Lumia 950 owners. It may be that this version is still being made available in your country. Can anyone confirm that they have access to the latest version? Many thanks, OrangeSpice Games

Hi.At my store it shows version 1.3 and it won't install.Lumia 950xl Czech Republic

Works for me on my 950 now!

Still unavailable to install here in the US, on 950xl

What hardware does my 950XL not have as to why I can't download this -_- ....

They probably didn't use a 950xl for the review.

The phone in the article is a Lumia 830. I'm assuming they used that to review the game.

It's most likely an error on the developer's part. It works on an 830 as well as a 1520. I can confirm that.

I agree.. These apps should be tested on all high end devices before published for download.

950 xl in the US here. It says that my 950 xl doesn't have the WVGA resolution required.

WORDFIX (v1.4) should now be available and visible on the Windows Store.
Lumia 950 owners - please would you confirm that this update has fixed the resolution requirements issue for you.
- Many thanks


950XL here. It downloaded and now works. Thank you!

Downloaded and installed here in the US on my 950 XL... Great job