Words with Friends returns with a complete re-write for Windows Phone 8, goes for free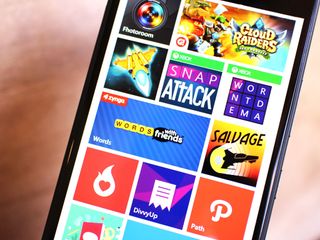 Back in 2009, Words with Friends was the big hit game from the startup company Zynga. The game finally arrived on Windows Phone 7 and 8 in 2012, plagued with bugs and performance issues. Indeed, it maintains an astonishingly low 1.8 stars (out of 5) on the Store from over 2,500 reviews. Needless to say, it's not a hit with Windows Phone users.
Words with Friends hadn't seen an update in quite some time, but fast forward today and it has a complete rewrite, losing its Windows Phone 7.x status and becoming a Window Phone 8 and 8.1 dedicated game.
Head to the Windows Phone Store we can see version 1.0 is now live, still with the $2.99 price tag and no free trial [Update: it is now free!]. The still popular crossword puzzle game brings with it the usual Facebook login information along with Smart Match, find by username, contact list support and pass & play. The all new Words with Friends also has leaderboards, sounds, vibration toggle notifications to alert you when it's your turn.
The performance and handling of a pure Windows Phone 8 game is much better than the previous version. Words with Friends is now fast, smooth and even much nicer looking, showing that Zynga can still write nice apps when they have the right tools. Indeed, making the game compatible with Windows Phone 7.x and 8 was its undoing, as Windows Phone 8 programming is much more powerful for developers. It shows as this game re-write has paid off, making it ultimately worthy for Windows Phone fans.
If you already have bought Words with Friends in the past, this is, of course, a free upgrade. If not, you'll need to drop $2.99 for the game, but you can take our word, it seems to be finally worth the money. There is no free trial, though a free, ad-supported version may come at some time in the future. [Update: as the Store has refreshed, the price has dropped form $2.99 to free]
Thanks Q, Mark B., and Ryan M., for the tips!
Daniel Rubino is the Executive Editor of Windows Central, head reviewer, podcast co-host, and analyst. He has been covering Microsoft here since 2007, back when this site was called WMExperts (and later Windows Phone Central). His interests include Windows, Microsoft Surface, laptops, next-gen computing, and arguing with people on the internet.
huh *feels ground* yup looks like it froze over.

Video Ads between turns, and no way to remove them, why?

If you open the multitasking window while the ad is playing and then reenter the app, it cancels the video ad and gets you back into the game.

Wait... Game play pauses for video ads between turns? Kidding, right?

Its the same as its always been - an ad after you make your move. Of the 10 moves I played yesterday, I only had to watch it once.

Yeah just in time for for me to play with all none of my friends that play it anymore. Lol

Hooray!!!! I'm checking for the update right now. The old version was so bad! My phone would crash every time I entered the game

Yep. Free for me as in Germany well and I never installed it before.

Correct. The version in the Store has been refreshed. Version went from 1.5 to 1.0 and price from $2.99 to free. Sometimes we're too fast ;)

Someone below just said there is an IAP to remove ads. If you purchased the game previously, do you still have to pay the IAP to remove ads?

but to get rid of the ads you do an IAP

It's shows free for me but I may of bought is before but then again it should say owned.

If you've bought it before it will still show the price until you try to buy it. It's free for me and I've never purchased it before.

Awesome, this may actually be worth it now! By the way it seems to be free in New Zealand (the home of Alphajax).

Is anyone else having an issue with it not getting past the loading screen?

I am... Can't get past it even after soft resetting

I can't get past loading either...will try later

same here 920 onDev 8.1 :(

Seems to be working for me now

Yes. I have uninstalled it, restarted my phone and let the app try to load for hours and still it doesn't work on my HTC 8X WP 8.1.

Same problem here. Stuck on loading screen on L920

L920 here, and also stuck on the loading screen.

same. won't load. uninstall/reinstall/restart...etc. let run for 15 minutes, still hangs at loading screen. looks like they still have a few quirks to work out for wp platform...has only taken them 3 years to get this far...shouldn't be much longer now.

Doesn't seem to be caught as an update when I checked and as BigDre97 noted, it was free.

I just downloaded and started a game. Completely blown away at how night and day overhauled this is compared to what it was. Too bad whoever was still playing probably moved on due to how poor the app was.

It's cross platform though, so you'll still have all the iOS and Android players.

I know. I meant other WP players who probably just said "f#$k it" and moved on. Honestly, I had uninstalled it about a month ago I was so fed up with it.

Right. As can be seen here at the time of our story, it was still $2.99 and at version 1.5. That has now changed and we corrected the article.

Shows free to me aswell. In UK but location set to US

FINALLY - I can now dump my iPad for good!

lol, there are quite a few alternatives for Words with Friends in the WP store.

My inital reaction was YAWN, but I think I'll download it so as not to negatively contribute data, supporting the "no demand on Windows Phone" excuse that developers like this use to not develop for our amazing devices.

The app does look alot better and is faster!

And still isn't available here in Brazil.

I've been using the launch version never experienced issues, excited to see how its changed

Wow, wasn't expecting this, assumed it'd been abandoned. I still have a few friends who play this and using the old app was a nightmare, constantly crashing. This is so much better. Only downside is they've implemented video adverts between turns!

This is great news, one of the apps that disappointed me the most when I switched. I'll happily go back to playing.

Hope they fix draw something too and also introduce Draw Something 2.

Dunno why anyone would support this company. Everyone whines and bitches when it looks like Microsoft is putting other platforms first. However, when app companies do that, everyone praises them when they finally come around. What makes it worse is that they put a half assed product out. I'd rather support Words by Post, written by a one-man outfit that has made stable versions for all mobile platforms and Facebook. How can one man learn 4 coding languages and do his job so well but a team of developers can't put together a decent version of their game for WP for years?

Do what you gotta do for you.

There's a difference- the developers that give iOS and Android priority are going to what's most popular. I'm disappointed they don't write apps for WP, but I get why. The reason why I complain about Microsoft doing it is because they're doing it to their own company. It's contradictory to say you want your mobile and tablet business to succeed, but Surface and Windows Phone versions of Microsoft apps lag behind versions for other platforms in both quality and release date.

Words by Post is excellent. I have my account registered on WindowsPhone and Nexus 7, and the matches stay in sync nicely. This is the only game that I have on the go (and have done for some considerable time) constantly. I also like how the game interface is very similar to the developer's other title Chess by Post which my son and I play. Both Words by Post and Chess by Post are great apps!

Alphajax > WWF.
Xbox Live achievements > cross -platform playing.

Crash, crash. Crash.... LMAO...give it up. You guys are already old news and if you don't get it right the seventh time through, you're pretty much not going to get it right.

Its not crashing repeatedly for others!?? Was a little shocked when so many people are praising it and it is crashville for me.

Just played multiple games that I'd been playing on my Nexus, has yet to crash. Notifications are working great as well... I'm on a 928.

Hmm. It crashes about every three minutes for me. The pain of owning an outdated 920. Time to put her out pasture boys. Someone find me a good deal on a 1520! I'm having no luck. About $320 used on eBay which seems like a lot for a phone that will most likely be replaced soon.

The 920 is maybe outdated due its release date but spec wise, certainly not. It can run many graphics hungry games like modern combat 4 and gta san andreas quite well. And if a game like word with friends needs a 1520 to run, then that's an epic fail from the developer. Btw, I can't get past the loading phase

Working great on my outdated 920 :-).

I can't believe it's because of the 920 being outdated. I have an 820 and its working fine.

Awesome! Hopefully a Windows 8 version will be forthcoming soon.

I managed to get all of my friends switched over to Words by Post just because this sucked on Windows Phone. Now it seems I did all that for nothin :P

I always get excited when Dan write the article. Will give this game a try :D

Next... Draw something! Draw something! Draw something!

Finally, the only clunky terrible app I have (with a 50% chance of making my phone freeze and need a soft reset every time you boot it up) boots up smoothly, fast, and so far bug free. Never thought I'd see the day.

Maybe we'll get Threes by 2017, woohoo!

Much appreciated and worth the iap to remove ads if there is one. The old version, both ad supported and paid was so laggy and crashed hard (sometimes requiring a reboot). I think this show of support for the platform is fantastic.

"Indeed making it compatible with Windows Phone 7.x and 8 was it's undoing." That's a ridiculous excuse. There are plenty of games/apps that are compatible with both, including another scrabble styled game called Words by Post that are very fast and smooth. Zynga was just not willing to put the time in to make it happen. WWF was bad long before WP 8 came along. Words by Post was, on the other hand, always good so I don't buy that line of reasoning.

I will continue using Words By Post but can now play Words With Friends as well. It's not a zero sum game. Heck, if WWF didn't suck so bad originally I wouldn't have even known about WBP!

I just want to know....(wipes tears off face)...does it really work?lol

This game always used to crash on my wifes 920 every time she tried to read her messages. Let's hope they fixed this bug.

Yaaayyy!!! Been bugging them for AGES!!!

Feels so much better to use! I played this, but now itl be a lot nicer! Lets hope draw something gets a re-write next! I cant even play it!

I knew some folks who liked this app a lot, in 2012.

Is there a handy list or reviews of these turn based games for WP that work well? I would love some suggestions

Words by Post is a ton better than this crap app

I just have to rate this 5 stars just to encourage them to write more Windows Phone 8 compatible apps. :) edit: im stuck with the loading... page

So maybe they will bring some of the other Zynga games now? Zynga Poker maybe?

Just tried this. It does look so much better! Moving the board when zoomed in is a lot smoother too. Just started a game to see how it goes. Hoping notifications also work as expected and that there are no crashes now. None so far, so let's see how it goes.

Hopefully they bring Scramble with Friends too. :-)

What's that Tinder app in the Start Screen there??

Gimme an IAP to ditch adds and you got yourself a 5 star app.

Holy god it only took them 20 years to show a little interest in windows phone. Delete.

WHY ........ What's the logic in releasing the game NOW, but making available for WP8.0 also? This means that the game is still a Silverlight app ! So no WinRT, no univerall app, no proper memory usage, no instant load/resume/fast app switch. They could've delayed the launch of this by 1 month or make it available for WP8.1 only. Same freakin' thing.

Calm yourself man, the app runs perfectly fine on my WP8.1 beta. No point targeting only WP8.1 when a WP8 app will run just as well on it. And it is definitely not a silverlight app. Those were done away with when WP8 came out with the xaml/wpf stuff. This app is also very likely using DirectX to get some extra smooth performance on that game board.

This is a new install... the last one I installed and reinstalled and tried and tried so many times - it just kept updating...never stopped. Hopefully this is better. Words By Post is still an awesome alternative.

In app videos are REALLY annoying! What an awful decision.
It force closes quite often too on our 1020's...and is glitchy.
Has potential - but just nowhere near as classy as Wordament/Snap Attack

What happens to those that paid for the older app then, do we have to pay again?

Can't get past the loading page.....epic fail...uninstall .....another 1* from me........I wish there were zero or negative stars.

Same here: can't get past the loading page, but don't uninstall it! Wait till they issue a fix, assuming they will. You might miss out on the free period and end up having to pay!

The new app is working well. Bout time zynga

NEEDS TO REWRITE DRAW SOMETHING AND MAKE FREE!!

Now if they could just do windows 8 so my wife would use it on the surface 2.

who knows, maybe we'll see something in a month or two lol. I'd love to have this on my tablet as well

Loading forever......................... Uninstalled.

Hello and welcome to 2009.

Stuck at loading for myself and my fiancee on our 1520s.

Meh!! I could have done with this two years ago - seriously .. all my friends dont play this anymore :(

Won't even start.. Shame =(

Beautiful. I paid for a version that didn't work and if I had waited, I could have got a paid version for free.

Crappy video ads after every turn, taking up battery and data. Fucking disgrace. Words by Post is far superior.

What the hell?! I thought Zynga was done with Windows Phone! If this holds true...and Zynga continues apps.....that could mean...Facebook gaming! Omgosh....that would make me so happy!

Keeps crashing . It's no better than it was

I don't get it. Works great on my 928. Doesn't seem to like starting up from a toast notification but beyond that smooth as silk. No videos ads yet either.

Just got it. A few improvements can be made here and there, but this IS ROCK SOLID STABLE! Played on the Nokia Lumia 1520.

If only Zynga would give us a proper Draw Something app...

never downloaded it before. Didn't want to pay for a crappy app. Glad its free and no ads! hooray!

Installed this last night, and it seemed like a good game. Played a little this morning, and after an hour or so it became very unstable. Now it won't start up. Last thing I saw was an obtrusive video advert, which I couldn't quit from. Not recommended - I'm surprised that the reviewer isn't seeing the same problems as many who have posted here.

Lets hope a new rewritten version for Draw Something (and Draw something 2) will come soon for WP8.x
and will be FREE!

Have to sit through video adds when I DID pay the $2.99 for the crappy app make me a sad user

Doesn't go past the initial loading screen... Nice! (L920 on 8.1)

The old app sucked but, since 8.1 at least it stopped locking up the phone. This one is much faster and works better but, is really ugly. I hate the way the send word button comes up on the top in the black banner...awkward placement. Other than that, it's soo much better.

Nice update but video ads are quite annoying. 1. It turns off any music that you may have had running and requires you go back through the Music app and restart everything [as opposed to starting where you left off at in the song/playlist] 2. Even when youve disabled sound in the game the ad plays LOUD.

Yay! I'm happy now that this app is updated and free.

Yay, finally a version of Words with Friends that isn't horribly buggy. I had the free version from the Zynga app on the 810 and absolutely HATED it. It's about time they made a decent one for WP, just sad that it took about a year and a half for Zynga to do it.

I don't see any ads, videos, etc, that others have said are there. I had paid for this app a long time ago, so perhaps that's why? Loving the new update. It can't be overstated how much smoother it is now. The old version on my 1020 worked, but performance was probably the worst of any app on my phone, and would routinely require me to close other apps/tasks in the background in order to stop it from crashing. It was also a huge battery drain (on WP 8.1). Obviously, it's supposed to use some of the battery, but I could have over half the battery left on a typical day, and then on a day when I had a Words game going, I might find myself out of battery by the end of the day. The difference, just from that one change in what I did on my phone, was way too noticeable. Too early to say if that's still the case. Still, some things I have (or may have) an issue with: 1) It had me re-sign in after the update. When logging in with Facebook, wasn't given any options concerning posting to my wall. Usually, I always set that option to visible only to me, so as not to spam people. Not having the option at all scares me a little. I'll have to wait and see if they simply removed the ability of the game to post/spam your wall, in which case it would make sense that there's no longer an option to control that. 2) The leaderboard is about as basic as it gets, and well behind what was available on ios a year ago. My total score across all games played is meaningless, as far as I'm concerned. I'd be much more interested in total scores vs individual players I've played. 3) The zoom-in function has a limiter now, and only allows you to zoom in a little. Not a huge deal, I suppose, but I spent a few moments confused when trying to zoom into the board on the first turn I played after the update.

Totally broken for me now. I paid for this app some time ago and until now put up with having to restart between each play. Now stuck on load screen with 1520 on 8.1. Also same on 920 with 8.0
Windows Central Newsletter
Get the best of Windows Central in in your inbox, every day!
Thank you for signing up to Windows Central. You will receive a verification email shortly.
There was a problem. Please refresh the page and try again.