World's lightest Windows Phone, the XOLO Win Q900s is now available across India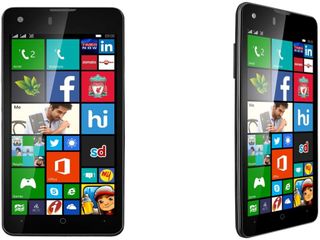 XOLO, the Indian handset maker, introduced the world's lightest Windows Phone 8.1 device – XOLO Win Q900s – a couple of months ago.
The device is finally available for sale broadly across all authorized retail counters and modern trade chains at a price of INR 9,999 (US$ 165). Previously, it was available to pre-order for some time at online retailer Snapdeal and went on sale a couple of weeks ago at Flipkart, who ran out of stocks in a flash.
Weighing only 100 grams, the Windows Phone 8.1 device is a Dual SIM smartphone powered by a Qualcomm Snapdragon 1.2 GHz Quad Core processor with 1GB RAM. There's also 8GB internal memory available, which can be extended by up to 32GB using a microSD card. The Q900s features a 4.7-inch HD display with OGS technology and scratch-resistant Drangontrail Glass. The phone sports an 8-megapixel auto-focus snapper with LED flash at the back, as well as a 2-megapixel front camera.
XOLO Win Q900s Specifications
Processor: Qualcomm Snapdragon 1.2 GHz Quad Core processor
RAM: 1 GB
Internal memory: 8GB, expandable up to 32GB
Camera: 8 MP AF rear camera with LED Flash | 2 MP front camera
Display: 4.7-inch HD IPS display with scratch-resistant Dragontrail Glass and One Glass Solution
Battery: 1800 mAh Li-Pol battery
Will you be picking one up? Let us know in the comments.
Windows Central Newsletter
Get the best of Windows Central in your inbox, every day!
HTC one m8 for Windows phone better all smartphone

What about that dual OS xolo phone?

without proper supports no smartphone is the best ! LOL

You know that the xolo is 400 bucks cheaper than the M8?

it's a low budget phone, you shouldn't compare this with a high end mobile

Also not (currently) available in India.

And i'd take this over a M8 :)


Cheap as the 630 but better.

Yeah, but the 6330 runs on symbian series 40

My bad I just miss that phone.

Is that a joke? (Nokia Lumia 630)

I like it, but 4.7 screen with a 1800mAh battery? I guess it would get better mileage with the 1.2 GHz processor.

That's a very nice offer in that price range

I might feel nothing is one my hand when i hold this device. I'm a proud L920 user. Hehe... :)

Yeah... Picking up our phone has already become a daily exercise :)

Seriously....Every time someone holds my 920 for the first time the first thing they say is about how freakin heavy it is...Looking forward to a lighter phone next round.

Wow! You can make a killing with arm wrestling bets.

It's a windows phone and I support it.

920 is just my kind of phone. Tough, tenacious and awesome.

Yeah, L920 is for tough man. Only weak people would complain about its weight.

Lumia 930 ... The best for Me

This isn't intended to compete with the 930.

Yes. 920 nothing can beat the device.

That's a beautiful piece of technology, very light and with windows phone ! The only thing that scares me is battery life, other than that I'll definitely gonna buy one as soon as I get the opportunity

In what way is this beautiful?

Will this phone available worldwide?.. Hope to see a new thread with title "Win Q900s vs Lumia 530"..

Wow it has the same CPU as the upcoming 830. Amazing how they can produce a high spec phone for such a low price. Well done!!

not the same CPU as 830. This has a snapdragon 200 while the 830 is rumoured to come with a snapdragon 400.

Oh well 200 it is. The 830 isn't much better and will probably cost triple the price with no significant performance advantage. Still a good job

Huh?? Even the 530 and 630 have Quad-Core 1.2 GHz but it depends on which Snapdragon chipset it has!! 530 and 630 have 200 and the 830 is going to have 801(hopefully)!! This one is gonna be 200 or 400..Correct me if am wrong here!!

The 830 definitely won't have the Snapdragon 801 processor.

The rumors say the 830 will be Snapdragon 800, not 801. Seeing as all the current Nokia "flagships" "only" use the Snapdragon 800, it'd be really weird for a mid-range device to out-spec them, especially since the 830 looks like it's going to hold its own against them in almost every other regard. Unless Nokia is as confused by their numbering system as consumers are. In which case: Maybe the 830 is /actually/ the 935. :)

What's the point of using quotes with flagships...800 or 801 they are still current flagships regardless.

The 630 has a Snapdragon 400.

Those specs are mouth watering..!!

I wonder if this will really be released with the circle home button. I thought the Windows button is mandatory?

It is. This is just a mock up and obviously they screwed up.

No it isn't. The actual phone has circles, not buttons. Also the search and back 'buttons' are swapped. See the actual phone in action here https://www.youtube.com/watch?v=H4HBtM99xf8

is that an issue to not buy the phone? i dont think so.

XOLO has one of the worst ASS I've ever seen. Better go for the Micromax one. :)

in fact i have opposite review... xolo is good. i had an android xolo last year. even their customer support is great. had issues with my moms phone and they repaired it and back in 20 days. and always communicating with me about the status. About this particular phone... xolo has OGS and dragon trail glass, micromax has none. xolo has better designed phones, Micromax mostly has mediatek, xolo has experience with Intel, NVIDIA,Mediatek and now Qualcomm

I think this post doesn't has the Source in it!

XOLO sent out press release for the announcement. Haven't picked this up from anywhere.

its been available online since a week... bought mine from indiatimes shopping for 8.9k. super deal. waiting for it to arrive

Dear WPCentral, please make a hands-on video of this device. Requesting once again.

i will try to do an unboxing when i receive mine in a day... wpxbox has also done an unboxing...

first thing that came to my mind after reading the specs: nice - but what a shame, such a weak battery :(

I recommend the application " HardInfo " http://www.windowsphone.com/pl-pl/store/app/hardinfo/df3ed485-21ef-4fa3-...

Yes its better than 630 in terms of specs

Nice phone but it is not available here in Iran

Mine is on the way... flipkart selling for 9850, snapdeal for 9999... searched the internet for any other deal... i saw indiatimes shopping and bam they were selling this for 8900... bought it straight away. now indiatimes is showing out of stock. lucky me...ordered it 2 days back.

What does LI-pol battery stand for ?

Usually has lower capacity than the Li-Ion but that's because its more portable, also doesn't get too heat... But its more expensive.. So..

Can't know if I'll get one without knowing things like is it GSM and what radios. I hate the Carrier centric system in the US which is why I use a 1520.3. So "foreign" phones are more interesting to me but WPS needs to publish the specs of phones covered unless the carriers are a higher priority than us members. I "loan" Windows phones (a 521 or 635) to people I think would switch. The service just adds $10/month to my T-Moibile plan. I might be interested in grabbing something like this if I expand that to two at a time.

That's awesome of you, loaning devices to friends so they can try out windows phone makes you a true Windows Phone Ambassador.

Really good value for the price

Shit, that's a pretty appealing setup... Add qi, a few more horses another gb of ram and put a Nokia label on it and they'll have my $

Here is a video of the unboxing http://www.wpxbox.com/xolo-win-q900s-unboxing/

Specs sound almost identical to 830. This is priced at $165. Umm.

830 will most likely have a snapdragon 800 process whereas this has snapdragon 200 processor if I am not mistaken. Also 830 is rumoured to have a 10 or 20 megapixel pureview camera this is budget phone whereas 830 will be budget premium phone

What will snapdragon 800 do? Increase your brain power? There will be hardly any noticeable difference. You might be obsessed with Lumia but the fact is that such phones will go long way in increasing share of WP.

It could make a significant difference for gaming, though.

is this coming to the philippines?

Good to see more and more addition to Windows phone family even though my next phone will be L730 this definitely gives more options to consider.

The battery is the spoiler. But not an issue, after WP8.1 Update 1, it will last a day of heavy use.

Lol is that supposed to be a joke?

I like how the thickest bezel is on the top where you put your ear vs lower. With more phones were like that

Yes it can, but can it land properly...?

...of all mobile phones, Nokia 3310 is the best!!! LoL

My wife would love a phone like this! Cheap, light, and 1GB of ram so apps are not an issue... seriously Nokia, why put in a quad core without 1GB of ram?

that's Not Nokia, no more Nokia

Yes it was Nokia who made the decision. The 930, 530, 630/5 and probably even the 730 and 830 were all made by Nokia, just continued by Microsoft. The x4x series will be 100% Microsoft.

Sounds great. I wonder what the camera quality is on these Indian handsets.

Great phone! The best i guess india has to offer! :D

I might give a chance to HTC M8 if Lumia 930 doesn't come to t-mobile USA

Xolo Win q900s is available at Ebay US for 299$ http://www.ebay.com/itm/New-Launch-Xolo-WIN-Q900s-Unlocked-Dual-Sim-4-7inch-1-2Ghz-Quad-Core-8MP-8GBP-3G-/161409914683?pt=Cell_Phones&hash=item2594c7d73b

Tough fight for Lumia 630.

waiting for 1020 successor but with a bigger battery & better processor, preferbly 805 or 810

I don't care about the brand or the specs, it's a WP phone, ... period :)

Hope this phone sells well in India .so that other oems in India follow suit.wp 8.1 never lags as opposed to android in this range.i here talk about after 3 months usage.

Will it be available in Nigeria?

LOL at dragontrail glass. competitors to corning?