Wunderground needs a good Windows Phone app developer, help them out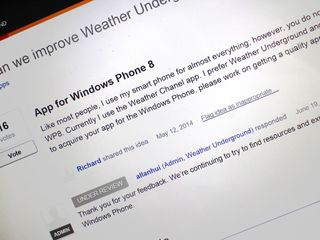 Windows Phone has a ton of stellar weather apps in the Store. Both official apps and third-party apps are available for users to download and never get caught outside without an umbrella. We are still missing one fairly major commercial weather service - Weather Underground. That could change with a little community help.
Head to the Wunderground website and you'll find a user request to get a Windows Phone 8 app. It was posted last month, but finally received an official reply today. Here's the response from Weather Underground:
The rest is up to you. Are you a passionate developer who wants to work with Weather Underground to bring an app to Windows Phone? Or do you know any stellar devs out there who might be interested in helping make this happen? Head to the Weather Underground help page for a Windows Phone 8 app and leave a comment there with your interest. We're bound to find someone who will mesh will with Wunderground.
Source: Help Wunderground Via: Reddit
Thanks for the tip Maxcrazy!
There's already a dev group named 6Wunderkinder

He is implying that 6Studios will take the call and make the weather app... Aka he wants Rudy Huyn to do it

I'm implying that if Rudy does it, he would prefer not to get sued again the way Beats sued him over 6Studios.

He was my first choice too.

First dev that came to my mind too

My vote is for Rudy also! W.underground is my go to weather app on Android. Would like to see same on WP Posted via the WPC App for Android!

would he do it for free ? i would say it will be fulled with ads

Cool, they listened to my feedback. I always mentioned Windows 8 and WP when they wanted feedback.

Come on, WP! I love how the WP community is so tight knit and cooperative, all working toward a common goal. The OS was built on suggestions and functionality by Windows users, and I love seeing everyone work together make a better OS and experience. Sentiment aside, its great to have been a WP hipster, and watching how far it has come has made it that much more worthwhile, and the community is something iOS users will never experience.

Dude, it's a fucking phone. If you take it as a lifestyle or religion or such sort, you are clearly doing something seriously wrong as a human being.

Amazing Weather HD is all Weather Underground data based, maybe that dev should look into making it into the official one... =)

I was thinking the same thing.

You make a lot of sense. Why re-invent the wheel, so to speak.

Someone hold my beer and pop tart, I'll do it.

6underground c'mon, what do I win?

I thought that WeatherFlow and Amazing Weather HD both used Weather Underground for their data... I'm sure many others do too. So, in other words, what would be the differentiator here?

"Official" ... Kinda like AccuaWeather & WeatherBug :)

My point is... with so many GREAT, high quality apps, perhaps Weather Underground should be evaluating one of them to be promoted as their official app. :)

they want to build their very own app, because of different programmer will code different way, they need to make it simple and easy to read for their own company

Yeah true. It's the word "official" ;)

Wunderground needs an official app. Their official app on Android and iOS are amazing. Other than high res graphics, Amazing Weather is inferior to the official app. I cannot speak for WeatherFlow. No third party app will compare unless they can manage to implement the Wundermap. I actually have not seen a weather app on WP that has decent mapping ability. Not Bing and not Amazing Weather HD. Weather Channel and AccuWeather both have no option to remove ads and so I do not want them.

Glad to see they are actually taking the time & reaching out instead of using a lame excuse.
Good luck to them & the developer\s :D

Hold my beer... I got this...

I did one for Windows Mobile.

Amazing Weather is powered Weather Underground

most apps are WU powered so why say this? just buy the app from one of the existing devs out there. there is no reason to start from scratch.

The official WU apps on iOS and Android are quite good and very detailed - similar to the new WU website. Their Wundermap is very cool - and I believe one of the weaknesses on all of the WP weather apps is how radar is deployed. None of them are excellent. Many are useful. Just my $.02

Exactly, My Radar is the best for radar on the platform. Obviously it's a separate app but I'll look in my weather app of the month (4castr, Amazing Weather, etc.) then supplement the radar info with this app if I need to.

Great points! I judge weather apps based on their radar offerings - so far, none I have tried have been as good as WU's and WeatherBug's offerings on iOS. The Bing Weather app ends up being good enough, in comparison to other WP weather apps. I'd really welcome (and pay for) a nice WU app with great radar options.

Yup! All the WP weather apps fall short on the radar, would like to see storm tracks, and the like! At the very least!

Yeah, typically the radar on WP comes in the form of videos which is pretty lame.

I could not agree more. Amazing weather is a cool app, but the official Wunderground app is better if you want very detailed information. The radar functionality on every WP app that I have tried is not impressive. The Wundermap on the official app is amazing.

If Rudy built it, it would be the best hands down.

Nah, i'll have to launch my competition anyway. Sorry, Wunderground. I could do this and scrap Atmosphere, but then i'd go broke paying for your API access (haha)

Amazing Weather USES WEATHER UNDERGROUND. But yes, get RUDY in this.

Almost every windows phone third party weather app used wunderground data. Their data is by far the lowest quality and I don't want it on my phone. Despite how amazing some of the apps are, I use Bing weather for purely nws data (faa sites mostly). Anyone can great a weather station and connect to the wundergrlund network. The is no quality control. The temp showing up on your phone could be some retard neighbor of yours who installed the sensor in his refrigerator. Wunderground needs to go under already.

Wunderground needs to go under already.

Considering that Wunderground's parent company is the Weather Channel (with lots of $$$), I don't think that's going to happen anytime soon...

I get that - and I have the NOAA data page bookmarked on my phone so I don't even need an app. But the reading is taken at the airport. I live in Nebraska - our weather is very strange....sometimes the airport that is less than 10 miles from me gets less than an inch of rain but my house will get more than 2. Fortunately, during June - I think if a temp sensor was in someone's fridge and told me that it was 40 degrees instead of 90 - I'm smart enough to know its wrong. I wont be leaving the house in a turtleneck.

Be Weather uses wunderground's data and it works great.
Windows Central Newsletter
Get the best of Windows Central in in your inbox, every day!
Thank you for signing up to Windows Central. You will receive a verification email shortly.
There was a problem. Please refresh the page and try again.