Microsoft confirms: Xbox One exclusive Scalebound has been canceled
After years in development, the Microsoft Studios exclusive "Scalebound" has been canceled.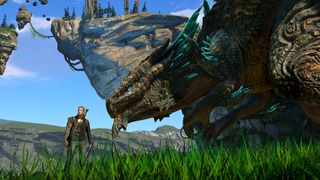 (Image credit: Microsoft Studios)
Built by Platinum Games, Microsoft just confirmed to us that Scalebound's development has ceased and that the two companies have parted ways.
Scalebound was set to be an action RPG with 4-player co-op, where players formed bonds with gigantic, customizable dragons. Microsoft Studios has a pretty packed line-up for 2017 already, with State of Decay 2, Sea of Thieves, Halo Wars 2, and Crackdown 3 in the pipeline. However, Scalebound's closure will disappoint many, as it represented the only known "AAA" Action RPG experience in Microsoft's exclusive portfolio for the near future.
The statement we received from Microsoft reads as follows.
When I spoke to Hideki Kamiya and Jean Pierre Kellams about Scalebound back at E3 2016, the pair seemed enthusiastic about the project and its future. Scalebound's social media went dark in September, and rumors began to swirl of development issues at Platinum Games, famed for games like Bayonetta.
Microsoft said that they have great respect for Platinum Games and that Scalebound's cancellation came down to "business decisions."
I asked Microsoft if they felt there was now a gap in their line-up after the loss of Scalebound, but they told me that Crackdown 3, Halo Wars 2, Sea of Thieves, State of Decay 2, as well as unannounced "experiences" are still on the way for 2017. Microsoft said they feel that their portfolio is very strong for 2017 "and beyond," offering clues to future unannounced projects.
How do you feel about Scalebound's cancellation? Were you hoping to pick it up? Let us know in the comments or join in the discussion on our forums.
More: Upcoming Xbox One games we're looking forward to in 2017
Windows Central Newsletter
Get the best of Windows Central in in your inbox, every day!
Jez Corden a Managing Editor at Windows Central, focusing primarily on all things Xbox and gaming. Jez is known for breaking exclusive news and analysis as relates to the Microsoft ecosystem while being powered by caffeine. Follow on Twitter @JezCorden and listen to his Xbox Two podcast, all about, you guessed it, Xbox!
I haven't looked into it too much but it seems like it might have been a pretty awesome game. The Xbox is sorely lacking in fantasy RPG's.

Such a shame, was really looking forward to this game. Love most of platinum's games.

Platinum's track record of late has been less than stellar.

A friend of mine was gonna buy an Xbox One just for this game.

Sooo. Was this a game in development hell or...?

Something like that. Apparently they were having development issues last year and the game was falling behind schedule. Can't blame Microsoft for cutting ties rather than delaying forever.

This was True Fantasy Online 2 by now I guess we can expect one every console generation from MS lol.

Nadella is erasing microsoft at all

Or waiting for that business model of dragon to come around.

What the absolute f*$#, I was actually looking forward to what this title could be, Panzer Dragoon esk type of game. I wonder what happened, there aren't many new IP exclusives for Xbox atm, hoping this isn't a missed opportunity for MS, hopefully no bridges have been permanently burnt as Platinum Games are a great dev....

Holy crap. This looked like it was nearly done. I guess it sucked more than we were lead on?

So much for dragon riding

ARG! This was the closest thing to a spiritual successor to Panzer Dragoon Saga (RPG with Dragons you can fight with/against) I have ever seen.... and will never get to play :( Guess I'm only stuck with Crimson Dragon, which was made by some Panzer verterens.... Sega should pick it up, Panzer-ize it and well..... release it!

That's the one game that stuck out for me at E3 2016. Bummer.

It's also one they pushed hard at E3 that year.... sucks that they would cancel les than a year later.

Yes,me too. It was really there only exclusive I was looking forward to even playing. Sony has a much better slate of exclusives this year Imo... God of War particularly. I really think Microsoft is killing it in all areas except the exclusives.

God of war has no release date nor release window. Better yet, nothing Sony has shown in the last year have a release date attached to it besides Horizon: Zero Dawn and Gravity Rush 2.

And yet, the exclusives Sony have shown look far more promising to me, regardless of release date. In addition, there are many third party exclusives that look great to me, especially in the fighting game category. SF5 and the new King of Fighters, for example. Obviously it all comes down to taste... but my hope is that MS will reprioritize having more tent pole exclusives. Regardless, I personally have more Xbox games in my backlog than I can handle, so it's not to big of a deal to me personally.

Nioh Feb 8th, Gravity Rush 2 Jan 18th, Horizon Feb 28th, Nier: Automata Mar 7th, MLB The Show 17 Mar 28th, Persona 5 April 4th, ​Dragon Quest Heroes II April 25th... are a few. I would expect Uncharted : The Lost Legacy (they are saying almost a whole other game than 4, but it will be DLC I believe and possible a stand alone), GTS, Shenmue 3, Drawn to Death (free to play) for 2017. Those that could be late 2017 or slip till 2018 - God of War, Days Gone, Spiderman, Knack 2, Ace Combat 7, Hellblade, Detroit: Become Human, Matterfall, Vane, Dreams, Parappa the Rapper, Crash and Bandicoot Trilogy. I'm hoping From Software sneaks in Bloodborne 2 in early 2018 but that might be wishful thinking. Figure The Last of Us II in 2018/2019. http://gematsu.com/exclusives/ps4 I would expect early 2018 to be pretty outstanding even without a Bloodborne 2.

Thanks. That's what I thought I saw from their last show reel. TONs of exclusives in the pipeline, many of them looking very interesting to me. Compared to MS with a fairly paltry selection, most of which are not of interest to me at all. Again, I'm an MS fanboy all the way, and think the One S is amazing (I already have two), and love the plans for Scorpio. I just think they lack in this area.

I have two original Xboxes, I have two Xbox 360s, but this was easy to see even in the 2008-2010 timeframe that they were cutting the internal game studios down, so then they have to go hunting for 3rd party software. I'm not really interested in what they were doing in 2013... so I started making the move first with a Vita then a PS4 in 2015. Its a personal choice, I just didn't like them cutting the internal studios and I just think they don't get it. I do wish I could play Gears 4 though... that series will be missed.

XBOX exclusive Halo Wars 2 Crackdown 3 Sea of Thieves State of Decay 2 Cuphead Below Phantom Dust Gigantic and Ashen are 9 titles still incoming

Yes there maybe 9 exclusive titles but Scale bound was part of the reason I and actually a lot of people bought an Xbone now with this i have no reason to keep mine. Depending on what Nintendo does with Backwards compatibility and launch titles i might let mine go then to just let it gather dust.

​lbeezy, most of those titles are in development hell including the power of the cloud title Crackdown 3, Cuphead, Below and Phantom Dust... although there is a possibility of Phantom Dust being in 2017 its using old assets I believe. Phil's job is to keep all you Xbox Store customers on the platform while they intergrated the Xbox store within the Windows Store. Phil's next job is to keep you on the Windows Store while they expand UWP and hopefully you buy UWP apps. As far as a traditional console.... as a stand alone... those days are coming to an end. Of course, MS will sell hardware at a premium if people are willing to buy it similar to the Surface line... Scorpio is nothing but a Windows 10 machine at this point. The days of the Xbox division going through billions of cash is pretty much over. https://forum.beyond3d.com/threads/xbox-lost-microsoft-4-billion-over-4-... https://www.neowin.net/news/report-microsofts-xbox-division-has-lost-nea...

I was really looking for to this one. O well hopefully there will be something else to fill in the gaps

This kind of sucks. I never wanna see a game cancelled. I was certainly interested in this, but like the article says, we have a bunch of games comming next year still. Hopefully this gets revisited.

Doesn't make any sense. Seems screwing up is the only thing they can do right.

Just as I was planing to buy xbox one s. Now that i think of it ill just skip it. Not becouse of one game cancelation but not much interesting games for xbox at all + all those will be on win10 too. Still xbox is cool but I can not afford that expense now...

They lost me when the dude was running around with headphones around his neck. Besides even when you consider the demo at E3 the boss fight didnt look all that intense. I expected it to be a good rental and nothing more.

Demos are no longer what's in game they just pull sections out to give an idea of mechanics and graphics. They usually end up changing the areas, segments and story of that pulled area anyway since its usually an earlier development they use for demos. If they released the game it would have probably been more intense and annoying to beat.

Maybe. But, he is right that demonstration at E3 did not make me interested/excited in the game at all. It actually had the opposite affect. Not that I have really ever been into Japanese style RPG. Non the less, the concept looked fun initially and I was willing to give it a look. That was last year this time. Unfortunately, the execution at E3 made me think, meh. I also think these co-op games have a severally limited life. Too bad for those that would have liked this game. Unfortunately, most of those that play this style of game are in Japan. A place where the Xbox has such a small footprint (hence the business decision). Even the PS4, who seems to have much larger crowd outside of Japan that play these type of games, these games still don't sell well enough from a business point to make it viable if Sony didn't have that larger footprint in Japan.

That e3 demo was a hot mess. The cheesy voice acting and Beats headphones turned me off a little, but that e3 demo was an embarrassment. The boss was terrible and the fight had no nuance or strategy, just a bunch of slashing. It's a shame, first microsoft destroys Fable, then a promising game in Recore turns out trash, and now this.

Now, the big question.... who owns the IP? MS or Platinum Games? If MS owns it, then we are screwed. If Platinum owns it, then there is still a possibility of a different publisher picking it up for release.

well, the dream is dead :(

I wouldn't exactly call four or five games a "packed" lineup. I'm sure there are a couple more that haven't been revealed, but still that's not that much to boast about. In my opinion, anything less than 10 exclusive titles is not a big line-up.

Five $60 games is still $300 out of pocket this year. Packed enough for me.

Exactly what I was thinking.

Like sports or not the fact that Xbox one still hasn't ever released a real baseball game using MLB players is troubling.
RBI doesn't count, they at least could've made it like 80's RBI arcade games

Sony has an MLB license to use on The Show. But MLB isn't as popular worldwise as something like the NFL. Maybe just not worth the investment.

Actually Baseball is more popular than Football worldwide. But Football is more popular than Baseball in America.

Almost everything is cross platform now. Not much room for exclusives.

First Fable and now Scalebound, it is more than obvious that this producer is complete trash, can not finish anything .... Or it could have been Sony and Steam sabotaging Xbox games. Just as Google and Apple sabotage Apps arrived in Windows 10, now Sony / Steam doing shi$

as Google and Apple sabotage Apps arrived in Windows 10

Ignoring the grammatical error, got any proof to back up your claim?

Soooo you're ignoring every other game that has come out PUBLISHED by MS?

Cocobongo.. this actually start back about 9-10 years ago. MS closed many of their internal studios following the success of the Wii. FASA Studio closed 2007, Carbonated Games closed in 2008, Ensemble Studios closed in 2008, Aces Studio in 2008, let go Twisted Pixel Games in 2015, closed Press Play in 2015, and LionHead Studio in 2015. Lots of other teams were joined in the last year including the Project Spark team. Not sure how one would sabotage a Xbox game. Although, they did expan for 343 and the Gears team, those are kind of replacements for Bungie and Epic... so to me this lead to them getting desperate and maybe this game should have never been green lit to start with????

What? How are Sony and Steam involved in this?

Business as usual...there are always cancellations with projects like these and Microsoft has the resources to do it. I for one am not surprised. Move on to the next idea....

Personally, though I don't play much, I was looking forward to something besides violent war games. Guess I find dragons a tad more interesting.

I'm glad MS have some standards. This game must have been a mess to pull the plug this late in the game. /pun

The main character was "too edgy for you" for my taste. A clone of DMC4's Nero down to the headphones. I usually like Platinum's work but they weren't inspiring confidence in me with this title. Better cancelled than overpromised and under-delivered. Back to the drawing board platinum. I'm sure you have something really great up your sleeves. I'll wait until then.

This is ridiculous, seriously...

I'm not buying much recently, and having time to play even less, but this was probably the only game I was really looking forward to in 2017.

the game looked amazing, even if I'd risk losing my money I'd buy it, just for the amount of dedication that went into making this game, already over 2 years in development and now it's gone, a shame, really

Although I was ridiculously hype for this when it was first announced, a part of me was always scared something would go wrong with this game. Still a big disappointment, but not really bothered anymore.

I am actually glad this game got canned. This game did not look good at all. Yes the graphics were nice but this type of game would have failed horribly. Not the type of game that sells in massive numbers. Just my 2 cents.

The concept looked interesting, but the trailers and footage seemed like the game was very ambitious but couldn't quite match the intention.

This really sucks big time! Just like when microsoft canceled that mmorpg Fantasy Live game for OG Xbox makes me very disappointed in microsoft! It was the game I was looking forward the most this year!

not good, xbox exclusives have bombed in terms of sales. Sunset overdrive, quantum break, recore, etc. Halo still sells well, but not at the level as in the old days and i haven't heard much about GOW4. Not sure about Forza either, but xbox clearly has an issue with their players buying their exclusive games. Phantom dust got kinda cancelled, fable legends cancelled and who knows what else. All those games showed at e3 not much to show for at this point. MS has an issue and it needs to start getting better performance on their other IPs outside of halo/GOW. I personally think they need to retire GOW franchise.

Wait, what? Microsoft doesn't have enough exclusives so they should retire one of the only selling franchises they DO have?? Gears are great games.

yes, Gears is a fatigued franchise and from what i am reading sold about or less than judgement. halo still has decent sales and has a great story behind it, Gears not so much, the studio should work on a new IP.

Couldn't disagree more. I don't know what the sales were, but it was definitely a quality game.

The key point is "reading about". GoW4 is a really solid, true to its roots and fun game even though their father studio have just decided to shelve it away and focus on MOBA shooters.

Forza is doing pretty well. IIRC some recent stats indicated 11 million players on current generation games.

This won't be the only thing MS cancels this year

IMO Microsoft should start working on mobile games again preparing for Surface phone, my favorite Android RPG game which is not available on Windows Mobile is Mages and Minions but since my phone is midrange it freezes a lot and crashes very often (Snapdragon 615, 2GB RAM) , by my fortune the game is available in Windows 10 for the desktop so when I have a chance I play it on my desktop.

Mobile games isn't going to happen for Microsoft unless they release on iOS and Android. Xbox One can't sell a game then a Windows phone definitely won't. Just the facts.

Can't help but wonder, if this was cancelled for yet another fps yawn.
Even if you did not have any interest in this game, it's not hard to see Microsoft lacks variety

Yep, they have four real franchises, and two are just purchases they didn't even make.

**** YOU MICROSOFT JUUUUUUUUST **** YOU!!!!!!!!!!!!!!!!!!!!!!!!
I cry so damn hard........... i was going to buy a Xbox One for this Game BUT NOW i don't need these SHITI CONSOLE anymore THANK YOU FOR SAVING MONEY!!! I'm really pissed.... i was soo damn hyped for that game, i wished me exactly this game for years and now you ******* ******** cancel it?!?!??!!? WTF is wrong??? JUST WHY???? And what kind of answer is that... we have other great title like Halo Wars, Crackdown or State of Decay I DON'T GIVE A **** ABOUT THESE TITELS, i want Scalebound thats the Game why i even wanted to buy a xbox one, but now forget it! If you don't want to sell your consol and just saying "Yeah we are MS look we have other great title we don't need Scalebound" then yeah you don't need my money, thanks for that now i can do better things with my money!!! I'm so angry... really i'm not that kind of people who offended,,, but today i'm so damn pissed! You guys ruined my next days! Hell of you!

At least you're being mature about it.

You need that classic batman to robin slap. Gee willakers! Get a hold of yourself!
You really need a game to be cancelled to decide there are better ways that money could be spent?

I wasn't that much interested in it either. It looked like it was close to be a finished product at e3 last year tough. Sad for the employees that spent hours on it.

4 years on it and it still wasn't anytihng close to being ready. Not sure I'm too sad for them.

Doesnt hurt as much as Fable Legends, although that is coming from a fable fan.

At least MS didn't kill Platinum.... yet.

Games like Scalebound have become rare in this sea of shooters and zombie games. :( sad to see it's cancelation.

LOOOOOL, come on. Only exclusive I wanted. MS digging the hole a little deeper.

It never liked that good anyway.

WTF! Was the most powerful exclusive for this year, besides having connection with the Asian market, there are now none. That's why PS4 is still selling so well, come on xbox.

Exactly why I bought a PS4 first

I love most of Platinum's games. Such a shame that Scalebound now has been canceled.

With NieR:Automata appearing out of nowhere as a PS4 exclusive, I'm pretty sure Platinum Games have messed up their resources, literally saying MS to suck it. They weren't able to deliver the game in three years that doesn't even lags in stage demos. So this "business decision" looks quite a forfeit to me.

This is what people assume...the main reason I can tell you this was a mistake for MS is even companies like Nintendo can believe in platinum games and give them their freedom to develop a game and wow look what happened bayoneta 2 was one of the best selling Nintendo games and it even pushed more wiiu consoles ! MS is to prude and doesn't seem to take looking outside the "Xbox" as even an idea

The game was in development for three years, for god sake. Witcher 3 was made in three years for THREE platforms and it was flawless though had some technical issues at first. NieR:Automata was in development for two years and is going to be released soon. And it looks and plays (the demo) really great.
Scalebound's idea was floating in vacuum for a decade and rejected by investors TWO times until MS came in, believed in it and PG ultimately failed to deliver. Yes, they sold the idea and, heck, MS believed in it: just count how many times they've allowed the game to be delayed and look how good it was marketed.
I'm bitter with these news, but as a developer myself I'm not new to this kind of situation. PG tried chewing on more than they were able to: were too optimistic with their estimations and never distributed resources properly. Yet you prefer to see not an unfortunate though predictable event, but an evil plot.

Every game is different, you can't compare Nier, The Witcher, and Scalebound. Nier is also made by Platinum Games, but Platinum is so big now they have multiple internal teams. This was never a good fit imo. It's technically a Japanese rpg, i doubt it would've sold even with the cheesy dude bro voice acting and Beats headphones. I also doubt that Microsoft gave PG the freedom necessary in order to make the game they truly wanted. Look how well PG is doing with Sony and Nintendo. I'm sure Microsoft pressured them to Americanize it as well. Fable, Phantom Dust, and Scalebound. It seems like Microsoft is micro managing these games and ruining them or they are just too cheap and impatient to allow longer development cycles. The Last Guardian never would've been released had Microsoft been running the show.

Yes, I do understand that every game is different. I am comparing Scalebound to Witcher 3 just to point out that it was pretty much deliverable.
PG is doing well with Sony and Nintendo, because they are making slasher/beatemup games within established franchises for them. An RPG was just too ambitious for PG and clearly not in the field of their expertise. The fact that the game was turned down by investors two times and shelved just strengthens this claim. Even Kamiya said that the game would be the biggest challenge for the studio. MS had a faith in this IP when everyone else didn't.
And, yeah, seeing how well other IPs are doing under their "micro management" I wouldn't put blame solely on MS. You've got the resources and the platform's best engineers at your disposal; you've made an estimation, so, please, deliver. > too cheap and impatient
> just count how many times they've allowed the game to be delayed and look how good it was marketed Looks like you're reading diagonally.

Super disappointing. This is one of the few games I was looking forward to and hurts as much as the cancellation of Phantom Dust. None of the other games they are promoting for this year are even remotely interesting to me. Sea of Thieves is interesting but I really really hate the first-person perspective games. RPGs are my favorite type of game and it's also where the One is the absolute weakest and why I've been holding out on getting one.

Wasn't this the game that had the producer crying about the way MS was handling the marketing? Meanwhile MS was marketing the HELL out of it? The game had great ideas but always looked rough around the edges. Add to that the fact that MS probably wanted it updated for Scorpio and that it would have to be play anywhere. I am guessing too many resources were necessary to complete the game, get it up to MS standards, and keep the producer from crying.

nose que pasa por la cabeza de las personas que cancelan uno de los juegos mas prometedores del 2017 y el unico ARPG DE XBOX por una razon comercial no mencionada y justifican que tienen muchos juegos en cartera. bueno se pierden el publico y gran parte de mi interes voy a vender mi xbox ya que se volvio comun que retrasaran juegos y siempre a incio de año se cancelara uno de los juegos retrasados, no tengo mas fe en que buscan hacer las cosas bien.

Es el efecto Nadella, amigo. El CEO de Microsoft no tiene interés en lo mínimo en proyectos dirigidos al consumidor.

I literally registered to this forum to say how deeply dissapointed i am that they are not releasing this game...the "lineup" they say they have is all boring and uninteresting sequals..microsoft has been making some horrible decisions lately. No VR, no bad ass exclusives..and the holiday deals were absolute crap... Bad play microsoft..bad play.

I am sorry, but the deals were great. Ones for PS4 were nowhere near as good.

Sure, buddy, this is a joke. I ended up buying six titles for Xbox One, two for 3DS, one off Steam and zero for PS4 and Vita. Even fanboys, like yourself, instead of their usual bragging how awesome PS4 is were complaining how bad PS sale was... In the comments of the official Xbox community at VK. I did not throw in Nintendo sale for my comparison, because my sister has my Wii U (3DS sale was okayish). I could've bought two more XO titles, but enough is enough.
So, please, have your downvote back and go preach at a proper place, not here. It disgusts me how goddam blind and toxic your bunch is. Sometimes I even regret that I got myself PS consoles and have to be a part of this "community".

Well your Xbox and get a PS4 or a good pc and you'll be set. Waiting for MS to come to their senses is like waiting on Nintendo to fix the wiiu

So we get more remakes of games that aren't even that good instead of innovative new franchises? Boo. This is one thing Sony do much better than MS.

Wow! I was waiting for this game for a long time!

Remember, "business decision" means "the game had so many problems left to fix that it was not worth the investment to finish it." -- It's far better to cut bait now and let the developer work on a title that will actually be good than to trudge to the finish line, release a title bad enough to tarnish the dev's reputation, and posibly have the dev go out of business. it seems like this might have been the best decision for everyone, consumers included.

PG work as idea generators and contractors. Giving that they haven't been able to deliver the game paints their reputation in not so bright colors too.

No offense but Microsoft is notorious for making rash and often blind business decisions. Giving up this title instead of a delay is a huge mistake considering MS is losing its fan base more and more churning out the same style games and many exclusives are going to PS4 and pc.

The title was already delayed numerous times and you would've know that if you weren't a random passerby fanboy troll. It was ultimately canned just because of that. But with MS owning the IP it still might be released by a more capable team. It's now obvious that PG is way better at slashers than RPGs. Yet they maybe return to it, but with more passion than before. BTW, were you on the egg throwing frontlines when The Last Guardian was cancelled under the same circumstances? I bet you were, sport. 😏

Since when was The Last Guardian cancelled?

"Pretty Packed" aren't the words I'd use for Xbox's 2017 1st party games lineup at all... :(

I may only have a dozen friends, but i had every single one of them ready to pick this up off the shelf for 60 bucks. two of them willing to pick up xbones as well. want to know what none of us are gonna pick up or are even remotely interested in? crackdown 3, state of decay 2, sea of thieves or halo wars 2. hell i even had one of my cynical coworkers ready to buy this. now i know this is going to fall on deaf ears, on the impossibly remote chance it is even read but this has been literally the only game ive been excited for since halo reach. i dont understand how you do not see a profit in this game. unless its really terrible underneath all that tantalizing gameplay this wouldve been a slam dunk, hell woulda made a lot of money from middle school and high schoolers alone. how do i know this? anyone remember the eragon novel? that mediocre novel from 2003? it was extremely popular becuase it hit on a lot of points that really get to that demographic and this hit most of the same points. but lets can it for some trash we whipped up that will gaurentee mediocre sales on name alone.. like halo wars 2. i wonder how many people gaming even know there was a halo wars 1? probably not much considering it was utter garbage. way to kill one of the few fantasy rpgs you had coming microsoft, and possibly the only killer app for many people. i literally cannot express my disappointment in what limited vocabulary i possess. heres to another year full of boring reboots, awful sequels, expensive ports, and gritty snoozefest shooters.

Sell your Xbox and get a PS4 sounds like it would suit you better than this failure of a console anyway

I may very well end up with a PS4 Microsoft seems to be cancelling everything now these days.

I don't understand why Microsoft starts off something so good and just leaves it hanging in the air.

Looking at my MS Band and Kinect and wondering the same thing.

And there are probably quite a few former Games for Windows Live users shaking their head at people buying apps off the Windows Store.

why not offer the game for 2018 or go third party

Might be technical problems that just weren't solvable without changing the gameplay drastically, or making it a Scorpio exclusive.

The only original game I saw looking forward to... I'm pretty upset about this. Had high hopes but I guess Microsoft didn't see its potential being worth it. Sad day.

Give me a Phantasy Star game! I'll gladly take that RPG!

PS4 already has phantasy star online...just an FYI

It hasn't been released. FYI

they should have cancelled RECORE LOL...what a waste of money that game was.

It looked like it was going to be a great game. Especially with the flight mechanics already locked in it seemed. Wonder if they thought this will fight for It's place with other titles in the rpg area that Microsoft is already signed off on and closer to a gold master.

Microsoft isn't patient enough. Just look at the pay off with Final Fantasy XV and Last Guardian

Noooooo!!!!! I was so excited for this game!!! :( ugh...

I was actually really looking forward to this game! Such a shame :(

LOL this is why I'm glad I never bought another Xbox. No offense but this is pathetic. The holiday deals also for Xbox WERENT better at all. I bought a PS4 my roommate an Xbox one. Now all I see is just how glad I am to get Nier automata as well as plenty of amazing titles Xbox can't even seem to get right. "Full lineup" for 2017 MS? This is the kind of lineup that pleases the mediocre crowd. I don't even miss you at all MS

I'm franchised out. I'd like something new, with great gameplay and re-play value. But ...I'd geek out for a Halo RPG.

Sea of thieves (hopefully) and South Park are the only 2 I want.

Microsoft has been cutting down in all segments. This is just another project being cut for $$$$$ for the shareholders. This isn't a surprise.

What ? Such a bad news, they should have canceled crackdown or sea of thieves instead. Sony might finally pick up on excusive this year with this sad news

Rare is a Microsoft-owned studio, less likely to cancel that than something like this. Then again look at Fable.

Really disappointed by this. Microsoft hasn't had a game like this in their portfolio and I'm a huge fan of PlatinumGames' work. I wish they would've seen the development through.

The last time I saw the demo of this game is quite choppy. Maybe that's the reason to pull the plug with not satisfied quality of prototype after 4 years of development.

XBOX exclusive Halo Wars 2 Crackdown 3 Sea of Thieves State of Decay 2 Cuphead Below Phantom Dust Gigantic and Ashen are 9 titles still incoming Relax guyd

Sucks, I was really looking forward to this.

This was such a high scale game I'm assuming that Platinum had trouble developing this since their previous games were so linear. I'm guessing that Platinum wanted more time that would possibly push the game back past 2017, but perhaps MS wanted to get it done now or never. Looks like the latter was taken, and now I spend the rest of my year with ME: Andromeda. :(

Well, that escalated quickly.

Didn't seem to interesting to me, luckily. Feel for the people who were looking forward to it.

Final Fantasy XV came out after much longer "development hell" So never say never

MS don't seem to care exclusives. This is why PS beats every single time.

This is just bullshit, I was looking forward to playing this game with my girl.

After that atrocious e3 demo i lost hope for this game. At least Platinum Games PS4 exclusive Nier Automata looks amazing. The demo is fantastic.

i think i accidently deleted my comment. this is a fail for microsoft and xbox. Please in the future of e3 stop telling gamers about new games that you are going to cancel. please only announce them the year your gonig to sell them. It is dissapoinging to see a game you want and to be told it will never happen.

I agree. We don't want to have games announced like Playstation and never see the damn things.

This sucks. We needed a good JRPG after FF15 was so bad.

Hmm, that really sucks. Looks to have a lot of potential.

https://www.change.org/p/microsoft-bring-back-scalebound

If the game was just not turning out to be good, it's best it didn't see the light of day, rather than epically disappoint. It does suck though :( although the xbox one exclusive schedule is cramped =/

Seems like a lot of MS published games get cancelled since the new guy took over (Phantom Dust, Fable, Scale Bound). And not a lot of new game announcements to replace the games he is cancelling every year. MS as a publisher doesn't seem confident in the fantasy genre. Always weird to me when games get so deep in development as Fable Legends and Scalebound only to be canceled. Seems like an enormous waste of money and time. I can't imagine how people who worked on these games feel. Really glad Ryse came out before the new guy took over Xbox. Ryse for me is probably the single most memorable launch game of this generation.

Just a few points emerging when I think of E3 '15, where MS announced the best lineup in XB history and where they restored my trust in the platform by exclusives and backward compatibility: - It's a year and six months later and how many of those exclusives announced 2015 have been released? Not enough by far, means the 'exclusives' (which aren't exclusive anymore as we learned on last year's E3) have been far and few since June '15. - And disappointing besides. For example, Recore shrinked from a supposed AAA title to a 50 EUR 12 hour interplay. For example, Quantum Break turned out an playtimewise even shorter delectation embedded in a serial with a juvenile story line. - In contrast to Sony who with Last Guardian released a title much longer in developement Microsoft now appears as not comitted to games and gamers which is desastous because it revives the impressions gamers had when XBox was introduced 2013. - This years lineup is just terrible from my point of view: Sea of Thives is XB live Gold dependant being a multiplayer title. State of Decay 2 is part one with coop play and updated graphics (and better performance hopefully). Crackdown 3 is, well we don't know much about it, so if it were cancelled tomorrow, who would be surprised? I wouldn't. Halo Wars 2 is console RTS which is a niche genre in itself and btw another game with Halo in its title. There are no AAA titles I find interesting in the slightest even after I heavily readjust what I find interesting in favor of this sorry lineup. - This years lineup is basically MS's entire lineup. In six months Microsoft is going to announce a new console with technical specs and crap which is not first priority for _gamers_. Games are first priority for gamers, therefore MS will announce Halo 6 and Forza 7 for 2018 (holiday season, of course) and a new ip like Gears of War Wars or an exclusive for some time after, which after the coup with Lionhead and Platinum will only foster doubts if those titles will see the light of release day at all. - Look at Sony's lineup. Suddenly Sony appears to have much more interesting games and ips. How come? Reflect on this Microsoft. - XBox's future perspective: Being turned into a service Nadella style.

Correct, xbox is now just a service that has been intergrated into Windows 10. MS goal is to keep or convert existing Xbox Store user to Windows Store users during the transition i.e. Xbox Store no longer exists. The next step is get as many Xbox user into the Windows Store eco-system and start buying UWP apps via the Windows Store. Eventually, there will be one Operating System -- Windows 10 via the one Windows Store. You are correct Nadella/Ballmer are/were interested in "services" not "products".... so they will supposedly invest in titles going forward which are services. http://xboxonedaily.com/2014/02/lionhead-game-as-service-studio-fable-le... http://powerupgaming.co.uk/2017/01/09/microsoft-transitioning-xbox-into-...

Having no information on the development of this game, I have to assume Microsoft took the difficult but necessary step to cancel it. That said, the XBox One lineup is far from stellar in terms of exclusives. Most third parties are only time exclusives and thus, carry little weight when comparing libraries. Sony has now such a great advantage in terms of the lineup that I am recommending the PS4 over the XBox One to friends, despite the fact I believe the XBO is a better product because the backwards compatibility and the stronger online service. It seems that, in terms of exclusivity, Microsoft is satisfied in having a first and third person shooter and a racing franchise. Quite frankly, that is much less impressive than what Sony and Nintendo have in their realms.

MS's goal is to transition all you Xbox Store customers into Windows Store customers while the Xbox Store was being moved over. There next goal is to get all you guys that are now into the Windows Store eco-system to start buying UWP apps via the store, and slowly intergrate the rest of Xbox into Windows 10.... once fully complete than everyone has a Xbox if they have a Windows 10 device. MS might invest in more service type games like Minecraft but as far as huge new single player IPs.... good luck unless its indie. Basically, MS wants their version of the Apple Store... the Xbox division had to be scrapped in its prior form as its been a losing $$$ machine.

When a multi-console game doesn't do well It's no big deal. When an exclusive game doesn't do well, it has a more significant impact on that platform. If things were turning into a No Man's Sky (Sony is still peeling egg off It's face for that) then MS made the right decision to pull the plug. ReCore had a luke warm reception and that still hurt MS's exclusivity reputation.

Just why was it cancelled, though?

Good decision.
From gameplay trailer I knew it was going to be a failure.

Release the $20 version this year, then next year release part 2 for another $20 and so on. Give us a little every year and stop waiting every 3 years for something that might be good or canceled. If people like it for $20 then continue making the next chapter in bite size games that everyone can afford, and you will actually sell more. That's why app's do so well, everyone can afford the risk if it's going to be good or not.

Saddly, Xbox One has so few exclusive titles that the loss of any title is a major loss.

Hey if you want them to keep scalebound going and to start it back up go on this link to there xbox live feedback idea page it has 694 votes already to keep scalebound going need a certain amount for them to look at it and decide and you a xbox live loogin to vote https://xbox.uservoice.com/forums/363186--new-ideas/suggestions/17675614...

This one was a game I couldnt care less about. Sucks for those that were interested but I'll just stick with whining about the cancellation of Starcraft Ghost and 1313... #complainforever

This suck I was really looking foreword to it. I really wasn't even think of the playing the 4 games they listed and still wont.

Seriously, WTH Microsoft?! I read a comment that said "it was going to be a failure". Meh, to each his own. Seems to me unlees you've played it or see actual sale statistics or even if they release feedback from prescreening gamers or some such thing then it's failure or success is just presumptous...an opinion at best.
Windows Central Newsletter
Thank you for signing up to Windows Central. You will receive a verification email shortly.
There was a problem. Please refresh the page and try again.