Xbox head Phil Spencer reportedly reevaluating relationship with Activision Blizzard
Spencer states he is "disturbed and deeply troubled" by the news coming from Activison Blizzard.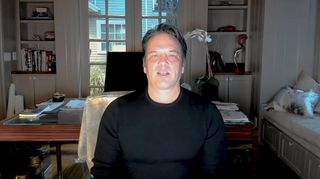 (Image credit: Microsoft)
What you need to know
Phil Spencer, head of Xbox, sent an email to staff stating that the relationship with Activision Blizzard was being reevaluated, per Bloomberg.
This comes after Sony Interactive Entertainment CEO Jim Ryan stated he was "disheartened and frankly stunned" by the recent reports on Activision Blizzard.
Hundreds of Activision Blizzard employees and contracters have signed a petition asking CEO Bobby Kotick to step down.
Head of Xbox Phil Spencer sent an email to employees, in which he stated that he and the rest of Xbox leadership are "disturbed and deeply troubled by the horrific events and action," as reported by Bloomberg. Spencer reportedly goes on to note that Xbox is "evaluating all aspects of our relationship with Activision Blizzard and making ongoing proactive adjustments."
Activision Blizzard is currently facing a lawsuit, alleging the company fostered sexist workplace practices and allowed abusive behaviors to go unpunished. Hundreds of Activision Blizzard employees have signed a petition calling for the removal of CEO Bobby Kotick, as well as for the remaining shareholders to vote in a new CEO. The board of directors is currently standing with Kotick, saying in a press release that the board " remains confident" Kotick has handled past situations appropriately.
A recent report from the Wall Street Journal indicates that Kotick knew of and assisted in covering up multiple instances of sexual harassment at Activision Blizzard. Sony Interactive Entertainment CEO Jim Ryan also recently spoke on the situation, noting that he was "disheartened and frankly stunned" by the recent reports on Activision Blizzard.
The report also indicated that former Blizzard co-lead Jen Oneal was not paid as much as fellow co-lead Mike Ybarra, with Oneal claiming she had also faced sexual harassment during her time at Activision Blizzard.
Windows Central Newsletter
Get the best of Windows Central in in your inbox, every day!
Samuel Tolbert is a freelance writer covering gaming news, previews, reviews, interviews and different aspects of the gaming industry, specifically focusing on Xbox and PC gaming on Windows Central. You can find him on Twitter @SamuelTolbert.
Buy em out, shake them out.
Bring world of warcraft to the xbox.

Women are paid less than men in many jobs, unfortunately.

Apparently it wasn't just about the pay though.

Take call of duty off Xbox and Playstation until Bobby is removed.

Poor Bobby Kotick. All he did was threaten to kill an employee. And some other stuff too but still.

Are all employees payrates supposed to be equal? I though they were secret by design and negotiated on a case by case basis, based on what you offer on a technical level, how long you've been with the company, level of responsibility, time put in, etc. When did this change to be more socialist?

the equal pay issue is referring to 2 newly appointed co-presidents who held the exact same position and were appointed at the exact same time in the middle of the company facing scrutiny for sexual harassment and gender inequality as a PR move. The female who was promoted (and paid $200k less) had 17 years with the company, the man was coming back to the company from XBox.

Maybe there is a big reason they wanted to hire him back... Something the general public is not aware of? Educational level high performance at Xbox. What was his position at Xbox?
Maybe they just chose to pay her less... Would have been wrong, but just stating I get paid less without the general public knowing the whole story... can make people jump to conclusions that may not be entirely accurate.

What does socialism have to do with this? Nobody says all employees have to be paid the same, even socialists!
And you can't stop people from talking about wages. In fact, you shouldnt even try to stop them as an employer as it only gives wages the Streisand Effect.

Won't buy another Blizzard game until Kotick is gone...

Bobby boy must go. As the saying goes the buck stops at the top. It was obvious from the get go he knew - the question was how much did he knew. Turn's out, heck of alot... Not to mention he - himself is also implicated. So, frat boy Bobby must go.

It would be nice for partners to hold blizzard accountable.

Boycotting Activision only hurts the employees that put in their best work. So double edged sword if you stop pending your money with them. I don't care what the CEO or employee did when I buy something. It's the quality of the product that I deem worthy in that moment gets my money. As a consumer, how it got to that point is beyond me. If I learn of something disturbing I won't return a product unless its part of recall that would otherwise affect my health.

A voice of reason in the rabid crowd.

"evaluating all aspects of our relationship with Activision Blizzard and making ongoing proactive adjustments." - I wonder what this means. I sincerely doubt that Microsoft would stop Activision Blizzard from publishing their games on Xbox consoles. That would only boost Sony with a high profile exclusive. Looking forward to see how this one plays out.

Translation: "The stink around Activision is so bad we have to say something. Doesn't mean we have to do anything, though."

The only thing they will do is possibly stop paying for exclusive content or timed exclusives... They aren't going to stop Activision games from coming out on their system. It's pretty much just pandering because they have to do it. If anything this affects Sony more, because they have been money-hating their @$$ off lately and have paid loads of cash to Activision for timed/exclusive content. MS stopped doing that a long time ago when talking about their dealings with Activision.
Windows Central Newsletter
Thank you for signing up to Windows Central. You will receive a verification email shortly.
There was a problem. Please refresh the page and try again.