Xbox Live Developer Interview: Zen Studios, makers of Pinball FX2 and Zen Pinball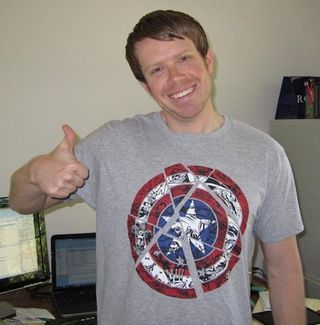 Welcome to an Xbox Live Developer Interview long in the making! Seriously, we've been promising this one for a while, and at last it's ready. Today we chat with Mel Kirk, Jack—of-all-trades at Zen Studios. Zen is hard at work porting their XBLA hit Pinball FX2 to Windows Phone. Thankfully they made the time to tell Windows Phone Central all about their love for pinball, potential licensed tables for the future, and of course, their plans for Microsoft's mobile phone platform.
Head past the break for the full interview, tons of behind the scenes photos, and wonderful Marvel concept art!
­Hiya, Mel. Please tell us about yourself and what you do at Zen Studios.
I have been in the videogame industry for nine years, and have had the opportunity to work in many aspects of the industry including retail sales, marketing, PR, producer, first party liaison, community manager, business development, brand management, input on game design – I think I've done everything except write a line of code!
My role at Zen Studios is constantly morphing depending on what our current needs are. While my main focus is on the marketing / PR / first party end of things, I am constantly doing other tasks that help to the overall success of the company. Being a small company, we all wear many different hats so to speak.
Before you started swapping hats as a game developer, did you play many games? If so, what are some of your favorites?
I did! Mario Kart (SNES) remains my favorite game of all time. Other favorites include Colony Wars (PS), Tomb Raider (PS), Star Fox (SNES), Ghost n' Goblins (NES) and Twisted Metal (PS).
Fine titles, each and every one. How about your all-time favorite pinball machines?
My all-time favorite machines are Fish Tales and Terminator 2. In fact, I am about to buy a 1991 Terminator 2 machine from eBay. Hopefully I can win the auction!
Good luck! Zen Studios is primarily known for its top-class pinball games. What factors led to this specialization?
Zen Studios' founder, Zsolt Kigyossy, is a die-hard pinball fanatic. Arcades had gone by the wayside and were harder and harder to find... [Thus] he decided the company should make a videogame version of pinball so he could enjoy the game whenever he wanted. Things have turned out pretty good since then!
What's your take on The Pinball Arcade, a recently-released competing title?
It is great to see the old tables get their place in the digital world, and it is fun to play them again. There seems to be a real pinball renaissance right now which is great for pinball players!
I agree. But do pinball videogames have the ability to attract players who have never touched an actual machine, or do they appeal primarily to older players?
Performing motion-capture for a 3D model
Yes, they do. It's interesting, back in the 70's, 80's, and into the early 90's, pinball was at the center of pop-culture. There was a table for every big brand, hit movie and rockin' band. Players back then were the mass market. Today we look at them as 'older players,' but I think we can repeat the pop-culture craze if we do it right. We saw our player demographic get significantly younger when we released Marvel Pinball, and I think we will continue to go that route with the new brands we are bringing in the next 6 – 18 months.
Let's focus on your own pinball games now. On Microsoft platforms, your pinball titles are called Pinball FX, but on other platforms like Playstation 3 and iPhone, the same game is called Zen Pinball. Why the name change?
Pinball FX is a Microsoft-published title, so we needed to do something different on their platforms. Zen self publishes on all the other mentioned platforms, so we try to keep the name the same for the rest.
Pinball FX2 and Zen Pinball are basically pinball platforms, allowing users to buy just the tables they want for much less than the cost of a full game. Which tables have been the best sellers? Are there tables that move drastically different numbers on one platform than the others?
Original 3D Wolverine model for World War Hulk table (part of the Marvel Pinball: The Avengers Chronicles pack)
When you combine performance across Xbox 360 and PlayStation 3, the original installment of Marvel Pinball has been our best seller to date. If you look at table sales across all platforms, usually each table or pack on each platform is within 5 – 10% of the leading platform. That is not a drastic difference at all; it seems like there is pretty good parity across all platforms.
Your studio recently announced Zen Pinball 2 for Playstation 3 and Vita. What new features does it bring?
Revised model incorporating the changes suggested in previous image
I think the best feature for Zen Pinball 2 is more of a business decision. We are going "cross-platform entitled," meaning when you buy any content, you get it on PS3 and Vita at no extra cost. This decision was not hard to make, we felt it was the way players want to be treated and we are happy to do this.
Zen Pinball 2 is also a free update for all existing Zen Pinball and Marvel Pinball owners, following the same approach as Pinball FX2. All of the tables players currently own will import for free, with updated graphics, physics and the social fabric that has made Pinball FX2 so addictive. Trying to beat friend's scores, sending messages, and all that taunting that goes on makes the competitive aspect of the game so fun.
Zen Pinball on iOS and Android is a freemium experience, with one table included for free and others available for purchase. Yet the XBLA and PSN versions don't have that free content. Is Zen Studios interested in bringing that true freemium experience to consoles as well?
Not at the moment, but we will see what is possible on next gen systems. We are currently figuring all of that out now.
Zen has released a lot of Marvel-themed pinball tables – most recently the 4-pack 'Marvel Pinball: The Avengers Chronicles.' Has DC Comics shown any interest in licensing their characters for tables, or does your agreement with Marvel preclude that? Also, now that Marvel is owned by Disney, is there any chance of Disney-themed tables?
World War Hulk Table Concept A
DC Comics-themed tables are not likely to happen, although it would be a lot of fun to work with those characters! Yes, this is an agreement issue, but it's part of doing business and it is fair. We have discussed Disney-themed tables; it could happen one day!
Pinball FX2 on XBLA is one of my favorite games, but learning each table's unique mechanics and goals could be more intuitive. In future games, will we see a more robust tutorial included with each table rather than a separate reference menu?
Yes, this is something we have been progressively working on. Zen Pinball 3D and Marvel Pinball 3D [two downloadable 3DS titles] are good examples of the direction we are going in, with better descriptions, pictures and overall more information. We are a little torn on how much to give away in the rule sheets because pinball is a game of discovery. But, we understand that a lot of players would like more information, so hopefully we can achieve a good balance.
Speaking of dream features, could a cooperative multiplayer mode work in a pinball game?
World War Hulk Table Concept B
It would be extremely difficult to implement, but it would sure be a lot of fun. A lot of iteration would be needed, and it's likely we would end up with a brand new type of game – who knows; maybe we should give it a shot!
Please do! Now for our most important topic: Zen announced Pinball FX2 for Windows Phone back in February. What sort of connectivity will exist between the Windows Phone and XBLA versions?
We are working on all of this now, and unfortunately I cannot give you any definitive information at the moment. I can say that there will be platform connectivity, but the extent of that is not currently defined.
Will purchased tables transfer between the two versions, or do they need to be bought separately? If tables are separate purchases on Windows Phone, how much will they cost?
Again, these are things that have not yet been decided. I would be interested to hear from the community what they would like to see, and at what prices they think tables should be priced!
Do you plan to make every table that has been released for Pinball FX2 on XBLA so far available on Windows Phone as well? How many tables will be available at launch?
2 screens from Pinball FX 2 on Windows Phone (horizontal and vertical orientation)
It is our goal to get every table we have ever created on every available digital marketplace available. How long that will take is unknown, but hopefully we can make it happen. I am not sure how many tables will be available at launch on Windows Phone, but there should be a nice selection. Ms. Splosion Man will definitely be there!
On Xbox 360, each Pinball FX2 table includes three of its own unique Achievements. How will the Windows Phone version's Achievements work?
Achievement limits have recently changed on Xbox LIVE Arcade, and we are hoping for more flexibility with WP7. Pinball FX2 was allowed special exceptions long before GS was increased to 400 on XBLA, so hopefully we can work some magic with Microsoft and get another exception.
Sounds good. Will the Windows Phone games have avatar awards?
World War Hulk Table Concept C
Yes. And, this is something we are working on improving for Pinball FX2 and future versions as well. We know players really enjoy avatar awards, and we would like to provide more opportunity to unlock these.
How has the experience of porting Pinball FX2 to Windows Phone compared to that of bringing your pinball games to other platforms?
It has been a fairly difficult process. It's no secret that the Windows Phone lacks power [compared to the Xbox 360]. It has been difficult to scale our tables down to the level needed to run on WP. No one wants a table that lacks definition, so we have been adjusting pixels to make the table look good. It is a VERY slow process.
How far along in development is Pinball FX2 for Windows Phone?
Far! We have been at work on the game for a long time.
Does this version have an estimated release date? We want to get our pinball on!
I really wish I had a definitive answer for this, but I do not. Hopefully the game will release before the end of 2012. There are also other Microsoft initiatives that we are working on that might make this wait longer.
It sounds like you're talking about Windows Phone 8. Will Pinball FX2 be compatible with Windows Phone 7.5 or will it require the next-gen phone OS?
This is also a factor in the game's delay… [One of those Microsoft initiatives] is next generation Windows Phones. Part of the challenge is creating a game that will work across all Microsoft mobile devices. We are confident we can make that happen.
Finally, what's the status of Pinball FX2 for PC?
There is a PC version in development and our goal is to release before the end of 2012. Hopefully we can make it happen!
Stay tuned to Windows Phone Central for more Pinball FX2 news! In the meantime, check out the Xbox Live Arcade (opens in new tab) version - the hub game is free, with numerous tables available for purchase at 240 Microsoft Points ($3) apiece.
Windows Central Newsletter
Get the best of Windows Central in in your inbox, every day!
Paul Acevedo is the Games Editor at Windows Central. A lifelong gamer, he has written about videogames for over 15 years and reviewed over 350 games for our site. Follow him on Twitter @PaulRAcevedo. Don't hate. Appreciate!
I cannot wait! I actually hope its a wp8 title for more graphics power and better resolution support. I love pinball and have nothing else to try the game on so release it soon please!

Not available in my region. Figures.

Umm, the game's not out yet. Unless you mean the XBLA version isn't available in your region, which I doubt would be correct.

Zen is alright, we need pinball arcade!

Funhouse, Whirlwind, and Theater of Magic or shens.

Yeah, pinball arcade on every other platform has all the classic tables.

Whirlwind!!! My all time favorite!

I would love to have my game from Xbox transfer to the phone. Avatar awards are cool, maybe a pinball machine award!

How about some console game themed tables such as Halo, Forza Fable or even Dance Central?

There are actually two console-themed tables on 360: Street Fighter II and Ms. Splosion Man. The PS3 version has a Ninja Gaiden table. Hopefully more game-themed tables will come!

This is my most anticipated game for Windows Phone. After such a long time since it was announced I'm disappointed that Kirk was so non-committal regarding anything about its release.

I definitely agree. Can't wait for this. I just hope that Zen does WP right and allow tables to transfer back and forth without extra cost, I hope to hear more details soon.

That's the downside to doing the interview so far in advance of the game's release. A lot seems to truly be up in the air. But we definitely will follow up with concrete details once they become available.

Can't wait for Zen / FX to hit WP, I didn't know they were the same company. I love Zen on my Xoom just wish they'd get off the comic book bit and bring back some Williams classics like Whirlwind, Pinbot, etc... I still have my PS2 pinball hall of fame tho...

Thanx for doing this interview!

Glad you liked it, man. Nice to see another pinball fan here. :)

I wish there was a way they could get us the tables we bought in the Xbox version to the WP, much like the work they're doing on the PS3/Vita game. I wouldn't mind paying a small transfer fee, because the developers need to eat too, but I mean I've already spent $30+ dollars on all the tables I bought for the Xbox version. I'll feel a bit ripped off of they didn't let me have them on the WP version.

They will certainly try, but it comes down to Microsoft in the end. MS hasn't shown that willingness to share purchases across platforms yet, but we all hope they will someday.

not to speak up about microsoft being noble as we are all in the dark but they are just setting up there cloud systems so if windows 8 this could be the big thing is shared purchases as well as save files (the only games coming so far we know of is sonic epsidoe 2 and sonic cd that could be part of the delay why it hasn't hit yet).

On the other hand if they end up sharing purchases would they share achievement lists :o me and a few friends were discussing this the other day for games like skulls of the shogun for the windows devices and xbox.


Another issue would be mobile game prices. You couldn't pay $3 for a game on WP8 and expect it to work on Xbox 360 since the starting price on 360 is $5 (but more commonly, $10). Perhaps if they only let you buy the XBLA version to have multiplatform access, it could work. I dunno.

I loved the pinball FX demo in Windows 8 cp. Sitting so close to the screen on my laptop playing was superior experience to the Xbox where I always thought that the distance to the screen was to big. As the Windows 8 demo was a Metro app I expect it to run on the Arm based Microsoft surfaces. Can't wait to get my hands on both hardware and the pinball software :-)
and if the tables were transferable to WP, then I would be in heaven. Keep up the good work!

Great interview. I'm a bit sad though that we will to have so long until Pinball FX2 comes to Windows Phone. I know there are some not too bad Pinball games already, but none of them looks as great as Pinball FX2 does.

I've always enjoyed pinball and like to play on a machine whenever I get to an arcade, so when this came out on 360 I was pretty excited and I bought some of the tables (also the Williams Collection disc which was a different company) and thought that all of them were great. I look forward to hearing more about this and hope that it will be playable on 7.5 as I just got my phone recently. Also, nice to see more phone games getting avatar awards!

I was hoping to hear that they'd be coming to WP a little bit sooner, but it's nice to get some info on them. Thanks Paul, great interview!
Windows Central Newsletter
Thank you for signing up to Windows Central. You will receive a verification email shortly.
There was a problem. Please refresh the page and try again.