Xbox Live users get a free movie from Crackle: Watch Extraction on Windows Phone, Windows 8 or Xbox 360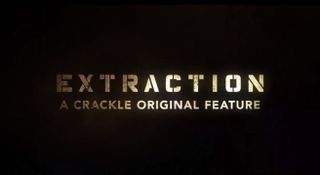 What are you up to this weekend? Maybe you're heading to 1 Infinite Loop to tag some Live tiles on buildings. Maybe you're taking your Lumia 1020 to a remote location to capture works of art. Or maybe you're just lounging around the house with no crazy adventures. If you do find yourself at home, here's a free movie for you to watch from Crackle and Xbox Live.
Crackle (crackle.com) is digital network and studio that streams video content from Sony Pictures Entertainment. There are apps on Windows 8, Windows Phone, and the Xbox 360. You can also access their content through a web browser or apps on other platforms. There's a solid selection of shows, movies and original series there. In fact, you can head there to watch Jerry Seinfeld's Comedians in Cars Getting Coffee. In that series, Jerry goes around interviewing fellow comedians (like Larry David, Seth Meyers, Ricky Gervais and plenty others) in old, usually unique cars. They end of getting coffee and it's a really fun series.
Anyway, starting now, and going through September 5th, Crackle is giving Xbox Live subscribers access to an exclusive first-watch of Extraction. It's a martial arts action thriller, which means it'll either be entertaining or really, really bad. There's really no middle ground there. But it's a free movie. Plus I got to plug Comedians in Cars Getting Coffee.
Crackle is a free app on all the platforms we listed up there. Grab it here in the Windows Phone Store or use the QR code below. Want to watch it on your Windows 8 machine? Go to the Windows Store (opens in new tab). And go to the app section of your Xbox 360 to get Crackle there. (Only available for US, UK, Canadian, and Austrailian users)
Windows Central Newsletter
Get the best of Windows Central in in your inbox, every day!
Wasn't crackle a free service anyhow? Last time I used it which has been quite a while I didn't pay for anything.

Yeah it is. Although with movies you have ads in the middle. This might be ad free. So truly free. I haven't watched it yet (and probably won't), but just worth checking out that Xbox Live folks get it first before the rest of Crackle.

Ah ok thanks for clarifying.

It is not ad free. The acting is VOD at best.

Lots of ads in Extraction... But solid video quality.

Love to promote this free app. But I can't, it doesn't save your watch list. I added so many movies on my Xbox but I can't snyc it to my phone. It doesn't save, so I just don't bother with it anymore.

App not available in UK for WP8. Ohwell, 360 it is then for viewing.

I noticed that as well, I also noticed that Extraction isn't available on the Windows 8/RT version either!!!!

Its free, however I noticed alot of the free shows are clips and promotional. Kinda don't watch it because the content is rather lame :)

The app crashes everytime I try to play a video.

Uninstalled/reinstalled three times and it works now.
Says app has never been updated since it was released last year. Must have some bugs.

Works good...watched it already...needs more movies.

I will be the other crew. Taking my 1020 out to the Utah desert for some camping along the green river. No time for movies. Maybe in the tent if I have service!

Sam I'm a big fan of comedians in car getting coffee...really funny stuff, check out the Chris Rock episode.

It's not....works flawlessly

Extraction. Isn't this movie about the birth of rodneyej?

Crackle worked on my Lumia 800 when they launched the app. However there was an update which made it just crash back to the home screen. Then it disappeared from the market. A search for Crackle does not show the app. I have tried to download it from the app link on this article. It states not available on my device on both my Lumia 920 with the GDR2 update and my Lumia 800. The 920 is an unlocked UK variant, my 800 is an O2 UK variant. Crackle does not work on windowsphone in UK, they need to sort it out.

I the only movies I watch in crackle is about a giant Japanese lizard

I forgot to add, I have Crackle on my Surface RT and my Sony Blu-ray player.

You don't need an Xbox live account to get this movie. I just installed the app and logged in with a Facebook account and I was able to watch it. Couldn't get passed the first 10 mins though. Very much a C level movie.

I was going to ask about the movie, as it looks bloody awful from the trailer

Microsoft and Sony partnering up for something Xbox related???

I had issues trying to install on nl920 3uk, i had to change my region to US and then i was allowed to install.

Crashed while starting crackle :o
Windows Central Newsletter
Thank you for signing up to Windows Central. You will receive a verification email shortly.
There was a problem. Please refresh the page and try again.