Nokia and National Geographic partner up to highlight the Lumia 1020, produce incredible results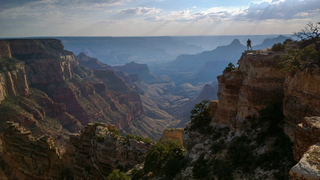 What you're about to see is pretty incredible when you think about it. These aren't images from a DSRL, they're from a smartphone. One that a lot of you are fairly familiar with. You either have it or you've seen us wax on about how awesome it. National Geographic's Stephen Alvarez recently took the Nokia Lumia 1020 to the Southwestern United States. What happens when you give 41 million pixels to an award winning photographer from National Geographic? Incredible things.
Great video all from a Lumia 1020
Stephen Alvarez took the Lumia 1020 on a ten day trip that included stops in places like the Grand Canyon, Monument Valley, and the Colorado River. Stephen has been with Nat Geo since 1995 and has had more than a dozen stories with the magazine. The images are he produced with the 1020 are just incredible. Over at the Nokia Conversations blog post are a handful of comments and quotes from Stephen about his time with the 1020. They're all great, but this one is my favorite:
While the 1020 might not just replace his DSLR overnight when it comes to actual assignments with the National Geographic, the results he produces are stunning. In fact, a blog post two days ago by Stephen reveals that he was able to produce 22 inch prints from the Lumia 1020 that look like they came from a DSLR. If that isn't the best endorsement for the Lumia 1020 yet, I don't know what is.
Nokia and National Geographic have a section of the Nat Geo website dedicated to the partnership. You can go read about the trip, see the images, and enter to win a photography masterclass with Stephen in the Puerto Rico. Go check out the rest of the photos on Nat Geo to see them in high res.
These photos will also appear in the 125th Anniversary Photography Edition of the National Geographic. That's some pretty impressive advertising for Nokia and cements their place as the smartphone maker you go to if you value photography.
Source: Nokia Conversations, National Geographic
Windows Central Newsletter
Get the best of Windows Central in in your inbox, every day!
IOS and Android removing their National Geographic App from their App stores in 3, 2, 1,...

Lmao petty giants but true

Yes, Fabulous I deed.. And whoever was hired to direct this shoot needs to be making WP, and all, commercials for MS.. It finally has that "magic" to it...

I haven't heard of DSRL
what is this :D lol

Donut Scented Rocket Launcher... All the cool kids have them now.

The money...I would pay...

OK. This literally made me laugh out loud!
Thank you!

DSRL = Digital Single Reflex Lens...

The joke is, that DSRL is not a type of camera. DSLR however, is.

What superb video quality!

Same quality as Lumia 810...

this is indeed a very good endorsement. a lot of people out there still skeptical about 1020 performance.

Must be a similar group with their heads in the sand about the WP platform itself.

Stephen Elop FTW !
maybe also for the Microsoft CEO ? :D




WP or MS has nothing to do with this. It's Nokia's engineers who deserve the credit.

Think you misunderstood his statement.

They already pretty much own windows phone. If their windows tablets come out with similar success they can pretty much own the whole windows division without elop even moving....lol...i doubt it but it is possible.

impressive! Can't wait to get hold of that Lumia 1020, hopefully in the coming Holidays!

If you already like Lumia devices, you will love the Lumia 1020. I am really going to hate sending my review unit back. Such an absolutely wonderful device.

It is indeed great video. I am impressed by the quality of my videos when watching then on Tv or a bigger monitor.

The sad thing is even with this shout out from Nat Geo which is great, most people still will not know about this phone or its capabilities. Simply because A. Its not an Iphone, B. Its not in the hands of one of these stupid talentless celebrities. Lastly, C. Nokia is not shoving these wonderful ads on TV for people to see, instead the only ads you see for this phone are the cheesy sales one from AT&T.

This. Nokia's advertising is so poor. If there was advertising like the S4 or iPhone, the 1020 would do so much better. The Switch commercial itself is pretty catchy, but still, there has to be more of something like this on TV. They could easily take this Youtube video, shorten it a little, and make it into an awesome commercial.

You guys clearly must not watch very much tv. I have seen LOTS of advertising for the 1020 both on cable tv as well as on sites like Hulu.

You are right, but for the very little TV we don't watch I find it still pretty impressive to know that everyday more pictures are taken with an iPhone or that The next big thing is here. Lol fact is the majority of American consumers don't know about this amazing phone.

I've seen it on TV quite a bit myself, but I kind of question the programs. I'm not sure that the Mtv Video Music Awards, during which you couldn't escape the 1020, is playing to the 1020's target audience.

Nokia needs a catch slogan, something that sticks in peoples heads and makes them think of windows phone. I think they need to use the song from Koobra something real and focus on the "more than your eyes can see". I have it as my ringtone and people are always asking me about the song everytime my phone rings.

Love that song. Played it for my son last night, and he started singing along. Then I showed him the 40-sec promo vid for the 925, the one where the phone layers merge together. "Is that your phone?! Hey, your phone is in your phone!" Then he bounded off to continue his rendition of the song.

I get why Nokia has a different tune for each device, but a single catchy tune for the entire line might be more beneficial. Another vote for "More Than Your Eyes Can See."

YES - add to that the fact that they have a stupid exclusive with ATT, thereby not allowing Verizon/Tmobile (/Sprint customers the ability to get this phone - this alone shuts out like 200 million people from having the opportunity to get this device.
(although if your on T mobile you could at least connect to network with an unlocked device).

Not sure I totally agree about the advertising. I have the 1020 and have had several people (non techies) ask me about it based on ads they've seen. They could certainly do more for sure.

There's so many damn celebrities and sport players with this phone it makes me happy. They didn't get it because they got endorsed, they got it because its 41 freaking megapixels

They are definitely advertising the heck out of this phone. I've seen endless television commercials, huge billboards in busy intersections (NYC) and on the highways. I have a yellow 920, and I've had at least ten complete strangers ask me about the 41 megapixels apparently on my phone. Just yesterday a group of 4 females on the subway asked me about it, and proceeded to ask to hold it (one said it was heavy). People I know who reacted negatively towards me having a Windows Phone are now asking me about it, after they've been exposed to Lumia 1020 advertising. I think it's all working.

And D. beacuse is WP8 is still lacking most of the big names official apps... (Instagram, Facebook, Youtube, HBO,Vine, etc)

Instagram BETA is there (even though I'd prefer 6tag)......and Facebook has been there for a long time!

Still waiting for this to release in India...

Well I would have loved to have this phone, but I'm stuck with my 920 for 2 years. Thinking of getting the Canon 700d...

I haven't looked at a lot of 1020 photos, but the one of the girl in this article... It looks like it has the same amount of blur that my 820 has that I find SO frustrating. Its as if someone who needs glasses set the focus meter. Can anyone confirm?

And why was there no mention of windows phone's involvement on this year's VMAs?

Because WP was not involved with the VMAs, the Lumia 1020 "zoom reinvented" was.

Windows phone had a whole new category "best summer song". Windows Phone was all over the VMAs.

Maybe I should have watched the whole show, I was only interested in the Timberlake performance.

People were so stunned by Miley that they forgot to mention WP.

They should've done comparison shots using the iPhone and GS4 to show how much better the 1020's camera is.

Full resolution would be awesome! Edit: it's in the source. :)

Anyone else think to themselves "Don't hang that 1020 over the edge of that cliff!"?

Actually the photos looked like they lacked depth :(

I wish Nokia would stop with the exclusive deal with at&t, I want this on T mobile.......fyi...when I go to the at&t store the sales rep always push galaxy first....guess they want a quick sale...i would buy this now if t mobile had it....that camera is wow...they do need more thwm 32 g I must say that.....

Seriously Nokia. Release the 1020 in the UK. We actually like you over here and you might get some sales!

I spoke with a "Windowsphone Nokia expert " in store a couple of weeks ago. He said early October for UK release at the earliest

Nokia and Microsoft need to release this as their next commercial. Award winning photographer + National Geographic + unbiased opinion = Winner. Companies usually pay big bucks for this kind of endorsement.

I gave a photography presentation to the Gold Rush Chapter of the Photographic Society of America last week on "Tools of the Trade" and showcased the 1020. The next day I received a message through my photography site from an attendee asking to "tell me more about my iPhone and its 14megaplex camera" and also where I got my yellow case.... :-/

This has to be the funniest thing I've read on this site.

lol. Now you gotta share your images! Let's see the site.

Wow that is amazing....Go Nokia Go.. :-)

Those photos are absolutely gorgeous! Wow!

i used to rave about DSLRs bfore, but now...FUCK IT! im getting a 1020 once my contract is over. ha!

No doubt these are great for a Smartphone, but I won't be selling my DSL any time soon. Someone else pointed out, you miss the depth of field that you can get with a DSLR. also, we need someone to develop a graduated neutral density filter for Windows Phones!

Of course. If anything these comparisons are just made because the difference isn't that huge anymore, like it once was. of course no professional photographer would pick Lumia 1020.
Though point and shoot market is pretty much dead and actually DSLR's have been losing some sales as well. Granted, likely not from professionals, but from a average joe customers.

So Nokia is now pairing up with Nat Geo? Will this help? Nope. Sure 1020 is the best windows phone now, but with the lacking of application development, this phone is still a shit besides taking photos. If one day iPhone have ois and good low light photo taking, I will no doubt throw my 920 into the trash

What will that be, the iPhone 8? 9?

"with Stephen in the Puerto Rico." THE Puerto Rico? Wow.

With a DSRL too probably!

Video and Photos Lumia 1020 Beautiful Beautiful Beautiful :)
http://www.youtube.com/watch?v=IBNWzX_J05o

Video and Photos Lumia 1020 Beautiful Beautiful Beautiful :)
http://www.youtube.com/watch?v=IBNWzX_J05o
Windows Central Newsletter
Thank you for signing up to Windows Central. You will receive a verification email shortly.
There was a problem. Please refresh the page and try again.