Xbox One October system update detailed, brings new Snap mode, MKV support and more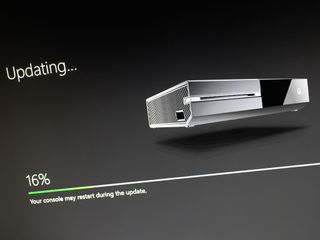 Here's a first look at the October system update for the Xbox One. The update in October will bring a ton of new features like Friends and Messages in Snap mode. Those features have already begun to rollout to those in the Xbox One system preview program.
Here's the full (and massive) changelog for the October system update
New Snap and Friends functions
Snap Updates – We've updated the Snap Center to include quick access to many of the things our fans wanted faster access to when playing a game – Friends, Messages, Game DVR, clock, and battery indicator – as well as making it easier to close and open new snap apps when playing a game. A double tap of the Xbox button on your controller will bring up a menu that allows you to open a new app in snap mode, close the current snapped app, or switch focus between your game and your running snapped app. Additionally, two apps have been optimized for Snap mode:
Friends Snap App – Access your friends list without leaving the game. Quickly check your friends list to see who's online right now and take actions like send message, invite or join. Messages Snap App – You'll be able to open, read and respond to messages in Snap mode, and messages will now be displayed in a threaded conversation view.
Achievements App – Updated to enable sharing of achievements you've unlocked with captions, see a list of friends who have unlocked specific achievements, and an updated achievements Snap landing page that that shows Achievements on recently played games, when a user is not actively playing a game.
Friends section – The new Friends section enables you to see at a glance what's going on with your friends. You can stay up-to-date with their current activities, the most popular games your friends are playing, and a Gamerscore leaderboard to see who has improved their Gamerscore over the last 30 days. The new Friends section has been available for select preview members for a few weeks and now we're bringing it to everyone in the program, with plans to roll out this feature for all Xbox One owners with the October system update.
New SmartGlass features – You can now see a list of your top games in your profile. You can also see a list of your friend's most popular games in the Friend's section of SmartGlass.
Improvements for TV and video
Media Player DLNA and MKV support – Members of the preview program who have also downloaded the latest version of the Media Player app will now have support for DLNA streaming. With this update, you will be able to easily access and play music, watch photo slideshows or movies stored on home media servers and devices that support the DLNA server protocols. Additionally, you will now be able to playback MKV files stored on a USB device or a device on your home network that supports DLNA streaming.
Live TV Trending – Within the next week, you will be able to see what Live TV is trending based on your country and OneGuide settings. A new tab will be available in OneGuide that displays the top 10 most watched TV shows, with the list filtered down to the shows that are currently available to you based on your OneGuide settings. You will be able to tune to a specific show by pressing the A button. The Live TV Trending list will be updated approximately every minute, so you can easily discover shows that are popular with other viewers. This feature will initially be made available to preview users in the U.S., Canada and the UK.
Xbox One Digital TV Tuner – Previously announced in August, this new accessory will be available for purchase in UK, France, Germany, Italy and Spain on October 21. This USB-attached TV Tuner will enable users to watch TV on Xbox One, and pause Live TV for up to 30 minutes. There are a limited number of preview participants in this program due to hardware requirements needed for testing.
Stream TV to SmartGlass – If you have an Xbox One Digital TV Tuner, you will be able to stream TV across your home network to your smartphone or tablet using the Xbox SmartGlass app. You can also pause, play, rewind and change channels, without interrupting gameplay.
Live TV MiniGuide – For markets where OneGuide is available, a new MiniGuide on the bottom of the screen will display details about the TV content that is currently playing. You can quickly change channels, see what's on other channels, and tune to the previous channel or other recent channels.
OneGuide in 12 new countries – Live TV listings and schedules will be made available to preview members on Xbox One and SmartGlass for Belgium, Chile, Columbia, Denmark, Finland, Netherlands, Norway, Portugal, Poland, Sweden, Switzerland and Russia in the next few days.
Internet TV Apps – Apps with live TV channels can now include their TV listings within OneGuide. In addition, other Xbox TV features such as channel changing using speech and Miniguide will work with these apps. These features are enabled automatically the first time you sign into a supported app. The first app to support this feature in preview will be Zattoo, a TV provider available in several European markets. We will be sharing more details soon with members of the public preview.
Universal Remote Control in SmartGlass – If you are in one of those 12 countries, you will also be able use your mobile device to control your Xbox, TV, and/or Cable/Satellite box.
Other user requested features
Updated Devices & Accessories page – To access the new page, go inside Settings, where you can Find, Assign, and Update Xbox One accessories. You can now more easily "assign" accessories to specific users, such as assigning a headset to a specific gamer.
Firmware updates – You can update the firmware for an individual device. And, you can also more easily find (or identify) a controller by making it vibrate.
Hide Games & Apps on your console – You can now hide items in the "Ready to install" list under My Games & Apps. This is a per-console setting and items will reappear in the list if they are installed again from the Xbox Store. To access the shortcut to temporarily show "hidden"
Starting today this update is rolling out to those in the Xbox One preview program. Not in the preview program? We'll let you know when your Xbox One gets October system update and all the features listed above.
What's your favorite new feature in the October system update? We can't wait for the improved Snap mode and MKV / DLNA support.
Source: Major Nelson
Windows Central Newsletter
Get the best of Windows Central in in your inbox, every day!
The Xbox One team is seriously kicking ass with these monthly updates. They aren't adding small things, but tons of features that are useful and worthwhile. See you all on Destiny tonight!

Definitely, that's what making the Xbox. These consistent monthly updates. Don't even own an Xbox, but these monthly updates really excite me! Now if only we could have updates like this on Windows Phone, too bad the carriers won't allow it, haha! xD

Yup. Xbox one is seriously getting a clear advantage on this.

Apple, though, has special privileges...

Apple is the one that killed it for everyone else. They abused that privilege and now the operators are twice shy.

Nexus's and Moto's are fine as well though...

They're not traditionally sold via operators, right?

I was thinking maybe in Threshold we maybe get these kinds of monthly updates with new features or something not just patches and bugfix. If this is the case then Xbox One update system is a testing ground for new OS update system and it seems working well. The only exception maybe are the phones and devices connected to carriers, as usual it will be slowed down by carriers. Hope they could make way for that like on Apple.

I think they are getting there with the developer preview program in Windows Phone. I think the next step assuming they can get away with it is to move it into phone update settings so you get options of: Download Approved Updates (default carrier approval) Download Microsoft Released Updates (latest stable release not approved by carriers) Download Latest Beta (equivalent to developer preview) Obviously you may have to have this will void you warranty statements and make the text more user friendly.

They are awesome. I love my Xbox One!

I wish I could 'UP' this comment a few dozen times because that's been my thoughts for months. :)

I love my Xbox One too, and love the monthly updates. I prefer it over my ps4.
But sales are still bad! The worst is Japan. I knew it wouldn't do well in Japan, but not THIS bad! You guys occasionally post anything negative about Microsoft products, even more so with Xbox. It isn't something that should be overlooked.
http://kotaku.com/japans-xbox-one-launch-as-sad-as-youd-expect-1630411606

Consoles are a very very long term affair, no rush. Xbox one is not even a year old yet. The important thing is that they keep their innovative edge as they have been doing. I can bet they will outperform the competition, only a matter of time!

That's what we've been saying since launch!!!! We thought no Kinect would help, and it didn't do much, and by the time it releases in more countries, it will already be too late. If the Xbox launched it more countries at launch, it would've done better. And if the Xbox was never announced with DRM policies, it would've done better. Microsoft is still doing a lot of damage control, thanks to Mattrick...

Problem is xbl wouldn't've be ready in those markets as it is service on xb1 is hit or miss during the peak hours

Its helped a ton. Sales are way up since then.

A lot worse was said about the Nintendo 3ds in its early months. Now look were it is. So they might have had a 'rough' start which I don't agree to anyways, but the Xbox one remains an outstanding console, and the level of innovation packed into it keeps getting better. This is a marathon, the 360 is still alive and kicking after almost a decade and people want to start crying after < 1 year for the one??? Many countries don't even have it yet!
Japan never made the 360, I don't even think MS really cares, Sony itself probably makes more sales of the PS4 in the US than at home lol!
I'd rather focus on China anyways...

WPcentral doesn't report on this crap because it's nothing but click-bait journalism, which is all Kotaku is good for these days. The number of people who line up or don't line up to buy something is statistically meaningless. There is little doubt that the Xbox One won't sell well in Japan. Japan is one of the most jingoistic consumer markets in the world and no foreign gaming console has every sold well there. But Kotaku's click-bait story was an embarassment to the already low level of regard that most Internet journalism holds.

Don't like Kotaku? All good, try the billions of other articles that also talk about it, like this. http://news.yahoo.com/blogs/plugged-in/xbox-one-s-japan-launch-is-a-flop...

Billions? No. More like a half dozen. And they're all click-bait. No one expected the Xbox One to do well in Japan. No one. The fact that these phony journalists then try to make it seem like a huge story--without any actual sales data, mind you--is just click-bait journalism. Every time you click on that garbage, you exacerbate the problem.

You know I over exaggerate when I say billions, I thought you would know better. And like my main post CLEARLY said, I didn't expect it do well either, but not this bad!

Yes, I understood that 'billions' was hyperbole. That's fine, when it's accurate (i.e. there are actually a lot of media outlets writing about the Japanese launch of the Xbox One), but there aren't. Just a handful are, and none of them have accurate information. Just click-bait headlines and statistically meaningless photographs. You didn't expect it to do "this bad"? You're missing the point: we don't know how badly it did there because no sales numbers have been released. All we know is that not a great deal of people waited in lines for one. This basically tells us nothing. That's the point. These phony journalists are applying qualitative data (and dubious qualitative data, at that) to make quantitative claims, which is not possible. No sales data = no story.

Are you a troll or just have a learning disability?

Lol. Back in November, I was at a midnight launch at my local GameStop in Ireland. There were around fifteen people queing up 2 hours before the launch and my town is only 35,000. Xbox is clearly not for Japan

Yeah why dont they just go back to reporting what rob ford does next

Doesn't help that XBox doesn't have the type of games Japanese males like - anime, dating sims.

When has XBox ever done well in Japan? With two home grown consoles of their own, no wonder. It's still early in the console lifecycle and if MS can actually keep a few games exclusive to the XBone they will likely sell decently well in the end, but they need those exclusives.

Sales are actually outpacing the Xbox 360 at the same time in its lifecycle. And 360 sales were pitiful in Japan as well. They shouldn't have even bothered there.

I wanted to say the same haha

Yet despite all these updates, people don't want to buy it.

Your comment has no basis in reality.

Why did I buy a PS4 again? #epicfailSONY

I think they're implementing things that should have been ready for launch. Sony is doing the same thing. Microsoft and Sony were both trying to beat each other to market that they released both consoles a year early. DLNA is something 360 supported on day 1. Why is it that Xbox One, being released 8 years later didn't have this feature until a year after launch? It should have been there at launch.

DLNA was not supported by the 360 day 1, sht it didnt come into life long after launch trust me alot of what makes the 360 a 360 experience now didnt come until much later in its life cycle

Yeah it did. I have been playing videos with PlayTo since day one on the Xbox One.

That's not real DLNA support since you can't use a media server for that, plus you need to have your PC right in front of you.

How do I find purchase/download history on Xbox One??

Mkv?????? Omg! Posted via Windows Phone Central App

Yes *.mkv has been there years ago. Just saying ;)

Wait really? Brb then, gonna check this out on my 360. But look out.. Because if it fails or isnt true... Then ill be coming for you Posted via Windows Phone Central App

I sure as hell wish we could get native support for mkv in WP and Windows.

+surface 2 Posted via Windows Phone Central App

I assume no embedded subtitle or Multilanguage MKV support. Need my anime and foreign movie subtitles

DLNA and MKV support will make this thing attractive to a lot, lot more people now. I'm just waiting for the right bundle with the Master Chief Collection and I'll bite.

Same. Definitely buying this as soon as master chief collection comes out

FIFA 15 is my game, more than the shooters this year. That being said, I'm also very excited for destiny, aw, and mcc.

Then i suppose you will like EA access Posted via Windows Phone Central App

The thing is though, I don't think they'll get the ut version of FIFA. If they do, then I'll cancel the hard copy and order the digital.

I bought it at launch for DNLA to replace my ATV with XBMC, finally a year later it does it. When I preordered it wasn't clear if it would do it or not, even though by launch i was pretty sure it didn't after launch the helpline staff all thought it did, lol. Anywho, happy happy.

Shame I'm not in the preview program...hint hint anyone lol

Heyyy havent I seen you online in Killer Instinct?? loll I played against someone with a similar name lol like 1 or 2 days ago

If I got my behind handed then that was me lol

LMAO I cant recall what happened though. Small Xbox world XD . Is this your gamer tag? I can invite you in the preview if you want

Yes sir, krayziehustler same as my username. That would be very nice of you sir. Thanks in advance

Done! Give a few days to get it processed

If it's no trouble could someone please send me an invite to the preview program Gt: AussieMS

Awesome update! Still hoping for Miracast support, and also stream TV to smart glass without tv tuner!

This sounds like an awesome update. I can't wait to try DLNA streaming, and the smartglass streaming of TV. I hope Plex hurries up and releases an app in the near future

Yes! I'm eager for the streaming of TV to my phone as well. Now they just have to release the Xbox One TV tuner, since that tuner was specified in the news release.

I would really like to be involved in the preview program. Does anyone know how they select users?

I would like to know as well

Your xbox gamer tag is? I can invite you in if you desire

If you can send me an invite, R0NIN GAMER, I would absolutely appreciate it. That's a zero after the R. Thank you so much.

Done! Give a few days to get it all processed

Hi, sorry I didn't get back to you sooner, I have pneumonia. Thank you for signing me up, I still don't see anything though. Is this normal?

Can I get an invite also?!! Gamertag is z8ers Thanks!

Done! Give a few days(2 maybe) to get it all processed

Woohoo awesome! Thanks so much!

Just got the invite and got in. Thanks again!

Its based on your overall rank and tenure. After that you get in by invites

9 years gold and several invites with no luck. I was in many of the 360 fall previews. Guess im just not lucky this go around. I would appreciate anyones invites. gt: myevilmonkeys

Thanks. What do you mean by rank? Do you mean gamer score? I've had live for 9 years.

I had live for 9 years now too. i had xbox 360 since 2005. also i had one invite that i never get the message. if someone can please invite me to preview. my gt: SAEEDPRO

What's your gamertag? I can invite you in

Can you invite me? ridgen317 is gamer tag. Iv had Xbox live for 5 years. Much appreciated !

Done! Give a few days to get it processed

Wow MKV support? Can we get that on the Video app for Windows all together?

Downloading now, takes along time.

Dlna. When do the twitter feeds come in for tv?

Y'all need to bring back background images

Woohoo, I bought an Xbox mostly for the media functionality that is just starting to role out in these past few updates. Thanks Xbox team. Now just need M2TS support (available in video app, so maybe in media player already?) with HD audio passthrough... and the rumored Plex app supporting all these codecs would be nice too :). Keep the updates coming Xbox, you guys are rockin.

Already supported, http://majornelson.com/2014/08/15/xbox-one-system-update-now-available-p...

Same here!! Bought it mostly for the media functionality

Can I get a invite to please ?

Hey if you can could i get an invite please my gamer tag is NonSuperHUMAN Thanks

Done! Give a few days to get it all processed

Hey could i get and invite too? my gamertag is Ingram IV

Done! Give a few days to get it all processed

And when will hdmi cec coming? If ever?...

Go to the Xbox.uservoice.com, search for CEC and vote for the feature. This is your best chance to see that feature Posted via Windows Phone Central App

Wait... I thought the XB1 already had HDMI CEC support? Hence the power off support for tv and receiver and the pass through capabitlities ?

So who's going to be the preview program hero this time and send some invites?
If anyone decides to do so, GT zs450 is up for it. :D

Awesome gaming coverage wpc. Keep it coming. Seriously, awesome job.

Have they finally implemented snap for Skype yet?

Now we just need snap friends and snap messages! And soon, readjustable snaps, like on windows 8!

Snap coming to both in the next update

Downloading now can't wait to check out all the goodness.

If someone is feeling generous... I'd appreciate a invite to the preview program :) live gamer tag: ridgen317 thanks!

MKV Support via DNLA is huge!! Thanks!!

Does this mean I can push content from my Windows 8.1 Pro w/Media Center to the X1?

Whoever the hero is this time around Shotgun 10111 would appreciate a preview invite this round. Peace ✌

Dlna mkv, the one thing I've been waiting for =D so pumped!

So my game council will story MKV but my Windows 8 devices ain't?

Waiting for tomorrow ... When my XOne arrives on my hands!!!!

i would be greatful if anyone could friend me and invite into the preview program. gt: myevilmonkeys thanks! Maybe catch you in a fireteam in Destiny as well.

Will Cyan for DP be included?

DLNA should have done by day ONE. Now DLNA together with MKV could lure alot of people planning to have Media Center PC, now they can just get the Xbox One instead. This is win! :D

Thought they were talking about the MKV supra...well anyway.

Ugh I need to get out of sick leave damn it ran out of monies want Xbox One had PS4 but returned that piece of crap worst experience ever give 7/10

Can't work because I'm sick
And I'm broke
Really want a Xbox One
Earlier this year bought PS4 returned due to hardware problems

that's the gamer tag. Thanks for the invite!!

Hey can somebody invite me to preview program? Gamer Tag: agentlumia

MS should bring MKV support to Windows as well

Really glad you'll be able to snap the Friends app. I tried this last week and was like, "What? You can't do that?" Problem solved.

Loaded update.. DLNA is working, have new friends tab, etc...but no MKV yet. :-)

I'd love an invite to the preview programme if anyone has one. AdricTW

I don't have cable; I'd like the TV tuner in the U.S. for OTA antenna channels. It would be nice to pause TV for a couple minutes.

If anyone would like to invite me to the preview program I would greatly appreciate it. Kal El Can Fly is my gamertag

Oneguide for Chile but not Australia...hmmmm

Weird, my update screen is totally different, it's black and less hovery...

If anyone is generous id love to be apart of the preview and give serious feedback...please invite FLACO970

Personally these updates are great but I hope the new achievements area on the dashboard can be turned off. I don't care for achievements anymore and this will be taking unnecessary space

MKV is the container format to use. MP4 isn't as robust or useful. Yes, video quality the same, but there's more to consider.

Except you can't have more than one audio track in mp4, can't use any high def audio either.

If any one can send an invite my way it would be much appreciated - XBL MadGaffler

How about Cortana? That will be huge and a reason to use Kinect again.

Send GT if you want to be added to preview program

Please invite me.. GT is Evolution FQ400
Many thanks.

GT: Paulcurses - thanks in advance

Jirish03 is my GT! Thanks

Bring the runner to the US!!!!!

Media server works great, been waiting for this for almost a year now...

Need Miracast though... Would love to connect my icon to my tv...

I would love an invite. MKV is a must. No more transcoding. GT akcanuck Posted via the Windows Phone Central App for Android

Good stuff! Keep em' coming.
Now if I can only play Destiny!! It's 9/9 and I can't play yet. That's lame. PS4 goes by your time zone as to when you can start playing your pre-loaded games. I hope they fix this in an update..

LORD MERCY RUPAUL JESUS. All I ever wanted from my Xbox one was DLNA for my home server. I think I might cry lmao. It's almost as amazing as if Verizon would release Cyan for my Lumia icon O_O

Incredibly happy with the update. Successfully tested some common file formats streaming from a DLNA media server. Unfortunately the couple MKV files I've tested with so far returned an error, saying format is unsupported or file extension is incorrect. The new controller firmware is pretty slick. Controller power-on and connect is much faster.

Thought I'd let everyone know that this now works with Plex!

Still waiting for BT headset support.

Great stuff, especially the snapped friends. Not having a lot of luck with mkv working yet but at least it is trying to play them now. But mostly they just play for 10 seconds before crashing the media player app.

Mkv and stream to smartglass just sealed the deal. Time to get an Xbox one

Omg MKV!!! Anime fans rejoice!

sry to be that guy but it wont play subtitles, as of right now where i stand i cant get them to play sry i love me my anime and without a dam crunchyroll app im dying here... i hope they can fix this soon

im glad we finally have DLNA support with mkv playback but i still cant watch my anime sadly it still dont support subtitles =/

Yes! DLNA and MKV finally. I've been so ticked waiting for this entertainment device (lol) to stream movies from my home server, thousands of movies and shows. I hope they make the UI really nice and easy to browse folders, pull cover art, etc. Fingers crossed.

What's with all the social crap? I don't have any friends. That's why I'm playing games on a console in the first place. :-P

They still need to figure out the voice on command. Am tired of having to repeat it half a dozen times only to have to grab the controller. Once it's on it's fine, but in standby there's still a lot of room for improvement. And yes I have calibrated Kinect many times.

I love the voice controls. Was painting the house today, came inside "Xbox on", "Xbox watch espn", "Xbox volume up". Didn't have to touch a thing with my paint covered hands and got to watch MNF. Awesome.

Agreed, I've never had any luck with the voice commands. The non Kinect version would have been a better buy

I've found all the voice commands work for me except the "Xbox on" command. Its funny because it used to work well. Now I found myself having to be forceful with my command to get it to turn on.

Exactly. It's rare that "Xbox On" works the first time. Usually it's at least 3, each time me talking louder. But usually I just give up and use the controller or the Xbox remote that I bought. Once the machine is on the voice commands work very well. It's only the "on" that's lacking.

Wish they bring MKV n FLV Support to Windows Phone.

Haven't played around with the update too much but so far I like it. Not sure about the friends tab though. I kinda liked having it on the main page better.

Never gonna come. Just connect your 360 to the hdmi in port. Via hdmi splitter. Boom job done

Wow MKV support? Microsoft may be coming into senses after all these years! Would love to have this kinda support over windows phone.

Anyone got a preview program invite for me :) pretty please

If DNLA mode with all the codecs works - it will now be my replacement for all all my applyTV media players in my home Giving me easy multiroom media and games around my house Good JOB Micro!

This is interesting, I was looking at replacing my ageing media PC running plex with a NUC but maybe worth getting a X1 instead. Anyone know or have screen shots of hte interface for DNLA playback? Thanks Kimbie

That's just a brilliant news. Would love to see Plex or any other nice looking media center app coming to the Xbox one Posted via Windows Phone Central App

OneGuide support for NL? The world is getting crazier by the minute. I lost hope when this wasn't supported out of the box when XB1 got released (finally) for NL market.

Any one able to send me a invite to the preview program? Gamertag
i mulligan i

Does the console also become a bit less chunky after this update? ;-)

Can anyone tell me if the Invites to the Previews are not being released in Australia? I've had at least 3 friends send an invite request to receive Preview access but I've had no emails back from Microsoft. Anyone in Australia on the Preview program by any chance - or is it just me :(

GT: FiercePastor many thanks.

xbox1 is getting much closer to being non beta

.mkv support is niiiiice. Keep it up MS.

Finally I will be able to hide trial/demo Games

On paper it doesn't seem like that big an update; but this one really makes the social experience to together for me. The Xbox One is really turning into a great user experience.

really wish the microsoft supports for Pakistan ! in Xbox , Bing et.c

So if DLNA support is coming to XB1 in October...and is not there now...how is it that we've been able to stream movies, music, photos from PCs, Macs, and phones since the console's release? What's new about DLNA support coming October? http://www.wpcentral.com/stream-xbox-one-pc

My understanding is that previously, the user could only "Play To" their Xbox One. Meaning, you would need to go to your local computer, right-click the media you wished to view, and use the Play To command to stream to the XBO. For someone like myself whose computer is an entirely different room, this is a very cumbersome way to stream media. The updated option allows the user to access media on your computer directly from the XBO's interface, without having to go to your physical computer to fire up the Play To command. This is how the 360 worked, and glad to see the XBO receiving "true" DLNA support - for me, this has been the missing feature that was preventing me from purchasing it, as I very commonly used my 360 to stream media. My one question is if, when streaming music, the XBO media player will recognize local playlists (not Xbox Music playlists, as I do not use those) on your computer. For instance my 360 recognizes and plays Zune or WMP playlists.

Since i really only just play games and rent movies now and then on the xbox, the only thing i'd like fixed (let me know if there is a way to disable it) is that stupid sidebar to start a party that pops up on the right hand side of the screen and takes what seems like an eternity (during a game) to finish opening then close. I do it by accident quite often and it really pisses me off.

My friend, to stop this problem, ALWAYS LEAVE FRIENDS APP OPEN, AND PARTY APP OPEN, EVEN IF YOU ARE NOT USING... Bye bye :)

Is there any information as to whether the new media player will recognize playlists created on your local computer, i.e. from Zune or WMP? I do not use Xbox Music, since it's cloud-synced playlists can only include music that is matched in the XBM cloud database. As such my playlists need to be readable from Zune or WMP. I know the 360 could do this.

snap sucks. sucks on windows. sucks on xbox. too limited, too constrained. so ok, maybe they'll kill it like they did with the charms, or not. Whatever. MKV, yeah finally. But kind of too late and if it doesn't support subtitles then it will be kind of pointless if you want to watch fansubs of anime or foreign movies.

360 getting MKV support? I'm sick of converting all my fan subs.

Anyone have an invite? I would love to be on the program, GT: schmak01

Guess they were inspired by the wii U to add trending now all they need support for is teavo

Can Anyone add me to the previe program please!!!! :.( Wltr19 is my gamer tag!

What they need to do is allow you to remote play your Xbox with a controller and your windows phone. The remote play feature alone is the biggest reason i will probably buy a ps4 over an Xbox one.

I'm definitely not in the preview program and I just received the update today with MKV support, etc. Thank you ! ;)

MKV ? Really ? its about time...

I already asked someone to send me an invite for the preview ... But it didn't work... Gt : Jackguitare

What happened to if u pass ur controller to someone else it changes users automatically? When my batteries die & I grab another controller it tells me I'm signed in on another one! Not cool! This was one of the features I was excited about since I have kids that play also

gt: CROMEDAWG
Can I please get an invite! Thanks

Could someone send me an invite to the preview program? GT: xM0L0NLA8Ex (the o's are zeros, and it's an 8 not a B) thanks in advance!

Awesome. This means by the time I upgrade I won't have to take the extra step of converting MKVs into AVI anymore. Perfect timing.
Windows Central Newsletter
Thank you for signing up to Windows Central. You will receive a verification email shortly.
There was a problem. Please refresh the page and try again.