Xbox One SmartGlass Beta updated with ability to buy and download games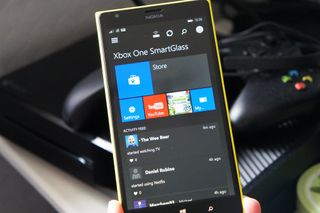 Xbox One SmartGlass is a must-have app for anyone with an Xbox One and Windows Phone. The beta for SmartGlass was just updated today on Windows Phone and includes the ability to buy and download games or content from within the app! Read on for more details.
Head to the Windows Phone Store and you'll find a new Xbox OneSmartGlass Beta update. It'll show as version 1.0.0.9 in the Windows Phone Store, but you'll see version 2.2.1407.23002.
Here's what's new in today's update:
Like a Game Clip
Like an item in the activity feed
View items that have been bundled together
View items that have been shared to you from a message
Purchase Xbox One games & add-ons
Browse for recent and popular games & add-ons
General stability and polish improvements
Bug fixes
Some features may require a console update to take full advantage of them
We played around with the updated app and like the changes. We look forward to buying games on our Windows Phone and having them show up on our Xbox One console. Radical.
Via: @WPscoops
Who am I going to see on the Destiny beta tonight? Let's play! XBL GT: GeneralSham

I'm on my way home to download the beta! I'll be adding you..! GT: CruciFried

I like getting down on UFC

I'll add you in a moment. BarakTR. :)

Add me for some Destiny beta gt warzone3

I'll be there tonight my time, which is in about 10 hours.

Do you need to buy destiny to be on beta?

You could see me. VAlegend93. Xbox One?

I thoroughly enjoyed it last night. I'll add you tonight, but our time zones may mean we never meet up.

I'm on a trip, so I can't play it. However, I got to play it on my ps4 for a few days when it came last week. I didn't get it on the X1, as, I wanted to ACTUALLY PLAY IT before I left. But I hope all of you guys enjoy the game! I know I did! :D

Add me. Same as here, MistrWashington

You know what you wont see? The Destiny companion app for mobile phones..
which my Android friend was telling me about. Sigh. Cough https://www.windowscentral.com/e?link=https%3A%2F%2Fwww.anrdoezrs.net%2F... cough

I'll be on tonight...add me!!! :-)
GT: dragunrising

Me if my son got in on the beta : )

you can get him a code by searching reddit :P i got mine from there

I'm in the Destiny Beta too.

There's no download link in the WPcentral app. This is a great new feature. Xbox Smartglass is badass.

Useless feature outside the USA. I'm not paying $100 a game on the Australian store, I'll keep paying US prices from Xbox.com or the dashboard.

I spent 3 hours trolling Twitter trying to get a code.... darn young kids and thier faster fingers. ) : On Topic: I'd like the app a lot more if you could connect to your console without having to be on the same network.

I got my code (PS4) from Reddit there is a lot of people giving away codes isn't it the same with XBOX ? just go there /r/Xbox or /r/Destinythegame or /r/xboxone

Out of topic: I cannot remove photos from favorites, when i select 'remove from favorites' it disappear but then reappear when i go to favorites folder. I've binged it but it seems nobody has the problem yet. My phone runs 8.1 pfd.

Favorites For Life baby!!

Take it to the WPCentral Forums! :)

If only this had come yesterday I could have had Destiny waiting for me when I got home.. Good to see though!

I believe the buy and download now feature works with apps as well. Just "bought" the GoPro channel app and it altered me that it would download now for me. I will not know if it worked until I get home though.

If I could only get it to connect

½ off-topic : Joe Belfiore had just tweeted that Xbox Music and Video will not be abandoned and that an important update is coming for Xbox Music.

They updated the article but for an unknown reason it doesn't show up at the top of the news feed.

I won't be buying full games until they are cheaper to download than they are in store, and I can't see that happening any time soon.

On the topic of *this* article, this is probably the one feature I've been waiting for since the launch of the console. Now it would be great if they'd update the Windows Store app too (or make it a universal app that updates the phone and tablet versions at the same time), that'd be awesome. :-)

That would be awesome. The Windows Store app is usually updated around the same time that the non-beta version is on Windows Phone.

Has anyone gotten the 1408 update yet?

I got it exactly the same time this SmartGlass Beta update came out.

Will check this morning. Thanks!

Where is the DLNA client app?

My gamertag is Dartarian if anyone is up for Destiny

So I downloaded the app, but it must need an Xbox update cause it wouldn't connect. So how do I get the update? It doesn't show up on the Xbox settings.

Interesting update... Someday, hopefully soon, I'll get an Xbox One and then I'll make use of SmartGlass aggressively! :) p.s. I half-expected "Hidden Gems" to show up with this post - with an XBox One up for grabs! ;)

Hmmm.. So I seem to have the most recent Xbox version, but the smart glass app didn't connect anymore. I rebooted the phone, but it didn't help. Then I rebooted the Xbox. Then I was able to connect. Go figure.

Sure, I needed this ability last night! Lol. Couldn't have Destiny Beta ready and waiting for me when I got home. Only got to play for a few minutes this morning.

lol will be a great feature for when the game actually comes out ;)

Why don't they bump that version number in store. Such annoying -,-
Windows Central Newsletter
Get the best of Windows Central in in your inbox, every day!
Thank you for signing up to Windows Central. You will receive a verification email shortly.
There was a problem. Please refresh the page and try again.