Xbox One's internal design may prove for more stability and a longer lifespan compared to Sony's PS4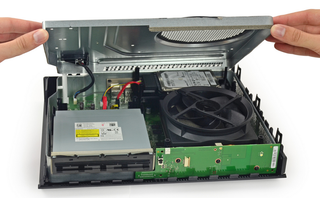 Comparing the PlayStation 4 and Xbox One side by side makes Microsoft's unit look a bit… chunky. But Microsoft has its reasoning for making its next generation system the size of a large concrete brick – ventilation. While Sony has decided to go for the sleek racing car style approach, Microsoft has longevity and stability on their list.
Popular website, iFixIt, has performed a tear down of the new console and unlike Sony's PlayStation 4, the unit features a large amount of open space. Also, how can your rip open the unit without noticing the super large 112mm fan and giant heat sink?
When Microsoft originally launched their first generation Xbox 360, the unit was plagued with issues of overheating and ultimately resulting in the undesirable red ring of death. Microsoft's next generation of the Xbox 360, the Slim, featured added fans and ventilation to try and avoid and undesirable meltdown.
Sony has ultimately placed their focus on designing a unit with a small footprint and might not be thinking of the longevity of the unit for its consumers. The next generation consoles are meant to last a probable five to ten years and keeping all the internal components at safe heat levels are vital. Internals that are subject to high heat are less likely to survive next to a unit that remains fairly cooled.
In fact, some of Sony's PlayStation 4 consoles has already begun to show the "red line of death", which are the system's way of notifying users that it is overheating. The blinking red light is usually followed by a system shutdown to prevent further damage.
In the end, the iFixIt teardown truly shows us a war between two consoles and their focuses when designing the units. Microsoft has allowed for a large amount of ventilation and has no intention of having your unit burn out like first generation Xbox 360 units.
Do you think the larger size of the Xbox One compared to the PlayStation 4 is worth the improved stability and (most likely) a longer lifespan for the system?
Source: iFixIt
Wait for the red screen of death!

Red Eyes Black Dragon ! Haha lol. Old time story ;)

blue eyes...white dragon yugio!!!

...i have not heard that in years.
thanks for jogging my memory :-)

My buddy bought yesterday 2 ps4's and they were bricked out of the box haha still laughing at him

If only you'd bought with your mind, things may have been different...

he meant his buddy... not his body.... haha but still true ;)

If I could buy with my mind, id be making millions right now and call myself a superhero lol or somewhere in Area 51 hahaha

I really don't care, since I had 3 Xbox 360 failed on me earlier and they were swapped out with no hassle. I've just awoken and is prepping myself for the MidNight Launch at my local Walmart. I don't know why fan boys are arguing, just buy the system you love and enjoy your selves.

Why all the XBOX fanboy articles? XBOX doesn't even make money for Microsoft. Its more like an expensive hobby for them. Aren't they openly trying the sell off the brand?

This really is a Microsoft fan site despite the name "Windows Phone" in the title.
The Xbox division made $2.53 billion in revenue in Q3. I wish I had that hobby.
No, only two shareholders have mentioned selling it off and they collectively own only 3% of the company.

It does make money. Just not a lot compared to some other products. And No. They have not been openly trying to sell it.

It does make money. Nope, MS loses money with Xbox.

The console, yes. As does Sony on the PS3 and PS4. But it's a pretty narrow-minded view if you don't consider the money Microsoft make off everything else Xbox; the games, apps, accessories, and knock-on sales to other Microsoft products.

The entire Xbox division (read everything, since the original Xbox) has made huge loses for MS so far.

Ah but they make enough money off patent rights from every retard who buys an android phone to not lose any more at all... and the Xbox division helps to make other areas of the company profitable.

http://www.businessinsider.com/chart-of-the-day-microsoft-losses-on-xbox... It's well known, you can find the detailed financial results at MS site.

Okay, so you sight an article that is over a year old. The article even says this: "The Xbox is now a solidly profitable division. However, it took time to get there." So again, I ask you about your proof. You must be the only "well known" person out there.

quarter profits =/= all time profits You should not stop reading on the first sentence.

I read the entire article. That line I quoted IS NOT the first sentence. Maybe you should learn to do more research. They say nothing about quarter profits. Any way, I'm done talking about this. You obviously don't have any real proof and just have a problem with Xbox and Microsoft. I've got a real job to do and talking to people who have no clue about the subject they are talking about is just anoying.

Actually, this is a widely publicized piece of information. A simple Bing search will provide you with many more articles to prove this fact. The division has recouped some of their losses, but for both Sony and Microsoft, their video game systems this past generation have been dragging them down for the most part. But it's unfair to accuse the other person of not knowing what they're talking about, especially without researching the matter yourself, and especially after proof was provided.

He does sound like he does not know what he is talking about. He just simply pigeon hole into the lost of Xbox, and counter the other poster with a quarter earning is not all time earning, well Xbox is not the all Microsoft either. It is called leveraging, they use the profits from other field to suck up the negative profit of the console sales, in turn it opens up a plethora of business opportunity to them. This is a living room war between the company, and the farsighted Microsoft is turning the win into their favour. The higher XB1 price point also allow them to recoup faster.

I'm sorry I'm not 100% sure I understand some of your phrasing, but I don't see how what you said negates what was said about the Xbox division's lifetime profitability so far. Sounds like both your statements and his statements don't conflict with each other.

But as the article says, the first few years they were setting up a new business and competing with established gaming consoles. It took a while for the xbox to become profitable. Microsoft has said the Xbox One won't be sold at a loss. I'm sure the Xbox One will reach profitability.

It was reported that MS makes 2.2 billion off of Android. Search this site, I'm sure you would find the story.

Without xbox gamerscore being added to wp7 i never would have bought it, nor a lumia 1020.

It's called investment(speaking of the current generation). it's costing them alot of money in R&D to make the new gen xbox one, which has yet to make money for them because it's launching like now. If I tell you to invent something, you're going to cost me money untill whatever you invent make it back in form of sales. The Xbox has since the 360 been Microsoft's trojan into your life, you might have a mac computer and maybe even a galaxy brand phone, but you probebly also have a xbox. And bam, like it or not, windows is in your life, now suddently, a windows 8 pc, a tablet, a phone, all their opther devices and services are more accepteble to you, you've seen this, you've used it, you've liked it. and hacing them all work with your tv isn't a bad thing either you think... and suddently the ball is rolling.

But back to this world the most probable thing is that you have a Android phone, a Nintendo/Sony console and a Windows PC. That reasoning makes a lot of sense for companies like Apple that win on the devices department and can build mindshare from there, but for MS it has been quite the disaster so far. That might change in the future of course, Xbox will probably make an all time net profit eventually and WP8 is growing pretty well.

I believe the xbox and PS sold about the same number of units. So, there is just as much chance that there is an xbox console as there is for a Nintendo/Sony.

And Sony sold the PS3 for a loss up until a year or so ago.

You're cherry-picking. Sony has lost a massive amount of money on the PS3. The last time Sony's gaming division was profitable was back in 2006 when the PS2 was still selling strongly. As of 2010 they were reporting a $4.3 billion loss. They claimed a $300 million profit in 2011. In 2012, Sony decided to merge other electronics divisions in with gaming which resulted in a $2.8 billion loss. Ironically, the gaming division was probably one of the more successful as Sony as a whole has been doing rather poorly. It seems like the gaming division is a distinct entity again and for 2013 they've reported a paltry $37 million profit. So they haven't come close to recouping losses. Each new console generation sees a massive loss to cover research and development costs. This is why both Sony and Microsoft have gone with conventional, and very similar, PC-based hardware. This is also why they've largely avoided reinventing the wheel in most other ways, going for evolutionary improvements instead. But still, they're offering an expensive peice of hardware at a singificant loss. This is why Nintendo goes so convservative with their hardware; they can't afford such massive losses. The goal for Sony and Microsoft is two-fold. The first is to recoup losses a couple of years down the road. Sales really only ramp up once there's a stronger library available. And by that point the prices have dropped considerably on most components going into these machines. The second, potentially more important goal, is that these consoles serve as a critical marketing tool. They enhance the larger ecosphere, motivating consumers to buy other products from these companies. Other MS divisions have likely seen a profit boost specifically thanks to the Xbox. So the reality is far more complex than you seem inclined to believe.

When did I mention Sony again? You fanboys need to relax... Just look at the wall of text you just wrote for no reason.

You didn't mention Sony or Nintendo. That's the point. You're singling out Xbox. Do you think the PS3 was more profitable than the 360? Do you think the Wii U is profitable?

Why should I (or Microsoft for that matter) care if a line of products from other company is profitable or not? Makes no sense.

No YOU MAKE NO SENSE. You're saying Microsoft is losing money on the Xbox brand. Since you're playing analysis you should have reviewed the whole console market. Not just Xbox. If you did that you would've also mentioned that Xbox is the most profitable console at the moment.

You forget that Sony profit is tied to the strength of yen.

Writing words is fun, but I'll just come with facts: microsoft-xbox-360-will-last-three-more-years Xbox has become very profitable and Xbox One will make a profit from day 1.

What's missing from the Devices and Services numbers is the split-out betwen XBox and other parts of the division. That $4bn total number includes Zune, Windows Phone, and Surface as well, all of which are definate losses at this point. I wouldn't be surprised if MSFT has lost $4bn on mobile alone in the last 5 years, given that it's just starting to make money on Nokia sales. Also, your statement was that MSFT LOSES money on XBox. Not that they have lost money overall, you used the present tense. While looking back the entry into the console market may be questionable if it took them 13 years to break even, going forward they're making money on the segment. Investors only care about past performance in terms of what it means for future performance. Losing money on XBox during the entire original console's production run doesn't mean anything today.

That was a rumor, for the next CEO, and Xbox is the only popular name MS has.

No, not really. There was a romour that elop would do that if he became cheif, but he and MS have said its fake. Also, xbox makes a shit tonne of cash for them. So yeah. No.

If something you paid 20€ for gives you 10€ back are you making a shit tonne of cash? I'm pretty sure that's not how maths work.

Stop thinking about just the console. Open your mind to the rest of the sales Microsoft gains along with (and long after) the console sale.

When I say Xbox I mean the Xbox division (consoles, accesories, marketing, Live, game licenses...).

Rubios, stop being a douche. (and trying to be too smart, and arguing semantics) Xbox as a whole division, is going ok. Besides the fact it doesn't really matter. MS _do_ make large profits, Sony _do_ make large losses. The console _will_ have games that look largely the same (despite raging fanboys) Both will give you a similar game, and similar multiplayer. We've yet to see if any medium or long term issues show up with reliability. We get it, you think MS don't make money on the hardware or at the very least sunk R&D costs into to get to profitability. Congratulations on being Mr Smartguy. Now drop it, you are boring everyone.

There's a lot more to Xbox than just the hardware, there's games, Live, advertising, accessories, content partners ... It has been well known for years that the actual device doesn't make any money - though I'm fairly sure it is now profitable, and the One apparently breaks even on hardware from the start. The only reason companies like MS and Sony can afford to have a console on the market is because of all the other money they bring in.

And all those things combined (again, the Xbox division) are far from breaking even on the initial investments, trying to hide it putting huge Android royalties in there won't change the fact.

It broke even a few years ago.

I'm a healthy Microsoft Share Holder, and the Xbox Division makes money.

Microsoft won't sell the Xbox brand.

Trying to post valid information, that is not positive, on a fanboy site is kind of pointless. They just refuse to acknowledge that all time investements + all time returns = negative, and instead concentrate on current investement + current returns = positive. Who knows what will happen with 8th gen. P.S. It will be interesting to get a few third party estimates on the failurarate of PS4, as Sony said 0.4% was estimated, and that failures are within estimation, but Internet seems to disagree. Of course Internet blows everything out of proportion.

If I'm investing today, I'm not the one who paid for the loss. I'm the one getting the profit. So who cares?

Good morning, I hope the rock you've been sleeping under was comfy enough :)

I've also heard Sony is also trying to sell their Playstation brand.

I also heard that the Dreamcast 2 is coming out!

Where do you get this stuff?

Not fan boy this is a site about what Microsoft is doing. Microsoft does make money off of xbox. Personally I prefer sony even though im a huge Microsoft supporter

MS breaks even on XBOX sales but makes money on the games and online sales. Live Gold, etc. Not guessing... This is what they say every time they release a console. Reading is learning.

You also forgot to mention that Sony has actually lost more on their home console division then Microsoft..

Did Crocodile Dundee tell you this?

WP central announced a while ago that it will be covering more Microsoft news in general. They even hired staff just for this. If you can complain about the articles you are seeing, how did you miss the announcement?

I heard MS and Nokia are making the N-gage 2!

It comes bundled with Half-Life 3

I think the money to be made for the PS3 came from the value in bluray patents. Yes, the consoles may produce a loss for them, but a win for bluray over HDDVD brings an even greater profit than console sales.

You really to understand the nature of Microsoft to understand why they're okay with losing money on anything. They use their profits in Windows and Office to allow them to compete in whatever space they feel they belong in. At first they kinda suck. But they improve gradually and sometimes quickly at everything or they buy their way in. If Microsoft thinks they belong in your living room, they will continuously try until they get it right. If they're in a space and doing terribly, it means nothing to them. If they wanna be in the server/database/phone market, they eventually will. And they'll actually get seriously good at it.

Xbox, money maker or not, has been vital in keeping Microsoft relevant during the iPhone android years of mobile explosion. It's what has kept MS 'cool' to a younger generation for a company that was primarily focused on business and the not-so cool. That could change as WP8 and W8 gain traction. But I wonder how many early adopters of WP were happy XBox owners.

Long lasting is a def win

wow! you actually answered the question that was posed by the author. what the heck is wrong with you?

I couldn't agree more.... I was just about to give up on the comments. I agree, the overkill on he cooling is worth it. Now if I could just get it in a matt finish, happy days.

I think he is planning to carry the consol around his house so he doesn't to see his prints all over it

cybermoose89, dasfoto was giving you a compliment.

Oh thought otherwise when i saw the words what the heck is wrong with you ? Lol awesome sauce in any case then :)

cybermoose89, Yea, that could be confusing but I expect he really wasn't serious about that part. Just a little lower in the comments he says "Okay, now two people have answered the author's question." So I would guess that his concern is that these comments have largely become unmoored from the article itself and is mostly just another PS 4 vs. Xbox One debate.

I don't think there's a need for a vs though it is good to see what both do im getting xbox one my brothers getting the ps4 best of both worlds everybody wins it just depends on your preference at the end of the day weather its hardcore gaming or gaming with media and entertainment etc.

Personally I am primarily a PC gamer. I did not buy any type of console until late 2007 or early 2008 when I bought a Xbox 360 to play Mass Effect (when it was a Xbox only title, before it moved to PC). I bought a PS3 a couple of years ago, but I must admit I rarely use it, whereas I do use the Xbox 360. That saId, the PC is my main gaming platform.

I do a bit of pc gaming two just happier with a xbox at the helm few friends of mine are more pc gamers then i mass effects fantastic one two and three hope to see a fourth it would be cool if they made a movie of it two.

Yea, I'm a big Mass Effect fan. It was a good series, not perfect for sure, but I enjoyed it a lot. I am looking forward to whatever is next in that universe. I hope Bioware does a good job of it. They can make questionable decisions and sometimes they make some pretty poor decisions. There's been talk about a Mass Effect movie for some time now. I would like to see one if it was well done. I saw the animated Paragon Lost, which was a massive disapointment.

It's not even summer here in the US. Imagine what those PS4s are going to be like during summer, when a lot of college kids are playing for several hours a day.

On the other hand, its summer. People will be blasting the AC instead of the heat so it might keep it cooler and help offset it.

But ... many people do not have 'always on' AC ;D ...

My PS3 heats up the room its in even with the AC on.

Well at least you don't have to buy a heater ;)

There's no proof of improved stability.

The possibility of improved stability is hypothesized using a knowledge of computer hardware and how it reacts in various temperatures. Essentially hotter environments shorten the lifespan of circuitry. Also note the title says "may prove more stabile" and no "does prove move stabile". :)

That means nothing if you don't know how the OS works. When do the fans turn on? What parts are being used? Cheaper parts tend to burn out faster than the more expensive part. The title could have said, "Xbox One may last 250 years". Same difference. Just a statement, with no evidence to back it up.

The article is comparing the design decisions related to packaging and ventilation between the PS4 and the Xbox One and its potential impact on overall system reliability.That's all. Not the relative merits of the components chosen. Not the quality of games. Not anything but a comparison of the packaging of the system. Based on the context of the article and the fact that it's an opinion piece and not stating facts other than what's observable, there is nothing wrong with the title. The author even asks for the reader's opninion, of which, so far I've only seen one person offer their opinion. Personally, I think it will provide the potential for higher reliability. Okay, now two people have answered the author's question.

Without airflow tests, etc. it's idle speculation. I'd rather wait a while and compare the failure/return rates of both systems.

dasfoto, You have a pretty good argumentation style and create cogent sentences and paragraphs with a minimum of spelling errors. You realize this is an internet forum and reasoned analysis is not exactly the raison d'être of the internet.

I know when the fans turn on, how the CPU is controlled, and how the OS manages everything. When reading editorials written by technology journalists - they tend to know what they are talking about. ;) *This excludes CNET's Molly Wood.

Called her out. Wow. Someone give molly wood some ointment for that burn.

The os has nothing to do with it. Heat kills electronic equipment. The PS4 designs crams the equipment in the smaller space. That means there is reduced airflow. Add to that that the hardware is a bit more powerful. Also, the Anandtech review shows that the PS4 uses more power in idle and under load which will generate even more heat. I would say that theorizing that the PS4 will have a shorter life on average is probably a safe bet.

LOL. Do you know anything about hardware at all? There are temperature sensors in the hardware. When the system reaches a certain temperature, the system BIOS/hardware tells the fan to turn on. What does that have to do with the OS?

Of course not, it isn't even out yet so why would you expect proof? But it is well known that the problem behind the RROD was heat. The console ran hot which often led to premature failure of the soldering joints. Further it is a known fact that heat increases error rates, especially when components are run hard. The things you see, large heat sinks, big fans, lots of open space, are all the things you do when you are trying to keep things as cool and quiet as possible.

I won't link to it, but I wrote about that observation the other day. Microsoft is so obsessed with not having a repeat of the RRoD they sacrificed manufacturing throughput in favor of quality control. And since this device is meant to be an additional (or replacement) box in your media center, I can understand why they went functional with the design.

I think Sony chose their design for relatively silent operation. Which is pretty important to the home theater set. I'm sure Microsoft would've taken a similar design path had they not suffered such a "black eye" (or should I say red eye) last time around. Time will tell if the early PS4 failures are a result of poor cooling or early run teething pains

and the media gave them pink eye when it went south xD

Zing! Lol. Seriously. Good one

I have only heard reports about how quiet the Xbox is. So I think both manufacturers designed their products with silence in mind. However, in the long run, a product that begins to run hotter, often runs louder, or it fails, or both.

The Xbox One is also reported as running very silently.

What?? A smaller fan needs to run at more rpm, hence louder, than a larger fan for dissipating an equal amount of heat. Even a xbox vs ps comparison showed xbox running way silent and cooler even at load (around 40-45dB).

That depends on the type of fan and airflow design too, not only it's diameter.

I've never heard that before. A larger fan will move more air at a given RPM than a small fan. This is why the computer cases for overclocking always have large fans. If a smaller fan could do the same job as a larger fan and be just as quiet, no one would buy the larger fans.

There are reports of loud fans in the ps4 by some users on the PS forum.

I've never heard a fan on my ps4, and it doesn't get hot. Only time will tell the durability of these consoles

I think Sony went for style. It's definitely not for silent operation because the PS4 is pretty loud.

Loudest console by far: Dreamcast!!! I swear it made industrial AC noises when running, jack hammer noises when accessing the GD-Rom and the sound of a nuclear plant power failure cutting off the electricity for the entire city of New York when the drive would stop spinning. I loved every moment, not to mention the free heat that came out of the vent on the side!!! For those of us that had GD-ROM drive failures, you know the song, it goes "zit zzzzzzzz, zit zzzzzuuuudddddddddd, zit zzzzzzzz, zit....zzzuuuuummmmmmmmmmmmmmmmmMMMMMMmmm (drive powers down) Good ole DC. Favorite console ever, faults, hardware failures yet it truly brought the Arcade home and then some. I am looking forward to buying an Xbox One, it will be my first personal console purchase since the Xbox (version 1 with Duke controller). Yes, I skipped the 360/PS3/Wii era. I am thinking about buying an AMD R9 290 for my PC but I may just buy the Xbox One and keep my Nvidia 560 Ti OC for another year. Or I may be cheap and just buy Battlefield 4 and then BF4 Premium Edition for PC as a Christmas gift to myself, that will be close to $100 combined. Decisions....decisions. SEGA!!!!

That heat was't free. You were definitely paying for it..

my ps4 is pretty silent even when i play COD

Using a bigger case and a larger fan that can rotate slower to move just as much as a smaller fan that rotates faster, will reduce noise. The reviews indicate that the PS4 is quiet, but can be heard when it is under load. The Xbox reviews say it is silent and cool when it is working hard.

Give me the ventilation...give me.the awesomeness....

well if it makes my console last then im all for it even more than i was this morning when i knew i was gonna pick it up :p

I myself am still torn. Since Sony is charging to pay online, the financial incentive is limited and if the system may have a higher fail rate, than I am leaning towards xbox one. especially with skydrive/more entertainment options/and kinect-motion web browsing, then I'd rather go with Xbox. But I feel am suspicious, as MS has a nasty habit of nickeling and diming compared to Sony.

Seriously? What have they nickled and dimed? Having Live to use Netflix, etc? I can kinda understand that part if the console was pure media based and not secondary to gaming. It makes no sense to buy these consoles for media consumption only.

With some of the small things. Especially like making it mandatory to use Gold to use IE.

That's services. Have they nickled and dimed on the hardware? The recall of the 360s cost them a fortune. They just don't want the same to happen to this generation.

Well at least the PS4 allows you to easily replace or upgrade the hard drive.

Would be better to allow external storage so that you can ADD storage as opposed to replacing.

Because stacking hard drives (in adition to power bricks) behind your TV is a convenient and elegant solution.

Probably beats having to reinstall all your 50GB games again.

Yes, I found that to be an elegant and convenient solution than having to open up the box.

I find the Xbox One's ability to plug in an external hard drive much easier. I don't want to swap out the internal hard drive every time it fills up. Would much rather buy an external one which I could then also use for other things.

Same here. My 4TB external harddrive will look nice connected to my Xbox One. I'm pretty set for a couple of years :)

Well I have had my PS4 on in an enclosed entertainment center for a few days without turning it off. Gets warm but hasn't shut off once.

How would you know anything?

It's anecdotal of course but a friend of my complains of it overheating. It's locked up on him. That could have been software related but nonetheless he's selling his for other reasons (his data got corrupted and he lost all save files).

All the save data is saved online so don't see how he lost that. Still kicking good, no freezes or issues for me yet. Guess we shall see.

The article isn't saying it will turn off now. It's saying that heat over time will shorten the life of the console.

I'll definitely take a hulk of a machine if it means it won't need to be repaired or replaced any time soon.
Sleek and sexy is fun for a while, then you get used to it and realize its a lot more work in the end than its worth.

I think I received that same talk as relationship