XOHM live in Baltimore; T4 Show talks WiMax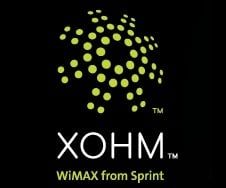 Say what you want about Sprint — and we've certainly done our share of sayin' — the company keeps on pressing ahead with its EVDO follow-up, the 4G network known as XOHM (pronounced zoam) or WiMax. (This is the 4G competitor to LTE, or Long-Term Evolution, which AT&T and Verizon have signed on for.)
The service is officially up and running in an initial major U.S. city, with New York Chicago Los Angeles Washington Baltimore getting the honors.
Devices that can use WiMax are still a bit scarce, but Sprint promises more in the near future.
Check in after the jump for Sprint's full press release on the launch, and visit the XOHM Web site here.
T4 Show talks XOHM and WiMax: Speaking of XOHM and WiMax, Michael Manna, host of T4 Show, had Sprint regional media rep Mark Eillott back on his most recent podcast (Episode 86) for an excellent talk about XOHM and WiMax. Give it a listen.
(And while you're over there, be sure to check out our man Dieter Bohn's appearance on Episode 77.)
XOHM WiMAX Broadband Service Debuts in Baltimore
New 4G wireless era dawns as unique business model revolutionizes mobile Internet access
HERNDON, Va.--(BUSINESS WIRE)--
A next-generation 4G wireless network based on mobile WiMAX technology debuted today in Baltimore, heralding the start of a new era for wireless consumers as Sprint (NYSE: S) officially launched XOHM(TM) mobile broadband commercial service in the first major U.S. city.
"This is truly an historic day with the birth of a completely new Internet-based business model that alters the dynamics of the traditional telecom industry," explained Barry West, president of Sprint's XOHM business unit. "Wireless consumers will experience WiMAX device and XOHM service innovation on multiple levels as the computer, Internet, telecom and consumer electronics industries converge to redefine wireless mobility."
XOHM WiMAX will extend the home or office Internet experience and mobile multimedia applications to other places and additional devices. With XOHM, consumers, businesses and local governments will ultimately be able to experience new forms of interactive communications, high-speed mobile Internet browsing, social-networking tools, location-centric services and multimedia including music, video and on-demand products at faster average downlink speeds of 2-4 Mbps. The data-centric XOHM broadband service differs from present wireless offerings in that:
No long-term commitments or contracts are required, freeing customers from restrictive long-term subsidized plans;
Monthly home, on-the-go and day-pass Internet plans provide service choices;
A single monthly charge covers service for multiple WiMAX access devices;
WiMAX devices are purchased like other computing/consumer electronic devices,
XOHM broadband service is self-activated and includes future updates capability;
Customers can enjoy an Internet portal offering enhanced mobile services;
The Open Internet business model transcends other carriers' wireless walled gardens that restrict services, choice and innovation.
Starting today, customers can purchase XOHM-branded Samsung Express air cards for $59.99 and ZyXEL modems for $79.99 via XOHM web, telesales or select Baltimore-area independent retailers. Additional WiMAX devices such as a ZTE USB modem, Intel Centrino 2 WiMAX notebook PCs and the Nokia N810 WiMAX Edition are expected in market later this year.
Introductory offers allow customers to choose from both daily and month-to-month service options. At launch, mobile WiMAX service plans include a $10 Day pass, $25 monthly Home Internet service and $30 monthly On-the-go service. Special launch pricing includes a $50 "Pick 2 for Life" monthly service option covering two different WiMAX devices. Visit www.xohm.com to view the current XOHM WiMAX coverage area, details of the introductory broadband service offerings and device sales information.
XOHM subscribers will be given free access to a unique and customizable Web site, called MyXOHM, focusing primarily on local services and entertainment content, as well as providing security services, hosted storage and interactive communications. After choosing preferences, subscribers will have their content pushed to a customized and location-aware portal via small digestible widgets.
XOHM continues to work with WiMAX ecosystem partners and others to incorporate WiMAX technology in a range of computing, portable multimedia, interactive and other business and consumer electronic devices, including the availability of XOHM WiMAX in vehicles for navigation information, news and entertainment.
Sprint will be the first and only national wireless carrier to offer customers a dual-mode 3G - 4G device that extends the power of Sprint's NOW network. Expected to launch in the fourth quarter, this Sprint device will operate on the nation's largest 3G mobile broadband network and the 4G network in Baltimore and other markets as WiMAX service becomes available.
The Baltimore XOHM service launch is one of the most rapid ever for new network development, approximately two years after Sprint's selection of WiMAX IEEE 802.16e as a technology standard and the formation of a charter WiMAX ecosystem with Intel, Samsung and Motorola. Those firms shared a common vision of next-generation mobility services predicated on an embedded chipset model and the wireless enablement of millions of consumer electronic devices that lack wireless connectivity or Internet capability. Nokia, Nokia Siemens Networks, Google, ZTE, ZyXEL and others have since joined the XOHM WiMAX ecosystem.
Sprint's XOHM business unit focuses on developing the WiMAX ecosystem and standards to bring the latest broadband wireless technology to U.S. customers while pursuing roaming and interoperability agreements globally. The XOHM WiMAX network utilizes the 2.5 GHz spectrum holdings that were combined in the Sprint and Nextel merger to deploy next-generation technology. XOHM uses WiMAX infrastructure developed by Samsung Electronics Corporation Ltd. and has worked with them in deployment and buildout of the Baltimore-area WiMAX network. Additional markets are in various stages of infrastructure development for commercial readiness. These efforts are ultimately intended to allow customers to experience a nationwide 4G mobile broadband network that is designed to offer faster speeds, lower cost, greater convenience and enhanced multimedia quality.
As announced earlier this year, Sprint expects to complete the anticipated combination of its XOHM WiMAX business assets with Clearwire to form a new company in the fourth quarter. This new company, to be called Clearwire, will continue to expedite the deployment of a nationwide mobile WiMAX network. Following the transaction, Sprint will be the only national wireless carrier to sell 4G services through an MVNO structure with the new Clearwire.
About Sprint Nextel
Sprint Nextel offers a comprehensive range of wireless and wireline communications services bringing the freedom of mobility to consumers, businesses and government users. Sprint Nextel is widely recognized for developing, engineering and deploying innovative technologies, including two wireless networks serving nearly 52 million customers at the end of the second quarter 2008; industry-leading mobile data services; instant national and international push-to-talk capabilities; and a global Tier 1 Internet backbone. For more information, visit www.sprint.com.
For more information on Sprint's XOHM business unit, visit www.xohm.com.
SAFE HARBOR
This news release includes "forward-looking statements" within the meaning of the securities laws. The statements in this news release regarding plans for the development and deployment of a broadband network based on WiMAX technology; the timing, availability, capabilities, coverage, and costs of the WiMAX network; products and services to be offered on the WiMAX network; and other statements that are not historical facts are forward-looking statements. The words "estimate," "project," "forecast," "intend," "expect," "believe," "target," "providing guidance" and similar expressions are intended to identify forward-looking statements. Forward-looking statements are projections reflecting management's judgment and assumptions based on currently available information and involve a number of risks and uncertainties that could cause actual results to differ materially from those suggested by the forward-looking statements.
Future performance cannot be assured. Actual results may differ materially from those in the forward-looking statements due to a variety of factors, including, but not limited to:
the uncertainties related to the implementation of the company's WiMAX business strategy;
the costs and business risks associated with deploying a WiMAX network and offering products and services utilizing WiMAX technology;
the inability of third-party suppliers, software developers and other vendors to perform requirements and satisfy obligations necessary to create the products and software designed to support WiMAX features and functionality, under agreements with Sprint Nextel;
the impact of adverse network performance;
other risks referenced from time to time in the company's filings with the Securities and Exchange Commission, including in the Form 10-K for the year ended December 31, 2006, in Part I, Item 1A, "Risk Factors" and subsequently filed quarterly reports on Form 10-Q.
Sprint Nextel believes the forward-looking statements in this press release are reasonable; however, you should not place undue reliance on forward-looking statements, which are based on current expectations and speak only as of the date of this release. Sprint Nextel is not obligated to publicly release any revisions to forward-looking statements to reflect events after the date of this release.
Source: Sprint Nextel
Get the Windows Central Newsletter
All the latest news, reviews, and guides for Windows and Xbox diehards.