Yatzy Online, a Windows Phone 8 variation of an age-old game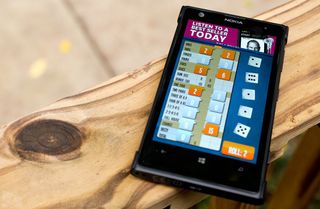 Yatzy Online is a turn based, online Windows Phone 8 game based on the classic dice game Yahtzee (opens in new tab). Yatzy Online is also available over on Android and IOS which should give you a healthy player pool to compete against.
Yatzy Online is laid out in a straight forward manner with three variations of Yahtzee, International, Scandinavian and a six dice version. Yatzy Online is a decent version of the dice throwing game for our Windows Phone 8 devices but does have a few annoying features.
Being an online, turn-based game you'll need to register with Yatzy Online to play. Registration is free and only takes a few seconds.
Lets go ahead and get the first annoying feature out of the way. Yatzy Online is a free, ad supported game and the banner ad is so annoying that it will force you to buy an upgrade to get rid of the ads (in app purchase of $2.49) or give up on the game all together. The banner ad runs across the top of the screen blocking the top portion of the screen which blocks your settings and statistics buttons and gaming header. What you can see is the button to start a game and a listing of any games in progress and a list of your recent games.
When you go to start a new game you have a few options. First you'll need to choose your gaming mode and then your opponent. You can choose an opponent at random from registered members, choose a specific registered player to play against, play a multi-player game (up to four), choose a practice game against the computer or a solo practice game.
Game play is identical to Yahtzee in that you have five (or six depending on the game mode) dice you roll three times. The first roll is done as you start your turn and the next two are done by tapping the "roll" button. After each roll you tap the dice you want to hold to complete one of the many score sheet categories. Categories range from the total number of "ones" collected to collecting a full house of dice to Yahtzee (five of a kind).
As you build your collection, the point total is reflected on the bubbles on the scorecard. When you have completed your three rolls, just tap the bubble of the category you want to complete. Each category or collection has a points value which will eventually make up your final score.
Now lets get to the second annoyance with Yatzy Online. Randomly, as you begin your turn a pop-up screen will appear giving you the option to upgrade to the ad-free version or wait a few seconds and proceed to play for free. The windows serves as a reminder that you can upgrade to the ad-free version.
I can understand the concept behind having an ad-supported app and there are plenty of games and apps that do so in more of a subtle way. I can also understand using ads to steer customers to the paid version but whatever the motivation for placing ads in a game or app, it shouldn't take away from the user experience. Yatzy Online just seems to beat you to a pulp with the ads and the pop-up option to buy the upgrade. It really takes away from a decent Windows Phone game.
As far as the gaming experience is concerned, Yatzy Online is not unlike any other turn-based, online game. If you get an opponent that is on top of things and takes their turn promptly the gaming experience is enjoyable. End up with an opponent who takes hours on end to complete a turn and the gaming experience takes a turn for the worse.
Yahtzee is an entertaining game for your Windows Phone either played in a solo match or online against others. Yatzy Online isn't a bad version of the game but the ads really detract from things. I would have rather seen a more subtle ad banner that didn't detract from the gaming experience and an upgrade button on the main menu to serve as a reminder. Either that or a straight forward trial version that is limited to local play with the full version opening up to online play. As is, the free version can get rather annoying.
Yatzy Online is worth trying if you like this gaming genre. If it end up being your cup of tea, upgrading is a must just to get rid of the ads and have a more pleasurable gaming experience. You can find Yatzy Online for your Windows Phone 8 device here in the (opens in new tab) Windows Phone Store.
Windows Central Newsletter
Get the best of Windows Central in in your inbox, every day!
George is the Reviews Editor at Windows Central, concentrating on Windows 10 PC and Mobile apps. He's been a supporter of the platform since the days of Windows CE and uses his current Windows 10 Mobile phone daily to keep up with life and enjoy a game during down time.
No thanx, ads like that make me want to microwave kittens & devs that put ads like that in. Thanx for the review.

Kittens had nothing to do with this. It was puppies.

Even though we hope you won't microwave and kittens or us for that matter, we would like to point out that this is not how the ads are intended to work.
We are therefore suspending all the ads in the game, until we have solved this issue. The ads should absolutely under no circumstances cover game functionality, they should only cover the "Yatzy Online" logo that is in the upper part of the screen.


So many apps without 7.x support. Come on upgrade get here faster

Gestapo tactics to get the gamer to invest 2.49 to play a game? Guess what?

I hate Gestapo tactics like this, and I will not support it.

Having an ad block/cover app functionality should have never passed certification.

@ George.. So, is this an official app, and was this recently added to the MP❔

Not an official app... just a variation of the original. I've got the official Yahtzee game on my review list this weekend.

Now available Asphalt 7 Heat for windows 8 http://bit.ly/1c2l1zg

I would recommend dicefeud as an alternative, faster and simpler interface and also works on wp7

Interestingly, on my L920 the ads don't cover the top of the gamescreen, so I can see the stats and settings buttons and then the ad bar is above that, rather than over it.

It works fine on my 8X as well so the first annoyance is not an issue, but that pop up prompting for the upgrade is bad.
Windows Central Newsletter
Thank you for signing up to Windows Central. You will receive a verification email shortly.
There was a problem. Please refresh the page and try again.