Popular Android game Yeti on Furry launches on Windows and Windows Phone 8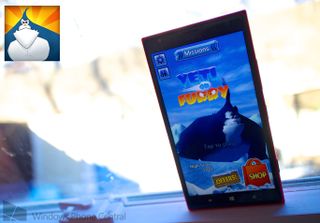 Yeti on Furry, a popular tower defense game on Android, has just been released simultaneously on Windows, Windows Phone, and iOS! You tap and swipe on the screen to defend the Yeti from invaders climbing up the mountain. These evil climbers will work their way up the mountain from either left, right or bottom of the screen in waves and with different skill sets. You have to get rid of them. We previously mentioned this game as Yeti Rising back in our August coverage.
Windows Phone users usually wait a while after an app or game launches on iOS or Android, so we're glad the developers were able to release it on multiple platforms in the same day. Head past the break to watch our gameplay video on the Nokia Lumia 1520.
To defend the mountain, you must tap on each climber to launch snowball attacks until they explode. You have other tools as well. You earn new weapons along the way like giant rolling snowballs, gusts of wind, and freezing rain. These are summoned with actions like holding down the screen, swiping right, or swiping down. The early levels teach you how to do these attacks. There is a time limit for these attacks, so use them sparingly. These weapons also have upgrade levels to destroy more difficult enemies in tougher levels.
When things get really tough, you have special powers. The first power is a sound attack with the Yeti's musical triangle. It instantly kills all of the climbers on the screen. Another special power is a sneeze that freezes all your enemies in place. You still need to take them out with another tap. There's a third one called the fist of vengeance that can be unlocked in higher levels.
Earn points by tapping on gold and other items dropped by the climbers. You'll need them to buy stuff at the store. These include power ups and special attacks. As you advance in the game, you find it necessary to upgrade.
Gold coins can also be obtained by spending real money. For example, 6000 coins costs $1.99. There are other items that you can buy directly with real money. For example, you can buy 20 of the musical special power for $4.49. The game doesn't force you to spend money, but you might be tempted.
If you don't want to spend real money, you earn more points when you keep playing. You can earn a lot of points when completing missions provided to you. An example is, "crush 3 frozen enemies in one game." You also get more bonus, and boosts when you collect yeti's boxers that appear on the screen.
Overall, we like Yeti on Furry. The graphics look great and it plays smoothly. Our only complaint is not a major one. We're always playing in the same mountain with the same character. It would be nice if the developers somehow integrate different mountains or different Yetis in the game. Maybe the Yeti has a brother that needs help in another mountain?
Another concern we have is that there are so many ways to spend real money in this game. Yeti on Furry is free at the Windows Phone Store and Windows Store (opens in new tab), but the in-app purchases appear everywhere. We would be very cautious letting our younger siblings play this game on our phones.
Have time to kill? Go ahead and check this game out. Let us know what you think of it in the comments!
Windows Central Newsletter
Get the best of Windows Central in in your inbox, every day!
Mark how did you get your 1520 to stand straight like that? Btw loving your contributions to this site.

It's leaning to a glass window..?

Thank you =) It's leaning on the window.

I would of said museum wax

Hey Mark,
Are you new around here❔.. If so, then welcome aboard, and please introduce yourself.....

Shit ! No 512 mb ram again

No Xbox features, no download for me.

Dude it's free!! The more people who download some of these games the more likely they will implement Xbox Live features

Count me in on that too. I bought a Windows Phone for Windows Phone features, of which xbox live was one of the chief features advertised. Not sure why I would accept anything less.

So basically no achievements no buy. Because that's pretty much the only feature.

This game, is awesome. That's all I have to say.

I love that it is so buggy that I have tens of thousands of coins to spare for some reason.

Yes, abstaining from downloading popular games because they lack Xbox integration is a surefire way to make the case for more good games on WP /s

Seriously. Glad I can enjoy games without having such restrictive "rules" to apply to my life, lol. To each his own but this game is a blast.

Well said Daniel. We ONLY have these games because they dont have Xbox integration...

In the same vein, when we get app ports that don't follow metro UI guidelines or aren't optimized for the platform we should just be grateful simply because we have them? Personally i think WP features are what makes the OS stand out and I'd rather use apps and games that utilize those features rather than accept any old port thrown our way.

Personally (and emphasis on that), I think we should at least have -some- gratitude that we're getting the ports. People in general seem to expect so much nowadays when not paying a cent and then kick and scream at the developers when things aren't perfect right from the start. Downloading and voicing both the good and bad of an app in ratings/feedback shows the developer that there is interest much better than boycotting it because of missing features or app style since people boycotting looks exactly like people who have no interest in the app to begin with. Besides, people are quick to call the developers lazy, but how they divide up their time to get the most benefits must be taken into consideration as well.

again!!! 512 mb curse ....

Yes, another great game!! And another one that isnt available in here. ;( Please Please Please Daniel, Paul and Sam Sabri: in the End Year's Eve do an article highlighting the top 50/10 apps and games on iOS and Android and what are still lacking. Dont count the Google apps. I cant wait to see that we are lacking almost nothing anymore! :)

Two games this week from Android. Amazing. :) Glad they are both on Windows and WP.

What is the point having so much 512Mb RAM phone in the market ?

Looks cute. I'm downloading it as we speak.

Seems that WPCentral is in love with the Lumia 1520 ha?

This is great news, getting release parity with the bigs is a huge step in the right direction. Plus this game is FUN!!
Windows Central Newsletter
Thank you for signing up to Windows Central. You will receive a verification email shortly.
There was a problem. Please refresh the page and try again.