You have been running an iOS app on your Windows Phone and didn't even know it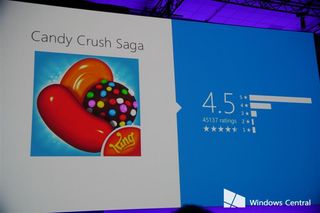 Candy Crush for Windows Phone is actually an iOS game and we have all been playing it without even knowing. At Build 2015 Microsoft announced some new development tools that make the experience for Windows 10 developers easier, and one of them was the addition of Objective-C.
Microsoft silently showed us just how powerful these new tools can be, and how much positive they can bring to the platform.
Check out all of our Build 2015 coverage
Windows Central Newsletter
Get the best of Windows Central in in your inbox, every day!
Jared started off writing about mobile phones back when BlackBerry ruled the market, and Windows Mobile was kinda cool. Now, with a family, mortgage and other responsibilities he has no choice but to look for the best deals, and he's here to share them with you.
So why not release CCS2 yet??

The companies have to want their app on WP. Take snap chat. If it's this easy what is the deal????

it will be this easy. these tools aren't available just yet.

Why aren't they available yet? What is Microsoft waiting for? Candy Crush Saga released months ago on WP. They don't have the market share to dillydaddle.

CCS was done as an experiment with WP 8.1 with heavy MS involvement. Wide availability will be in Windows 10. Before Windows 10 is released it just can't happen.

Wp10 will change all that. Devs gonna hop on the wagon like hotcakes.

Instagram came with syrup but wasn't sweet enough.

Yep. But they are smart. Make it so easy to port over, so companies can't use the excuse of "not financially feasible due to marketshare.". Setting themselves up for anti-trust lawsuit.

Because this was obviously a trial in partnership with Microsoft.

They announced at build that King is working on bringing more of its games to WP.

and no lag with this app at all..works like charm on WP..amazing work done by MS..:-)

That proves if games like Candy Crush Saga can run without glitches, then apps will be equally effective and smoother on WP. Lets hope to get more and more apps on our Store.

Not that I disagree (completely), but it's not like CCS is a demanding application.

That game heats up my 920 and burns through my battery like no other.

Even back when my 920 was new, that device does a great job at draining it's own battery.

A lot of my battery drain while my phone is in Standby comes from 4G LTE... if I select Edge network the battery last a lot while in Standby.

This is Microsoft's way of reminding everyone they always have been first and foremost a software company. Finding software solutions to problems is what Microsoft does.

Exactly. They again proved why they are "Big Daddy" in tech/innovations..Hats Off :-)

Makes me wonder if Android apps will have better performance on Windows 10 than Android.

Chances are pretty high and If this happens, it will be awesome.

I'd expect so. Less fragmentation and stricter containers to mitigate leaky behavior.

Even Shareit feels like iOS app. Because when receiving file from Android . We select iOS device and Shareit works to get the file received from Android

Wow, damn, amazing! I'm surprised. It feels just like an app built for Windows Phone!

Actually it feels like Candy Crush on virtually every other platform. This is very good for games, but we'll see WP uniqueness fading away soon in apps.

WP Uniqueness? Like xbox achievements, live tiles and cortana integration? If that's what you are referring to, it was implied that these would be other additions that converted apps could leverage. I suspect, companies will dip their toe in the water and do straight conversion at first. Then as W10 takes off more and more, they'll start taking advantage of these bits. Not to mention, this means converted apps will also work on other W10 devices that will also leverage these WP (er W10) unique features. There is also some interesting store and app suggestion pieces MS is touting to persuade devs to W10.

During the demo of the iOS math app an acheivement was unlocked, so yes, the uniqueness will still be there.

You know, I was wondering how they did facebook integration despite the fact that the FacebookSDK only supports Android and iOS. I just figured they wrote their own from scratch.

Isn't there a REST API for Facebook? I've not integrated anything with Facebook in a long time but at my company we have done so in the past from ASP.NET apps

Perhaps, I didn't fight with it for too long.

I really don't care about that. I'm more interested in the platform as a whole surviving and this might jsut help that happen. it still hinges, of course, on the develpoers and big name apps (banks) coming back because of this. We'll see. I sure hope this helps overall.

Exactly. Banks need to be spammed hardest of all on this, because they're the least likely to be proactive.

Now I'm blown away *mouthopened* *.*

then gimme stick man golf, dark nebula series, and osmos and i wont need to switch to ios

So how many people are going to "Leave WP for iOS" now because iOS apps are allowed on the WP platform?

Still those developers needs to port apps on windows store. How many deveopers are ready to do it? It's a question

Well considering this has only been released today, probably not many. However, if the effort to recompile is minimal, mostly automatic, and the end results is a universal app that can run on Windows desktops, laptops, tablets, phones, and XBox One then I would imagine a lot of developers would port their apps. After all, it's in their best interest to target as many customers as possible with the time and resources they have.

Don't forget...Visual Studio Code for OS X is a big part of this I'm sure.

It's just an editor, not an IDE

technically it is a Cloud IDE, you send the code to Azure and it takes care of the IDE part :) great video to watch if you missed it during the live demonstration.

At this point, if developers don't start porting their apps, it's really just because they hate Microsoft. Hating an OS would be the most business-stupid thing to do, but there are CEOs doing that already so...

I cant stand iOS' grid layout. I would miss my tiles way too much. I hate android widgets equally. Its so damn clunky. iOS folders upon folders to fid the app you are looking for its just messy.

Also, as pointed by Rudy Huyn, if SnapChat wanted they could have easily compiled their iOS app for WP users.

Seriously how many social apps do people need?

If you want Windows Phone to succeed we are going to need all of them in this platform, people don't buy phones to make calls anymore believe it or not

Well any app can come to Windows easily now. It's just down to how much irrational hatred said companies have for Microsoft. Really if I was in any way financially involved as an investor in Snapchat I'd fire the CEO who is refusing to build a Windows app.

I like Microsoft, but the hatred for them is most definitely not irrational. I'm not sure how old you are, but if you look back at history, you will realize that the hate and distrust in them was almost completely Microsoft's fault.

It's been years since Microsoft was that way and they've done quite a bit to change. It dates back prior to the existence of all these new companies like Snapchat, their attitude towards Microsoft is personal. They support Google who are like the Microsoft of old but worse, rather hypocritical.

Exactly, SnapChat is being personal wih MS..not sure what sort of hatered that CEO has with MS..

I agree with RobR here, I'm over 40, been using computers since the BBC B almost 30 years ago so I've seen plenty of what MS has done to upset people. Thing is to me you cannot run a company for that long, that's that big without making some mistakes. While some wrath is justified, so much of it is more towards things not working properly (blue screens of death, driver issues, reboots for updates, IE not following standards, etc) - i.e. mostly petty frustrations & annoyances due to it being early days for computing rather than MS doing anything malicious. MS were the only option for most people, not everything worked and people hated MS because they had problems using their computer. I know it's not that simple and their business practices have been anti-competive at times and I can understand people disliking them for that. But that was all for the most part a long time ago, mostly pre-Balmer, let alone Nadella. The MS today seems to be one of the most open, responsive and forward looking tech companies out there. Whereas to me nearly everything Google do is based around getting in more ad revenue (even their charity work at times gives me chills). People like to like them because they provided things for free for which in the past (often with MS) you had to pay. That is just because they have a different business model. Instead of paying and getting a premium service (usually) you get a inferior product littered with adverts. The ads paid for the software, rather than the people and Google made even more money than MS. To me it's shady, trojan horse style business and way more anti-competitve than MS ever were. How do you justify development on your hard work when the competition is giving away their product for free? However most people just see FREE and stop thinking. I used to dislike MS, but use their products because there was no choice. I never had a Windows Mobile phone, went from dumb phones to Android early on (Galaxy i750 the 2nd Android phone), had a Gmail account when it was in beta (ok that's not saying much it was in beta for like 5 years)... point being I used to support Google a long time ago when they were fairly new and was distancing myself from Microsoft. But over time I started to see they were actually worse and MS were getting better, I got a Lumia 920 and a outlook account 2.5 years ago and have been moving more and more towards Microsoft ever since and ditching Google where possible. I like to think I'm an early adopter, and I am just waiting for the rest of the world to catch on and likewise realise Google are actually evil (well done EU for starting anti-competitive practices against them - bit late, but better than never). With all the announcements MS made today I think it makes Windows 10 the most compelling update since Windows 7 (I didn't mind 8, but it was a bit of a mess and didn't offer much reason to update - whereas W10 is revolutionary on so many levels). Hopefully we'll get the apps that are so important to most people, just at the time when they start to see Google are the not what they seem (sure they do some good stuff and aren't all evil) but that MS are on the whole the more progressive and fair company and will move from their Android to shiny new Windows devices and services.

I was perhaps too concise in my earlier post. What I meant was the hostile takeover strategy, patent enforcement and legal battering and bundling of services and applications to beat open-source and private upstarts alike was a serious problem back in the day. What you have posted seems to pertain to the user perspective. But from the industry's perspective, Microsoft was definitely a pretty big bully.......like google is now......with the only difference being how the bullying was done. Its easy to forget history. I'm just trying to say that Microsoft is no saint and maybe that's why Snapchat is wary of playing good with Microsoft products. The fact that it lost to Google/Apple in the mobile market actually ended up being a good thing because it allowed the company to introspect. Over time, people WILL see the downside of using a free service. Nothing is free. If you are not paying for a product, you ARE the product. But most people, like you said, only seem to care about it being free. I for one, have had enough of being followed around by the ever watchful eye of Saruman.......I mean Google. ;)

It may date back prior to the existance of the companies you speak of, but not the people who run it. Everyone who is approximately 30 and older can remember how horrible Microsoft was acting in the IT industry.All I'm saying is that its not out of the realm of sanity to keep MS at a distance.

I'd say from a business perspective to ignore Microsoft is madness, therefore it's within the realm of insanity. But I do understand why people have a problem with MS, I just feel they need to move on and be more mature. It's ok if you want to get an iPhone because you think Apple are cool and hip, it's ok if you want to get an Android phone because you think Google are here to banish the evil Microsoft. But those are personal decisions (and btw wrongheaded), but to damn your business because of a personal pet hate is madness and something your shareholders should be screaming at you about. If I was a VC who'd funded Snapchat for instance I'd threaten to fire the CEO for his stance.

Instagram and Snapchat time!

I'm seriously gonna pound Evan Spigels arse into the ground if they don't.

What, from behind? Steady-on sailor ;)

They're private companies, and they would need the will to do it. If they don't want to, then they don't want to. Besides, I don't know how Instagram and Snapchat make sense on Windows 10 PCs anyway. They're *mobile* apps. I doubt if the Snapchat CEO cares if some cubicle drone in an office park can use Snapchat on his Windows workstation. That worker can just use his iPhone!

Instagram, Twitter, Vine, Snapchat, Clash Of Clans... SO MANY APPS!!!11!!!ONE!!!

Hope Apple port their Music app for the iPhone to the Windows Store. /s

I like to hope a lot of companies (big banks, etc) who have withdrawn their WP apps lately have done so because MS have been working with them on porting their (more featured) iOS apps to Windows. Let's hope we see lots of new apps today and in the coming weeks.

That will be curious to see. Alternatively, there could be something else going on. Anecdotally, the two financial institutions I have, one credit union, one small community bank, never had WP apps, but last month both launched revamped mobile sites that act just like apps and work great on my 925. That to me is ok. The credit union one, in particular, is very well done. (BECU)

Shame on those of you blabbing about living windows with the advent of adroid apps............ It isn't really android apps running on your phones but android apps that are retailored to run on windows system. This is really a smart move Micrososft has taken and I can see a bright future ahead. Some of you might say...Blackberry did the same but failed. Black berry never retailored the apps to suit their system. Mircrosoft isn't a fool to take such a decision. Weren't most of you shocked to know that Candy Crash Saga was retailed from IOS? There you go.!!!

Thats probably why it looks a bit blurred on my Lumia 520 and a bit slow-motion sometimes

520? Really, you wanna compare performance when you have a shitty ass phone? You get what you paid for, and by the oooks of you current phone, you didnt pay much, so quit your whining or get a better phone..... Its like complaining on how slow a prius is compared to a ferrari.....

1st. Are you mad? 2nd. I know the phone is great, it's the lowest available basically, but it can play much heavier (in terms of graphics) games than candy crush, you won't say that is a heavy game comparing to Asphalt for example, which runs good. It runs on lower specs android better than on this phone, which I found weird since, from my personal experience, android's require better specs to run as good. Even if you still say that the harware is bad, even for running a game like this which i doubt, the blurry feeling of the initial menu is strange..

It's been the same exprerience for me on my lumia 1020, but to be fair I have been running win10 so that could be it, but the slowmotion benefits during those time limit modes.

Yeah but still, shouldn't do it xD

if having somewhat slower/less refined apps is what it takes to get even half of the apps that Android has...........I have no problem with that. Improvements can come in later. Right now, the bigger problem is unavailability. Lets start bitching about quality once we have enough to bitch about.

The father will be always a father MS is about rule them all

Hope to have all King's games

i just wonder how iOS based apps will look like in WP.

Well you saw Candy Crush, so.....

Not a game, but an app. Just wondering how WP nav and other objects style will be adopdted from iOS apps style.

I'm sure this has a lot to do with why they opted to give up on the purity of the previous design language. Adapt to survive, then stand on principle when they find steady footing.

So THAT'S why I didn't like that game.

Sneaky sneaky MS...I guess thats the power of Windows...I mean this is Windows...

That's the power that is Microsoft... There I fixed it for you ;)

This is like saying: Luke, I am your Father! (No, I am your Father(for the purest))

Microsoft...the real tech giant

Need a official youtube app (actual app not a web interface) ... Is been years!!!!

You weren't around for the MS-Google smackdown, were you....

An official app would mean that you would get adds... Aa hell no :) 3rd party for the win! ( when it comes to youtube)

Try Tubecast. I doubt if the official app can be this good.

No I haven't because I didn't install that crap. But nice feature though...

We've heard this similar story thirty times now.... Never makes a difference.

I wish they'd done this for an Android app too. Just so we could see for ourselves.

They did with that Hotel app, derp.

But we can't download it.

I always noticed how it was good and how smooth it ran... Didn't knew it was from iOS. KEEP THEM IOS APPS COMING!

Let's not get carried away. The demo port that they showed was pretty embarrasing. The app didn't work! The X factor is going to be about execution and how this is implemented. And if developers will still bother, regardless.

There is only so much bandwidth to go around, especially in a huge conference centre full of tech geeks

Exactly, unless you've been at a Microsoft conference you don't know how painful Wi-Fi connectivity is.

The real test is not what happened at the conference, the real live test was that so many had been playing the iOS game CCS without a hint of a bug. And that test was passed with flying colours.

"I think about something, in fact Snapchat was able to bring its app on WP without effort since months??? #iosAppsAlreadyOnWP8" Rudy Hyun

This... Is incredible. IOS and Android apps without having to use POS Snapple or Lagdroid OS's... Bring. It. On.

I've been playing candy crush without even knowing?

I'm sure that is why it has been such a big secret. I can't think of a better example to showcase this.

Haha i had my suspicions. When failing a level, it says "connecting to app store" :)

And run smoothly and is, an IOS ported game.

I haven't been running that one on my phone

Never played the game... and never will. Bring in more XBOX games :)

perfomance/batterylife is key

Such marvelous innovation this is what a software company is capable of; transforming the bad into good well Microsoft.

I hope the apps arnt as battery draining as candy crush

Just because these tools are available doesn't mean iOS and Android developers are going to bother using them.

Microsoft did their job, now its depends on those developers

No. No, I HAVEN'T been runnng and iOS apps on my phone. I have never, EVER been lame enough to play something like "Candy Crush"...on ANY platform.

Even cut the rope 2 seems an IOS app,am I the only one?

OMG! If this is really true then Microsoft is on right track. Good job Microsoft!

Cool. If this doesn't get developers into the Microsoft camp, then I don't know what else they can do. Microsoft is doing everything in their power (outside of writing the code themselves) to get developers to bring their wares over to the platform.
Windows Central Newsletter
Thank you for signing up to Windows Central. You will receive a verification email shortly.
There was a problem. Please refresh the page and try again.