YouTube using Silverlight, releases mobile app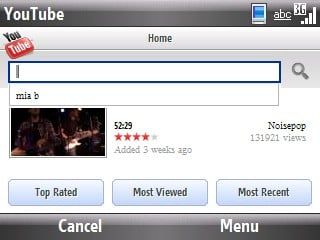 All of the sudden, it seems that Microsoft and YouTube are all buddy-buddy.
Most of note for Windows Mobile users is that a native mobile app has finally been released. Just head to m.youtube.com in your favorite mobile browser and hit up the link therein.
Also worth a mention is that YouTube, which as every smartphone owner knows uses Flash to feed its Web content, apparently is using Silverlight for its dedicated March Madness college basketball channel. Or, as el jefe put it, "You got Silverlight in my YouTube! You got YouTube in my Silverlight!" Point, Microsoft! Now, if MS will finally get Silverlight on our phones ...
Windows Central Newsletter
Get the best of Windows Central in in your inbox, every day!
George is the Reviews Editor at Windows Central, concentrating on Windows 10 PC and Mobile apps. He's been a supporter of the platform since the days of Windows CE and uses his current Windows 10 Mobile phone daily to keep up with life and enjoy a game during down time.
Hmm...this might be specific to the Epix, but the youtube app rotated my screen when I didnt exit it properly. It also shifted my today screen around. Both times a soft reset fixed it, but damn that was annoying!

Google is doing more for Windows Mobile than Microsoft is these days

Yea you are totally right because MS isn't working on WinMo6.5 and WinMo7. Oh and Silverlight isn't an MS technology either.

Ignorance left unchecked... Yeah, like google would have much of a market at all if it weren't for Microsoft. Doubt there would be a google, or 90% of the internet as we know it. Love them or hate them, they've done a lot of good for the world.

Ignorance, indeed. I was happily browsing the web on my HP-UX workstation long before M$ came around and turned the whole thing into a high-tech trailer park.

YouTube's Mobile App is a joke. It doesn't work on the T-Mobile Shadow II. It doesn't work on the iPAQ 910c. It doesn't work on UBIQUIO 503G. I guess it's only for those cookie-cutter HTC Touch devices.

Hmmmmmm. Worked fine on my trusty Q9h, and it ain't one of them there newfangled fancy HTC talkin' devices. lol

Nice to see official support. I did have a few issues on my Vogue though. -Rotated the screen for viewing and then sometimes stayed in the orientation when it came back out. -Used the standard WM onscreen keyboard instead of my more finger-friendly chosen default SIP -Doesn't seem to have an option to let me login to my YouTube profile to view favorites, personal recommendations, etc. Was really disappointed it didn't have that. I will say this for it though - the video quality was pretty decent. Hopefully it'll get better with time. There's no shortage of great YouTube apps though.

Looks awesome but it crashes on ALL Treo 800w phones per forums and me.

Anyone want to take bets at how long it will take for xda-devs to rip out and cab up an install of silverlight for pocket explorer6, and then as a further bet, to see how long it will take before opera mobile, and all of the fun little browsers have 3rd party support for this flash alternative as well? anyone? I bet 30 days or less for the rip it out and cab it up, 15 days after that for full platform support for winmo 6.1, and by extension 6.5 do I have any takers for earler or later bets?

Yeah as Jason notes above, crashes on the 800w. Boo. I love Google as much as the next guy, but their WM programmers are not very good and any notion of device compatibility, testing and letting us know is crap.

wow this app is craptastic. It does not honor the landscape settings on my HTC Touch and it also does not switch back to potrait when exiting. Lame.

This doesn't seem to work on my Telus HTC Touch (running WinMo 6.1)....It opens up my "Streaming Media" application instead :(

The app totally rocks on my Sprint Mogul (HTC Titan). In either EVDO or wifi it loads and plays very fast. Love it! Only glitch was if I slide the keyboard shut (which flips the display) while playing the video goes black. But it reappears if I slide the kb back out.

Canadians make sure you go to the Worldwide (All) mobile page as the Canada site does not offer the download link - which would explain the issue mentioned above on the Telus HTC Vogue popping up "Streaming Media" instead.

hi, i got samsung omnia mobile... when i went to m.youtube.com it dosent show any link to download youtube software.... where to go knw?

I would like to say thank you to author of these articles on this site. I read all of these articles and i need to read some new articles. I've watched a video on youtube about this topic for now and i loved it. Also it is one of the rarely topic on this site. See you on a new topic...
Windows Central Newsletter
Thank you for signing up to Windows Central. You will receive a verification email shortly.
There was a problem. Please refresh the page and try again.