Zoom announces collaboration with security experts from Netflix, Uber, EA and more
By Stephen Warwick published
It has also hired the former Chief of Security for Facebook as an advisor.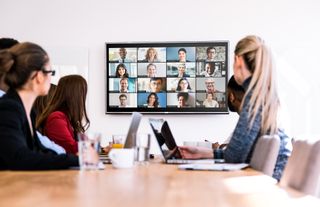 (Image credit: Zoom)
What you need to know
Zoom has announced a collaboration with security experts from several major firms.
It says it has received offers of help from companies including HSBC and is setting up an advisory board.
That board will include security leaders from Netflix, Uber, EA and more!
Zoom has announced it is partnering with security leaders and experts from several major tech firms including Netflix and EA in a bid to make its app more secure.
In a blog post today Zoom provided the first update on its commitment to address Zoom's privacy and security flaws over the next 90 days. CEO Eric S. Yuan stated:
The Council and Advisory board will include security leaders from several world-leading companies:
Zoom is collaborating with the likes of Netflix, Uber and Electronic Arts, whose security leaders will become part of an advisory board. Zoom has also announced the hiring of Alex Stamos as "an outside advisor." A widely respected cybersecurity expert, Stamos is an "Adjunct Professor at Stanford's Freeman-Spogli Institute and a visiting scholar at the Hoover institution." He also served as Chief Security Officer of Facebook and even sits on an advisory board for NATO's Collective Cybersecurity Center of Excellence, so it seems like he probably knows what he's talking about.
Yuan stated that he was "grateful to Alex and our CISO Council members for their vote of confidence in Zoom and their desire to help make us even better."
Zoom is also holding weekly webinars on Wednesdays at 10 am PT to update its community on privacy and security updates. You can read the full post here.
This says it all, from the other article about Taiwan banning it:
"It was previously revealed that Zoom was unwittingly routing some traffic through China, even if none of the participants of a call were based in the country." later
-1

Sorry, I will never trust a company like this, its one thing when someone makes a mistake, but sending data to faceboook and linkedin, routing traffic to china, calling end to end encryption is a lie. They are Evil, did they come from google ? I hope no one ever trust them again.

Too little, too late. Someone will scoop them up for the Zoom name, and the software will die.

Aww surveillance... I mean security from companies in which are good at gathering data from their consumers?

Hiring the former Chief of Security at FACEBOOK is supposed to make me feel better?!?!? Now do a story about how Zoom is majority owned by two companies in China with ties to the Chinese Government.

Maybe because Windows Central doesn't deal in fiction? See the top 10 owners of Zoom below, according to Fintel Ventures.
Investor
Ownership (%)
Eric S. Yuan
28.50
Emergence Capital Partners
19.70
Sequoia Capital
16.10
Li Ka Shing
11.60
Hillhouse Capital Management
9.10
Solina Chau
7.85
Artisan Partners Limited Partnership
6.40
Salesforce
2.50
Windows Central Newsletter
Get the best of Windows Central in in your inbox, every day!
Thank you for signing up to Windows Central. You will receive a verification email shortly.
There was a problem. Please refresh the page and try again.