Zoom now has more than 300 million daily users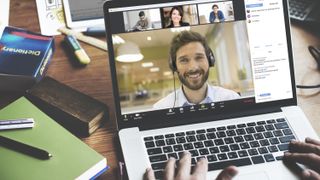 (Image credit: Zoom)
What you need to know
Zoom now has more than 300 million daily users.
The figure was announced by CEO Eric S. Yuan in a webinar.
Zoom has committed to a 90-day security plan after its meteoric rise exposed some privacy and security flaws in its platform.
Zoom CEO Eric S. Yuan has announced the platform now has more than 300 million daily users.
According to Zoom's blog:
As The Verge notes, Zoom's user base back in December was around 10 million a day. The popularity of the platform has skyrocketed in the wake of the COVID-19 pandemic, which has seen millions of workers take to remote working. Beyond enterprise, Zoom has also established itself as a platform for meetings and social gatherings amongst friends. Earlier this month, Zoom reported that it had more than 200 million users, which means that it has added another 100 million in just 3 weeks, a massive increase of 50%.
Zoom's 'Ask Eric Anything' webinars are part of providing updates on Zoom's 90-day security plan. In the most recent session, Zoom execs discussed new data routing controls for paid customers, the release of Zoom 5.0 (including tougher encryption) and more. In conclusion Zoom stated:
Imagine if Microsoft had a video/voice calling platform it could've used to compete with Zoom. Oh ... oh wait.

Imagine if they never bought Skype. It would be king of the video conferencing world. Instead it's nearing its 11th reboot? One more and the team gets a set of plastic knives.

Who knows where Skype would have gone. What we do know is everyone, except Zoom, missed the boat on the value of having many concurrent video streams.
If Google would have upgraded Meet or MS upgraded Skype or Teams consumer for 16+ streams you would probably never hear of Zoom.

Just goes to show people are not all that bright.

Zoom security - think Swiss cheese. And yes I hear they're working on fixing things, but memories linger for some.

If the DoD doesn't want Zoom being used on their devices, I'd say that's a red flag. I'll still take Skype any day and with the GroupMe integration, it's convenient and secure.

Security takes a far back seat to functionality for the masses.
Exhibit A: Zoom
Exhibit B: Facebook

And now they are working together on security.
Windows Central Newsletter
Get the best of Windows Central in in your inbox, every day!
Thank you for signing up to Windows Central. You will receive a verification email shortly.
There was a problem. Please refresh the page and try again.