Zoom says "we fell short" in explanation over banning of pro-Chinese democracy accounts
Zoom banned the accounts of three participants who hosted meetings to commemorate the Tiananmen Square Massacre...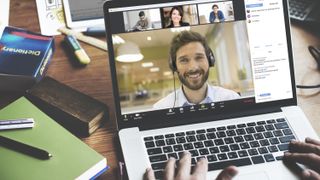 (Image credit: Zoom)
What you need to know
Zoom has offered an explanation for the banning of accounts at the behest of the Chinese government.
Chinese authorities demanded action over Zoom meetings commemorating the Tiananmen Square Massacre.
It says that going forward, it won't let Chinese government requests impact anyone outside of mainland China.
Zoom has come forward with an explanation following outrage at the banning of the Zoom accounts of pro-Chinese democracy activists who were holding a meeting to commemorate the Tiananmen Square Massacre.
Earlier this week it emerged that Zoom had banned some accounts at the behest of the Chinese government, before reactivating them. In that report, Zoom stated:
The accounts were reportedly closed after a Zoom meeting was held to commemorate the 31st anniversary of the Tiananmen Square Massacre on June 4. Now Zoom has explained its actions:
Zoom says that it was informed by the Chinese government of four "large, public June 4th commemoration meetings on Zoom that were being publicized on social media, including meeting details." Illegal in China, the government reportedly demanded "Zoom terminate the meetings and host accounts."
Zoom further clarified that it did not give over any information to the Chinese government, nor did it have any kind of access to the meetings. It also says that it did not take action against one meeting because no participants were in mainland China.
In 2 of the meetings, Zoom reviewed metadata whilst the meeting was in progress to confirm that "a significant number" of participants came from mainland China. In the fourth meeting, the Chinese government showed Zoom a social media invite to a meeting, and a prior meeting from the same account that it considered to be illegal.
Zoom says that it took the decision to end three of the four meetings and suspend or terminate the three host accounts of these meetings because it "does not currently have the ability to remove specific participants from a meeting or block participants from a certain country from joining a meeting."
Zoom seems at least aware that it fell short, saying it was mistaken in suspending or terminating the host accounts (one from Hong Kong, two from the U.S.). Zoom also says that it was wrong to close down the whole meetings, and should have blocked participants by country, something it isn't currently able to do.
Going forward, Zoom says it won't allow "requests from the Chinese government to impact anyone outside of mainland China." It is also developing technology over the next several days to allow removal or blocking of participants to calls based on their geography, allowing Zoom to ban people from meetings based on where they live, whilst protecting the conversations they are participating in.
Windows Central Newsletter
Get the best of Windows Central in your inbox, every day!
So they're happy to censor in the mainland. *******. Back off an inch... You've lost your reason for existing

Zoom's policies and the security and safety of the software is a total sh*tshow. Avoiding zoom like the plaque is the only option at this point.

While it is wrong from our point of view, I do get that Zoom, or any such company, must abide by the laws of jurisdiction in which it operates. They also have to consider the potential ramifications to the considerable work force they have in China. China could shut down that operation, and those are people that work there. Suspending accounts was clearly over-reacting, but that has been corrected. If you want to be incensed, be incensed at China, not at an American company that is caught in a difficult position between righteousness and international law.

I get what you say especially because Zoom is sort of partly Chinese software too (see Zoom's wikipedia page), they need to abide to the Chinese government rules. It is a pretty bad idea to use that for communication at work though where lots of sensitive information can be communicated (which employees sometimes are not aware of). Especially since China has a history of stealing blueprints and other research etc from other countries (/by hacking).