ZOTAC's NVIDIA GTX 1070 AMP! Extreme is an absolute beast of a GPU
By Rich Edmonds last updated
The GTX 1070 AMP! Extreme by ZOTAC is super-big, super-powerful and super-fun to game on. The company's GPU makes quick work of even the more demanding titles on 1080p and 1440p systems.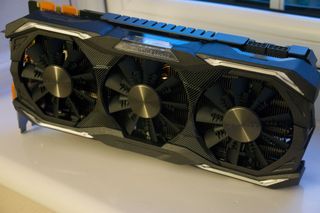 NVIDIA's GTX 10 line-up of graphics processing cards are the next-generation of gaming powerhouses. The GTX 1080 is for those who have an expansive budget and need to do some 4K gaming, the GTX 1060 and GTX 1050 are for the 1080p market, while the GTX 1070 is a nice middleground. It's also the best option for those who plan to upgrade their displays at a later date. We take a look at the ZOTAC AMP! Extreme edition GTX 1070.
You're all probably already more than aware of how good NVIDIA's new Pascal chips are, and this is what gives the ZOTAC 1070 all of its horsepower. What the OEM manufactuerer has done is enhance the card to "extreme" lengths, hence the name. You've got three fans, dual-power input, strong factory overclock, and the whole thing requires three PCI slots. It's huge.
It's definitely worth considering the dimensions of any component before you make the purchase. The last thing you wish to do is splash out $400 on a new GPU for it to not fit inside your PC case. Here's what we'll be working with after installing the card into our system:
Category
Specification
GPU
GeForce GTX 1070
CUDA Cores
1920
Video Memory
8GB GDDR5
Memory Bus
256-bit
Engine Clock
1632 MHz
Engine Clock (Boost)
1835 MHz
Memory Clock
8208 MHz
Display Outputs
3 x DisplayPort 1.4
HDMI 2.0b
DL-DVI

HDCP Support
Yes
TDP
250W
Dimensions
325mm x 148mm
Performance of the GTX 1070, and an overclocked GTX 1070 at that, is impressive. Paired up with an overclocked Intel Core i5-6600K and we've got quite the capable gaming rig. As announced by NVIDIA, the GTX 1070 is fully capable of VR gaming, and the AMP! Extreme edition from ZOTAC ensures your PC exceeds the requirements for smooth virtual relaity, according to Steam's Performance Test.
That's a fairly decent Fire Strike score using the 3DMark suite. In real world games, I managed to clock up an average of 112FPS in Doom on ultra settings, and 49FPS in Grand Theft Auto V, again with everything set to maximum. This is at 1440p too. It's safe to say you'll be able to enjoy a stable experience with fantastic graphical fidelity in even the more demanding titles.
It's not always just about raw power, however. An added bonus of this particular ZOTAC GTX 1070 card is the ability to configure fan control and lighting. The ZOTAC badge on the side of the card can be configured separately to the rear "push the limit" slogan and lighting that surrounds the fans. The entire unit looks the part with the industrial-looking backplate. Though due to the size of the GPU it still sags slightly.
The only issue I have with the card itself is the noise at times, which can be audible when the three fans kick up to 50% speed and beyond. It's worth noting that I do not find the fans to be loud, it's simply you can hear them more clearly thanks to other cooling being almost idle, alongside the absence of any mechanical drives. The case is almost silent so it's easier to for the GPU fans to produce sound I can pick up.
One needs to take into account the performance you get out of the GTX 1070 platform and what ZOTAC has managed to achieve with the factory overclock. It's a stellar card and one that's worth picking up should you have some cash to spend and wish to take your gaming experience to the next level. It's fully kitted out and you'll be paying out more than a standard GTX 1070 from another manufacturer, but you can snap one up for $429.99.
Rich Edmonds is Senior Editor of PC hardware at Windows Central, covering everything related to PC components and NAS. He's been involved in technology for more than a decade and knows a thing or two about the magic inside a PC chassis. You can follow him over on Twitter at @RichEdmonds.
The noise would not make it a good component for a Windows Media Center 4k setup.

Just like a Porsche 911 does not do as a bus

Amazing how your text was processed through your motherboard bus even without substance.

Running Media Center apps would not be enough to push a card like this to spin up its fans, so that use it would operate silently.

So is Zotac a good brand in general? I'm looking for a deal on the GTX 1050 Ti.

Depends what monitor u have, what HZ n Resolution my Friend, cuz the 1050 is made to play E-Sport games

Currently my screen is 720p @ 60Hz, and I will mainly play Skyrim Special Edition which I read it runs pretty well on Ultra in the 1050 Ti. My PSU doesn't support anything higher than this card at the moment.

Yep zotac is a good brand but I personally prefer EVGA.

It's a great card, considered it for my build. Eventually decided on the 1080 Strix, in part because I couldn't go for the yellow stripe on the backplate. Just a bit too jarring whenever I look at my PC. Other than that, I recommend it.

I have the zotac 1070 amp none extreme edition. Only has 2 fans. So solid, very heavy card. Out performs every other 1070 on the market. Best card I have ever owned. Have always gone with Asus cu cards before. Was going to buy strix, this card is built better, faster and cheaper. Running this with older amd FX8120 (can't afford to upgrade mobo, ram and CPU), every current game runs at extreme settings, maxed out at 1920, with 60 fps. Love these cards. Did not sell extreme edition So a got the 1070 amp edition.

Funny I partly bought it because of the yellow stripe.

But...Zotac. Pass. I stick with EVGA for all my nVidia cards.

Not all EVGA, only if u take the FTW, other wise this one is better

How about film editing in 4k? Yes? No?

Yes, on 1 4k monitor, or 2 2k or 3 1080p ones
Windows Central Newsletter
Get the best of Windows Central in in your inbox, every day!
Thank you for signing up to Windows Central. You will receive a verification email shortly.
There was a problem. Please refresh the page and try again.