Zune officially expanding internationally this fall; Stream & Sync HD movies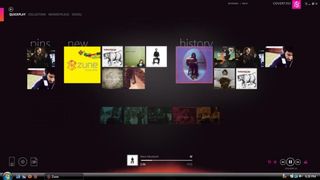 Microsoft just announced (opens in new tab) their international roll-out of the Zune music and entertainment service to more than 20 countries this fall. Seeing as the Zune marketplace and software is at the core of Windows Phone 7, this announcement is not too surprising, but it is welcomed nonetheless.
Beginning this fall (we bet October), Microsoft will make the Zune services available in U.K., France, Italy, Germany and Spain and 15 other European countries (part of that EFIGS list, no doubt). In addition, we'll see the new Zune software bumped to v4.7 which will add the Windows Phone 7 device support (goodbye ActiveSync!).
The Zune marketplace allows syncing of music, videos, podcasts (audio and video), pictures, games/applications and will now includes the ability to watch HD movies:
Huzzah! We like this a lot.
Prices in the U.S. will remain the same at $14.99/month for the Zune Pass (not required), which gives unlimited music downloads and the ability to "keep" 10 MP3s a month. (So much for that price reduction rumor).
No word on Mac support, but we're assuming Microsoft will do something about that in the future as well--after all, large updates to our new phones are reliant on desktop-syncing (with small updates available OTA).
What can we say? We love the Zune marketplace, Zune Pass and the ability for '3 screen' support of all our music, podcasts, pictures and now HD movies and TV. We can't wait till this all comes together in a few weeks...you?
Read the full presser after the break.
REDMOND, Wash. — Sep. 20, 2010 — Microsoft Corp. today announced the further international expansion of Zune, its digital entertainment service. This fall, Zune will expand its music and video footprint and bring the free Zune software, Zune Marketplace online store, Zune Pass1 music subscription service and enhanced features on Zune.net to new markets, providing a comprehensive entertainment experience on Windows-based PCs, on the go with Windows Phone 7 and in your living room through Xbox LIVE.2
"The integration between Zune, Windows Phone 7 and Xbox LIVE is an exciting expansion in our entertainment offerings," said Craig Eisler, corporate vice president, Interactive Entertainment Business Group at Microsoft. "Zune enables users to access the entertainment they want, wherever they want it — and now, more people than ever will be able to enjoy the freedom and flexibility that the Zune service offers."
Zune software has been upgraded with new features and functionality and will serve as the Windows Phone 7 synchronization client. The new software (version 4.7) will be available to download for free in more than 20 countries, including the U.K., France, Italy, Germany and Spain, to easily manage your personal collection of movies, music, podcasts and pictures. Zune software continues to set the standard for entertainment software, providing best-in-class experiences to organize, discover and enjoy digital media with a variety of exclusive features. For example, the Quickplay menu enables immediate access to recently played content and personal favorites, and Smart DJ 3 automatically creates playlists from your personal music collection and takes the extra step of mixing in suggested music from the Zune Marketplace. The updated Zune software will also enable instant streaming of high-definition movies, allowing you to watch some Zune Marketplace movies in HD, with no download time, directly on a Windows PC.
Zune Marketplace online store is accessible from within the Zune software and offers the ability to purchase millions of individual songs or albums from its catalog, all in MP3 format. Here, consumers can also subscribe to Zune Pass,4 which provides unlimited downloads and music streaming capabilities from the Zune music library, including content from major music labels such as Universal Music Group, Sony Music Entertainment, EMI Music and Warner Music Group, as well as thousands of independent labels. Zune Marketplace also has a large library of videos from major studios such as Paramount Pictures and Warner Bros. Digital Distribution for purchase or rental. Video purchases will be accessible through Xbox LIVE and Windows-based PCs, and can also be added to a Windows Phone 7. Simply buy your favorite video from Zune Marketplace and watch it on the screen of your choice.9
Zune.net is the perfect resource for consumers as it allows them to download the software and set up a Zune account with a new or existing Windows Live ID.5 Zune.net will also provide Web access to Zune Marketplace so you can purchase music or use a Zune Pass to stream music directly through an Internet browser,6 as well as purchase video content.7
Zune Expansion to New Markets
As Zune expands internationally, its music and video service will be tailored for each market. Genre experts will custom program Zune Marketplace and feature the top songs, videos, movies and unique promotions for each country.
The fall 2010 international expansion of the Zune music and video service includes the following:
Zune Marketplace will extend services to several markets in Europe and beyond.
Swipe to scroll horizontally
| | |
| --- | --- |
| • | Zune Pass (U.K., France, Italy and Spain). The monthly music subscription service will be available for 9.99 euros /8.99 pounds per month for unlimited download and streaming access to the Zune music catalog and will be accessible on Windows-based PCs, Windows Phone 7 and Xbox LIVE. The offer in the U.S. will remain at $14.99 per month for unlimited downloads and streaming access, with the ability to keep 10 MP3s per month.8 |
| • | Music purchase (U.K., France, Italy, Spain and Germany). Expansion to these markets will enable consumers to purchase MP3s and listen on their Windows-based PC, Windows Phone 7 or any other device that supports MP3 format. Users will also be able to purchase music videos to enjoy on Windows-based PC, Windows Phone 7 and Zune on Xbox LIVE. |
| • | Video purchase (U.K., France, Germany, Canada, Australia and New Zealand). Consumers will now be able to purchase movies to download and watch anywhere — on the big screen in the living room with Xbox LIVE or their Windows-based PC as well as sync it to their Windows Phone 7 to enjoy on the go.9 |
| • | Movie rental (U.K., France, Italy, Spain, Germany, Austria, Belgium, Ireland, Netherlands, Switzerland, Mexico, Canada, Australia and New Zealand). In addition to Zune video on Xbox LIVE, consumers in these countries will now be able to rent movies for viewing on their Windows-based PC or choose to sync the rental to their Windows Phone 7. |
The global expansion of the service is the latest step in a series of milestones for Zune, including powering Bing music search results, the added ability to purchase music and video on Zune.net, and the forthcoming integration with Xbox LIVE and Kinect for Xbox 360. By continuing to integrate Zune across the most important screens to consumers, Zune provides an all-in-one music and video service for users to discover, enjoy and experience their entertainment wherever they want.
About Zune
Zune is Microsoft's music and video entertainment service that provides an integrated digital experience across Zune devices, Windows-based PCs, Xbox LIVE and Windows Phone 7. The Zune platform includes a line of portable digital media players, elegant software, the Zune Marketplace and Zune.net online stores, the Zune Social online music community created to help people discover music, and the ZuneOriginals.net online media player customization store. More information can be found online athttps://www.xbox.com/en-US/ (opens in new tab).
About Microsoft
Founded in 1975, Microsoft (Nasdaq "MSFT") is the worldwide leader in software, services and solutions that help people and businesses realize their full potential.
1 Zune Pass available in U.K., France, Italy and Spain.
2 Zune Pass on Xbox 360 requires an Xbox LIVE Gold membership and a Zune Pass subscription.
3 Only available with Zune Pass.
4 Zune Pass is a music subscription; some Zune Marketplace songs and content are not available via Zune Pass. Available content may vary over time.
5 For cross-screen functionality, the same Windows Live ID needs to be used on the Zune software, Windows Phone 7 and Xbox LIVE accounts.
6 Internet browser support for Silverlight required.
7 Service features may vary based on market availability.
8 Keep 10 MP3s per month feature available to U.S. Zune Pass subscribers only, on their PC or Windows Phone 7.
9 Content available for download on multiple devices may vary over time. Availability of content and video resolution will vary by device.
Windows Central Newsletter
Get the best of Windows Central in in your inbox, every day!
Daniel Rubino is the Editor-in-chief of Windows Central, head reviewer, podcast co-host, and analyst. He has been covering Microsoft since 2007 when this site was called WMExperts (and later Windows Phone Central). His interests include Windows, laptops, next-gen computing, and for some reason, watches. Before all this tech stuff, he worked on a Ph.D. in linguistics, watched people sleep (for medical purposes!), and ran the projectors at movie theaters because it was fun.
I don't think Microsoft is going to make a MAC client for Windows Phone 7..
According to this Pocket-Lint article Microsoft says to use a PC if you have to upgrade the phone... here is the link: http://www.pocket-lint.com/news/35739/windows-phone-7-zune-software
and here is a quote in the article from Microsoft:
There will not be a Mac version of the software available Microsoft has confirmed to Pocket-lint in a one-to-one briefing.
"Mac users can do everything with the phone but you will need to use a PC to upgrade the phone's software or sync it your music and video library with your computer," Alex Reeve, head of Microsoft's mobile division in the UK confirmed to Pocket-lint.

Ugh spelled my own name wrong... it should be Stephen.. lol

That is their *official*, public position, so true on that. Unofficially though, Microsoft has a vested interest in a Mac version. I'll leave it at that.

Awesome. Its interesting that they are licensed in more countries to sell video than music. Hopefully they are able to ramp up the # of countries that have Zune Pass over the next 16 months.

So will the updated Zune software support 6.5 phones or only 7? I get good performance from Energy roms so i'm in no rush for 7.

I'm 99.9% sure Windows Phone 7 only, no WM6.x support :-/ Considering the WP team couldn't even wrap up the CDMA port... Plus the Zune store, music, video, etc. are not support on WM6.x, so there would be no way/point in doing so.

so what about ZUNE PASS and Music Purchasing for the other people that are getting WP7s?? (AUSTRALIA/NEW ZEALAND)
Microsoft better be looking at getting Music to other regions SOON
Microsoft, you need to be SERIOUS about music.. or iPhone/iTunes will still win... (iTunes the ONLY online store in Australia) Please give us Microsoft users an alternative SOON

>so what about ZUNE PASS and Music Purchasing for the other people that are getting WP7s?? (AUSTRALIA/NEW ZEALAND) I'm sure they're working hard on it, but they have to hammer out agreements in each area with the music/video companies. It's not for lack of trying but this is some big stuff they have to do, so I'm sure they'll get it straightened out.

I bet its very hard when the agrements with apple are exclusive to that contry... I'm sure the is language that if you use apple only they will sell songs for x price.. this happens even with food stores, here at the strip mall down the street sals pizza came in and they can't sell subs becuase subway had an exclusive in the agrement in the strip mall.. sal's had no idea and was bull @#$#

Wow its interesting to see that us in Australia will get video rentals/downloads but won't get music downloads. Cmon Microsoft - let's get serious about beating Apple and Itunes here.

this is great, however MS needs to align the WMC and WHC platforms to what they're doing with Zune....there's no official integration to either of those 2 really good platforms, and there needs to be in order to have a cohesive MS home experience....I like them all, use them all, but want them to work together seamlessly. Also, fix support for Digital Copies!! The fact that I can't use the digital copies of DVDs/Blurays that I get, while my iPod family/frieds all do is extremely frustrating.
Windows Central Newsletter
Thank you for signing up to Windows Central. You will receive a verification email shortly.
There was a problem. Please refresh the page and try again.