10 things you didn't know about Microsoft Cofounder Paul Allen
Microsoft Cofounder Paul Allen sadly passed away today. In his memory, here are 10 facts about the man that you might not know.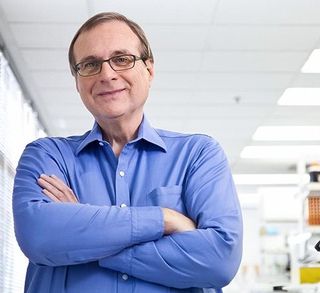 When you think of Microsoft and the men behind the company, one name probably comes to mind: Bill Gates. But most Microsoft fans also know that Gates did not found the company on his own, and Paul Allen, a childhood friend of Gates, was the company's cofounder.
Gates's name is more synonymous with Microsoft because he stuck with the company for a much longer period. But do you know when Allen left Microsoft? And why?
The answers to those questions are listed right here. Unfortunately, Allen passed away today from complications of non-Hodgkin's Lymphoma. He was 65 years old. Here are some quick facts about the memorable man.
Interesting tidbits about Microsoft Cofounder Paul Allen
Paul Allen left Microsoft in 1983, just eight years after founding the company with Gates in 1975. But he didn't leave because of any specific business reasons, at least that we know of and at least not officially. Allen left the company due to his battle with Hodgkin's Lymphoma. Allen eventually beat that cancer.
Allen met Gates when they were just young adolescents (14 and 12, respectively), while they were both students at Lakeside School in Seattle, Wash., according to Biography.com.
Allen was a Washington State University (WSU) dropout. He only attended the school for two years, but he would later donate $26 million to build the Paul G. Allen School of Global Animal Health at WSU. (Gates is also a college dropout.)
Paul Allen was No. 22 on Forbes's Wealthiest Americans of 2017 list, with a net worth of around $21 billion dollars. And that number is on the rise, according to Forbes. (Gates was No. 1 on that 2017 list with a net worth of about $92.1 billion. Yeah.)
Allen was not only the twenty-second wealthiest American, according to Forbes, he was the thirteenth richest man in American tech and the forty-second richest American billionaire. (Gates has frequently held No. 1 in both of those categories, as well.)
In his 2011 book, "Idea Man: A Memoir by the Cofounder of Microsoft,"

(opens in new tab)

Allen accused both Gates and former CEO Steve Ballmer of "ripping him off." He was referring to an alleged conversation he overheard between Gates and Ballmer about schemes to reduce his share in the company.
Allen owned or had partial ownership of three professional U.S. sports teams: the NFL's Seattle Seahawks (full owner), the NBA's Portland Trailblazers (full owner), and the MLS's Seattle Sounders (a partial stake in ownership).
Before ultimately succumbing to the disease, Allen beat cancer twice. More than two decades after his initial cancer diagnosis, Allen discovered that he had non-Hodgkin's Lymphoma. He would go on to beat that disease, at least for a while, but it sadly caught up with him.
Allen was a huge a Jimi Hendrix fan, according to Biography.com, and he played guitar in a band called Grown Men that released an album in 2000. And it's available on CD via Amazon …

(opens in new tab)

Allen iwas a bachelor. He'd never been married and had no kids. And he was known for his lavish parties ... for which he sometimes reportedly makes attendees sign non-disclosure agreements to attend.
Over to you ...
How many of these things did you already know about Paul Allen? If you didn't know all these facts, which one is most surprising to you? Do you know anything else about Allen that's worth sharing?
Updated October 15, 2018: We modified the text of this post and updated it to include information about Allen's unfortunate passing.
Windows Central Newsletter
Get the best of Windows Central in in your inbox, every day!
Al Sacco is content director of Future PLC's Mobile Technology Vertical, which includes AndroidCentral.com, iMore.com and WindowsCentral.com. He is a veteran reporter, writer, reviewer and editor who has professionally covered and evaluated IT and mobile technology, and countless associated gadgets and accessories, for more than a decade. You can keep up with Al on Twitter and Instagram.
What a way to make one's self feel like an ass. Too bad you can't delete obsolete comments.

Welcome to WC nowadays! (Now I realize WC stands for more than WindowsCentral.. if you catch my drift here.. so yes, welcome to WC)

Adam, childish comment. He was part of the inception of the PC revolution. He is part of the rich tapestry of computing history. He did more for the world than your pathetic comment.
Bad form mate.

I actually found this article interesting and informative. Thanks.

Based on the link regarding his private parties, he appears to be a reclusive, socially awkward, self-serving prick. What a guy!

Is that why he created the School of Global Animal Health?
What have those parties, his recluse quality and his social awkwardness cost you exactly?

Inb4 people try to find connections with "pizzagate"

Are you suggesting that Mr. Allen throws kinky sex parties that attendees are legally bound not to discuss? Interesting

No, he passes around the mythical Surface phone (shhh..it's not a phone) then after the party it goes back to being nobody it goes back to being a myth.

I suddenly like him more.

Wow, interesting facts I never knew, thanks 👌🏾

I like the non disclosure statement bit , if I were in his shoes I'D do the same. I mean the man has $21billion dollars to protect.

"And he's actually known for his lavish parties ... for which he sometimes reportedly makes attendees sign non-disclosure agreements to attend." I knew most of it but this one is new lol.

Nothing but praise. You, me, and my empty wallet should have a playdate, I'd be honored... Makes me wonder what Microsoft would be like if you never left. Maybe you should go back?

Paul Allen made such a huge impact in his lifetime, I dare any of you nay-sayers to even come close to being the magnanimous human being he was.
I love that he was so unpretentious...
"I Remember Paul Allen at NFL owners meetings. Richest man in the room (by far), wearing jeans and an untucked flannel shirt, sitting back studying and observing. And when he spoke -- albeit rarely -- it was pure wisdom" ~~~ Andrew Brandt.

9 of 10 i knew. Number 6 i didn't even tho i have the book 😅 for some reason i never got the chance to read it.

Have some respect, y'all? (for the people commenting here).

Most of these comments were from 9 months ago

After getting the cure for his cancer the first time, why did he remain separated from Microsoft?

He did played his part. Bill Gates & Paul Allen - the founders of Microsoft. That's quite an achievement for a lifetime. Well lived and RIP...

So, you're using the Allan's passing to post an "article" containing affiliate links? That's really poor taste WC. You gotta eat, makes sense, but have some standards and maybe not try to profit off a guys death?

Why do bloggers with second hand news insist that we mear readers dont know anything? The title 10 things you didn't know about Microsoft Cofounder Paul Allen" leads me to think that you think you are the one and only news source.

Oh! what a life without children to continue his legacy here on earth. This goes to show that earth is not good to store one's treasure but in heaven. His treasures are definitely going to be taken over by those who Mdid not know how he got to the top. If you haven't received Christ, the time is now because tomorrow maybe too late. Receive Him today and your eternal life will be guaranteed. May you be bless as you take this bold in Jesus name, Amen
Windows Central Newsletter
Thank you for signing up to Windows Central. You will receive a verification email shortly.
There was a problem. Please refresh the page and try again.