100GB free OneDrive storage through Bing Rewards is now available for everyone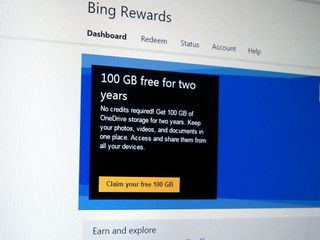 Feeling left out that Bing Rewards' 100GB OneDrive storage deal was U.S. only? You're in luck, as the offer is now available globally. All you have to do is head to this link after signing in to your Microsoft account to claim the free storage.
The storage is valid for two years, and the offer itself works as advertised:
What do you guys think of the deal?
Source: Bing Rewards; Via: GSMArena
Windows Central Newsletter
Get the best of Windows Central in in your inbox, every day!
Harish Jonnalagadda is a Senior Editor overseeing Asia for Android Central, Windows Central's sister site. When not reviewing phones, he's testing PC hardware, including video cards, motherboards, gaming accessories, and keyboards.
With this (thank you) and 1TB with Office365 I'm good :)

You do realise you can sign up for unlimited storage via Office365?!. I had confirmation that I was accepted yesterday. So I now have 10TB of cloud storage, which can be expanded upon indefinitely by emailing OneDrive CS.
Speaking of which, I managed to bag 4 years of Office 365 Home for the princely sum of £50 :) (4x Office 365 Personal codes, + 1x 1 month Home upgrade on the Office 365 website which converts all the licences to 5 user Home!).

Can you explain the O365 thing again please?

http://www.hotukdeals.com/deals/upgrade-existing-office-365-personal-1-user-office-365-home-5-users-for-1-off-7-2135803 (I've said this before, but I'm amazed how slack Windows Central are in revealing properly amazing deals. This one was first revealed by Paul Thurrott, and has been widely discussed on the internet...though the WC journo's are seemingly oblivious :) !)

Depends where you are in the world for deals. I use Business Essentials (have Office 2013 free on my Surface 2) as per link for UK. https://www.windowscentral.com/e?link=https2F%2Fmicrosoft.msafflnk.n...

10TB with Office 365 (unlimited coming soon if you've signed up here) and an additional 1TB for each other family member if you have the Home edition. BTW, thanks Microsoft! my mothers & our youngest accounts now has 130GB for pictures & WP's!


But how can I see how much storage is there in my onedrive.....

Open app > account > your email > here you go

Well u can go to OneDrive app then settings, accounts, choose ur personal acc and here u go

Great, oh come on MS! BUT what will happen after two years of we have files on it

You have to manage that I guess right? Be responsible for yourself...

You will only be able to delete or download existing files if you are over the limit.

You wont be able to upload files until you bring the storage down to have space for new files. I had to figure this out when I ordered the 100Gb from Bing rewards. At the moment I have 230 for free!

Your files won't be deleted. You can still access and share them, but you won't be able to upload more files until you add enough storage.

Wen in India? Wen in India?

Guys this is a joke, like seems faster, you get it?

I got it, but joke won't be always joke :p

Still showing unsupported region for me. I'm from indonesia :(

iya, gan, masih blm ada support buat daerah Indonesia :(
that's the sad thing... T_T

Wat after 2 years,if one doesn't buy extra storage,will the files be sealed away?

thanks,i am gonna use my whole 130gb :D

They will not be deleted after 2 years. You can access and share them. You'll need to add more storage if you want to upload more.

Woot awesome! Posted via the Windows Central App for Android

Great news! But Microsoft needs to advertise OneDrive as the most generous cross-platform cloud storage out there, and gain visibility. Same for OneNote and Outlook.com. People should know Microsoft offers great free services on all devices.
BTW, the 100 GB OneDrive bonuses will expire tomorrow. That's probably not a coincidence.

But least capable. In mean it's fine for general storage, but no versioning etc.

Microsoft Is the best! I just wish they had thought of everyone initially. Better late than never I guess!

Links don't work correctly in widows phone app

Huh.I didn't have any issue on my Lumia 930. What error are you getting?

Facing the same problem...
Shows..
Couldn't connect to Windows central:An exception occurred during a webclient request.

That's what happens when you click the link with Windows 8 WindowsCentral APP. Just go to their website and start it from there... That worked for me..

Already signed up for this...

Shows Bing rewards not available in your region...
I'm from India.

Just use this link to claim the offer after signing in to your Microsoft account. I'm from India too, and I was able to successfully get the free storage on offer.

Mee to ... Just login and give permission... Enjoy

It's awesome. Love it. Got all my music and some movies there so my SD card doesn't get bogged down all the time. I'm going to keep this service going.

US only... It's not what proxy said to me ;)

What happens after two years?

files will still be there but in read only mode, you can get subscription for office 365 ,which gives you 1TB of space, office for up to 5 pcs and 60 mins skype unlimited every month for i think 13 bucks

You can get the storage, but Bing Rewards isn't available in the UK yet. Is that correct?

After two years?? Need to pay or anything else??

Got the storage (India) actually I tried it before windows central posted it, and it worked I thought that was error/bug but yeah MS is offering it in many regions/country

its showing not available in your country...help me

What's meant by preview. One drive it's showing permission... Not mentioned in article... Pls someone reply....

Way I can do it in Bahrain if its only in the U.S.

Not US only, as stated in the article!

Got it... but also just got offered unlimited OneDrive storage for having Office365 subscription!

Cool! Infinity + 100. Can't get any better than that! Well, I suppose Infinity times infinity is better, but who could count the actual difference? ;)

Woww..... immediately claimed!!
Feeling rich.:p

Sweet, signed up for a few my accounts.

Just rewarded myself! Thanks for the news ;)

This article is late. Did this last week and I live in Holland

THIS is why I love Microsoft.

What's the bonus loyalty ? :)

Grabbed that last night and shared it to my hearts content.... :-). Thanks MS

really nice - workes in Germany ;)

WTF!!! Yesterday I subscribed for the paid 100GB and now this... Damn..

You may want to check on this. Someone was telling me last week that if you already had the 100GB, it extended it for an additional 2 years. If so, it would still save you money down the road. Doesn't hurt to check and see.

Fucking great. You are awesome, guys! Thanks MS

I wonder what will happen after 2 years.

Awesome thanks for the headsup! Now up to 160GB! :D Wish they would add unlimited storage at a reasonable price (Say 50% of Office 365). I already have Office 365, but the business sku, so I get unlimited storage (currently 1TB) on OneDrive Business, but seems a waste to take out yet another 365 to get the personal storage option :(

So what happens after two years? Ask u to pay or lose your data right...... Blackmail no? Holding your data to ransom. Nothing in life is free.... One way or another you pay.

You can just download your data. You'll get a notice well in time before they shrink your storage.

Your data will become read-only. You can still access that after your storage bonus expires.

SUPERB, Wow what a delight.
Many thanks from AUSTRALIA!!

How did you get it to work? I clicked on the link but it says 'not available in your region'

I've been trying all night in the UK and just will not work for me

Set your region and language to US. You may have to use a US VPN too. It worked for me.

Not in Estonia :-(, probably to close to russia

Can only get it one time (can't blame one for trying).

Still waiting to get my unlimited storage on OneDrive... Has anyone actually got that yet? It's been ages since MS reported it

What will happen after 2 years then???

wont be able to add more stuff. Whats already added will remain there.

Done.. Its great when MS considers users outside the US, this doesn't happen often enough. Now where is the Microsoft Band UK availability?

Hooray! My OneDrive's now 100Gb :D

Haha, some guy on reddit beat windows central to it. Got my free 100 gig last night. ;)

How to check my storage capacity

Windows central, the next time stop playing with your rich Lumia phones, and do your home work! It's not for everyone, only for the country have bing rewords! See and I don't need to have alot of phones to see the true! Dumm asss

What happens with the uploaded files after two years??
Can anyone provide me the info about it???

The files become read-only. The data can still be accessed, though.

Is this a Bing offer. It looks like offer for everyone!

how to get it ? pls help !

I'm happy with 20+ GB. 100GB is overkill for me.

Its free.... Best to take it. No matter how much you use.

What happens after those two years?

Too Bad for me Bing rewards only Works in the US

My all 4 live IDs now have 100 Gb ;)

It's nice to have the extra storage, even though I barely fill up 5 gb.

got it...thank you MS n WC

After 2 years data deleted.

Solid storage out of the web is all i need , so till ever my data will remain at my personal storage. U can buy so much disk space for no money these days ,so u can simply backup all you need on as many as you need places and use them right here right now. Except of course if your mobile is without sd slot and your tablet as well and you don't own a computer ....

Okay , if I used them all , all 100 GB After two years they will be gone ? And my uploads ?

Data will become read-only.

Auto subscription after 2 years or will just revert to original space?

Revert to original space... All the extra files become read-only.

I´m good with free storage but what the rest of the world really wants is the Bing rewards thing.

free!! ,but after two years, do u have to pay....?

The link doesn't seem to work if you use the Windows 8 app and internet explorer. It worked perfectly on Windows Phone though. :/

Good to have it for non US but I got about 10 TB for 4 years.... already used up more than 2 TB - backed up all pics from all phones and cameras.... not sure how much it would cost after 4 years!!!!

ok, i added it, but after the two years, ur going to have to pay, am i right?
if that the case, i want to cancel it and not be force to pay ,so i can keep my files.
where do i go for this?

Not bad. It'd be nice if this were permanent.

Please explain how to sign up

Perfect timing. My 100GB bonus from when they relaunched /rebranded as OneDrive expires tomorrow, so I just replaced it for another two years without having to move some things out.

Thanks for the tip Windows Central, and thanks to Microsoft !

After two year our data will be deleted???

Whew, I am glad about this move because I was running real low on OneDrive space. jk. Thanks MS.

So what if they ask you to pay a small amount after two years. Look at the amount they are spending on infrastructure. 100 GB and loads of freeloaders. Who is going to pay for all that?

Sweet! I think I'm finally going to upload some music to my account. I've been totally reluctant to do that on my 925 thanks to only 16GB. I'm a storage hog, lol.

2 years only :( I now I have 135gb, is there still a 250mb upload limit ? Could I upload files that are 2.5gb or larger ? Now that I have tons of space, it would be nice to put my personal servers backups in the cloud.

the limit is now up to 10 gigabytes or 10737418240 bytes so go ahead and throw everything at it simultaneously!

Yey! successfully increased my storage to 100 GB :)

Yay got it, finally in India.

Got it, Love it, Thank you Microsoft :) Combining OneDrive and MEGA for cloud storaging, it's a WIN-WIN Combination :)

What do they mean by 2 years? Suppose you have used all 100gb. After two years, would all the data be gone?

Thanks i got 100gb more in india

Awesome, up to 130gb plenty for me

I clicked the link expecting to be taken to a page that explains the deal, but instead I was taken to a page that accepted the deal. I thought that I had to log in to see if I was eligable and to compare it to my current plan. You should post the link to the page from which you've taken the screenshot. I already had 25gb locked with that early adopter deal last year... I hope that at the end of two years I'll still have at least 25gb.

Yeah im not sure I want to start paying for 200gb in two years time

you won't have to pay a penny; also it's just 100gb

Its more expensive to load/download data, am heading to the shop to get a Tera byte portable hhd! Problem solved.

And I still don't know what to put in it. :/ Also I got a 404.

I'm getting the same error. (Canada)

Same error here (South Africa).

Looks like Microsoft plugged the hole in their system, seems like the offer is not available anymore to non-US accounts.

It just worked for me in Australia. It wasn't working yesterday though.

Hey tried all the links mentioned in the comments like mentioned by @harish himself.. even tried opening those links from my phone.. i am always seeing a message like "Something went wrong"
Any one can help??

Me too. Either "Something went wrong" or "404" which indicate the destination is not exist.

Yep, it doesn't work now. I've already get 100GB for myself, but my girlfriend can't use the link.

But Bing isn't available in my country/region???

Not working for me :-( Click the link, nothing happens, refresh and it gives an error message. Tried on my phone and on my PC. I'm in the UK.

Anyone else getting a 404 error on the link?

I was getting a 404 on my phone and tablet, went to PC logged in to login.live.com to make sure cookie was up to date, now I'm getting the blank page, which if you refresh says not available in your region. I'm in UK too so its broken and currently not working for some users in the UK.

I get an error saying its not available in my location or region. I'm in the UK.

Go to http://preview.onedrive.com/bonus

I'm getting 404 error as well. Maybe MS pulled it after too many people signed up?

Got it already, Thanks to Zenmate.

Good, I'm glad that this extends to the rest of the world now, people were complaining too much. ;) Posted via the Windows Central App for Android

Link not working for me in Canada. Page doesn't load, then I try refreshing and get an error. After that it kicks me back to the "Bing rewards not available in your country" message.

Says its not available in the UK? What's up with that?

Globally? Maybe but Bing rewards is not available globally to begin with

Maybe you should have researched better? It's not working for anyone!

Worked for me the day this was posted, just shared the link with my friend and not working any longer. I still have my extra 100gb though (UK)

Link not working in Argentina. I wonder when did this work exactly for non-US people. Ah well, again.

SCAM, Bing Rewards are not available in Canada !

You can only get the 100GB free storage through Bing Rewards and Bing Rewards is for US only.

US only.... Nice, fuck Europe, that's Microsoft for ya....

Same thing with Xbox, when you live in a shitty little country like Belgium, you're basically screwed.... We are not even allowed to use the English language on our Xbox One, everything Is in goddamn French....

Bing reward not available in your country....Italy :'-( even usink the posted link

How could it possibly work world-wide when Bing Rewards is only available in US?!?!?!

Worked for me the day this was posted, just shared the link with my friend and not working any longer. I still have my extra 100gb though (UK)

Verified. Greece here getting pissed in the face by MS in yet another app / support / service / offer. Who does exactly this "worldwide" expression include other than US / UK?

It worked for me yesterday here in Saudi Arabia, but now it tells my friends that Bing rewards is not available in here. Has something changed?

Come on WPC. How about some of that famous dogged research you're so good at and find out what gives. Or at least an update. Or, you know, something.

No... I am in Ireland. I follow the link above and it just says - bing rewards not available in your country. Am I missing something?

You're not missing anything. It's just not available in Ireland. We're always being forgotten here.

From the Oxford English Dictionary - global [gloh-buhl] adjective 1. pertaining only to the whole of the mainland United States; not worldwide; not universal: 2. in no way comprehensive

Hmm I'm from Mexico, when I click the link it says "Please return to your Bing Rewards dashboard here to redeem this offer. Not yet a Bing Rewards member? Sign up here. US only." and when I click again it says "Bing Rewards isn't available yet in your country or region." So yeah, it's not available globally

Yep not worldwide. Bing Rewards is USA only

its not available in india....... it is showing .... Bing Rewards isn't available yet in your country or region. help me ...

Doesn't work. Just brings me to https://preview.onedrive.com/bingrewardspromo/TimestampExpired/Index Canada

Still says this new link is unavailable in my region. Guess Norwegians aren't cool enough to get more storage.
Windows Central Newsletter
Thank you for signing up to Windows Central. You will receive a verification email shortly.
There was a problem. Please refresh the page and try again.