Numerous Windows Phone 7 Xbox games delisted this week over In-App Purchase issues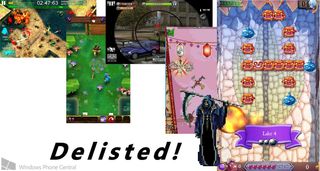 When Windows Phone 8 launched in November of last year, it soon become clear that certain Xbox Windows Phone 7 games were incompatible with the new OS. Microsoft's immediate solution to the problem was to partially delist all of those games, removing their listings from the Windows Phone website. They did this without informing the developers of those games. After we published an article exposing the issue, the games eventually made it back to the web store with updated compatibility information.
We tell you all this because Microsoft has just made a similar but even more harmful maneuver. This week, no less than eleven Windows Phone 7 games were completely delisted from the Store. They can't be redownloaded by people who purchased them. And several of the game's developers were NOT informed by Microsoft of the issues leading to their removal or the removal itself. Read on for the full scoop!
Games gone away
Beards & Beaks
The following games have been delisted:
Beards & Beaks from Microsoft Studios
Bug Village from Glu Mobile
Chickens Can't Fly from Amused Sloth
Contract Killer from Glu Mobile
Extraction: Project Outbreak from Chillingo
Gun Bros from Glu Mobile
KenKen from Capcom (does not have IAPs)
Monster Burner from Ubisoft
Tentacles from Press Play/Microsoft Studios
Turn N Run from MaxNick
Zombies!!! from Babaroga
The reason for their removal (other than KenKen) is simple: In-App Purchases. For unknown reasons, Windows Phone 7 never had a proper platform-wide In-App Purchase protocol. Every game published for the older OS that included IAPs did so by accepting Microsoft Points as currency. No other payment methods were supported, nor was the Microsoft Points payment available to non-Xbox games or apps. Not the most well-conceived system.
That strange choice of payment systems came to bear when Microsoft finally decommissioned Microsoft Points entirely last month. The Microsoft Points balances of Xbox 360 users automatically converted to local currency, the new payment standard for all Microsoft platforms.
Gun Bros
Unfortunately, it seems that Microsoft completely forgot about the 11 Windows Phone games listed above (and a few more we'll get to in a moment) in the time leading up to that conversion. With Microsoft Points no longer in circulation, the In-App Purchases of those games simply ceased to function. That was particularly damning to Bug Village, Contract Killer, and Gun Bros. None of them good games, but all were free to play and thus relied on IAPs to make a profit.
I would argue that the solution to the problem is to contact the developers and either provide them with a new payment protocol or ask them to remove IAPs from their games via update. But Microsoft's solution was simply to delist all eleven games entirely, even the ones that weren't free to play.
Worse, it appears that Microsoft did not notify several of the developers – if any. We contacted all of the affected developers (other than Capcom, who have never been willing to discuss KenKen in any capacity), and multiple developers responded that they had not been contacted by Microsoft about the IAP issue or the delisting of their games. These game creators learned of the situation from customer complaints, not the platform holder.
Developer responses
Not every affected developer wanted to publicly comment on the issue, and we're still waiting on responses from a few of them. But we do have official responses several. If more responses come in, we'll add them to this section of the article.
Babaroga
Andreja Djokovic of Babaroga explained:
Zombies!!! - a horror-themed board game - launched on Windows Phone 7 in January 2011. Its sole downloadable expansion 'Zombies 3.5' arrived in March 2012. That expansion was sold as an IAP and led to the game's delisting. The 'Zombies 3.5' expansion is not available for the Windows 8 version of Zombies!!! and thus that version remains unaffected by these circumstances.
This will not be the first instance of an Xbox Windows Phone game leaving the Store and returning as an indie game. Doodle Jump, originally published by Game House on Windows Phone 7, disappeared earlier this year when the game's publishing agreement expired. Creator Lima Sky later self-published Doodle Jump as an indie game on Windows Phone 8. Other games like Fairway Solitaire (which Babaroga ported for Big Fish Games) have been announced as Xbox titles only to drop Xbox status prior to release.
Amused Sloth
Catalin Zima-Zegreanu of Amused Sloth delivered a slightly more upbeat response:
Chickens Can't Fly arrived in February 2012 as part of that year's Must Have Games promotion. A few months later received a massive content update that rebalanced the difficulty, fixed Achievement issues, and added avatar awards. The same update added two IAPs: a new level and a set of character skins. We later went on to name Chickens Can't Fly as one of the five best Xbox Windows Phone games of 2012. Amused Sloth will soon be releasing their game on iOS and Android. Let's hope they can bring it back to Windows Phone as well.
MaxNick
Nikolay Verevkin of MaxNick writes:
Turn N Run launched in November 2012. It briefly experienced Windows Phone 8 compatibility issues, which the developers quickly fixed. Its IAPs consisted of optional hint purchases.
Miniclip games
Not every Windows Phone 7 game with IAPs has been removed from the Store. Four games from Swiss publisher Miniclip remain on the Store:
Gravity Guy
Fragger
iStunt 2
Monster Island
Gravity Guy actually received an update earlier this week that removed its IAPs. Before, players could buy "Slowdowns" in order to make the game's steep difficulty more manageable. Post-update, any Slowdowns the player had (including three uses provided with new installations) will still be available for use. Miniclip simply removed the ability to buy more of them. As you might expect, this makes the nearly impossible game pretty much fully impossible. But at least it's still around.
As for the other games, all three still have their IAP screens intact. The IAP items are listed in Microsoft Points, as you can see from the Monster Island screenshot above. Of course the purchases don't actually work.
It's quite possible that Miniclip will update its remaining Windows Phone 7 games and remove their IAPs as they did with Gravity Guy. We're curious how those games survived the culling. Perhaps Miniclip negotiated something with Microsoft? We've reached out to the publisher and will update this section if they respond.
Chances for return
Poor KenKen didn't even have IAPs.
Two representatives from Microsoft have commented on the IAP and delisting issues via the Xbox support forums:
Based on how the Windows Phone 8 compatibility issue played out, I expect that only a few of the 11 games will return to the Store. Of the 32 games to have experienced Windows Phone 8 compatibility issues, 21 remain incompatible. KenKen (which played fine on Windows Phone 8 and yet inexplicably became unavailable on WP8 devices shortly after release) is probably not coming back.
Thanks to Axel for the original tip!
Get the Windows Central Newsletter
All the latest news, reviews, and guides for Windows and Xbox diehards.
Paul Acevedo is the Games Editor at Windows Central. A lifelong gamer, he has written about videogames for over 15 years and reviewed over 350 games for our site. Follow him on Twitter @PaulRAcevedo. Don't hate. Appreciate!