Numerous Windows Phone 7 Xbox games delisted this week over In-App Purchase issues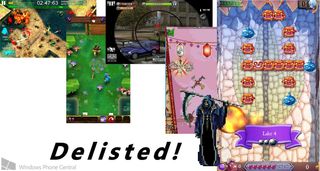 When Windows Phone 8 launched in November of last year, it soon become clear that certain Xbox Windows Phone 7 games were incompatible with the new OS. Microsoft's immediate solution to the problem was to partially delist all of those games, removing their listings from the Windows Phone website. They did this without informing the developers of those games. After we published an article exposing the issue, the games eventually made it back to the web store with updated compatibility information.
We tell you all this because Microsoft has just made a similar but even more harmful maneuver. This week, no less than eleven Windows Phone 7 games were completely delisted from the Store. They can't be redownloaded by people who purchased them. And several of the game's developers were NOT informed by Microsoft of the issues leading to their removal or the removal itself. Read on for the full scoop!
Games gone away
Beards & Beaks
The following games have been delisted:
Beards & Beaks from Microsoft Studios
Bug Village from Glu Mobile
Chickens Can't Fly from Amused Sloth
Contract Killer from Glu Mobile
Extraction: Project Outbreak from Chillingo
Gun Bros from Glu Mobile
KenKen from Capcom (does not have IAPs)
Monster Burner from Ubisoft
Tentacles from Press Play/Microsoft Studios
Turn N Run from MaxNick
Zombies!!! from Babaroga
The reason for their removal (other than KenKen) is simple: In-App Purchases. For unknown reasons, Windows Phone 7 never had a proper platform-wide In-App Purchase protocol. Every game published for the older OS that included IAPs did so by accepting Microsoft Points as currency. No other payment methods were supported, nor was the Microsoft Points payment available to non-Xbox games or apps. Not the most well-conceived system.
That strange choice of payment systems came to bear when Microsoft finally decommissioned Microsoft Points entirely last month. The Microsoft Points balances of Xbox 360 users automatically converted to local currency, the new payment standard for all Microsoft platforms.
Gun Bros
Unfortunately, it seems that Microsoft completely forgot about the 11 Windows Phone games listed above (and a few more we'll get to in a moment) in the time leading up to that conversion. With Microsoft Points no longer in circulation, the In-App Purchases of those games simply ceased to function. That was particularly damning to Bug Village, Contract Killer, and Gun Bros. None of them good games, but all were free to play and thus relied on IAPs to make a profit.
I would argue that the solution to the problem is to contact the developers and either provide them with a new payment protocol or ask them to remove IAPs from their games via update. But Microsoft's solution was simply to delist all eleven games entirely, even the ones that weren't free to play.
Worse, it appears that Microsoft did not notify several of the developers – if any. We contacted all of the affected developers (other than Capcom, who have never been willing to discuss KenKen in any capacity), and multiple developers responded that they had not been contacted by Microsoft about the IAP issue or the delisting of their games. These game creators learned of the situation from customer complaints, not the platform holder.
Developer responses
Not every affected developer wanted to publicly comment on the issue, and we're still waiting on responses from a few of them. But we do have official responses several. If more responses come in, we'll add them to this section of the article.
Babaroga
Andreja Djokovic of Babaroga explained:
Zombies!!! - a horror-themed board game - launched on Windows Phone 7 in January 2011. Its sole downloadable expansion 'Zombies 3.5' arrived in March 2012. That expansion was sold as an IAP and led to the game's delisting. The 'Zombies 3.5' expansion is not available for the Windows 8 version of Zombies!!! and thus that version remains unaffected by these circumstances.
This will not be the first instance of an Xbox Windows Phone game leaving the Store and returning as an indie game. Doodle Jump, originally published by Game House on Windows Phone 7, disappeared earlier this year when the game's publishing agreement expired. Creator Lima Sky later self-published Doodle Jump as an indie game on Windows Phone 8. Other games like Fairway Solitaire (which Babaroga ported for Big Fish Games) have been announced as Xbox titles only to drop Xbox status prior to release.
Amused Sloth
Catalin Zima-Zegreanu of Amused Sloth delivered a slightly more upbeat response:
Chickens Can't Fly arrived in February 2012 as part of that year's Must Have Games promotion. A few months later received a massive content update that rebalanced the difficulty, fixed Achievement issues, and added avatar awards. The same update added two IAPs: a new level and a set of character skins. We later went on to name Chickens Can't Fly as one of the five best Xbox Windows Phone games of 2012. Amused Sloth will soon be releasing their game on iOS and Android. Let's hope they can bring it back to Windows Phone as well.
MaxNick
Nikolay Verevkin of MaxNick writes:
Turn N Run launched in November 2012. It briefly experienced Windows Phone 8 compatibility issues, which the developers quickly fixed. Its IAPs consisted of optional hint purchases.
Miniclip games
Not every Windows Phone 7 game with IAPs has been removed from the Store. Four games from Swiss publisher Miniclip remain on the Store:
Gravity Guy
Fragger
iStunt 2
Monster Island
Gravity Guy actually received an update earlier this week that removed its IAPs. Before, players could buy "Slowdowns" in order to make the game's steep difficulty more manageable. Post-update, any Slowdowns the player had (including three uses provided with new installations) will still be available for use. Miniclip simply removed the ability to buy more of them. As you might expect, this makes the nearly impossible game pretty much fully impossible. But at least it's still around.
As for the other games, all three still have their IAP screens intact. The IAP items are listed in Microsoft Points, as you can see from the Monster Island screenshot above. Of course the purchases don't actually work.
It's quite possible that Miniclip will update its remaining Windows Phone 7 games and remove their IAPs as they did with Gravity Guy. We're curious how those games survived the culling. Perhaps Miniclip negotiated something with Microsoft? We've reached out to the publisher and will update this section if they respond.
Chances for return
Poor KenKen didn't even have IAPs.
Two representatives from Microsoft have commented on the IAP and delisting issues via the Xbox support forums (opens in new tab):
Based on how the Windows Phone 8 compatibility issue played out, I expect that only a few of the 11 games will return to the Store. Of the 32 games to have experienced Windows Phone 8 compatibility issues, 21 remain incompatible. KenKen (which played fine on Windows Phone 8 and yet inexplicably became unavailable on WP8 devices shortly after release) is probably not coming back.
Thanks to Axel for the original tip!
Windows Central Newsletter
Get the best of Windows Central in in your inbox, every day!
Paul Acevedo is the Games Editor at Windows Central. A lifelong gamer, he has written about videogames for over 15 years and reviewed over 350 games for our site. Follow him on Twitter @PaulRAcevedo. Don't hate. Appreciate!
Hmm I guess I should've bought the Tentacles one when I had the chance. I haven't finished the main story yet, so I was waiting for that to happen ;) I think it would be quite disappointing if most of these games aren't brought back, even if it's without any IAP.

It will be especially sad since Microsoft still has it available for iOS: https://itunes.apple.com/us/app/tentacles-enter-the-dolphin/id536040665?mt=8
I purchased Tentacles the day before I switched from WP7 to WP8 so I never got to play it.

Similar story. At times im hopeful for the game situation to change however news like this convinces me that games on their mobile platform aren't a priority.

Going forward once, backwards once seems to be the Microsoft way. Sigh.

Not a good move. I lost tentacles awhile back when I got windows phone 8

Yeah, it's ridiculous that they never patched it for WP8.

Tentacles is one of the best games that are here on WP. I also didn't finish the main history and I always waited for the time when we be able to play it on WP8. Sad...

That's Microsoft telling you you should have bought an iPhone.

That's not a secret. If you care about games it's iOS > Android > Windows Phone.

Great way to piss off potential devs...

"(other than Capcom, who have never been willing to discuss KenKen in any capacity)," It's because Capcom USA didn't make the game. That's just one of many reasons...

True, but it's still silly that nobody could point me to someone who would comment on it. Or that they reclassified it as WP8 incompatible when it was perfectly compatible. And now the delisting.

Sorry, but Gun Bros was a good game, not perfect but very enjoyable. Got all achievements for it and enjoyed playing with my Xbox live friend's Bro.

I've never forgiven it for completing losing my level progress when I was on the 9th world. So many hours of gameplay wasted. Plus all the other bugs that they never fixed.

Happened to me too. I also lost all my "infinity" armor as well. Btw, no more Greed City?

Shame about losing your progress and items. Yeah, I grew out of Greed City. I was checking in every day but I realized I didn't enjoy it any more. Playing new games to review takes up so much of my time anyway.

*sigh* yet again no one at Microsoft knows wtf is going on and remains uncommitted to Xbox for Windows Phone.

Sometimes it feels like Microsoft is just completely trolling its best customers.

Because of Microsoft's design of the store, the type of people who buy stuff with In-App Purchases are now losing their content... and as mentioned, many Xbox Games didn't carry over from WP7 to WP8.

These people who are constanly buying things are mostly going to be their best consumers, and Microsoft just shafts them time and time again. At the very least, they need to change the store so that even if a product is pulled, people who already bought it are still able to download it.

Hated Bug Village. Beat the game as much as I could but 1 achievement was busted. Didn't play too much Monster Burner.

Paul do you have any knowledge of how this issue (or issues) fair against the android or iOS gaming community? For example "Of the 32 games to have experienced Windows Phone 8 compatibility issues, 21 remain incompatible" This is a pretty big deal -_- are the devs just lazy, or has Microsoft gotten in the way?? Cause damn man, stuff like this hurts an ecosystem.

It's mostly a case of either Microsoft (who published some of those games) or other publishers not wanting to deal with the time and expense of solving the compatibility issues. Said issues stem from how WP7 and WP8 handle memory differently, apparently.

You know for a platform where availability of apps is its biggest problem, you'd think Microsoft would be interested in cozying up to any and all developers they can. It's good to see most of the devs still intend to develop for the platform, but Microsoft needs to win over more developers to get more apps that are available on iOS and Droid. Actions like this aren't going to win anyone over.

Chickens Can't Fly is a great game. I am glad to already have it on my phone. Chickens Can Dream (http://www.windowsphone.com/en-us/store/app/chickens-can-dream/3282eec1-263d-e011-854c-00237de2db9e) is still available and is fun as well.

first world problems huh?
its not like they get deleted from peoples phone anyway, and if you have to reset your WP today... well better get iPhone or Android with a good custom rom, because reseting a phone sounds like not the right thing to do to fix things, and then puff, you wouldnt have to redownload these games... because again, its not like these games will disappear from your phone, and new users wont care about a game they dont even know that exists.

and well, Im sure some games of these will happy comeback later. so whatevers.

So. . . If you must reset your phone you might as well jump to another platform,but don't reset your phone because that won't fix it. Got it?

So where is Joe Belfiore on this stuff? Where are the other WP team leaders? Do they understand that this just kills the platform. As a dev, this type of news just another brink in the wall. Eventually you just cancel your Surface 2 pro pre-order and go pick up a Mac Air. It's just insane that is happening the way that it is. Between this and stuff like the ATT GDR2 for the 920 fiasco, it's tough to stay optimistic. Do you even care any more MS or are you still hungover from the Ballmer going away party?

I should think that its up to developers to fix their games if they were notified but it seems like most havent.

I agree it is up to the devs to fix these things, but it's in MSs best interest to notify them ahead of time and work with them. Honestly, this is a small thing in the grand scheme. The negative press is just piling up though and morale is moving lower. Biggest two issues right now is the battery drain issue and the inability to get WP8 updates to users in a quick manner. This issue in this post is a minor one.

In fairness, Windows 8 wouldn't have this exact issue because it never dealt with Microsoft Points. Also, can't Windows 8 users somehow back up a game after purchasing it? That's a luxury we've never had on Windows Phone.

If it was a Win 8 Store app, then the same issue would be there. Of course normal non-store games could be backed up (or at least the machine could be backed up). When my Technet account was about to expire, they had no problem contacting me ahead of time (emails, snail mail and phone calls). Seems they could have put a fraction of that effort into contacting these devs before the delisting.

I'm sick of this crap, if you've already bought the games they should be available to download.

The same type of things will be done to Nokia Devices division.... a lot of it just BS

This is getting out of hand. It would take a full time job to call and get a refund everytime an app I bought is removed and no linger retrievable. For the last god damn time, Microsoft, there is no reason I shouldn't be able to back these up locally. One step forward, sixteen back...

Any news on whether Sid Meyer's Pirates! will be enabled for WP8? I bought it on my HD7 and it's still unavailable to download for my 920, apparently due to the screen res!?

It's not the screen resolution. The game is simply WP8 incompatible, and at this point 2K Games is unlikely to fix that. Read our WP8 incompatibility article for more information.

Wow Microsoft. Get your act together. Like you don't have the resources to keep problems like this from occurring. And then give us half-assed answers.

Nooooo not chickens can't fly that game is awesome

Have played all the mentioned Glu games and found 2 things in common- free and buggy. Even monster burner was annoying with no volume control options but it was otherwise okay. Was thinking of completing the achievements later if they fixed it.

My Lumia 800 is becoming a Xbox history museum. Its going to be my nostalgic phone.

Good one...don't uninstall anything off it.

They still haven't updated the Xbox hub on wp7

Very poorly planned out by Microsoft. They are not in the position to alienate developers (and even if they were it would still be a bad idea). I hope they resolve the issue, apologize to developers, and incentivize them to continue supporting Windows Phone.

Microsoft has been on a quest to alienate developers for many years now. It's part of a larger trend of taking all strategic advantages of the company and flushing them down the toilet.

Uh... will i get my refund?

I contacted Microsoft and successfully received refunds on two of the games, although I own all of them. Better than nothing!

Could you share how did you contact MS? like a email address or link, thanks!

I'm glad zombies is being self published, as that usually means more updates. I really like that game :)

Wow Microsoft, this is how you treat people and support them, by ripping them off some games that they bought last year or this year and now they cannot use them anymore because they are delisted for good?
First of all, all this MSP system was a whole crap and bs, seriously, why can't you take Sony's example sometimes and use real local currency for games and DLC? It would be much more easier to manage all this and things like this will never happen in future. Until now, I already lost 5 purchased games because they were delisted for good or because I have to rebuy them again (Fruit Ninja is a good example). If you can't manage all these license problems and certification with XBL and achievements, then don't release XBL enabled games if it's just to remove them few months later. If I remember correctly, KenKen is a 5$ game, people who bough it are really pissed now I guess. Then we have the Gayloft games with broken, glitched chievos, the price still the same for all of them (5$ for the golf game, 7$ for MC4, 6$ again for the spiderman games and so on. Do you think this is a good business and a good way to support games and people who buy the games?
Then we also have this cross by/Windows stores union thing, Sony already did that (and continue to do this with Vita and PS3), when you buy a game on the PSN on Vita, you will get the same game on the other platform (PS3 and vice versa) and you don't need to pay again. This is not the case with you MS, paying twice for Halo SA (7$ each) is not everybody that is gonna do until this is fixed too. So change/do something about all this, then we can talk about support and care, but for now, I only see a good way to rip people off for good.

Please edit your post and remove the word Gayloft. Thanks.

Sorry, Gameloft..i cannot edit my post

Well written article Paul.
I understand why MS did this, but not contacting publishers seems kind of ridiculous and unacceptable. MS seems to cut corners wherever they can, or they just feel they're so powerful that they don't need to extend common courtesy to these publishers.

No apps should be delisted ever, unless its for legal reasons. It such a hassle getting a refund each time an app I paid for is delisted.
Microsoft should keep the apps available for download for people who paid for them or for free apps for people who downloaded them.
Delisting of these 'free' apps with IAP should teach everyone who spent (wasted) tons of $$$ for IAP to never support developers who implement IAP. One main reason: you are never getting a refund for IAP, but if you bough the game outright you can get a refund if its delisted.


Yep, they just keep taking them away as if we didn't pay for some of them. We are the early adopters that shelled out up to 3-4 dollars for some of these games and what do they do? Take them away. I'm getting tired of my games (talking about paid ones) being pulled from the store with no hope of ever recovering them. WTF MS? I pay for my stuff, why do you take it away? This is BS! On a side note... How do I get my money back for games I've paid for?

THIS IS WHY I HATE DIGITAL DOWNLOADS!!!!!
THANK GOD MICROSOFT KILLED THAT CRAP WITH THE NEW XBOX ONE.

Xbox One will still have lots of digital games...

This is why i switched to PS4, even if they have digital downloads (it should have, i know) at least sony support their people and instead of screwing people over with licenses and all this things, they do something for it.
The PSN is already a cross by platform between the ps3 and vita, i hope it will stay the same for the ps4 too. paying twice for a game because the store is different from one platform to another is not cool, seriously. MS had 7-8 years to fix that, instead they said: We are not rich enough, let's rip people off more by charging them twice for a game on WP8 or Win8/RT. Yeah, there was 2 games, Galactic Reign was one of them who was delisted too in August (and also cost 5$)



OMG AGAIN WITH THIS DELISTED SH*T. MICROSOFT , GIVE US A ABILITY TO REDOWNLOAD YOUR GAMES ONCE AND FOR ALL. YOU WOULD DELIST A BUNCH OF GOOD GAMES OVER NON WORKING IAP. PATHETIC MOVE , NOT HAPPY MICROSOFT!!!!!

IM NOT BUYING XBOX PHONE GAMES EVER!

Okay, but there's no need to yell. ;)

I seriously can't believe what they are doing. Why can't they just at least leave them all alone and the IAPs just don't work? (like the Miniclip games). It wasn't a huge priority, but I wanted to get Beaks and Extraction at some point (already played all the others).
The ones that really IMO are/were "must buys" is Chickens Can't Fly, Tentacles, and Zombies!!!! I enjoyed all three of those immensely.

I want my damn dodonpachi back!!

Whats wrong with monster burner? That game is supported windows phone 8. (or maybe i didnt read fully?)

You missed the jist of the article, yes.

Don't celebrate ignorance. It's bad for you.

Maybe they will update Tentacles for Windows Phone 8 too......<slap> I had to wake myself up there..
Windows Central Newsletter
Thank you for signing up to Windows Central. You will receive a verification email shortly.
There was a problem. Please refresh the page and try again.