17 Reasons to Buy a case for your HTC One (M8) for Windows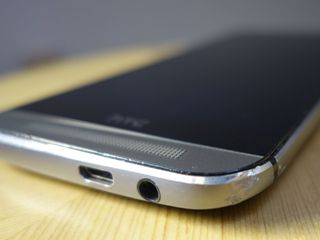 My 17 reasons to buy a case for the HTC One (M8) for Windows Phone in reality boils down to ONE BIG reason - it's a slippery phone! In addition to the hardware being beautiful in all its metal-given glory, it is also easy to drop. And drop my HTC One M8 I did... I accidentally dropped mine SEVENTEEN TIMES in the past four months. What follows is an account of how it held up over that time and of eventually what busted. The TL;DR? You will probably want to buy a case for it.
Disclaimer: The hardware I conducted this long-term HTC One drop test on was actually the Android version of the HTC One. I initially posted the story to WPCentral's sister site, Android Central (you can read it here). With the actual M8 hardware between the Android version and Windows Phone version being essentially the same, WPCentral's Editor in Chief, Daniel Rubino, asked that I re-post the article here for the benefit of all WPCentral readers and current/soon-to-be M8 for Windows owners. Dan's full review of the HTC One (M8) for Windows is coming soon, and the team will also be reviewing a whole bunch of cases for the M8 as well. If you're wondering why they're going to be reviewing a bunch of HTC One (M8) cases, read on! It will all make sense soon.
Here's what happened to my HTC One M8 after accidentally dropping it 17 times without a case...
Let me preface this article by saying I absolutely did not set out to conduct a HTC One M8 drop test. Sure, it's always a guaranteed gold mine of youtube views when a new phone is released to record it making a big ol' kissy face with a nice patch of concrete. Hell, I'm guilty of having done that myself — the second video I ever uploaded to youtube, over seven years ago now, featured me throwing a phone wayyy up into the air. That said, this long-term drop test began much more innocently... I just wanted to use the HTC One M8 as my daily driver for the summer.
How This Saga Began
I owned the HTC One X and HTC One M7 previously, and thought the new M8 the sexiest of the bunch, so I picked one up from the Rogers store the day it landed in Canada. When it comes to protective cases, I often use them. Beyond protection, some phones just feel better in a case. Other phones I find have enough grip and texture that I feel you can get away without one. And when you're lucky enough to work in tech media as I do, you have the luxury of not needing to worry about protecting your phone as much as the average person, since you're never more than a few months away from getting your next phone to play with (unless you write for iMore, in which case... once a year! Lol). If I wasn't doing this for a living, I'd always use a case with my phone - without one I'd never make it through a two-year contract. The first phone I dropped and broke was my Motorola StarTAC digital (it slipped out of my hands and fell into a snowbank walking home drunk from a New Year's party - I didn't know the bowl of rice trick back in '99 and it died of water damage) and since then I've accidentally dropped my phones literally hundreds of times.
With my HTC One X, I never used a case. The One X was a bit slippery to hold, but the plastic composite material felt durable enough that I risked not using a case with it. Plus, the One X boasted Gorilla Glass, which suggested the screen could take a beating. Unfortunately, even Gorilla Glass doesn't protect from stupid. I managed to drop my One X on the floor after returning home from a jog - I blamed the shaky, sweaty hands. The phone unfortunately fell screen face down and it shattered. You can read my original report on this here, and see the damage below. The poor thing :(
Suffice to say, when I picked up my HTC One (M7), I immediately put a skin on it. I felt guilty covering up that beautiful metal body, but the phone felt quite slippery in my hands and I didn't want a repeat of the One X incident. That HTC One is still in great condition, and has long since been passed on to another member of the Mobile Nations team.
With the HTC One M8, my original plan was to pick up the uber-cool Dot View case for it. HTC was brilliant to design a protective cover like this. You get the benefit of having some protection, but you don't feel guilty covering up the phone as it's such a cool, functional case. If you're not familiar with it, you can watch Daniel Rubino's hands-on with the Dot View case below:
When I picked up my HTC One M8, the Dot View case wasn't yet available for purchase. So while I waited for my order to arrive, I took the risk of using my new M8 naked.
It only took two days before I accidentally dropped the phone. Similar to how I broke my HTC One X, it slipped out of my hand and fell on the floor of my condo, screen down. I was sure when I went to pick it up that the screen would be shattered, but it was totally fine. A couple days later, I dropped it again, this time on a Friday night at a friend's house. It fell on concrete. I was SURE the phone would be all scratched to hell, but it was OK. I could see one teeny weeny little dent in one corner, but it wasn't really noticeable at all. That was twice that I dropped it in less than a week. Clearly this was a slippery phone, but it seemed to be proving a tough phone as well.
At that point, I decided I wouldn't even use the Dot View case when it arrived and instead would keep using the phone naked throughout the summer, while keeping track of how many times I dropped it. I would conduct a long term drop test for the good of all Android Central readers and watch how well the HTC One M8 could stand up to Butter Fingers Michaluk.
17 Accidental Drops Later
Image 1 of 8
Swipe through the gallery above and you can see the status of my HTC One M8 a few months and SEVENTEEN accidental drops later. The 17 falls took a variety of forms as they happened. Typically the One fell out of my hand at waist level, or closer to chest level. Sometimes the phone fell on corners, other times screen down or screen up. Sometimes it fell on the hardwood floors, sometimes concrete and a couple of times gravel. Sometimes I was sober went it happened. Other times, not so much. On these occasions, I believe the phone fell to the ground harder than normal, but you'll have to take my word on that. After my drunken BlackBerry Q10 drop test last year I vowed never to record a video after this type of incident again (watch below and you'll understand why).
I only counted the M8 falls to my running total if it was actually severe. Example: One time while having dinner at restaurant, my M8 slipped twice out of the pocket on my shorts onto the ground. Since it was a short fall and not that hard of an impact, I didn't include these into the count (after it fell twice I put the phone on the table for the rest of the night).
The screen on M8 is clearly TOUGH. All those drops later and the front of the glass is still in mint condition. The biggest damage to the display happened around the top right corner of the phone. One time when it dropped on concrete and landed on the corner of the phone, it sort of cracked through the thin black piping that's on the very edge of the display. Because it was now broken and jutting out, I peeled it back a little bit and just broke that segment off.
The metal casing is clearly tough too, but it's metal. You can scuff it. You can ding it. If you click through the photos, you'll see my M8 now has its fair share of battle scars. You can see them, and I can feel them with my fingers. Personally, I don't mind this. Sure, it hurts resale value if you ever want to sell the phone, but I view dings like that as a badge of honor. It shows the phone is getting used. It's a tool, not jewellery. So long as it keeps working, some scuffs here and there are not the end of the world.
However, on the 17th fall, something finally let go.
Hello Blurry Photos!
After accidentally dropping the phone so many times and not experiencing any real issues outside of scuffing the device up, I was becoming very confident in the overall strength and durability of the M8. Clearly it can take a lot of real world abuse. That said, it is not indestructible.
The 17th fall — which happened recently while walking the grand streets of Paris — proved to be the one fall too many. Since that 17th fall, I can't get the phone to snap a good photo anymore. They're always a little blurry, never quite getting in crisp focus, and any sort of reflection or light source seems to get over amplified in the show. The camera lens is clean. No software settings were changed (and I've tried everything I could think of since then with settings to improve the situation to no avail). I haven't sent it in for repairs yet, but it's pretty clear that something to do with the camera got knocked out of whack between all of the impacts.
The Bottom Line
For me, the HTC One M8 is one super slippery phone to hold onto. I never intentionally drop any of my phones. It just seems to happen to me in normal use. And between the size and material of the HTC One M8, it happens often. Thinking back on it, it's basically a weekly thing, which is kind of ridiculous. That said, it's also one TOUGH phone and can take a beating. But it's not indestructible. My recommendation? Unless you're a tech blogger or independently wealthy and are ok with scratches and replacing your phone often, put a case on your HTC One (M8) for Windows and protect your investment.
Get the Windows Central Newsletter
All the latest news, reviews, and guides for Windows and Xbox diehards.