1Shot Beta for Windows Phone 8, taking control of your high resolution images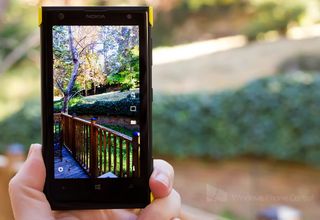 While we have access to the high resolution images captured on the Nokia Lumia 1020, you've got to connect your Windows Phone up to a computer and weed out the high-res files. 1Shot Beta hopes to change all that.
The Windows Phone 8 photography app captures images at the highest resolution and saves them as a viewable file in your camera roll. The end result, direct access to the high resolution images.
The viewfinder for 1Shot Beta (not to be confused with OneShot) is spread out in no nonsense fashion. Along the top of the screen you'll find controls for your flash, self-timer, capture mode (single, multi-capture, bracket) and camera scenes (auto, macro, sports, night, landscape, night portrait, and backlit).
In the upper left corner is an arrow that will let you review your last captured images, in the upper right is access to the about screens. In the bottom left corner is your resolution and in the bottom right is access to 1Shot Beta's settings.
Settings cover general options to turn on/off features such as saving your settings, pinch/zoom, drag to zoom, tap to focus/capture, and focus assist light. You also have settings for multi-capture and bracketing settings.
Images are captured at full resolution and at least on the Lumia 1020 at the 16:9 aspect ratio. Should you use your camera's zoom, the resolution lowers as you apply the zoom.
In just tinkering with 1Shot Beta for a short period of time, the camera app performs nicely. There is noticeable lag time between capturing images on the Lumia 1020. This is understandable given the larger image file the Windows Phone is processing. 1Shot Beta is a public beta so don't be surprised if there are a few bugs under the hood. If you stumble upon an issue, the developer's contact information is listed on the About Screen.
While 1Shot Beta isn't as feature rich as Nokia Camera or gives you access to Nokia's zoom later feature, it does deliver an easily accessible high-resolution image. I wouldn't mind seeing an option to switch between the 16:9 and 4:3 aspect ratios but as is, 1Shot Beta makes a nice first impression.
1Shot Beta is a free app, available for Windows Phone 8 devices and can be snatched up here (opens in new tab) in the Windows Phone Store.
Windows Central Newsletter
Get the best of Windows Central in your inbox, every day!
George is the Reviews Editor at Windows Central, concentrating on Windows 10 PC and Mobile apps. He's been a supporter of the platform since the days of Windows CE and uses his current Windows 10 Mobile phone daily to keep up with life and enjoy a game during down time.
Here's my wish for a professional camera app: exposure times longer than 4 seconds.

Mobile phones can't handle it
As they barely handle 4 seconds

Apparently exposures over 4 seconds have the potential to cause damage to the cameras sensor. Given the sensors size, this does not seem beyond the realms of possibility.

You mean that a longer exposure could physically damage the sensor? How is that possible? :|

If you had two cameras (one with a small sensor and one with a large sensor) both taking the same image, the same amount of light is being focused on to a smaller area for the smaller sensor (higher intensity) thus creating more heat. Think of a magnifying lens being used on ants. Now, it won't necessarily be intense enough to cause damage but manufactures don't know if you're going to point your phone at the sun and try to do a 4 second plus exposure. It's basically a precaution.

Mh, I understand. Thanks for the clear explanation, cheers man :)

The camera has the ability to specify what exposure time it supports. Right now nothing supports 4+ seconds.

Very cool, just I would suggest a new name

i suck at app naming.. open to suggestions

is it working good with nokia lumia 820???

Oneshot is better than all the camera apps, nokia's as well..

You mean 1Shot or OneShot?

I disagree. Even though it has a lot of potential, it is lacking in quality, and basic usability. E.g., try just touching the screen with two fingers and the zoom goes crazy, no option to delete pictures (may be a WP8 limitation), no support for camera HW button launch, no video recording, etc.
Edit: Try this... touch the screen to focus (needs touch to focus enabled in settings). When you do this, the hardware button stops working till you exit and re-launch the app.
I just tried the single touch zoom as well. Slide up is supposed to be zoom in and slide down for zooming out. But, if you slowly slide up to zoom in and without stopping start sliding down, it continues to zoom in instead of zooming out.
I hope the developer is reading this and fixes these issues. Best of luck.

I can use both touch tap and hardware button at the same time. I will keep an eye out for any potential issues there

Fyi...works with Lumia 920 also

It a beta, hope he succeeded.... Will support it, thanks for the development

Very glitchy and unsteady on my 928.

pinch zoom is glitchy.. i agree.. sadly i can't seem to find a way around it. Providing explicit zoom slider option in upcoming release

Are the captured photos uploaded to SkyDrive as the regular 5MP photos from Nokia Camera? Would be a nice way around not being able to automatically back up the 38MP photos.

Sorry the reason behind this app was to allow sync of a full resolution pictures. I do not save 2 images (5 + 34).

It doesn't save it at high res in your camera roll, when I zoom in on my 1020 I can't zoom very far just like the 5Mp that Nokia Camera drops there. At least with Nokia Camera there is a link that you can use to zoom into the high res photo on every picture. Perhaps high res hasn't been enabled yet since its in beta?

just speculation on my part, but i think he zooming limit is down to the gallery app itself, rather than 1shot. Nokias link from the gallery opens the full res photo inside the app used to take it in the first place, bypassing the gallery. So perhaps what we'll need here is a more powerful gallery app.

I am using a very basic photo viewer. Nothing fancy.. not sure what Pro cam uses

It doesn't add any amazing new functionality other than the ability to directly acess high res images*, which (no doubt) will be added to nokia camera soon. Seems pointless, anything I'm missing here? *Besides, isn't there an easy workaround for that limitation?