2015 starts with WindowsPhone.com redirect loops and pending downloads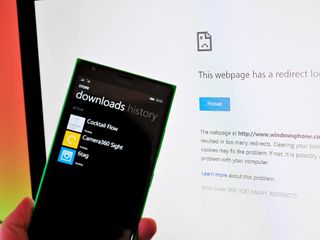 Microsoft seems to be shifting some things around on the backend to the Windows Phone Store as little issues are cropping up for some users. As Microsoft heads into 2015, unifying their Windows and Windows Phone Stores is a priority but such changes can bring hindrances as well.
Two issues that we have noticed starting about a week ago involve WindowsPhone.com (opens in new tab) and the Store on Windows Phone devices. At first, we thought these were just temporary glitches, but nearly a week later and for a few of us, they are still here.
Redirect Loops
The first issue is an odd one. For some people, browsing to WindowsPhone.com and doing an app search results in a redirect loop error. The message that pops up on the browser is 'Error code: ERR_TOO_MANY_REDIRECTS' with the following message:
According to users in our forums, the issue only appears to be happening with those using Chrome or Firefox web browsers and not Internet Explorer. Indeed, a few of us on staff here at Windows Central have been experiencing this problem for a few days now as well. We were hoping that it was just a temporary glitch, but alas, it is still with us today.
Pending downloads
Another issue that is intermittently striking some users is app or game downloads on Windows Phone devices that are stuck downloading. The problem happens when a user tries to update or even install a new app with the download starting but then get jammed during the process. As a result, the app or game stays in 'pending' mode for days at a time.
Some people have reported that cancelling the download, uninstalling the app and then re-downloading it resolves the issue. For others (including ourselves), this is not working. Some apps in particular seem to be having issues like Fitbit, although any new downloads we have tried to initiate in the last 24-hours is also now caught in this bug.
Not so widespread?
Of course, what makes these issues harder to diagnose is determining how widespread they are for users. So far, we have only seen occasional reports and tips from users who are experiencing a problem, making this far from a universal issue.
However, the frequency of reports is increasing and due to the duration of the bugs, we figured it was time for a small article.
Microsoft is making changes and, as a result, such incidences are likely to occur a few times in 2015. Combined with random DDoS attacks on Live services, merging in Windows 10, Smartglass crashes, and other significant changes, Microsoft will need to keep a close eye on such problems.
Anyone here having one or both of these problems? Shout out in comments and give us details (region, browser, app, etc.).
Via: Windows Central Forums 1, 2; Thanks, ZombieZoom, for the tip!
Windows Central Newsletter
Get the best of Windows Central in in your inbox, every day!
Daniel Rubino is the Editor-in-chief of Windows Central, head reviewer, podcast co-host, and analyst. He has been covering Microsoft since 2007 when this site was called WMExperts (and later Windows Phone Central). His interests include Windows, laptops, next-gen computing, and for some reason, watches. Before all this tech stuff, he worked on a Ph.D. in linguistics, watched people sleep (for medical purposes!), and ran the projectors at movie theaters because it was fun.
Microsoft got a head start on their new year resolution I see lol

Lol..They are still partying..!!

Perhaps the Y2K bug has finally hit them?

They are all on holidays, we'll have to wait :P

... and they are still drunk from the New Year party, I guess. :p

Been having redirect loops on store webpages for about a week here in UK. Annoying.. Can view things but search fails every time.

I've had these pending issues every once in a while. Usually aborting the download, restarting the device and then launch the download again fixes it for me.

Mine has been doing updates with no issues.

Yeah, facing the redirect issue on Chrome (latest version) since the past two weeks in Pakistan, still not solved
:(

Used Opera and Firefox bro, no issue here. ;-)

Actually it does, I have issues with Opera (as my default browser) and Firefox (secondary browser). Also checked with Chrome, same problems. I don't have problems tho when i search from IE11.

Then it may have been resolved when I checked.

Nope, still the same :) Maybe this is region based problem, I don't know :)

I don't use Chrome or Opera but I'm experiencing the redirect bug in Firefox. It's been happening for about a week now. I'm running latest official Firefox 34.0 in Windows 8.1 Pro x64 in the US.

And what about the pending issue? because it is resolved for me. Using US region for store.

Those are 2 different bugs, they are not related.

I've got another Problem.. When I download an app (new or update) over WLAN, it downloads very slow. Yes it downloads, but for 4MB it needs more than 5min.

Same here , it is taking hours to download a 10 MB app

For a long time, searching on windows store (desktop) doesn't give me accurate results at all. Also, when I click on More apps from this developer, it says it couldn't find apps from this developer.

I also face this issue many times but on my device. Searching doesn't work properly many times

May be the developer doesn't have any other app.

Yea the same problem I am facing ...the store isn't even returning app search results for something like 6tag or wc if I search a category..no apps available...India 920 8.1 region set to us cyan

No error on Lumia 520 in India!

Yeah i experienced that also. Am from Malaysia . The download keep pending on WP 8.1.1 . Microsoft please fix this ASAP.

Same problem with many many apps...i got many apps after restarting still to get opera mini.. And many more apps

But my camera 360 sight was download without trouble

No such problems here in France.

It's works for me to download the app in the store, my region is Indonesia

Yeah faced this issue while opening apps , games and Lumia collection today in Chrome browser. Also it failed to give results for specific stop name searchs , even with search for Lumia Camera in store

Having the pending downloads even for days and I have access to very fast Ethernet and Wi-Fi networks

I experienced the pending download once. I had to cancel the download, restart, wait for wifi to connect and download again. Just cancelling and redownloading didn't work. Also, starting the download after reboot before connecting to wifi resulted in pending again. So far only happened to me once.

Yeah same problem here ..620 user India... Faced it first while downloading pocket tanks... now it does not even show my apps on SD card n hence i can't install apps from SD card...

Had the pending downloads issue for the first time today with exactly the same 2 apps (Sight and 6tag) shown in the pic. Kept retrying ( no restarts or reinstalls) and finally got them. Region set to US.

As an IE user, feels good

Google just needs to update their browser to be more standards compliant. Sure it would work fine then.

How would that fix the download problems on windows phone??

I have been having this redirect problem for over a month now. It began around 5-6 December 2104... Random apps keep saying an update is available and take me to the store, but then it says up to date and resumes. Preview for developers is having lagging issues once again. ( Asia-Pacific / India ) Looking forward to new updates, features and bug fixes.

I feel like my pending download problem happened after downloading the infamous "The Chive" app. My phone still hasn't completely recovered from that incident.

Doubtful, as I never installed that on my Lumia 1520.

Well then at least there's hope that this particular problem with the downloading will get fixed since it doesn't seem like there are any concrete answers about the possible Chive problem.

I can' t download myappfree. The app freezes in the download page

Going to the WP store on Firefox, I've been getting "Something happened, and you can't download from the store right now...try again in a few minutes." where the Install button goes. A couple page refreshes usually does the trick though.

No Problems here.. Updated all apps few hours ago.. India L520 user

ya i gave them feedback several days ago

happening to me since 1 week(redirect loops).apps pending probably not now when i switched back my device region to india used to show all the time when it is in us.

And I thought it was just me!

Duolingo stuck on updating for the past 5 days & uninstalling didn't help either

30min ago the login into login.live.com is now longer possible for me (from Germany). I was shocked that suddenly my on e note notebook was empty in the Windows 8.1 App after delting just a single page. Switched to the desktop program of ONeNote and the same happened there after synchronizing. I then tried to loginto the web version of one note and could not log in (https://login.live.com; page could not be displayed error). I just hope my notebook is still in one piece; could not log in ever since. :/

Yep this has been happening to me.. But not often

You can resolve this by changing HTTPS to HTTP. Thus happens in chrome, Firefox and safari. If you use IE it shouldn't happen.

I'd rather Microsoft resolve it ;)

More like bad browser not MS. Isn't that how things go? Is the browser fault not the web code.....

It can't be a "bad browser" if every browser other than IE produces this bug.

I've not experienced any issues like these.

Yes Issue while downloading apps from last 2 weeks
Sometimes app gets downloaded but most of the times not

I'm facing this 'redirect loop' problem for about last 2 weeks from Bangladesh and still it's not fixed yet! That website is completely unsuable right now! -_-

Happening to me. India. :/

Pending downloads worst nightmare

No problem in IE. This is the dirty trick from scroogle... in chrome

Yes,me when I download (pocket tanks) it don't even download,when i touch install at the same moment it said to me "try again" and give that error code:80073cf9 ,(I'm in Egypt ,the app I want to install is pocket tanks),I hope you solve the problem.

No problem for Lumia 520 (India), except 6tag & Sight update, restarting download worked.
But I'm having some connection issues with Age of Empires even on Wi-Fi (Speed 660kbps).

Don't know whether this is related...
Tried downloading the msn news app, download was completed but got stuck at "restoring data" for hours...
Any help?

I am experiencing same issues from last 5-6 days.
Nokia Lumia 720 (India)

No problems with the Store for me at the moment (afortunadamente).

It looks like one / more server(s) who has a store applications got a sudden maintenance or sudden shutdowned... Just my opinion FYI

Unable to download video tuner since last 3 days

I have been experiencing the same browser redirect issues using the Desktop Chrome app for over 2 weeks now when trying to search for anything on the windows phone store, but everything is fine on the a mobile Android Chrome app. Maybe it's just a Google issue they're not in a hurry to fix since it actually hinders their competition...

I can't download any apps from the store it is in pending always...

Yeah, i can't get SmartGlass working on 2 laptops and my phone. Annoying because I use it all the damn time. I actually had to find the damn remote. :)

I expected "2015 starts with WindowsPhone.com redesign" because of the notification snippet. :)

This is the exact problem I was having for many months now. So I am not alone. Internet explorer. India. Cannot get pages for payment info, purchase history, sign in

Is this related? Anyway I download a paid app, it show Verifying and did not ask for password to my wallet. After having downloaded, the App ask to buy the paid version in order to saved the result. It had already charge to my card. Uninstall and reinstalling solved the problem.
WP Australia.

No errors here in California.

@Daniel I have a problem with pending downloads too. If u paused or cancelled the current download , the next time u tried to update it , it will not work(jammed forever)..Even there are some apps that I can't buy too. Says it got an error and ask me to restart my phone(yet it still not works). Hope they fix it asap.

Fyi the pending/jammed download issue are started since November/December 2014..

You're welcome Dan! I hope it gets fixed soon. :)

I had these problems for a while now, really annoying. Uninstalled Whatsapp and it was a pain in the @$$ to install it again, that loop thing is really weird.

I can't redeem my xbox music pass code. Last night the 'redeem code' link wan't working, today it works and the code is recognised but it gives me an error. Tried on xbox music windows app, and through the website on IE, Chrome and Firefox (windows 8.1).

No issues on my 820 in the uk

turkey is windows phone.com error.

I had the pending download for a month. I thought it was affected by all the podcasts I would download. I tried different things to get the pending download and pending updates to come through, and nothing. I've since reset my phone to factory settings. Ativ neo, sprint :(

The website works fine on internet explorer

Yes, I point that out in the article. That does not negate the issue though, as some of us do not like using IE.

I can't access Hotmail since mid night. Chrome and Internet Explorer just can't load the page. I found the bug. The problem occurs when my BitDefender block the access to hotmail, live or outlook. Apparently, its a problem with SSL Certificates. I disabled the SSL protection on BitDefender and now the access to hotmail, outlook and live its ok. Using Windows 8.1, BitDefender, Chrome and IE, from Brazil.

It's been going on for more than a week for me. It happens in Firefox but NOT IceDragon (the Comodo version of Firefox based on an older build.) Also had the Pending issue, but this was only temporary and I put it down to inserting a new SD card without first moving apps to phone. Edit: In the UK. Also, someone mentioned changing HTTPS to HTTP. I can't do this in Firefox; I try, but it is automatically switched back to HTTPS. HOWEVER in IceDragon there is a facility to switch between the two, and when I force HTTP I get the redirect error.

I have quite a few pending updates from a few days back and up until today, and the list keeps growing here in Sweden on my Nokia Lumia 1520.

I have been getting stuck updates for a few Apps for a week now. Also, last night while I was logged in to XBox Gold I couldn't log into and games. More DDOS there I suspect.

I wanted to download lamphead but its showing pending, after the download completed.

I've been having problems with the second issue. I thought it was just me when "Sapphire." would not download. As the article said, it will stay in pending almost a day or more.

Yes it is happening to me

redirect Loops happened to me on Chrome on Windows 7

With me, It's only happening on chrome. IE works fine. But I have a chromecast so I stick with Chrome. If I need to use my computer to browse the store, I launch in app called "Apps for Windows Phone" Available in the Windows Store.

I think the redirect looping thing may be a Chrome or WebKit problem. I've been running into it on more and more sites, not just Microsoft's.Microsoft would have no benefit to making their store not work on Chrome or Firefox.

Lumia 920-Cyan-India Been having this issue for more than a week.. Freshpaint and Translator app are pending on update... New downloads on pending include movie creator, pocket tanks and the new top gear game.. Have been able to update and download some other apps like angry birds etc

Apps pending for update in India on my 1320...

Whoa! I thought I was the only one experiencing this problems.

Apps like Beach Buggy Racing did not get updated on my Lumia 930. It was stuck at pending. I uninstalled the game and tried to re-download it but it remains stuck at pending. I am in the UAE.

Denmark on my part, using the build-in for WP with the region set to UK and language English. The app I attempted to download was Developer Preview. And it was really, really not going well. It kept pending, but a change between cancel download, force-restart and normal restart and some temp. turn off of data-connection solved it tempoarily. Once the process started, there was no issue, only getting it to work. I used to experience time-outs of http://www.windowsphone.com/da-dk/store/, but that works again now though :)

I had the pending download issue with Mt Fitbit app for about a week. I just shutdown and tried again and it is now downloading. 830 in USA.

I'd never see this since I only use IE. :-)

You didn't read the whole article smartass.

I got the same problem plus the QR code not showing any more

Happening to me for the past week on Lumia 1520.

Started having the freezing bug on my 925, have to keep resetting it! can anyone remember what the work-around was? I'm sure there was an article posted on here but I can't seem to get it to come up in site search.... :'(

I've had issues with Super Sweet Crush hanging in the download for two months. It doesn't show up in the app list, so I can't delete it. Also, Audible is not working for me.

Happening for the past week trying to reinstall Movie Creator Beta. Keeps erroring out.

Same issue here. I thought it was my MEM card that has issue. I hope the fix will arrive soon.

Happy New Year Daniel from Arizona.

Same happening to me my region is India

Zombiezoom from uc forum?

Even the dev dashboard is showing weird histogram at times. Search has been not working properly for 2+weeks. But let them have some good time with their families in this holidays.

I had the same problem while updating asphalt airborne on 25th Dec.my lumia 720 froze then i had to soft reset the phone. When i restarted my phone since then it is behaving strangely.Half the apps are working ,while a lot of apps including my email apps are crashing when i try to open them. I tried to reinstall them from windows store but was not successful. I am also not able to sign into my youtube accounts on my app. Kindly somebody help.

Using chrome instead of ie...that hurt...

A big relief to know that i'm not alone to experience such errors.

The only issue I noticed is with smartglass failing to start. Both the beta and non-beta start to open and then immediately close. I am using a 1520.3 in the US.

No point in downloading any apps until this issue is resolved

Having issues with apps not found and pending downloads here in US. Can't get my apps on my new phone :(

Its not good enough Microsoft. We need a fix asap

I had that problem with redirect loops for longer period than just a week, not sure how long though. I'm from slovakia and problem occurs both in chrome and firefox (not in IE)

I have the "App download pending" problem. I've tried

canceling the download, restarting my phone, and trying again. That didn't work. Please, someone help me fix this! So tired of Windows horrible app market and software crashes.

I have the "App download pending" problem. I've tried canceling the download, restarting my phone, and trying again. That didn't work. Please, someone help me fix this! So tired of Windows horrible app market and software crashes.

I am having the pending download problem...

So far the only problem I had was doing an internet search on olive oil but it went to the Windows Store and prompted me if I wanted to download a game instead. I tried a couple more times but still got redirected to the Store for the same download. I just rebooted my phone and it works normal now. It was kinda wierd it was asking me to download a game I had no interest in, as for games I don't have any nor do I want any on my phone. I also was not trying to download any apps of any kind, it just acted like it was interrupted earlier and was trying to finish. Since I'm the only user for this phone I just assumed it was some kind of glitch.

It still seems to be a problem today. Hopefully, they'll fix this soon.

I have the pending apps problem. Have tried so many things and it just does not work. It's very frustrating!
Has anyone found a fix for this yet?

Australia, Lumia 930, downloads pending for last 2 weeks since I put a sim in, tried soft resetting, fiddling with time and date and resetting, tried without sin but nothing works. I only just got this bloody phone and now its basically broken. I only got to get about 3 essential aps....

Also been having this problem for months - ever since Windows update to 8.1 As well as app in pending mode also lost syncing of email and calendar and data sense no longer works! Have reset phone, reinstalled OS, rang Nokia support line uninstalled and re- downloaded ,... Still no resolution !!!! Will not buy a Windows phone again. Mine is Nokia 520 Asian build used in Aust. Microsoft Please resolve this issue!

problem still is happening. Trying to download fitbit, and stuck at pending. Everything else installs fine (once I cancel fitbit), but no matter what fitbit won't install. Maybe it is a sign I need to just sit on my ass and watch TV. lol

February 18th and still having the pending problem and it is pervasive. I fixed my phone by hard reset, my wife's phone has over 20 pending updates now. It is not some, it is everything with an update and new apps will not install. Have tried every so called "fix" i can find and nothing has worked on her phone yet (have not performed hard reset). Texas, Sprint. Me HTC 8XT, her Samsung ATIV S Neo, both running 8.1. Problems started after 8.1, which roughly corresponds with the new year, so hard to tell which is the cause.

I'm experiencing the 'pending' error with new or updated apps and they NEVER complete. This is on Windows phone (Nokia Lumia 822), Windows 8.1, IE Whatever. All this started with an O/S update in January. Now I cannot install any new apps nor can I update existing apps. I made the mistake of uninstalling an app that I wanted to update now I can't install the new version!

I have been experiencing the pending downloads problem since the end of January. I have a Nokia 630, bought in California last year. I can't use WhatsApp anymore because the version I have has now expired. Has anybody come up with a solution?

New updates were there in store. All the apps were updated without any problem. then my game candy crush saga update was downloading theen suddenly in the middle of update it stated showing pending. I waited for about a day but noting happened. I uninstalled my game and now i am not able to download the game. Even after reboot nothing is haapening, Is there a solution to this problem? then please let me know

Apps pending since att Denim update.NOT HAPPY,been with this since winmo 6.5..... Microsoft needs to get their shit together, podcast downloading has been bad enough the last couple years
Northern California Nokia Lumia 1520

I also am having the same issues about pending app downloads. My rig is, Lumia 925 Turkish Edition with English Language installed, Denim version as in the latest update, and Wi-Fi network to download. Restarting, cancelling, uninstalling retrying doesn't seem to work for me. In fact, I don't know how to fix these things. I usually get pending errors with most of the apps on the Store, but especially the Bing Translator is the most troubling one. For example, I used to have all the offline packs installed for the translator app. But after some time, because of not other than the same pending download problems, I had to reset my phone. After the reset, I tried to get back the Translator with the previous data I have had backed up. But none of the offline packs were re-installed. Downloaded to the phone memory and listed in the Storage Sense, but not installed in the Translator. I had to install them all over again.

Having the same issue here with Lumia 535 - several downloads pending for over a week. Whereas another app (Opera mini) just downloaded and installed sucessfully. Microsoft, would you please let us know what is wrong with your download servers? Thanks, guys.

Same issue here on an HTC OneM8, but with just one app: Wunderlist. tried everything...no go. Extremely frustrating....looking to go back to my trusty Android!

Got it working!! deletedtemp files + internet browser history (within Storage Sense), soft reset of device, then it FINALLY worked)!!

I can't load the Fitbit app on my new Lumia 640, it's stuck at the pending stage.

I have the pending issue
There is no fix for it!!!!!?

I am having the pending issue with attempting to update and install Mcrosoft Health on my Lumia 640 XL
Windows Central Newsletter
Thank you for signing up to Windows Central. You will receive a verification email shortly.
There was a problem. Please refresh the page and try again.