23 must-have apps for the Lumia 950, Lumia 950 XL, & Windows 10 Mobile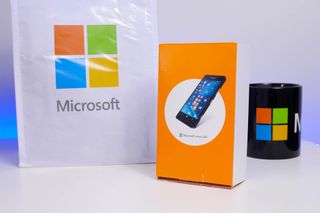 Tis the season for new Lumias as the Lumia 950 and Lumia 950 XL are finally getting into people's hands. Some are previous Windows Phone users while others are new to the fold. Still, there are a few who are just not familiar with Windows 10 Mobile and some of those new universal apps (Universal Windows Platform or UWP).
To get you started, I'm sharing with you some of my top apps for Windows 10 Mobile that are worth checking out. These are just main apps that I use every day, but I have omitted for now apps for photography and games as we'll feature those in another article. To be fair, not all of these apps are "true" Windows 10 Mobile apps as some are using some legacy coding from Windows Phone 8.1, but they work just fine due to backward support.
Think I missed something? There's a real good chance I did so let us know in comments what you would recommend people try out!
1. AppRaisin
AppRaisin is an app for apps. Keep tabs of some of the latest and trending apps through this free software. If you optionally create an account, you can up and down vote. It is also available for Windows 10 PCs.
2. Baconit
Nothing is more fun than wasting time on Reddit. Baconit was recently redesign for Windows 10 Mobile and desktop as a universal app. With it comes a gorgeous design and basic features for casual users (further updates will deliver more features in the coming months).
Runner up: Readit, which is also a Universal Windows app.
3. Chronos Calendar+
Chronos Calendar+ is not a true Windows 10 app, but it is still the go-to third-party calendar for those who need a little more power than the native one. The app is famous for its vast design layout options and high configurability. Chronos has a free trial and will otherwise cost you $2.49.
4. Cozy
If you have a Nest learning thermostat, then you will want to grab Cozy. The app uses the Nest APIs to let you remotely control your thermostats on the go. It's also a universal app for your PC, Surface or phone. The Live Tile can be finicky but it's still easy to use to warm up the place before you come home.
5. FanBand
If you own a Microsoft Band (1 or 2) then you need FanBand. The app lets you configure the Band with hundreds of premade themes and you can even request some to be made.
Runner up: Pimp My Band, although it should be getting an update soon for Windows 10 Mobile. - Download FanBand for Windows 10 and Windows Phone (opens in new tab)
6. Fedora Reader
One of the nicest 'minimalist' RSS readers Fedora lets you track all of your favorite sites with well formatted articles right to your phone, PC or Surface. It is easily one of the best designed apps around.
Runner up: Nextgen Reader is another fantastic RSS app!
7. Files&Folders
Windows 10 Mobile ships with a native File Explorer app, but maybe you prefer something a little more powerful? Files&Folders is now a universal Windows 10 app, and it can do a lot of cool things including mapping to OneDrive and Dropbox. There is a free lite version and the $7.99 Pro option as well (you can upgrade Lite to Pro within the app).
8. Fitbit
When it comes to exercise and keeping fit FitBit is the category leader. They also have a killer universal app for Windows 10 that is updated regularly and is so good you may want to go out and buy a tracker today.
9. Homeboy
Need to mount a security camera? Homeboy's tether free camera mounts anywhere in your home. It also looks like something out of the game Portal. There is also now an excellent universal app for Windows 10 available. We use Homeboy for the Windows Central office. You should too.
10. Meme Generator Suite
If you like generating humorous internet memes on the go or on your Surface you need Meme Generator Suite. We featured it yesterday as the Pro version was temporarily free. You can still use the free version of the app and always upgrade through an in-app purchase. Either way, it is a very well designed and fun app!
11. Pandora
Pandora is the go-to brand for streaming music based on your tastes. The company recently released a Windows 10 Mobile app with support for Continuum and we think it is just swell.
12. Poki for Pocket
Poki is another top designed app for Windows Phone and Windows. The app is made to access your Pocket account, which is a free service that lets you basically bookmark stories on the web for later reading. Truly a fantastic design and it's available for phone or PC.
13. Slack (Beta)
Slack is a very specific app for people who do online collaboration. It is increasingly popular with tech firms and we use it here at Windows Central. The app is still in beta, but it is completely useable for everyday functions. Unfortunately, it's just using the Windows Phone 8.1 codebase so although it works on Windows 10 Mobile it is not a true universal app yet.
14. Straw
Straw is a great app for mobile polling. Send a poll to your friends on Twitter, Facebook, text message or email. Get instant results from friends, family or even random people on the Straw network. There is even an anonymous option to poll people without revealing your identity. The app is only for Windows Phone at this time, but we wouldn't be surprised if it goes universal in the future. Either way, it is a cool app available on Windows Phone, iOS, and Android.
15 & 16. Swarm + Foursquare
Swarm is the popular app for checking into places and Foursquare is for finding them. There are solid apps for both and while they are not Windows 10 apps they are great to have on hand.
17. Tapped/Untappd
I like beer. If you follow me on Twitter this is hardly a secret. Because of that I use the popular service Untappd to track the history of my malty libations. Untappd have a swell Windows Phone app that is worth using. There is also a well designed third-party app called Tapped that is more Modern looking. I also hear the developer behind Tapped may make it a Windows 10 app.
18. Trakter
Do you watch TV? Sure, most of us do. Then you will want to grab the universal Windows app Trakter that uses the trakt.tv service. Find your shows, follow them and the app reminds you when new episodes are on and which ones you missed. With push notifications and a Live Tile this app is a must-have for those who watch TV.
19. TrueCaller
TrueCaller is a popular and free service for monitoring incoming calls. Worried about marketers or just want more info about a call? Use TrueCaller to plug into the native phone app and voila you wish is granted.
20. Tubecast/myTube
When it comes to watching YouTube on Windows 10 and Windows 10 Mobile there are two kings: Tubecast and myTube. Both are Windows 10 ready, both have excellent designs and can 'cast to your TV. We won't pick a winner as it is too hard to choose. Try 'em both.
21. Tweetium
Twitter has an official Windows 10 app, but it's not yet available for Mobile. In the meantime make sure you check out Tweetium, which is a universal app and what most of us use. It goes beyond just the basics and lets you get some real power user features, which is perfect for the super social.
22. Weather Channel
Microsoft's own MSN Weather is already installed on your phone, but if you are looking for something different grab the official Weather Channel app. It works on Windows 10 PC, Surface and phone and it has a really solid design along with notifications and even Cortana support.
23. Zomato
Popular restaurant finder and review site Zomato bought up Urban Spoon last year and now the app is much more useful for those in the US. The Yelp-like app is now a universal Windows 10 app and along with it comes a great design and usefulness when you are hungry.
Wrap up
So those are my main apps that I think represent the very best of Windows Phone and Windows 10 Mobile. At the very least, some of those should appeal to old and new owners of the Lumia 950 and Lumia 950 XL in addition to other Windows Phones.
I'll be following up with my favorite photo and imaging apps later this week and we'll also see about some must-have games.
As I mentioned in the beginning I likely missed some of your favorite must-have apps so share them with us in comments!
More info
Want all the latest news on these phones? Hit these topic pages for all that we got.
Support and help forums
Want to chat about the Lumia 950 and Lumia 950 XL? Jump into our forums and ask others what they think or get help and advice on your new phone!
Daniel Rubino is the Executive Editor of Windows Central, head reviewer, podcast co-host, and analyst. He has been covering Microsoft here since 2007, back when this site was called WMExperts (and later Windows Phone Central). His interests include Windows, Microsoft Surface, laptops, next-gen computing, and arguing with people on the internet.
No love for 6tag on this list?

You forgot about your own app!

Cuz the WindowsCenteral app currently SUCKS!

Dan, does the WC team have any plans for releasing a closed public beta of the W10 version?

...or an app for the X1, that would be pretty neat.

There was an article a few weeks ago that Windows Central universal app beta version is coming soon. Though by the looks of things there's been some delays. Looking forward to it all the same though!

The Windows Central team is secretly waiting for the next Lumia devices, then they will release their app. Oh shoots, I hope @Daniel Rubino doesn't see this and ban me :(

And also about the must have games list!

+1000
It s the app I open more, about 50 times a day I think (yes this means I have a problem, I know... :)

50 times sounds about right to me, I'm more or less the same check it on and off throughout the day for articles and comments.

LOL so we both should go to an app-rehab center my friend :D
"Experts" call this compulsive obsession hahahahaha

Must-have? I don't use .. Well any of these except mytube and truecaller :S

:-o so don't hesitate and download them all now !! You ll love them, guaranteed :)

I don't have even one of those apps currently but I think it's a good selection, if I was more social or had more of a life outside of work then I would probably be downloading most of those right now. As it stands the apps I use daily are WhatsApp to talk to my wife, new Messaging app to talk to my family and a few skype friends, amazon kindle to read my books, windows central to write pointless comments like this, age of empires castle siege to waste my life, MSN news to see if I can go out my door without getting killed by terrorists, Cortana for random bits and pieces, alarms and clock for waking up on time and cooking dinner, OneNote for shopping lists and when I'm actually trying to keep healthy I use the Microsoft Health app but it's not too great when you don't have a band, thinking about picking up the Band 1 for £49 this week but still not sure I'll like it when I know how much better the Band 2 is! Other than that small selection I never really use anything else, I'd like to see more apps for developers, decent Microsoft Virtual Acadamy / Pluralsight apps would be very welcome!

£49 or £199. Mmm I thought the same and luckily Argos dropped them to £65 this week. With £20 of vouchers, it was too good to miss! Love it! What a great piece of wearable for less than a flex!! Bought my son one today as well. If a 16 yr old loves it, and his school mates are mesmerised, then that's all good in my eyes. I can't really see enough 'real' differences between 1 and 2 to justify the added expense.

"Hilarious Internet memes" Very selective crowd there

Everyone knows can't own a Lumia without loving memes

I don't even know what a meme is, I must have missed it when it became a thing.

Solid list! Like watching Twitch streams of your favorite video games? Then I would totally recommend Unstream for Windows 10. Works great on mobile and desktop!

@Sam how does it compare to 8Stream?

Battery man, battery! It doesn't drain the battery much

I converted over from 8Stream to Unstream when it came out and haven't looked back since. Everything just works so well - it's fairly efficient battery-wise, it's fast, and there's a bevvy of options. Plus, it's continuum compatible since it's a UWP app; I've been using it very heavily via continuum since last Friday and I am LOVING the experience.

Couldn't agree more. Unstream is fantastic. Very much worth the full purchase to support the developer.

Untappd and Tweetium are awesome. Looking forward to trying out the redesigned Windows Central app soon too! :)

I wonder if we will all have to line up to get it lol

Happy to see zomato in the list.

No warning about the recent malicious Tweetium fake app? People might grab the wrong one

Let's see, we wrote an article about that, tweeted it a few times and link to the legit app here. What else do we need to do to make this world safe?

He'll blame you for Paris next.

His name is Rubino, not Robespierre lol ;p

Become Team America and do what needs to be done.

convince microsoft to give us all our free onedrive storage back maybe :))

Oh and don't forget PLEX!!!!!

Even TeamViewer remote control should be on this list... Super awesome app

It almost made it, but TBH was thinking more consumer based here rather than enterprise/business-y.

Sure, but Windows Mobile world has the most business users of all OS's :)

Can you provide evidence?

Now if they can only fix the mouse problems in continuum.

Baconit is a barely usable app in its Windows 10 version. Can't make new threads, can't sort thread comments, can't save pics, can't view profiles, etc. Its WP 8 version was much more functional. I like the new layout and snappiness, and I'm sure future updates will much improve the app, but right now it is not a great reddit experience.

Depends on the audience. For casual Reddit users I think it's more than enough. Regardless, we mention Readit as a good alternative for those who need more too ;)

I just never got the popularity of Reddit. I usually just see insulting stuff there.

Like the internet itself, it's a mix of good and bad. Depends on what sub reddits you subscribe too. The more serious ones including science disciplines are super interesting and less immature.

Now you've said that I might give it a try, never really looked into it before didn't know there was anything serious on there

I installed poki maybe a month ago. I might as well try using it.

Give credit to Rudy too. He's our most loved developer. Venetasoft too.

I'm confused by this list.
Is it a list if 23 must have universal apps? I have none of these on my 930. Posted from my Note 5

Because you are using Note 5 ;)

Twitter is not available on Windows Mobile? How come my Lumia came out of the box with Twitter?

Official Twitter app is available on windows phone. I use it sometimes

Do you mean Twitter for Win10 mobile?

The app that is available on mobile is not the same as the most recent one for the desktop...which I personally don't understand why they didn't make the app a UWP just because the phone wasn't technically ready yet. It makes no sense to make a brand new Windows 10 app if it isn't UWP. It'll work either way, they KNOW this...MaAaN. =\

I just installed Twitter on my 950 XL. I believe it is still the Windows 8.1 app and not a universal Windows 10 app though. As long as it works I don't mind.

Snapchat damnit! Why? I don't know. I don't use it but that's all I hear!

My call is always for Evan Spiegel's head...is it Spiegel or Siegel? What a doo-o you know what I mean? =p

I am using 14,15,16 & 18 from this list

not liking truecaller on Windows 10. On Windows Phone 8.1 all it did was add caller ID info, Blocking was still done through the native app (on lumias) On windows 10, if you have it manage caller ID, your block list is ignored as the local caller ID isn't used, thus, truecaller has to manage your caller id and # blocking. not a fan of giving an app that much more control on the phone portion of the phone.

Choose Settings-Search Phone-Scroll to bottom-Choose Apps Under Calling &Messaging Select Block&Filter And under calling select truecaller This will ensure local block list is enabled while only live caller id feature of truecaller works

I think that "Readiy"(PC) and "Magnify Reader"(mobiles) are the two best RSS readers. I like them more than Fedora. Dan, you should try them!

Slightly off topic, Subway Surfers is no longer listed in the Windows Store ...do you guys know anything about that or whether it's being recoded for 10? Tipped WC yesterday but surely ur inbox is full

I tried fedora reader when it first came out but I couldn't continue to use it due to the font within the app. The font was too light grey and the lettering was quite thin and found it hard to read. Would prefer something with a darker (black) font and thicker lettering. I would give it another try if the font either changed or there were options to adjust the font within the app. Still looking for a good rss reader.

Anything productive on the list?

Too bad Twitter won't get their act together and make their Windows 10 app work on mobile as a universal app. Looks like I'm going to have to use Tweetium until Aeries 2 comes out.

Cloud nine ;) give it a try lol

If you use Slack with multiple teams the official app makes you log out. There is a nice 3rd party app called Tartan that will let you switch teams on the fly much like the Android app. It is free with ads but you can pay to get rid of them.

ProShot falls under image/photography apps, which I think I mentioned twice is coming in another roundup ;)

Ah yes my bad :) Can't wait for W10M version.

See the part where I say I'll do a separate article on photo and imaging apps? Yeahhh....lol

AppRaisin is the father of all apps! Or like an rss reader for new/ updated/ great apps :P Great list by the way!

And therein lies the perceived app gap. Of this list, there are only a couple of apps I have any interest in. The rest I've never heard of nor care about. So, give me another 25 to choose from and maybe eventually I'll feel app satisfied. Smartphones are silly...

I think you're taking this list too seriously. These are apps I have that I use and that I think are great examples of universal apps (well, 90% of them). I also mention how it is likely I missed some or others may have other ideas hence the call for comments for suggestions. If you want to just have the world serve you, well, sorry. That's not how this works.

You need to watch Jessica Jones...and consider Kilgrave =[

I'd add ISeeVM which is an app that uses the free YouMail voicemail service. For some users with unlocked phones this is a great option in order to keep voicemail consistent if you change providers (or if it's not included in the subscription - I'm looking at you, Verizon) and the app works great.

Been using this app for years, definitely worth it! Have literally never run in to problems with it, and the developer updates it occasionnaly to keep it bug free.

This would be in my list as well. Been using YouMail since moving over from iOS 3 years ago. I refuse to pay for something that is free for iOS. A universal app would be great having the.voicemails sync with the desktop app.

FYI tweetium is crashtastic on windows.10 mobile

Can somebody please tell me where the call + sms filter app or the supposed block and filter app is on the lumia 950?? I cant find either??

I'd really put Readit above Baconit. It's much more complete than Baconit right now.

Hoping Tapped will get a little love. Have always loved it but feel it needs a bit of refinement. Definitely a fan of that over the official app because of the appearance. Was very happy when Untappd allowed it back in the store!

There are 23 apps for Windows mobile? Who knew?

Tubecast is definitely my favorite YouTube app. I can't find a way to delete videos from a playlist though. I keep myTube! installed to delete videos from my Watch Later playlist. Does anyone know if that option is in Tubecast and I'm just not seeing it?

I'm hoping we see some new weather apps that take advantage of the built-in barometer of the 950 and 950XL. Personally I use Accuweather app on my 920. I'm a bit fan of all things weather and it's hard to decide on which weather app to get due to how many are available.

I would like to recommend Fenice for Twitter. Its has an awesome Win 10 design.

Tubecast is W8.1 app. It's working, but you can't hide navigation bar. I'm currently using Perfect tube until there is native W10 app for Tubecast.

Here's my own list.
1. Bible
2. WhatsApp
3. Facebook
4. Opera mini
5. Bookviser Reader
6. Dictionary
7. Xodo docs
8. Camscanner
9. Metro file manager
10. Money tracker pro
11. VLC
12. Lync 2010
13. Facebook messenger
14. Shazam
15. LinkedIn
16. Flipboard
17. Loco music player
18. BBM
19. Authenticator
20. Facebook messenger

Solid list imo :). I like your 1. I used the Bible app from YouVersion but I found the My Bible app from Flexi App allows for offline use and multiple translations. But I have both because when I have the internet the Bible app from YouVersion is good. :)

The bible app I use is from Yuri Software Inc, you could try it too :) I uninstalled YouVersion cos it doesn't support offline.
I just downloaded that of Flexi app. Looks cool too.

Agreed on Yuri's Daily Bread Bible. It's the best I've found on Windows Phone. I wish there was something remotely as good as Blue Letter Bible (iOS)...

metro tube is my favorite you tube app you should try it. Unfortunatly you cant cast from it like tubecast.

I've used metro tube, mytube, and perfect tube.
The best to me is perfect tube cos it allows you to preload videos and saves them in your SD card video folder, which is accessible to other apps. You could also choose to preload only the audio part of a video if you wish.
However, I discovered these youtube apps consume a lot of my data while I navigate around youtube. So I presently use UC Browser to download whatever content I need from YouTube.

Can't say I saw a single must-have app. The only ones I'd consider trying are the YouTube and weather ones. However, I'm fine with TouchTube and AccuWeather, respectively. The rest, I don't have any use for. I also find it odd to promote the FitBit app, but make no mention of the Microsoft Health app in the same breath, especially when competing YouTube apps were presented as alternatives to one another.

Hoppd is another Untappd client worth checking out. It's UWP.

Mytube is great glad its on the list.

Why isn't the Pandora app "universal"? I thought it had to be to work with Continuum?

As soon as Dan hires me the WC app will crack this list.

Number 1 Youtube app for Windows has always been "Hyper for Youtube" and it should be available on W10 now.

its funny how we all differ on what we think is the best you tube apop. As someone that used them all i have settles on 2. Metro tube cause it fits in with the whole windows piviting style. And tubecast casue its the only one that i can get to cast to my samsung miricast tv. I actually think metrotube is the best by far i just wish it had casting.

You mean Windows 10 Mobile? I've used it on Windows 10.