How to build a decent productivity PC for less than $500
The beauty of building a PC (or getting someone you know to do it for you) is that you can save some serious cash by picking all the components yourself instead of purchasing a prebuilt setup.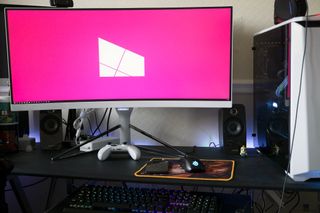 It's possible to put together a decent PC for around $500, and that includes mouse and keyboard, and this build is ideal for anyone who only needs to do a few tasks on Windows. If you don't play games on the desktop and just want a cheaper computer for office work, this is a build for you.
You'll struggle to build a PC capable of 4K gaming for the price of an Xbox One X
Build your own PC for less than $500
Take a look at our suggested build below. Note that you aren't required to pick each part we recommend, but the components in the list below will work well alongside one another.
Swipe to scroll horizontally
If you have $500 to spend, this leaves you with around $70 for other accessories, such as a mouse, keyboard, Wi-Fi adaptor, and a DVD drive (should you require one). We haven't taken into account hooking up a TV or monitor in this build. Take a look at the mouse and keyboard options below for a few places to start.
There you have it. We put together a PC running Windows 10 for less than $500 without additional, hidden costs. It won't power you through games, because you have no GPU, but it will be able to handle most tasks you can throw at it, should you only require a PC to browse online, communicate with friends and family, and send email.
Over to you ...
Got your own build ideas or want to make an alteration to our suggestions? We're always looking for good feedback and advice, so sound off in the comments.
Windows Central Newsletter
Get the best of Windows Central in in your inbox, every day!
Rich Edmonds was formerly a Senior Editor of PC hardware at Windows Central, covering everything related to PC components and NAS. He's been involved in technology for more than a decade and knows a thing or two about the magic inside a PC chassis. You can follow him on Twitter at @RichEdmonds.
Incompatible CPU and Motherboard in text, link takes you to an i3. I'd rather build an all AMD solution if I'm targeting the $500 price point. Intel is only ever better if you have the budget. For after ther article is edited, Here was the original list: Component
Our ideal pick
Price Case
Corsair Carbide SPEC-04
$39.99 PSU
EVGA 500 W1
$29.99 Motherboard
MSI Pro Series Intel B250
$55.01 CPU
Ryzen 3 1200
$99.99 RAM
Patriot Viper 3 Series 8GB
$54.99 Storage
WD Blue 250GB SSD
$69.99 OS
Windows 10
$79.99 Total

$429.95

Ha, good catch! Could have sworn I switched out the link text on the second pass through. AMD is a good choice (and was what I originally planned out, hence the issue with the CPU text) also but you need a GPU and depends on the pricing of the chips when looking to buy. i3 vs R3, etc.

a RAM for $55? uhhhh... I clicked the link and nope?

Nice article topic. Starting to get in the mood to build another PC. Nice to see what's out there.

Ryzen does not come with iGPU so another graphics card is required

Ryzen was left in by mistake. Was either my brain being frazzled from Black Friday or smoking AMD. Possibly both ;-)

i know this article is designed to produce affiliate clicks to parts but if you just need a productivity PC just pull a Dell out their Home or Business Outlet.

The CPU is bad and you should feel bad. Ryzen 3 1200 is faster than that i3 and it can also be overclocked on B350 boards, bringing it to i5 Kaby Lake levels or i3 Coffee Lake . If you don't care about that, there are even cheaper A320 motherboards out there.
Going with Intel is a bad choice in 2017 for anything other than 144 Hz 1080p gaming only on i7 8700K at 5-5.2 GHz. Given you have 70$ to spare, you can buy any GPU with that. An RX 550 maybe.

Yea, the only reason anyone would build a computer like this is if they REALLY loved building computers. Way better off just grabbing a prebuilt desktop from Dell or another similar manufactorer. Especially if you use the machine to get work done, I love building my own machines but it does make it more difficult to trooubleshoot and repair.

How does building a custom PC make it difficult to troubleshoot and repair? Since all the parts are off the shelf, I'm not sure recent about dell models but Dell RAM dimms at on point had none standard notches. Some prebuilt machines also have a non standard PSU. If anything some pre-built machines are a pain to repair especially flat bed PCs.

I was more speaking to the point of trouble shooting and warranty replacement. Most people don't repair their own computers. More and more "novice" users are building PCs because it's "cool" now, they don't neccessarily know how to diagnose and fix them though. If you get a detective product from dell they will just fix it. With building your own, you have to know which part is causing the problem and go through the specific manufacturer for repair. I agree with you for the record 👍

CYBERPOWERPC Gamer Master GMA350 Desktop Gaming PC System: AMD Ryzen 5 1400 3.2GHz Quad-Core | AMD A320 Chipset | 8GB DDR4 | 1TB HDD | Genuine Windows 10 Home 64-bit
Graphics: AMD Radeon R7 250 2GB Video Card | 1x VGA | 1x DVI | 1x HDMI
Connectivity: 6 x USB 3.0 | 2 x USB 2.0 | 1x RJ-45 Network Ethernet 10/100/1000 | Audio: 7.1 Channel | Keyboard and Mouse
Special Feature: 7 Colors RGB Gaming Keyboard
Warranty: 1 Year Parts & Labor Warranty | Free Lifetime Tech Support "https://www.amazon.com/CYBERPOWERPC-Master-GMA350-Desktop-7200RPM/dp/B06...
Thank you very much
Windows Central Newsletter
Thank you for signing up to Windows Central. You will receive a verification email shortly.
There was a problem. Please refresh the page and try again.