6tag gets updated with improved support for Instagram Direct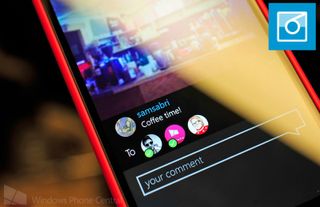 It may be late in the day, but that doesn't mean we can't get a nice little update to 6tag, Rudy Huyn's popular Instagram client for Windows Phone. In fact, the last update was back on January 23rd, so we're about due. Version 3.2.2.0 just went live in the Store and there's slightly more to report than the usual 'bug fixes'.
If you use Instagram Direct, the new service for sharing photos with one or more select Instagram users – for a more personal experience – then you'll be excited to see 3.2.2.0 fixes and improves upon this feature. According to Huyn, you should see better Direct support for "notifications, refuse a request etc.". These are not push notifications, so don't expect a Toast alert. But they should be more reliable with 3.2.2.0 so you'll see them easier when opening the app.
It's a minor improvement, but one we're glad to see. Instagram Direct is hardly as useful as using WhatsApp, but overall, it's an interesting addition to the growing Instagram service. And considering our official app doesn't have it yet, we'll take what we can get.
Pick up 6tag 3.2.2.0 here in the Store or scan the QR code below.
Windows Central Newsletter
Get the best of Windows Central in your inbox, every day!
Daniel Rubino is the Editor-in-chief of Windows Central, head reviewer, podcast co-host, and analyst. He has been covering Microsoft since 2007 when this site was called WMExperts (and later Windows Phone Central). His interests include Windows, laptops, next-gen computing, and for some reason, watches. Before all this tech stuff, he worked on a Ph.D. in linguistics, watched people sleep (for medical purposes!), and ran the projectors at movie theaters because it was fun.
This is a wasted effort. 6tag developers should consecrate on something official. It is time to move on. Instagram is here to stay and its is in a few months already 10,000 + downloads strong. Thanks for your effort but Windows Phone is the next big thing. Apps from everywhere will soon just rain on us. It is over. 6tag no longer will out last instagram. I am sorry to burst your bubble or any 6tag user. But lets be real here. We cry for official apps. The truth is that now we have them. And they will come in a rate that we can't keep up. Thanks MSFT for giving us what we ask for. Be careful what you ask for. Its real and it will happen in 2014. Sorry it is not my making. But the people ask for it. The time is here. Official apps from everywhere.

What is wrong with you? Just because YOU don't use it doesn't make it "wasted effort". Plenty of us prefer 6Tag over Instagram "official". Choices...choices...choices.

@k0de I merged your repetitive comments, even the super lame one where you actually replied to yourself (shudder). Use the edit button or lose the publish one. Cool?

@ Daniel My mistake for being repetitive. I am sorry about that. Thanks

Stupid comments from everywhere. It's official.

Lmao at 10,000 downloads like its a lot. 6tag has more than 40k ratings alone. Instagram won't get more until they add more features.

Correct. How long in the store Vs Instagram? In 6 months at this rate Instagram will blow right threw. The fact is that I like what 6tag has done. Great Job. But it is history now. We complain all the time for official apps and when we get them we don't appreciate them. This is great what the team at 6tag has done. But lets be creative and start not being third party anymore. This platform is maturing and like the other 2 OS third party apps are not good enough anymore.

Dude if your getting tired of third party apps then just switch to Apple or Android. Problem solved

That is the problem. I was thought as a youth. That attitude is everything.

Your grammar is absolute sh*t, and your point of view is completely unnecessary. Please stop posting.

What's the point in even typing any of this I see if you made a point that the crappy official app has all the features as the other platforms do but then you'd be lying instead of sharing a stupid opinion about an unofficial app that 99% of us don't share 6tag is an amazing app period which is why they will be more articles about it so do us all a favor and don't read them

A lot of people prefer rudy's apps over official ones, including myself. As long as Rudy's apps will have more features and better support, people will keep using them ;)

What's funny about your comment is that Rudy in particular has been very open about his desire to develop the "6apps" was to drive interest to the developers of those services and get them here. Guess what is happening. It's working. I agree long term, people will use the official apps, but until they are more full featured than Rudy's, many will keep using them. So I'm not sure why it's a wasted effort, when he was at least in part, responsible for helping bring some of these apps (and maybe more in the future) here to begin with.

We will use 6tag does not if instagram is there we have show that there are better apps than official ones

Yeah we should appreciate the hardwork done by Rudy. He has made it better than the official one. I know the official app is always to be used that doesnt mean such unofficial app are a waste. I recommend Rudys apps to my friends too.

Still waiting for grinder

what a dumb comment! you'll need to open a new account after this

One of my favourite apps :)

lol @Daniel you called his comment lame. Yeah it is because ya know I mean 6tag is so much better than Instagram like 6snap is great and 6sec is better than official Vine.

Lol, lame. Don't blame MSFT when official Dev don't want or refuse to develop for Windows Phone.

"...don't want to refuse..." ain't nobody gots no time for that.

I'm not aware of a single case where a company saw a really good unofficial app on Windows Phone, with lots of pickup from users, who then refused to make an official app. It's usually the opposite. They see a lot of interest, even from unofficial apps, and decide to make a 'real one'. It's about control.

I like Rudy and his third party apps. Their way better than the official. And so what if Windows doesn't have alot of official apps? Doesn't bother me. I still love my Nokia Lumia either way. I've never had an iPhone or Android nor do I want one. Once I got a windows phone, I already knew who I was sticking with. #TeamWindows

I am missing something here....hmmm I am somewhat confused. I thought that we want everything the other 2 OS'S offer. But yet we want to build it in house. Someone please explain.

What are you even talking about? Do you read your own posts before posting them?

Great! I've been using both 6tag and Instagram Beta.. I'm glad to see both are providing updates be it big or small. I've been waiting for an update for 6tag's direct message feature as it seems to update slow for me. At least it appears that way,though I have nothing to compare it to.. lol Hopefully this will fix this.

Windows has always been about developers, and people WE HAVE A WINNER! Actually we have several great ones. Do great work and you'll get noticed. Rudy is in his moment. Glad to be in it.

Everytime the official Instagram gets an update, I'll install it. Check it out. See what has changed. But guess what? I delete it a few days later? Why? Cos 6tag is way much better....

I'm actually hoping Rudy will make a FPS game.... "6shooter"... ...(quietly leaves room)

Are photos downloaded from Instagram Direct higher quality than those downloaded from Whatsapp chats? Cause Whatsapp compresses the photos.

That one superb IG client. Even though I like the autenticity of official IG filters, I still praise 6tag higher because it's really complete IG client at the moment. It has #igdirect #videos and yeah, keyword suggestions as you type. I don't think I'm gonna miss instagram lockscreen at all but I like push notifications are timed in 30 minutes interval. Its just physically unreal to see likes of over 500 followers in real time. It has lockscreen notification as well, that comes handy if you don't stare at your screen all the time. Good work Rudy.