6tag picks up an update with adapted UI for the Lumia 640XL, 950XL, 1320, 1520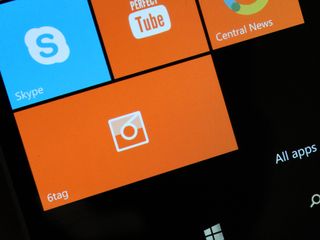 Resident platform developer Rudy Huyn has announced that an update has been pushed through the Windows Store for 6tag. This latest release, which should bump your install up to version 5.9, adds an adapted UI for larger Lumia Windows Phones.
As well as the new feature, Universal app support was also teased for the app. From Huyn's tweet:
This adapted UI will work better with larger Lumia devices like the Lumia 640XL, Lumia 950XL, Lumia 1320, Lumia 1520. If you own one of these Windows Phones and have downloaded the latest release of 6tag, do let us know how you're getting on in the comments!
Download 6tag for Windows Phone
Thanks to everyone who tipped us!
Windows Central Newsletter
Get the best of Windows Central in your inbox, every day!
Rich Edmonds was formerly a Senior Editor of PC hardware at Windows Central, covering everything related to PC components and NAS. He's been involved in technology for more than a decade and knows a thing or two about the magic inside a PC chassis. You can follow him on Twitter at @RichEdmonds.
Pls update this app for Lumia 930

If you scale the display down on the 930 (all the way down) you can get 1320/1520 display scaling.

it's updated for everyone, just changes if your screen is large

Direct feature only shows last 20 messages. I want all the history conversation.

I am talking about message service in 6tag not comment section.

I realized that the letters are smaller this time for everything in the app. Using a Lumia 640xl

My comments are big in size. Weird.

"I start the UWP dev next week" Finally! I've been waiting to read those words for YEARS (two to be exact)!

how's that possible if windows 10 (and uwp) has been there since last year?

I think you confused the Windows 8/8.1 UA concept with the Windows 10 UA one.
The Windows 10 UA actually creates an universal app, with one project and one code.
Windows 8/8.1 used to create a project and then sub projects which contained separate code for each device family. That's how Windows 8./8.1 and Windows 10's UAs differ.

1320 !!!! Finallyyyy :D :D

How to send a direct 'message' through 6tag?

Send a direct picture and after that you can talk with that person.

Yeah! I know that! So we can't start a conversation without a picture! Still Thank you!

From the home page scroll to the right, three headers: News, Following and Direct

For me after update, its brought all the in app ads back! :(
How many times does one have to pay for an app to just work and not blast ads?

Just go to buy them and if you already have paid, they ads will go away for free

I tried that as well, but clicking the "remove ads" does nothing for me

Same here. I have ads again and clicking on the ads-free purchase does nothing.

This is my favorite app on my phone,too bad that Instagram disabled my account without any reason.

You posted naked pics. That's why

Really?Which of my friends are you so you have seen pictures that I posted?

Not your fault per se. Instagram did that wholesale.

Do you know how to get back my account?Thanks in advance!

Small glitch picked up: when trying to tag someone in a comment the automatic finding of the user does not pick up? Anyone else with the issue? Also comment text size is too large on the Lumia 930

Yeah thank you! Was starting to think it was just my phone!

I've noticed the same. Annoying.

This adaptive design makes it even better than the official iOS app which scales the same on the ipod all through to the ipad pro.

It's because there is no "official" Instagram designed for the iPad.

Even if there was, it still might not adapt. Official doesn't mean quality

You are just being pedantic. Same OS different form factors. Should run the same programs. Official iPod instagram is therefore official for the iPad.

live tiles not working for quite some time now .. anyone else??

Yupp me too... (On WP 8.1) even after enabling background agent. :/

according to Rudy, this is a "bug" in w10m with "some" silverlight apps. - or not ;)

Not found on my device lumia 730?

That's a nice update. Now, can we can update to Fuse please!

How do i login to this app using facebook....?

The updated UI is pretty awesome on my Lumia 1320.

Issue I still have even after this update: When wanting to post an already existing picture, I can only see the last 15 or so pics, and when I try to scroll down to see older pics, it doesn't react. Oh wait, resolved while I'm typing this. ;)

There a bug if you type a long comment,it says "You're violating community guidelines" and does not post comment.But that same comment can be posted through instagram beta app

I was told I violated terms and got my account disabled

Too bad this is Windows Phone 8.1 only.

Oh, I was saying it is designed only for Windows Phone 8.1. It'd be perfect if it is designed as a Universal App.

The interface is very Windows 10-ish. Wireframe icons on the bottom bar which don't have the circle around them from 8.1, etc.

Text got bigger on Lumia 930, what the heck?

This is a nice example of contuniuum. Posted via the Windows Central App for Android

I got an update mine was Lumia 520

While trying to tag someone in comments the automatic username showing thing isn't working!

Its realy the best instagram app on the marked :)

Instagram should be ashamed.

My 1020 got an update. :)

Thanks Rudy but it actually looks worse on the 950 actually... it's zooms the interface larger instead of keeping it smaller as desired. Thus needing more scrolling and the clunky toolbar not flush to the windows back/home/search toolbar Devs/MS must recognize that screen size is never a determining factor, instead it's the resolution of said device that is set by the user. For example the 5.2" 2560 x 1440 device i have set to "smallest" settings as my vision is OK and i don't want a 6" device any longer just to get more things on the screen. This is really frustrating to users.

Yeah, messed it up on my 950 as well. I was trying to do a post last night and tag people in the message, and (this is tough to explain) everytime I typed the @ symbol, the grey area where it would offer suggestions of my friends to tag, was hidden by the keyboard. Also, the fonts for all of the comments were enormous. And, as someone else had mentioned, the ads came back as well.

Just so you all know, my account got deleted by Instagram administration because I was using 6tag. That was their official explanation.

Really?When did they deleted your account?Mine is blocked yesterday and they didn't explained to me why.

Yes my account was also deleted and I do not understand why!!!!

Anybody else noticing their direct messages being out of order or mixed up???

Font is extremely small and thin

It stopped working and when I uninstall to reinstall I was told I violated some policy and can't access my account.... Rudy plz explain what is this all about

My account was blocked before this update so I'm assuming that it doesn't have anything with 6tag.

Really so who do we complain to??

I have sent my complaints to Instagram but I think that I will not get answer.

Instagram beta will allow us to get back in?

Ok it didn't work. I have to create a new account

mentioning someone has become hard as the app doesn't suggest peoples names..NEEDS TO BE FIXED ASAP!!

My account needs to be restored. I emailed Instagram and they replied. I followed their procedure and now I'm waiting. these third party apps are f****** up now

It seems to be working well for me on my 1520, haven't noticed any problems yet.

Looks way better now. (640XL)

Five days now. I somehow mannaged to contact them through support

5 days your account been disabled??
Hmmmm so it's not the update that caused this after all... Hackers

Need s update for my 1020

How enable toast and live tile notification ?

İs there anyone get problem about video resolution?? When I capture a video in my phone video and sound does not sencronise. All of the end when ı upload video, video got to much pixels... How can ı fix that problem?? ( My phone models 950XL and 930 and ı get problems two phone)