6tag update adds support for Instagram's new portrait and landscape image formats [Update]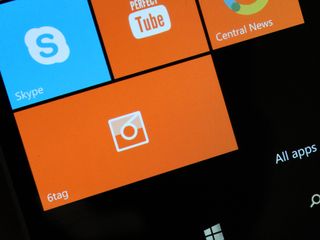 Update: There's yet another new version of 6tag in the store, with the version number 5.6.0.1. It fixes the bug that was causing the app to crash when users were encoding a video during the app update.
Original story: Earlier this week, Intstagram announced that it was updating its iOS and Android apps to support viewing images in both portrait and landscape formats, in addition to the regular square format. While Instagram hasn't updated its Windows Phone app since March 2014, the popular third-party app 6tag just got a new version that allows uploads and viewing images in the new formats.
Here's what's new in the 5.6 version of 6tag:
Upload non-square pictures
View non-square pictures uploaded by other users
Add three new filters: Clarendon, Gingham and Moon
Tap and hold your picture to quickly compare with and without filter (on filters page)
Bugfixes and use last Instagram API
By the way, 6tag's creator Rudy Huyn has posted word on his Twitter account that there is a bug in the current version of 6tag "if you have a video encoding in progress during the app update". He has a fix ready but apparently the Windows Phone Store can't accept new updates for apps at the moment, so be aware of this issue before you download.
Download 6tag from the Windows Phone Store (Free)
Windows Central Newsletter
Get the best of Windows Central in in your inbox, every day!
It is crashing a lot! Can't open it

Yepp, same here. Crashes on startup. Im sure he's working on a fix as we chat here on Windows Central

Just uninstall and again reinstall it..

Nice crash here :3 720 10512

Can't open it. It just crashes.

uninstall and then reinstall. This worked for me

Reinstalling works. You don't need to enter a load full of info again. Just login again.

Crashing, cant open it now since the update.

FYI if it's crashing, uninstall and reinstall. Rudy's updates are always like this.

Thanks, that worked for me.

I'll wait for a fix. I have a few accounts I manage. Its a pain to re enter all the info.

Can't wait for it to hit Windows 10 PC!

yeah, dude.. uploading videos to instagram directly from pc... how cool is that

The official app can't load anything since the update! Says connection problem!

It's true, it just doesn't load at all

I just checked it. It's working again.

Back to the official beta app for me, for now, until this is fixed.

wont open, just crashes every time

I know you all mentioned this but, I can't even open the app, it crashes.

Thanks for the crash rudy

Don't be rude, he doesn't have to make apps

Thanks for being an ungrateful twat rferrara90

Uninstall then install again

this worked for me, cheers

Its ok with me. Not crashing. Lumia 1520.

Just crashes when trying to open.

Uninstall & reinstall, that fixes it.

Shouldn't have to, plus I don't remember my password so that's gonna be a pain in the ass :p

In that case, wait for Rudy's update to fix it. I'm sure he didn't purposely try to hurt anyone, software is tricky business. Maybe change your password too?

Shouldn't have to, but you do... Or you can wait for a fix... And remember your password...

Everyone having issues, uninstall and reinstall. You know, basic troubleshooting...

Yeah we know, but some of us have several accounts we manage. Adding the info is a pain, so we'd rather wait for a fix. So we're just informing the developer, whom we know reads the site, so that maybe a fix will come sooner, rather than later.

If he hasn't fixed it the last 20 times it's happened, he won't now. He doesn't test that the app updates ok, he just tests that the new version runs.

I don't like the new portrait and landscape modes.

Someone's having trouble in instagram beta? Here doesn't load anything... 6tag is better any way :)

It's the live tile working for anyone in Windows 10 mobile?

So of I just wait for the update to complete without doing anything on the phone will it work ?

ayee, it doesnt take 628871552748663 years to load the filter !!11!1!!

Crashes on my L640 after updating.

Is this even true? No update showing in the store since the last one

Just a quick question. What will you guys do if instagram finally updates his app to the latest version, completely full of features? Will you remain with 6tag app or will you change to instagram official? Is it a matter of loyalty?

somehow i still prefer 6tag on my WP even though i had the official instagram app on another iOS device.

Stay with 6tag. Gotta support such a great developer devoted to WP

Yeah he's such a great developer!

Only If the official app is faster than 6tag.... Otherwise 6tag is great and we can also expect quicker updates on it....

Use the official app Posted via the Windows Central App for Android

I'll use 6Tag unless Instagram's is better. If they're equal, I'm with 6Tag. not that I'm a heavy IG user anyway.

Hello! Could someone explain to me how to use the new portrait and landscape mode? I can't find them in options! Please, I need your help!

Got it,, just post the picture anyway, it will be automatically posted in landscape or portrait..

Ok, I will try, thank you:-)

Need the latest blur option.

In my case app isn't crashing, but I can't post image. Its always says retry. :(

It's limited to 3:2 aspect ratio.

Seems really difficult to get a picture that actually posts the whole thing in portrait mode, I have to crop it to basically square anyway. Kind of annoying.

Yup, broken for me too, not going to be fixed soon either, these store issues are taking weeks to fix due to a backlog and Microsoft being a bit ignorant.

Is there a win10 desktop version coming?

Just uninstall and reinstall the app...the app will work properly!
Cheers!!

A live tile would be nice Posted via the Windows Central App for Android

I haven't been able to app since update yesterday

Please, this is important. Does anyone know if WP 8.1 phone backup also contains and restores Saved passwords in IE??

This is very frustrating, it really doesn't do any favours for the platform given the official app is half baked.

Only I see error 805a0f14 during the purchase of adfree version (6tag and same problem with 6sec)?

So instagram is embracing the "tiled" look as well now 'eh?

Rudy is the best thing that happen to Windows. Lol

Hasn't landscape and portrait been for quite some time in 6tag??

I cant see new things...whats new in this version?

The changelog is in the article!

I didn't figure it out how to publish a landscape picture, I only see the option to post full picture, with the white thing around it

yup seems confusing. but try just to post your picture , it will be landscape or potrait, but if you want to make square photo, just pinch your picture into square.

It's still extremely limited as you can't 'zoom out' as it were to get it to post the full image, so even though it is in portrait or landscape it is still seriously cropped compared to the full original image.

No, I think it does post full sized images. Just try selecting your image and choose the 'autofit' option - although you will see the white borders, when you post the image the borders will disappear.

No crash for me. W10 build 10512 Lumia 535

I must be missing something because I don't see any way to post a non-square picture.

I think when you choose your image and select the autofit option, it then goes on to post the full sized image. I think!

Sorry if it seems lame, but no live tile for Windows 10? Or is it my phone?

After the second update no videos are now playing, I'm on Win 10.
Windows Central Newsletter
Thank you for signing up to Windows Central. You will receive a verification email shortly.
There was a problem. Please refresh the page and try again.