6tag updates to 4.1.2 with fix for selecting friends in Direct messages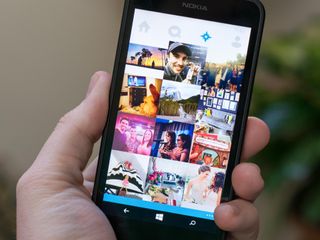 Windows Phone Instagram client 6tag has been updated, bringing the version number 4.1.2.
The update brings a fix for Direct messages. An issue that cropped up while selecting friends to message has been corrected. Instagram's Direct feature allows you to send messages with pictures directly to your friends, rather than sharing them privately. You can send Direct messages to as many or as few friends as you choose while in the sharing section of the app.
An update earlier this week brought a fix for its full image format, while the recent 4.1 update brought increased image quality and a phablet-ready user interface.
Download 6tag from the Windows Phone Store
Thanks to Aman and Ankit for the tips!
Windows Central Newsletter
Get the best of Windows Central in your inbox, every day!
Damn thing keeps giving me an error message when installing.

Same with age of empire here

How can one guy do so much more than a billions company can? It just shows how uncommitted these big companies are.

Devs like Rudy,venetasoft,Chris Rogers are absolutely awesome.

Don't forget Thomas Nigro.

Don't forget Microsoft too.

Why should we not forget Microsoft? *cough*Live Lock Screen BETA*cough*

Why, the Battery Saver works 'just' fine. /$\

Well Rudy said the update is ready for the live lock screen beta but microsoft aint pushing it out .!!!!

Probably they want it to integrate it with the OS directly.

When a username has a "." In between,only the name before the "." gets selected.
Is that in official app too?

Never noticed this in 6tag. And yes, this happens on the official app.

Toast notifications work for Windows Central never did before

Yes . Finally sometime addresses this ! Need a fix for this!

How to switch from this shit-ass instagram beta app to 6tag? I'm not able to register on 6tag, coz it's saying 'e-mail address already used'.. Please guide me.. Instagram beta- The stupidest app ever!

Just log in with your username and password. The same one you used on the instagram beta app.

Make sure you're signing in, not creating a new account.

no need to register if you already have instagram account, open 6tag and just log in your current username and password

My 6tag keeps crashing. Since the thumbnails are in HQ I can't browse profiles, or even my feed sometimes without it crashing. I'm sure it's the low RAM in my 630. But the app is becoming unusable. And reinstalling doesn't solve it.

Dear Rudy just let us upload videos from camera roll. There's no comparison between 6tag and official app. All hail King Rudy

'just let us'
Like Rudy has a personal grudge against WP Users....

I believe he said this option will finally be available in version 5 when it becomes a universal app, probably in conjunction with Windows 10.

He ain't written anything like that..

He did. I just checked the article covering the v5.0 reveal.

Right now WP doesn't let allows do this at the moment but will bring this in w10.

LOL ! Bring "Import Video" feature for 6Sec , Rudy .

Shows error when I try to upload a video :(

Keeps getting better and better. Only thing still missing is Saving and reposting videos.

Just noticed that sample images for 6tag in the store show both Tom Warren and Daniel Rubino. Funny

When will 'complete' Windows 10 arrive..?

Wen will all of dis be in India?

Hope he fixed where the keyboard shifts upward after you start typing the username of a friend. It's pretty annoying.

looks like live tile is not refreshing anymore after the latest update

Is video upload free in 6tag?

The app crashes when started !

Instagrams crashing a lot for me. Does anyones notifications work? Mine never work..

Man, Just yesterday a colleague recommended 6tag, i got v 4.1.1, got excited seeing an update, and now all I get is this; 'we're having troubl einstalling this app' that's a first, never before, tried 7 times, stupidly enough uninstalled the 4.1 [old windows habits] anyone suffering as well?

For those who are interested in the solution to the issue described above as ' having trouble installing' well, just like most windows issues, really, all I had to do was turn off and then turn on my phone again - works like a charm and I'm happy again :)