6tin update brings an improved chat experience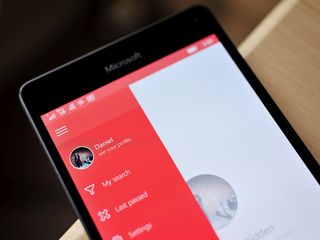 6tin, the third-party Tinder app for Windows Phone and Windows 10 Mobile, has been updated to version 3.3 with some chat improvements and more.
Here's what's new in 6tin 3.3, according to its creator Rudy Huyn:
Improve chat user-experience: no more loading when you send a message, you can retry to send an unsent message, focus kept on the textbox
don't lose your messages, if you send a message from the action center and it failed (no internet connection for example), you receive a notification to retry
Give us a shout in the comments if you see anything else new or interesting in 6tin 3.3.
Download 6tin from the Windows Store (opens in new tab)
Windows Central Newsletter
Get the best of Windows Central in your inbox, every day!
I wish the 3rd party applications had on time notifications . :(

That's always been a issue,,, on every platform, from what I understand. RoJo Arlington, TX Waiting for 6.2" Surface Phone Pro

Where's the new 6tag update with a windows 10 version??

I don't know. I know he's busy with his real job, but he's taken too long. With Instagram/Facebook's recent new found support, the only reason to want 6tag is it's live tile... that's the only knock I have on the official app, it's dull nearly static tile. I've actually deleted 6tag, I'll try his Windows 10 version of it ever appears but it will have to be spectacular for me to choose it over the official app at this point.

The fact that 6tag will run on desktop, laptops and tablet is a major advantage. Instagram doesn't seem interested in that segment and it will not release it for those devices. Look at the iPad.

One more advantage of 6tag is you can save photos and videos from Instagram. Its not possible with the official Instagram app.

And the "regram" button. I did not realize that was not a native Instagram thing until I tried to do it on the first-party app. Sent from my Lumia 640

Boy, let me tell you the trouble this app has got me in.. Lol. Where do I start.
....
Let's just put it like this... If you're not the best "smooth talker", and you can't get at least an average girl on Tinder,, then you've got problems. Because, with this app any dude with at least one arm, one leg, and one nut, can get a girl. Lol... Many girls, at that. But, then again, I live in Dallas.
Edit: Also, get a Harley, and post a few decent pictures with yourself near it. Girls will be on your one nut like white on rice. Just saying.

So basically the service is for complete losers and of you can't get a mate you're even more of a loser? Posted from Windows Central for Windows 10
on My surface phone

I can't believe that I would ever answer someone at your level of maturity, but what the heck, I'm having a good day........
..........
I wouldn't say it's for complete losers at all. It's just a form of online dating.. It's doing things the smart, easier, and more efficient way, vs possibly meeting a few girls a week at a bar... This gives everyone the opportunity to chat with A LOT of people on a weekly basis before they waste their time. You're actually more likely to find someone who is better suited for yourself with online dating (or pre dating) because whether you meet someone in person, or online, it's all just a game of odds, and neither one are guaranteed. Online dating just increases your chances. It's not a fact that its necessary, rather a tool, and it's smart.
.....
I guess people like you who have major social, ego, and emotional issues might have a hard time understanding that this is 2016, and people SHOULD be open to trying new things, and why not? What woman is gonna want to be with someone who is closed minded, short sighted, negative, and just an outright downer, as someone who would ask a question like the one you just did? IDK. Lol. Don't ask a facetious question, or you'll get the same type answer back... And, show some respect for others. RoJo Arlington, TX Waiting for 6.2" Surface Phone Pro

So why did you even have to go there man? I was trying to be nice to you and you calling me out as being disrespectful. Your level of passive aggressiveness isn't called for here but I won't allow you to provoke me with your recalcitrance....just yet Posted from Windows Central for Windows 10
on My surface phone

You were trying to be nice.. Lol LMFAO!... OK. Yeah. You must think we're forgetful of who you really are. Please. Keep working on your "trying to be nice"
Playing the victim. Lol RoJo Arlington, TX Waiting for 6.2" Surface Phone Pro

You keep saying "We", you're the only person that got -100 or more from me. I don't try hard at things like this, you must be new to the internet Posted from Windows Central for Windows 10
on My surface phone

Got -100 from you.. I sense that you think you're actually somebody... So you think that anyone here actually cares about your "giving people -100"? You must've been an only child.
.....
Look, just quit insulting fans, and go away. End of conversation. RoJo Arlington, TX Waiting for 6.2" Surface Phone Pro

-200 for these ridiculous statements Posted from Windows Central for Windows 10
on My surface phone

-200 99persent spelled wrong dislikes.. Means ZERO shitz to me, or anyone else here...
....
More like 99problems but a ***** aint one... Hit me! Sure you're crazy enough in the head to try with all your tiny little might and give me 300 fake a$$ "persent" dislikes... Please. You're really a real person? Don't admit that. RoJo Arlington, TX Waiting for 6.2" Surface Phone Pro

Bad thing is junior high school lets out in a couple weeks so we can "look forward to" more of your childish BS.. SMDH.... Just try not to ruin everyone's summer, and don't interrupt when adults are speaking. Go to summer camp, or basketball camp or something. Just go away..

-300 Posted from Windows Central for Windows 10
on My surface phone

That's why we need a delete button. RoJo Arlington, TX Waiting for 6.2" Surface Phone Pro

For some reason photos gets mixed up while loading in each profile, some gets duplicated also and original picture does not appear until i go back and check that profile again... I hope thats fixed..

I got the WhatsApp update, but not this one, yet.

THIS!!!!! Sent from the fabulous Lumia 1320 running smoothly Windows 10 Mobile

Is ther goin to be a implementation of tinder social rudy ?

All Tinder got me was a bunch of guys who'd eventually disappoint me or get too clingy to the point I'd run away from them. Still, I find it oddly amusing.

Is nt it a sex app for teenagers with personality problem...?

This pretty well much sums it up. lol