Access Point updated for Lumia owners, no changelog in sight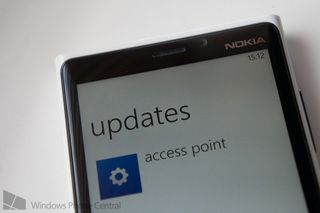 It's been a while since we've seen an update for Nokia's Access Point. This is an app that helps Lumia owners easily maintain the proper settings when switching between multiple SIM cards. Or if your SIM card supports multiple access points then this app, or setting actually, is a life savior. Today we picked up another little update for it.
What's new? We're hoping you can tell us. The last update we saw was in the summer and brought the app to version 3.7.2.15 and included updates for operator setting and various "robustness improvements". We're now seeing version 3.9 of the app in the Store, but the same changelog from last time.
Let us know if you notice anything new in this latest version.
Access Point is available for Lumia owners on Windows Phone. You can get it in the Windows Phone Store or by using the QR code below.
Windows Central Newsletter
Get the best of Windows Central in your inbox, every day!
Hope it fixes the crashing issue.

I'm visiting san Diego from Australia and I bought a $30 SIM for T-Mobile from WalMart yesterday for my Lumia 920. I activated the SIM yesterday and added mobile hotspot for $15. After I activated it I tested the hotspot and it worked. Then today it stopped working. I called T-Mobile and they said the $30 plan doesn't allow hotspot so I upgraded to the $70. And it still didn't work. They said wait 2 hours. Its now been 4 hours and still not working. I've checked the net and some had problems a while ago due to apn settings. I can't find any apn settings though to try. But now that I read this article I remembered this morning I updated Access Point and I'm wondering if this has stopped it from working. So the big question is, anyone else having an issue since this update?

i can't understand how rip off is the internet in some places
i mean i recently arrived to Austria and get a 3G sim with usb modem for only 15 euro for month
unlimited and and it's 10mb speed or something

Try downloading the Spanish language from SPAIN not from México, many users hace reported a fix :)

I'm not seeing the update in the store, and looking at the reviews, it looks like it causes data to stop working for some. Hmmm.

I noticed that too... Hesitant to update... L925

No it doesn't, you just have to pick a profile and reboot.

Probably just enhanced for the big sized screens

Fyi Lumia 1020 users who had broken internet sharing, mine is now fixed so I'm hoping that's what you will see now :) NZ Lumia owner here btw.
EDIT: It looks to have fixed broken MMS messaging as well

No such luck here. Using a 1020 on Tmobile (US). Internet sharing is sitll broken even with custom APN settings - bummer

Did you say apn or somethin?

On AT&T there is now only one profile available now... AT&T. No more 3G, LTE1, and LTE2. It's not active for me, so I'm hesitant to switch to it. Everything is working for me as-is.

I tried Internet Sharing, which is broken for me on my ATT 5GB plan, and this update did NOT get sharing working again. I tried it before and after selecting the single profile to make it active...

It works faster now after the update : p

I saw this update today early in the morning with SysApp Pusher. but after I read the comments in Market decided not to update. it seems to cause some problems with internet connection

I have not updated yet, but my lumia acts wierd coz, h+ signal is shown on the bar but will be as slow as 1G (not 2G) ao let me try out

Its a much better change before on AT&T unlocked phone is showed 3 access points AT&T 3G Lumia LTE 1 Lumia LTE 2 You had to guess which one you had to choose to get MMS to work and AT&T employees are clueless if asked. Some trial and error and texting with a friend help you find the correct setting which could be different depending on what part of the country you live Now, you get a Screen that says AT&T and the word inactive underneath that. After clicking AT&T it gives you Active. It seems to figure out the proper settings for you automatically. Thankfully! Click the + at the bottom now lets you setup internet sharing. everything seems to work now

What settings are you using for MMS? Could you please share? My settings under "Cellular" are blank. Adding "Access point" connections could only activate internet connection but not MMS. I have tried everything I could possibly find online. For APN.
APN:
User name:
Password:
Proxy server (URL):
Proxy port: For MMS APN
APN:
User name:
Password:
WAP gateway (URL):
WAP gateway port:
MMSC port:
Maximum MMS size: Or if not Cellular, then the "Access point" settings, please. Thank you very much!

I updated as well on my AT&T L920, and can also confirm that the 3 available profiles previously there are gone and we are now left with one option AT&T. It's actually a nice option as you don't have to guess which one to connect to. I clicked it to activate it and rebooted. Haven't had any issues as of yet.

ever since i have updated my 1020 with the latest nokia firmware, i couldn't been able to receive app updates in marketplace automatically.. so i thank you for these posts :]