XREAL's new AR glasses work with your Windows PC, and finally look like real sunglasses — preorders go live to all
XREAL's newest AR hardware have better displays, and are thinner and lighter than before.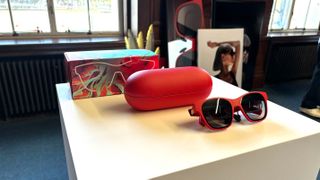 (Image credit: Windows Central)
What you need to know
XREAL is launching the Air 2 and Air 2 Pro AR glasses today.
Both wearables feature 1080p Micro-OLED displays and a slim form factor.
They are available to pre-order now from $399, and ship next month.
---
XREAL is today launching a second generation set of consumer augmented reality (AR) glasses that are designed to be thinner and lighter with better displays and features. In fact, XREAL is launching two new products today, the XREAL Air 2's and Air 2 Pro's, which feature similar designs, but with advanced features specific to the Pro version.
We'll start with the XREAL Air 2, which now features brand new Micro-OLED displays, the first of its kind from display maker Sony. These displays are higher resolution, with support for up to 1080p content at 120Hz. Additionally, the screens are brighter than before, meaning they can be used outdoors, and also offer better color and contrast levels.
XREAL Specs
Price: $399
Weight: 72g (75g Pro)
Thickness: 19mm (19.2mm Pro)
Displays: 0.55 micro-OLED 1080p
Refresh Rate: 120Hz
FOV: 46-degrees
PPI: 4032
Brightness: 500 nits
Cable: USB-C
The XREAL Air 2 Pro's feature the same displays, but with the added capability of electrochromic dimming which enables the ability to dim the exterior glass for better immersion of the AR content on display. This is excellent for when you're watching a movie in a bright room, and want to focus only on the movie.
Both wearables feature similar lightweight designs, which are discreet and can almost be passed off as a pair of normal sunglasses. XREAL is also selling reusable sticker accessories that can be used to customize the front of the glasses, which add a level of personalization that wasn't available on the first-gen.
XREAL will also sell prescription lens adapters for those who wear glasses, which will make seeing the new Micro-OLED displays much easier. Both wearables come in either grey or red colorways.
Both devices support Mac, Android, and Windows (though the Windows app is still in beta) which enables additional functionality such as virtual desktops. The app is called Nebula, and enables more rich and immersive experiences. The glasses are wired, and use USB-C for connectivity.
A big change for XREAL with this new generation of wearables is that they're launching in more markets for the first time. In addition to the US, XREAL Air 2 and Air 2 Pro will also be available in the United Kingdom and some European markets, with a starting price of $399 in the US, £399 in the UK and €459 in Europe.
XREAL Air 2 and Air 2 Pro are available for pre-order now, and are expected to start shipping in November.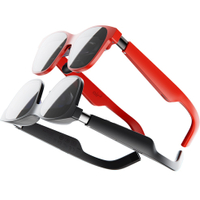 XREAL Air 2 / Air 2 Pro | From $399 at XREAL
The new XREAL Air 2 and Air 2 Pro feature new micro-OLED displays from Sony, 1080p resolution, up to 120Hz refresh rate, all in a thinner and lighter package.
XREAL Air 2 Pro first impressions
I've been using the XREAL Air 2 Pro's over the last two weeks, and I must say I'm very impressed with how these look, feel, and function when in use. They are incredibly light, and really do look like a pair of normal sunglasses, albeit slightly bulky ones. They're much thinner than any other AR headset I've worn to date, including the HoloLens 2 and Meta Quest Pro.
The Air 2 Pro's are true AR glasses, not like the Meta Quest Pro or upcoming Apple Vision Pro, which are VR headsets with AR capabilities. The Air 2's are true AR, meaning the pane of glass you view content on is translucent, capable of viewing the real world through it. This means all the content you watch is placed on top of the environment around you.
Now, there are no external cameras on these glasses, meaning there's no hand tracking. Everything is controlled with your phone or PC, which means you can't control elements just by grabbing them. The glasses work best as an external screen for watching content or virtual desktop mode, which when connected to a PC or Mac adds up to two additional 1080p displays on either side of your main one.
Watching movies on these is great, with the ability to adjust the size of the virtual screen up to 330-inches. This works in conjunction with the BEAM accessory, which is sold separately but lets you control aspects of the virtual displays, such as how close or far away it is and whether the screen is following you or fixed in place.
The glasses also have built in speakers, which sound surprisingly good considering they don't sit directly in your ear. They use a directional design to send the sound into your ear canal, and they get plenty loud without "bleeding" too much into other people's hearing space.
The electrochromic dimming capabilities on the Air 2 Pro's really is great, and is very effective. The darkest level still lets in a tiny bit of light, but only if you're focusing on what's behind your AR content. When watching a movie, the darkest mode is more than enough to remove any environmental distractions.
That said, if you do wish to make it even dimmer, the Air 2 Pro's come with a view shield which you can snap onto the front of the glasses to completly block out your environment.
We'll be doing a full review of the XREAL Air 2 Pro's over the coming weeks, so stay tuned to Windows Central for that.
Get the Windows Central Newsletter
All the latest news, reviews, and guides for Windows and Xbox diehards.