Acer adds fifth generation Intel Core chips and 802.11ac wireless to several laptops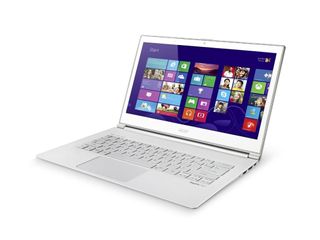 As part of its CES 2015 announcements, Microsoft has stated that Acer will include Intel's 5th generation Core processors and 802.11ac wireless hardware in a number of its Windows 8.1 laptops, including the Aspire R 13, Aspire S7, and Aspire Switch 12.
Microsoft says:
Do you use 802.11ac wireless at home yet? Maybe steps like this will inspire people to upgrade their routers.
Source: Microsoft
Windows Central Newsletter
Get the best of Windows Central in in your inbox, every day!
Bhayankaraa.........!!! ;)

Adippoli alle bro?..bro evidennaaa?

Intel 5th generation....Broadwell architecture 14nm

Wonder what happened to their grand idea to update their cellular modem offerings

Just got a link dir 868l ac router Friday. So far so good. I'm trying to figure out the Qos, would like to prioritize Xbox one for best connection. Roku and Surface 2nd, then phones 3rd. Could use some help if anyone has a link to share.

Questions about quantum physics are more easily answered than those of network troubleshooting. All I can advise is there will be lots of trial and error. That reset button on the router's rear is a friend. Press & hold. Then pray your next configurations work as you intend.

Ironically, the only device I own which uses .11ac is a Lumia ICON. It has numerous issues with it's Wifi radio, mostly related to range. That said, .11n performs at higher level through an AC equipped router. My laptop pulls about 100 Mbps down (of 125 Mbps connection) using the .11n protocol through a gigabit AC1750 router. For comparison, through an old .11n router, and with a 50Mbps connection, the laptop would pull 20 Mbps down.

Performs better probably because the processor is faster.

Well, the reason I'd upgraded the router was due to jumping from a 50 Mbps connection to a 125 Mbps connection. I really wanted the 10/100/1000 ports which come standard on AC routers. I didn't expect to see any real gains through the .11n protocol, but was unexpectedly surprised. I digress. The post was good. It alludes to the precipitous need of different technologies to evolve together. US internet infrastructure is a component falling within that predication. Fairly nerd thing to say but...I'm stoked for FCC rules coming next month :/

Not using 11ac in anything. I could have spent $50-100 more for a router with 11ac when I upgraded, but didn't see the point when devices that can take advantage of it were non-existent at the time, and today are still rare. Will get 11ac and/or its successor next time I upgrade the router.

I say this with some humlity and honest intentions: If this site wants to graduate coverage to be more than Windows Phone oriented stuff, then something more insightful than presented in this article would be helpful, lest the overall site start to become kind of "me too" and generic. For example, in this article it might help to know if Asus are the first to add this, or just following others and if so, who? Or what is the advantage of such a chip. Something... Anyway, I say this knowing its easy to feel the need to be fast with news, but adding value beyond the press release is what makes a news site interesting. I hope this comment will not offend anyone. That is absolutely not my desire. Cheers.

Honestly I didn't feel that way at all. Maybe because I know what AC is for and what it is used in. To me the article was meant to cover the fact that Acer is adding this capability to certain laptops and it did that well. I see what you're saying, but I don't think WC is the place for that sort of info. IMO.

As WC expands beyond its historical core coverage of Windows Phones to general Windows topics, my fear is that the core value add of quality insight and depth of coverage on phones becomes diluted with "me too" articles on technology that is better discussed on other sites.

I don't know if I would necessarily call them "me too" articles. WC is expanding and is no longer specific to phones, but to all things microsoft. This may dilute WP news a bit, but every business must grow as time passes. This is mobile nations simply expanding to cover additional aspects of microsoft. I think the quality of this site is pretty decent and they have been covering news beyond WP for quite some time now. I don't think we have much to worry about as far as overall quality is concerned.


I enjoy the site daily. And the coverage has widened a while ago as you mention. With the slowness of the windows phone market incan understand the desire to expand coverage. And Windows 10 is supposed to be a multiplatform OS. Maybe being all MSFT commercial products is a very wide remit. Anyway, I love the site general and hope it stays close to it's roots.
Windows Central Newsletter
Thank you for signing up to Windows Central. You will receive a verification email shortly.
There was a problem. Please refresh the page and try again.