Acer executive re-affirms 2016 launch for Jade Primo Windows 10 phone with Continuum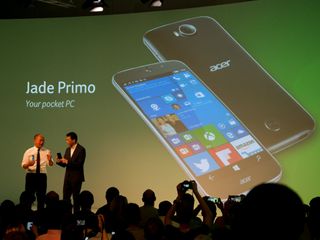 Back at IFA 2015 last month in Berlin, Acer blew the doors off by announcing the very first Windows 10 Mobile smartphone that would have support for Continuum. The Jade Primo is the Taiwanese manufacturers first stab at a high-end Windows phone since it returned to the ecosystem earlier this year but we heard coming out of IFA that we wouldn't see any more of it before 2016.
In a report coming out of its native Taiwan, an Acer exec has, unsurprisingly, re-affirmed that detail.
Speaking to local publication, Digitimes, Acer's handset president, ST Liu, said this:
Beyond both this and what we ourselves were told in Berlin, it's not that hard to expect we'd see the Jade Primo next year. Microsoft hasn't even launched Windows 10 Mobile yet, though obviously we expect to get more details on when that's happening at next week's NYC event on October 6. If we were to see it this year, IFA would have been the time and place that we'd have been expecting to hear even a tentative schedule.
So, while Acer was the first to announce, Microsoft looks like being the first to actually release a Continuum supporting phone. We're live from New York next week to bring you everything you need to know on that front, so stay tuned.
Richard Devine is an Editor at Windows Central. A former Project Manager and long-term tech addict, he joined Mobile Nations in 2011 and has been found on Android Central and iMore as well as Windows Central. Currently you'll find him covering all manner of PC hardware and gaming, and you can follow him on Twitter and Instagram.
I like jade primo more than Lumia 950 but not more than Lumia 950xl !!

I think Microsoft is giving some space to OEMs to gain market share in this platform

I hope one of them manages to design a phone that doesn't look like the rest. These designs are just not my cup of tea!

For the specs, I prefer this phone over the 950, but I will end up with a 950, because of better support by microsoft, and probably, much better camera

I think Windows Central misunderstood the original interview... Jade Primo, with Continuum, is coming this year, it is even quoted in the article above. No delay was mentioned in the interview either. Jade Primo 2, another phone of the series, is coming next year.

Yeah, I read the same in the interview....

Yeah. That's what I read too.

"We launched the Jade Primo..." Acer makes phones that run Android as well, also phones we may never even hear of in the west. Announcing the phone at IFA is not equal to launching the phone. Launching the phone is when the phone is shown off, press get to play with it, and we get some kind of release information. Acer will launch the Primo with Windows 10 and the Predator phone with Android in 2016. We were told that back at the event.

Oh, sorry then. I still don't see any reaffirmation in that interview though.

West is not the only world.

Everything is west in the world if you keep going west.

No. Earth is flat... Everyone knows that duh

Earth is not flat. It's..............,

But he said Jade Primo, and when I look that up the Windows 10 Mobile handset is the only thing that comes up, even if I type Android with it.

Jade "Primo" designed by DJ Premier. Hip-Hop heads will get this.. Lol

I couldn't really understand why everyone was bitching about the looks of the 950 and 950XL, but seeing this design, I kinda get it. Microsoft could have put a little more effort into the two to make them stand out more. They do look awfully plain jane for flagship phones compared to this one.

Ha! This phone doesn't look like anything more than an old Samsung Galaxy phone to me. Save for the 950/XL ish camera ring. Nothing spectacular here. Glad to see it coming though.

This phone looks like them new nexus devices coming out. Not my cup of tea at all. Prefer the 950 xl Posted via the Windows Central App for Android

Thanks for being logical and honest as this phones doesn't look that great to me. Like you, I'm glad to see OEM's making WP.

So putting a chrome band around the exterior of the phone makes it premium?

Looks like sane argument about having metal on sides (I actually like having metal frame like 830). But the issue isn't just the specific aesthetic element, its how all these things comes together to give compete look. Even the most cool looking wheel wont always look good or look cohesive on every car. Its really how the wheel fits the design of the car and give a complete looks to make it look good.

Too much bezel on this one too.
My 830 look like its 3 year newer.

I am happy that first OEMs are catching up with Windows 10 mobile devices. Acer can be a nice alternative for Lumias but I will still prefer original Microsoft products as strongly count on better and longer lasting support.

Unfortunately Acer cannot release the Jade Primo before MS showcases its own wares. Case in point Nokia 2520 had to wait for ever for the surfaces....! Am watching the space.

While Acer can release it before Microsoft Lumia 950/950XL it will have to be shipped with Windows Phone 8.1 which is a no-no if we want everyone on the same platform. By delaying it until after Microsoft releases their phones and W10M, Acer can insure that all those buying it will already be on the latest platform and can cut down customer-support issues caused by OS upgrades

I heard it costs around $300-$400 . ;)

This more likely be in competition with the Lumia 950 (which is a showcase device just like the Surface tablets)

If only it has a feature like glance screen

I just hope they'll offer a compact alternative. Anyway, it's very good Acer are making a WP :) Let's hope others will join too.

Yes, thank you as I really hope this is the start of OEMs to release newer W10M devices (looking at you Samsung, HTC, LG, Huawei ...)

Well thats one for Acer. What bout Samsung and HTC?

I like the tag line, "Your Pocket PC.", because Windows 10 has gotten more advanced than just a smartphone with the introduction of Continuum, thanks to Windows 10 universal platform.

Indeed, at least the way they market it looks like there is a focus on their target market. How it plays out, we'll have to see. So far make sense in some ways (as long as people won't confused they can run Win32 apps with this).

Or could backfire... People will think it's old and legacy by being called a 'pc'

Its obvious Microsoft is the one,who release the continuim headset In market

Off topic: Ne one hvin problem with d outlook mail Live tile @ build 536??

All the tiles are problematic, especially the little ones.

Sounds great 21mp front cam, 1080p screen, continuum support, just hope it has wireless charging and might just think about it

more than that, I think all W10M should have USB-Type C regardless of any other features they want to put in.

I think it's safe to say that HTC has killed off the 8X lineup. They haven't released any new devices in that lineup since 2013. On the other hand, HTC would probably be updating the One M series

This phone looks between ok and good to me. I might compare it to the 950 if it's released quickly enough. It's likely to be to big for me though. And I don't trust Acer as much as Microsoft concerning the camera, but I'll wait for reviews before judging it obviously.

Any leaks on Lumia 'flagship' pricing? Some rather unreliable sites been reporting that XL will be 649€. For feature-phone like design and assembly realistic price point would be 299€ max. if Nadella really wants to have any sales. Then again W10M is nowhere near RTM quality so waiting a few months as software matures and prices half is also a good option :) (if platform is not dead by that time)

Every continent (and country) will have different pricing

300€ is not gonna happen with those internals! For a high end, even if it was 500€ it would already be very good. Also there are rumors about accessories included, I'm curious to see if it's true and what is the price of the bundle.

There are Androids with similar or even better internals at 300€ range. To ask 649€ there should be more than just run of the mill internals. Like attention to design, materials and such and perhaps even an ecosystem..

If the 950xL comes in colors I'm in. I need a yellow, blue or red variant.

The back cover is removable so you would technically be able to get any color you like. However, that would mean that you buy the phone (that comes in black or white) and then get colorful covers

This remains a fake announcement. Very few OEMs actually launch Windows Phone, most, like HTC and Samsung have now given up before launch. Windows Phone needs to get above 10% before any significant OEMs consider Windows Phone seriously.

"Predator 6" I'd almost buy that, just for the name :-P

That's a beautiful phone!
Windows Central Newsletter
Thank you for signing up to Windows Central. You will receive a verification email shortly.
There was a problem. Please refresh the page and try again.