Acer expands its 2-in-1 portfolio with new Aspire Switch notebooks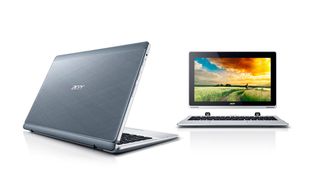 Acer today unveiled new 2-in-1 products at IFA 2014. The Aspire Switch, available in both 10- and 11-inch variants, further extends the company's portfolio of convertible Windows devices. The hardware announced today can not only perform well as standalone tablets, but have compatible dock keyboards that transform the mobile experience into a notebook environment.
The Aspire Switch 11 (pictured above) features an 11.6-inch IPS display (with Corning Gorilla Glass 3), while the Aspire Switch 10 (essentially a more advanced model of the previous version) comes packing a 10.1-inch IPS screen. Both product lines feature a magnetic detachable hinge for the keyboard dock. Check below for the specifications.
Aspire Switch 11 SW5-171
Full HD 1080p display
HD webcam
Up to a fast 4th generation Intel Core i5 processor
4GB RAM
128GB internal storage
Full-sized USB 3.0 and USB 2.0 ports
Micro HDMI
MicroSD
Bluetooth 4.0
Aspire Switch 11 SW5-111
1366 x 768 resolution display
Intel Atom Z3745 quad-core processor
2GB RAM
64GB internal storage
Two USB 2.0 ports (one full sized and the other micro)
2.0MP HD webcam
Micro HDMI
MicroSD
Bluetooth 4.0
The Aspire Switch 11 series will be available this October with prices starting at $399 (€399 in Europe).
Aspire Switch 10 SW5-012
1920x1200 or 1280x800 10.1-inch display with Corning Gorilla Glass
32/64GB internal storage
2GB RAM
Intel Atom quad-core processor
2MP HD webcame
The Aspire Switch 10 series will go on sale in September with pricing kicking off at $329 (€329 in Europe)
Acer Expands Its Flexible 2-in-1 Product Family With New 11.6-inch Aspire Switch 11
BERLIN, (Sept. 3, 2014) – Acer today expanded its popular 2-in-1 notebook line with the new Aspire Switch 11 series of 11.6-inch models and a new Switch 10 that boasts a 1080p Full HD 10.1-inch display. The Aspire Switch 2-in-1 lines combine a full Microsoft Windows® -based notebook and tablet in one flexible device.
The new Aspire Switch models were unveiled today at Acer's Global Press Conference at IFA 2014 in Berlin, Germany, where the company announced their entire line of holiday products. They can be viewed at the Acer Booth in Berlin Messe (Hall 12/101), which will be open to the public from September 5th through September 10th.
Not only is the Acer Aspire Switch series beautiful, it's intelligent. It offers four flexible modes for touch, typing, viewing, and sharing. The magnetic detachable Acer Snap Hinge™ has two hooks to firmly connect the tablet to the keyboard and a 2-way connector that holds the tablet
News for convenient two-sided viewing. This innovative design enables easy transitioning between modes, latch-free keyboard docking and additional storage capability.
"We're thrilled that the flexibility and portability of our Acer Aspire Switch series has resonated with customers," said Jerry Kao, general manager of Acer Notebook Business Group. "Our new models sporting larger 11.6-inch screens with durable Gorilla Glass 3, an anti- fingerprint coating and a responsive Chiclet keyboard should be a hit with both students and professionals alike."
"2-in-1s offer a great value proposition to consumers who want a laptop and a tablet in one device," said Navin Shenoy, VP of Intel PC Client Group and GM, Mobile Client Platform Division. "Acer's new line of 2-in-1s provides more compelling choices that elegantly work, share and play in a variety of modes – all powered by the outstanding performance of Intel processors."
Aspire Switch 11 Series
The new Aspire Switch 11 notebooks featuring 11.6-inch displays are outfitted with durable Corning Gorilla Glass 3 to help safeguard the screens from damage and scratches. They're also protected with an anti-fingerprint coating to reduce fingerprints and smudges, while making them easier to clean. In addition, a Chiclet keyboard provides good travel distance and well- spaced keys, which deliver solid tactile feedback, making typing easier and more comfortable. Two front-facing stereo speakers deliver clear audio for enjoying movies, videos and music.
Two models are available in this series. Engineered for power users, the Aspire Switch SW5-171 features a Full HD 1080p display and a HD webcam for enjoying images and videoconferences in sharp detail. Up to a fast 4th generation Intel® Core™ i5 processor delivers plenty of power for multitasking and fueling casual games and movies. It's also outfitted with 4GB memory and up to a 128GB(1) SATA hard drive for storing a large archive of data and applications. Connectivity to external storage, peripherals and other digital devices is provided via full-sized USB 3.0 and USB 2.0 ports.
Designed for mainstream users, the Aspire Switch SW5-111 is outfitted with a 1366 x 768 resolution display. It offers ample power with an Intel® Atom™ Z3745 quad-core processor, 2GB memory and sufficient room for archiving data with up to 64GB(1) eMMC storage. Two USB 2.0 ports – one full sized and the other micro – provide connectivity to peripherals and digital devices. A 2.0MP front camera with Full HD 1080p audio/video recording enables videoconferences and capturing images on the fly.
Both models include Microsoft Windows® 8.1 for full PC productivity, micro HDMI® for connecting a full-size display via just one cable and MicroSD for reading a wide variety of SD cards. Excellent wireless connectivity is enabled with Bluetooth 4.0 and 802.11 a/b/g/n.
Aspire Switch 10 Series
The Aspire Switch 10 offers a new model, the SW5-012 that features a Full HD 1920 x 1200 or a HD 1280 x 800 10.1-inch display with Corning Gorilla Glass 3 to help protect the screen from scratches. One of the thinnest 2-in-1 devices on the market, it measures less than 8.9 mm thin (0.35 inches) in tablet mode and 20.2 mm (0.44 inches) with the keyboard dock.
Weighing just 0.585 kg (1.29 lb.) for the tablet and 1.17 kg (2.58 lb.) for the combined tablet and keyboard, the thin and light design is perfect for frequent travelers. It delivers long battery life of up to 8 hours(2) (HD) and 7 hours(2) (Full HD) for almost a full day of computing. This model provides solid performance offering up to 32/64GB(1) of storage, 2GB of RAM and an Intel® Atom™ quad-core processor. It offers a 2MP HD webcam with 1920 x 1080 resolution and 1080p Full HD audio/video recording. The Switch 10 SW5-012 also comes pre-loaded with Microsoft Windows® 8.1 along with Microsoft Office 365 Personal (3) at no additional expense, so users can create and edit Microsoft Word, Excel and PowerPoint documents virtually everywhere.
Switch 10 and Switch 11: Four Modes; Robust, Attractive Design
Featuring a magnetic detachable design for latch-free docking and smooth transition, the Acer Snap Hinge allows users to switch easily between four modes of usage.
Notebook – fully functional with a spacious keyboard and a Precision Touchpad for content creation and other productivity apps
Pad – thin and light for those on the go; ideal for browsing the Internet, viewing movies, playing tablet games and taking notes with an optional Acer Active Pen
Display – a stable mode, ideal for showcasing presentations in small meetings, sharing photos and videos with friends or enjoying videoconferences
Tent – hands-free experience for watching movies and/or maximizing space in confined spaces, such as while traveling on a plane or train
Thin, lightweight and durable, the Aspire Switch series was made for taking to class, for work and on the road. The rear cover is made from aluminum with NIL (nano imprint lithography) and is finished with a gentle gray brush stroke for an aesthetic touch.
Zero Air Gap technology delivers sharp images, while Acer LumiFlex™ optimizes screen visibility during outdoor activities, even in bright sunlight. IPS technology provides wide viewing angles and accurate colors from edge to edge. The Precision Touchpad supports six touchpad gestures and delivers greater sensitivity and palm rejection by distinguishing between intentional finger gestures vs. accidental contact by the palm of the hand.
Built-in Acer BYOC™ (4) means users will never be unprepared as they can easily access and manage their data anywhere. Acer BYOC Apps offer real time information, data management, and data security across multiple devices for immediate synchronizing.
Optional accessories include an Acer Active Pen that provides fast, precise input for those who prefer to handwrite notes, an Acer Snap Case that protects and packs the tablet and keyboard for easy carry, and a micro USB cable that serves as a connection and charging hub.
Pricing and Availability
The Acer Aspire Switch 11 series will be available in October in Pan America with prices starting at US$399, in EMEA with prices starting at €399.
The Acer Aspire Switch 10 series will be available in September in Pan America with prices starting at US$329.99, and in EMEA with prices starting at €329.
Windows Central Newsletter
Get the best of Windows Central in in your inbox, every day!
Rich Edmonds was formerly a Senior Editor of PC hardware at Windows Central, covering everything related to PC components and NAS. He's been involved in technology for more than a decade and knows a thing or two about the magic inside a PC chassis. You can follow him on Twitter at @RichEdmonds.
Keep it up Acer, I "may" be a future customer. Like that OEMs are starting to accept hybrids more.

i wonder how a Windows 9 would work. i think when you dock it with a keyboard and push the start button. the desktop comes up when you undock and push the start button again it would go to the modern UI, that is what i call a ultra convertible

Hmm... Microsoft need to think about this too... (with their own product as a convertible)... Though will that work with ones that's has the Keyboard permanently attached?

One thing that I want to see more of from these sorts of devices is an extra battery integrated into the keyboard dock. Asus did this really well with their Android tablets.

I'm already selling the 10" at my work here in aus. Its a really cool tablet and it utilizes the magnet approach that the surface uses for the keyboard dock. Really impressive :)

Do OEM computers still come preloaded with heaps of software no one wants?

Not if you buy from the Microsoft store

Acers are the biggest pieces of crap that I've ever had the displeasure of repairing. Not to be confused with Asus, the complete opposite end of the spectrum.

But why is the European price the same as the U.S. price ❔ Shouldn't it be less as per the conversion rate ❓

It should, but it never is for electronics, and it's even worse for the Brits I believe. However, the difference is not as large as you might think, since US prices are usually given without sales tax, while European prices always include VAT. (~20%, meaning that we are 'only' paying an additional 10-15%)

What is the average tax that US consumers get charged on top of advertised price of electronics goods? Also, does this apply to digital services? I ask because Spotify, for example, charges $9.99 in US, but also £9.99 (incl tax) in UK, which is ridiculous if tax is not added on top of the US pricing.

Nope. That's not how pricing works. It's what the market will bear. I believe the brits earn more on average than in the US plus the competing products are probably priced similar to this.

I'm pretty sure us Brits don't earn more than our American cousins on average. Not to mention the cost of living in the U.K. is generally higher than in the U.S. It's just another case of "Rip off Britain" in action.

I may suggest the 11" device for a friend of mine who is in need of a laptop. But, as someone who has a 1080p 12.6" laptop, I don't get why you would put a FHD screen on an 11.6" device. Those are going to be some tiny little pixels.

I was kinda expecting more broadwell offerings at IFA... Seeing Atom-based with 2Gb RAM offerings makes me cringe...

Post need more pictographs in em Coolest Man Alive

Wait..that seems way cheep. Something's not right.

full hd, 4G of ram plus that anti fingerprint and gorilla glass... besides the pricing is attractive ! much better than asus t200 ! very much dissappointed with asus
Windows Central Newsletter
Thank you for signing up to Windows Central. You will receive a verification email shortly.
There was a problem. Please refresh the page and try again.