Acer debuts the Aspire Switch 10, a convertible, detachable tablet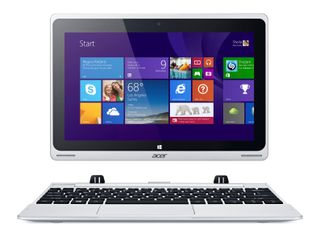 Acer today announced the Aspire Switch 10 tablet/notebook/thing. The Windows 8.1-powered 10-inch tablet comes with a magnetically-attached optional "Acer Snap Hinge" dock that lets the user switch (ohhhhh...) between using the device as a standalone tablet or a more traditional laptop. Normally this kind of device might cost a pretty penny, but Acer is pricing the entire kit at $379.99.
That said, it's not a terribly impressive device as a laptop or a tablet. The 10.1-inch IPS display has a 1366x768 resolution. It's relatively thin a 8.9mm, though the keyboard dock thickens it up to 20.2mm. It's powered by an Intel Atom Bay Trail processor of unspecified clock speed 2GB of RAM and up to 64GB of storage. The keyboard dock can add up to 500GB of storage through a physical hard disk, if you're into such things.
You get what you pay for, as they say.
And, being a convertible-detachable tablet, the Switch 10 supports a few different viewing/use modes, including traditional keyboard+screen notebook mode, pad mode without the keyboard, display mode with the keyboard to the rear, and tent mode. Pretty standard stuff. That's all accomplished through a magnetically-attached latch-free dock.
Acer is projecting the Aspire Switch 10 to be available at the end of May in North and South America, Europe, and Asia for US$379.99 (€349).
In addition to the Aspire Switch 10, Acer also announced the E14 and E15 Windows 8.1 notebooks at the very cheap price point of US$299, and the Aspire V 11 (Touch) notebook at US$369.99.
Press release:
Acer Unveils the 2-in-1 Aspire Switch 10: Notebook and Tablet in One Flexible Device
NEW YORK (April 29, 2014) Acer unveils the 2-in-1 Acer Aspire Switch 10 that's a notebook and tablet combined in one flexible device with four modes for touch, typing, viewing, and sharing at any time. The smart device features a magnetic detachable Acer Snap Hinge design for easy transition between modes, latch-free keyboard docking, and optional additional storage capabilities. The Acer Aspire Switch 10 is the ideal companion that helps users stay a touch more connected wherever they go.
Acer Chief Marketing Officer Michael Birkin said, "The Acer Aspire Switch 10 is a winner. A brilliant package of portability, flexibility and vibrancy. It is a stunning addition to the Acer portfolio of Connected Devices putting you in control of your world work or play." "The market is experiencing explosive growth in the 2-in-1 category and Acer has been a leading innovator," said Peter Han, Vice President of Worldwide OEM Marketing, Microsoft. "We are looking forward to partnering with Acer on the launch of their new Acer Aspire Switch which will provide customers with a great Windows 8.1 experience for both touch and keyboard."
Switch between 4 modes for seamless touch, typing, viewing, and sharing
From students who want a device for study and play, to business travelers needing multi- functional methods of working and staying socially connected on the go, the Acer Aspire Switch 10 fits smartly anywhere with four modes of usage notebook, pad, display, and tent.
Notebook mode — as a fully functional notebook PC with spacious keyboard and Precision Touchpad for comfortable typing and productive work.
Pad mode — as a tablet for browsing the Internet, viewing movies, and having everything in your hand.
Display mode — switch the screen to show content, such as a presentation file in meetings or sharing photos with friends.
Tent mode — for confined spaces while travelling such as an airplane cabin or on a side coffee table. It's also the ideal mode for watching movies.
Sturdy Acer Snap Hinge design
The Acer Snap Hinge allows users to switch easily between the four modes. It features a magnetic detachable design for latch-free docking and smooth transition. The sturdy Acer Snap Hinge includes two hooks to firmly connect the tablet to the keyboard, plus a 2-way connector that holds the tablet for convenient two-sided viewing. The tablet can easily be plugged or released (by lifting) from the dock with a magnetic force capable of holding 2.8 kg (6.2 lb.) in weight.
Elegant, portable design for maximum productivity
The aluminum rear cover of the tablet features an architectonic cross-brush pattern achieved through nano imprint lithography technology (NIL) and delivers an elegant touch.
The Aspire Switch 10 is one of the thinnest 2-in-1 devices on the market, measuring less than 8.9 mm thin (0.35 inches) in tablet mode and 20.2 mm (0.44 inches) with the keyboard dock. Weighing just 0.59 kg (1.29 lb.) for the tablet only and 1.17 kg (2.58 lb.) for the tablet and keyboard, the light and ultra-thin design is ideal for bringing on the road.
The 10.1-inch display (1366 x 768 pixels) with IPS technology provides wide viewing angle of up to 178-degrees, and richer colors. Zero Air Gap technology delivers more vibrant and crisp images, while Acer LumiFlex solution further optimizes screen visibility during outdoor activities, even under sunlight.
The Acer Aspire Switch 10 with up to 64GB of storage and 2GB of RAM is powered by an Intel® Atom (Bay Trail T) quad-core processor for fast performance and multitasking in all modes. Windows 8.1 includes several intuitive features, such as InstantGo that keeps data and apps up-to-date even when the screen is off by maintaining an Internet connection along with an efficient power-saving feature so it's ready to go at any moment. It comes pre-loaded with Microsoft Office Home & Student 2013 at no additional expense so users can create and edit Microsoft Word, Excel and PowerPoint documents virtually anywhere.
The Precision Touchpad enhances sensitivity and accuracy for the same visual experience as using a touch screen and supports six core Windows 8.1 Touchpad gestures for improved navigation and smooth gestures. The spacious keyboard ensures comfy and productive typing, while an optional keyboard dock with integrated hard-disk offers additional storage of up to 500GB.
Built-in AcerCloud means users will never be unprepared as they can easily access and manage their data anywhere. AcerCloud apps offer real time information, data management, and data security across multiple devices for immediate synchronizing.
Optional accessories include the Acer Snap Case that protects and packs the tablet and keyboard for easy carry, and the micro USB cable that serves as a connection and charging hub.
Pricing and availability
The Acer Aspire Switch 10 will be availability in Pan America and EMEA in late May with prices starting at US $379.99/€ 349 respectively.
To find out about availability, product specifications and prices in specific markets, please contact your nearest Acer office or retailer via www.acer.com.
Get the Windows Central Newsletter
All the latest news, reviews, and guides for Windows and Xbox diehards.
Derek Kessler is Special Projects Manager for Mobile Nations. He's been writing about tech since 2009, has far more phones than is considered humane, still carries a torch for Palm, and got a Tesla because it was the biggest gadget he could find. You can follow him on Twitter at @derekakessler.
The more options the better really.

Pretty good price, I guess...

Acer is finally getting around to replacing the Iconia W510?

Sounds decent enough for my needs. The tablet portion sounds as though it has about the same hardware specs as my Venue 8 Pro outside of the display so I'm sure I'd get along with it just fine. The fact that it's a convertible is just a bonus.

Now this is a piece of kit I could do with!

This is where acer needs to live if it wants to re-live its netbook glory days. They have always done a great job at making cheap stuff. Then suddenly they declared they were a 'premium device maker', which they are not in any way. Acer makes cheap stuff and that is what they do best. I am glad they are starting to embrace that again. Is this going to turn heads? It is not, but it will sell alot better than their attempts at those that do.

So it's basically an Asus T100, but released six months late!

The question remains how is the quality of the device? If I remember correctly I used to see comments of how Acer cutomer support is horrible like Asus. I prefer Dell and HP when it comes to computing.

I never had any issues with Asus customer service

Asus CS is excellent. They don't even require proof of purchase for warranty repairs (I bought a faulty T100 from Ebay.co.uk...Asus fixed it without issue)

The obvious disdain from the writer highlights the reason why so many were against writers from other sites writing articles on Microsoft products. The value of a full Windows device with keyboard is overlooked in favor of unnecessary snide comments. Stick to the facts next time if you cant add anything constructive.

Unless you are Acer or dead set on getting this convertible, I see no reason to get upset. By all accounts on paper it is a fairly unremarkable device.

I, for one, am happy to have help (and am happy to help out) writing for all our beloved platforms. It's a shame not everyone here can be so appreciative. Or even respectful.

Here's a fact: this is a low-priced tablet with specs to match that price. It's an unremarkable device and not anything to be terribly excited about. Whether or not a keyboard is important to you is your own call — something you'll notice was not remarked upon in this post.

No worries Derek. You remember what it feels like when your platform seems to constantly be getting bashed...
Some of these kids in here don't want to hear anything negative.

A low priced device can still be "impressive" considering the price. You seem to suggest low price = low spec = crap. You wrote: "That said, it's not a terribly impressive device as a laptop or a tablet...Pretty standard stuff." Really? Where else besides the Asus T100 can you get this kind of hybrid device that lets you play AND work at such low price?

the price is also a huge factor, that is what made 520 sell buttloads.....you are correct when u say its unremarkable when it comes to specs ..but the price makes this product remarkable...the fact that you could not appreciate this hurts...but well you know your job better than me...

Absolutely. That's the first thing that came to my mind when reading this article. What's behind that, WP central?

Good for the addition, but I think Lenovo has won my heart these days

I bought a Samsung convertible. It for my needs with its amazing 1080p screen.

They should make 1080P standard on tablets of this size.

I strongly disagree. Until Microsoft fixes DPI scaling in Windows in the desktop, convertibles where the desktop is used heavily should keep DPI in a moderate range. Otherwise, some common programs will be virtually unusable.

That's a valid point. I wonder what the hold up is.

Briliant! I've been seeing this on Acer banner ads the past week and wondered what it was... An update to the W510 is exactly what Acer needed to put out. I've had the W510 for over a year now and bar a few slight issues with the keyboard repeating letters (there was a fix available but it required sending it in for repair and I couldn't afford to lose it for two weeks. Might send it in soon though...) it's a wonderful device. Especially as a tablet, it's very light, has a great screen (I know it's not retina, but at 10.1" 1366x768 on Windows looks great. The desktop is very crisp and the modern UI looks great also) and surprisingly good speakers. It was also a great performer even on Clovertrail (It was my only device for a month while away and managed to do most of what I wanted from it) so with Baytrail and a better keyboard this will be a great device. It was well made too, still feels sturdy now even with the beating I've given it throwing it into bags and carting it around here there and everywhere! And that price? Yikes! Great to see the ASUS T100 have some competition and to finally see another decent looking 10.1" Windows convertible. Hopefully they'll start putting out some 7", 8", and 9" Windows tablets for under £200 soon too, now that the OS is free. They also announced two new 7" Android tabs today, one on ARM (just shove Windows RT or Windows Phone on it!) and one on Intel (Clovertrail, but for Metro, and Windows 8.1.1 will actually run better than 8.1 did.) that could both do well as cheap Windows devices...

While I am not entirely unhappy with my W510 (thanks to the software), that definatelly was my last Acer product. Ever. It was the third acer device I had and the third acer device that has shoddy build quality (if you are interested, one was a Acer Aspire Laptop that started to get cracks on the case after 3 years and another one was an Acer tower PC - cant remember the name - that had it's fans run at full power at all times. Talk about noise). The WP510 feels very cheap, the screen feels like it might fall out of the frame soon, the silver backside seems to be connected to the white front at a ever so slight angle so there's an "edge" that starts to get smaller when moving your finger along it until it finaly disappears on one corner and the touchpad seems to be registering ghost touches. I feel that the new successor to the WP510 wont be much better in terms of build quality so I am looking forward to what lenovo or asus will have to offer in about 2 years when my WP510 needs to be replaced.

Wow, sounds like you got a bad model that slipped through quality control. My W510 feels solid as a rock, the screen is incredibly well bonded to the tablet and all edge seams are fitted firmly into position. Truly I could never complain about the build quality, it's so solid on the device I've got and on the others I've used in stores and at trade shows etc. Such a shame you had a bad experience! :/ The touchpad issue was related to the keyboard issue, there was an update I believe, but if that didn't fix it they allow people to send them in for repair. Still, one must consider cost in all of this that the bulk of Acer's devices fall decidedly at the budget (to heavy budget) end of the scale and so one can't exactly expect the same build quality of a ThinkPad, Surface, or Mac/iDevices that in some cases will cost double what an Acer costs.

Nice. For consumer devices, this can be compelling enough for those who want cheap solution.
As for me, I'm still waiting for bay trail based tablets with 4GB ram and at least 64GB storage. Of course the OS must be 64bits (having option to upgrade to pro version is a plus, but not required). So I'll wait a little longer.

The cheaper ASUS T-100 still seems to be the better device.

The Asus t100 is really a very good device. Apart from minor hiccups it's really a joy to use. This seems to have the upper hand on build quality and looks though.

Tbh, look at it, it literally looks like the Screen is a Surface, like they took the surface, and made a new keyboard for it, stuck it in a case, and sold it lol

Doesn't seem an upgrade over T100. You'd think months later it'd be better. I think I'll stick with my T100 until something with a better screen resolution comes out. Good price though. I'm extremely happy with the Asus. TOTALLY recommend.

Amen brother! The T100 is a cracking bit of kit.

Blame Intel, I don't believe their 64bit Atom processors are widely available yet so OEMs will need to stick with the current models. Though really, it's a little unfair anyway to expect some meaningful upgrade or major increase in capabilities every 4/5 months when it usually takes about a year for new generation processors to come out. ;) Also, it is a budget device. Put in higher end components and the price would have to go up (see Lenovo ThinkPad 8 vs. Acer Iconia W4).